These moist dark chocolate donuts are baked to perfection with a salted dark chocolate glaze. They're so easy to make and are completely gluten free and dairy free!
This post is sponsored by SunButter and all thoughts and opinions are my own. Thank you for supporting the brands that make Butternut Bakery possible!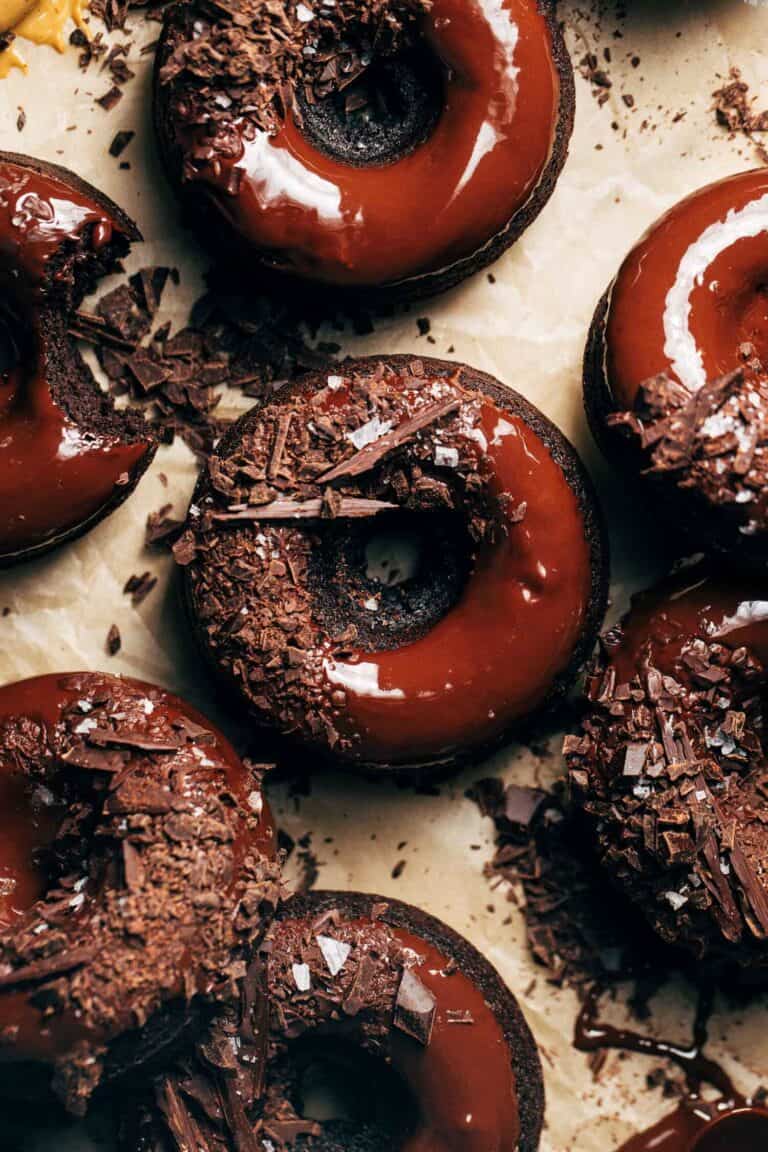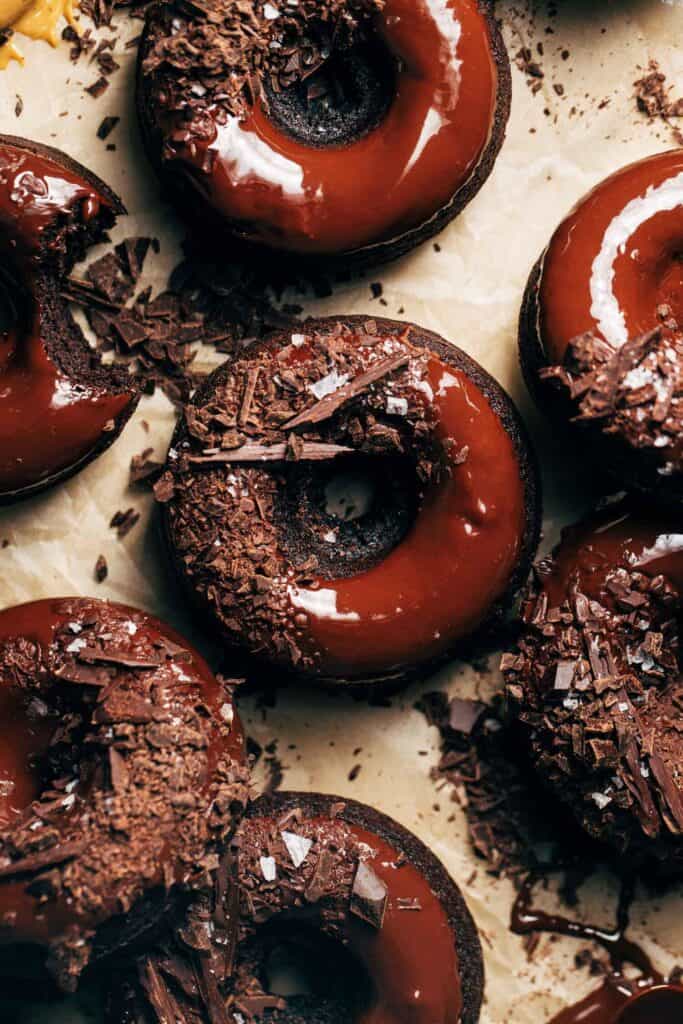 Ingredients for chocolate cake donuts
Here's what you need to make this delicious chocolate donut recipe:
Gluten Free Flour – Use a good gluten free flour blend that's made for baking. These typically have xanthan gum in the mix which helps mimic a fluffy cake texture.
Dutch Process Cocoa – Unlike regular cocoa, dutch process cocoa is alkalized to give it a smooth, less acidic flavor. It also has a rich dark chocolate color.
Sugar – We're using both brown sugar and granulated sugar in this recipe to add a hint of molasses flavor. Go for dark brown for even more flavor!
Baking Soda and Baking Powder – These will leaven the donuts, and the combination both activates when the batter is mixed and again as the donuts bake. The double action is great for gluten free batters!
Coffee – Coffee and chocolate is a classic combination because the brewed coffee helps bring out the different notes of the chocolate. Water can be used instead, but for the most flavor I highly recommend sticking with coffee.
Creamy No Sugar Added SunButter – SunButter does a lot of the heavy lifting in this recipe. Not only does it help bind the donuts (since the batter is sans eggs) but it also adds a layer of richness that makes these donuts extra moist. SunButter is also SUPER creamy so it blends seamlessly into the batter!
Vinegar – This is a common ingredient in gluten free and vegan desserts, mainly because it boosts the activation of the baking soda. Without gluten, it can be much more difficult for a cake to bake with a fluffy structure. So when the vinegar reacts with the baking soda, bubbles begin to form which helps lift the donuts as they bake.
Tips for baking gluten free chocolate cake donuts
Dry Ingredients – All of the dry ingredients are mixed together, including the sugar. To prevent lumps, make sure your brown sugar is moist and really whisk to combine. This will break up any larger chunks for a smooth chocolate batter
Flour – When measuring the flour, I always suggest weighing. If that's not an option for you, spoon the flour into the measuring cup and level it off with a flat edge. We always want a light and fluffy cup of flour, not a cup that's packed down.
Baking Pan – For the best results, use a nonstick donut baking pan. This will make it SO easy to pop the donuts out once baked. I linked my favorite pans at the bottom of the recipe card.
Prep – Speaking of baking pans, give the donut cavities a light spritz of nonstick spray. Not too heavy, otherwise the donuts will bake with pools of oil at the bottom.
Bake – The donuts bake very fast, so start at 8 minutes and then add on the extra 2 if needed. They're done when they're well puffed and there's a very soft bounce to them.
Cool – Gluten free donuts are more delicate, so allow the donuts to cool for about 15 minutes before releasing from the pan. Then allow them to cool completely before adding the glaze.
Dark chocolate donut glaze
No donut is completely without its toppings! These donuts are dunked in rich dark chocolate that adds a delicious deep flavor.
Dark Chocolate – Both bittersweet and unsweetened chocolate are used in the glaze. Instead of using all unsweetened, bittersweet helps cut some of the bitterness while still yielding a delicious dark chocolate flavor.
These two ingredients are melted together before even starting on the donuts. This is because the glaze needs time to cool and thicken before dunking the donuts. If the glaze is too warm or thin, it will easily slide down the sides of the donuts.
For the right consistency, it should be smooth but not too liquid and not too thick. Scoop up some chocolate with a spoon and allow it to fall in a ribbon back into the bowl. If the ribbons disappear right away, it needs more time to cool. If they pile and then disappear into the chocolate, it's ready.
Dunk the very tops of each donut into the glaze, allowing as much excess to run off before flipping the donut back over.
Top with finely chopped chocolate, chocolate shavings, chocolate sprinkles, or chocolate chips! It doesn't matter what type of chocolate decorations you add, as long as there's a little bit of flaky sea salt on top. This really helps bring out the chocolate flavor even more.
Serving chocolate cake donuts
After the donuts have cooled and are topped with the chocolate glaze, they're best to eat fresh just like any other donut! This is when they're the softest and most flavorful.
Storing homemade chocolate donuts
Keep the donuts in an air tight container at room temperature. They taste great the next day, but I found that they start to become stale on the third day. Good thing these don't stick around long!
For more gluten free chocolate desserts, check out my:
Make sure to tag me @butternutbakery on Instagram and comment below if you make these chocolate donuts. To pin this recipe and save it for later, you can use the button on the recipe card, the buttons above or below this post, or on any of the photos above. Happy baking!
Print
Dark Chocolate Cake Donuts
---
Author: Jenna Barnard
Total Time: 1 hour 30 minutes
Yield: 12 donuts
Diet: Gluten Free
Description
These moist chocolate cake donuts are baked to perfection and topped with a dark chocolate glaze. With the deep dark chocolate flavor and pinch of flaky sea salt, these donuts aren't too sweet but still so delicious. They're also completely gluten and dairy free!
---
Dark Chocolate Glaze
2 oz bittersweet chocolate, chopped (plus more for sprinkling on top)
2 oz unsweetened chocolate, chopped
2 tbsp No Sugar Added SunButter
Flaky sea salt for sprinkling on top
Dark Chocolate Cake Donuts
1 1/2 cups (200g) gluten free baking flour
1/2 cup (50g) dutch process cocoa powder
1/2 cup (100g) dark or light brown sugar, packed
1/2 cup (100g) granulated sugar
1 tsp baking powder
1 tsp baking soda
1/2 tsp salt
3/4 cup hot water
2 tsp instant espresso powder
1/2 cup (125g) No Sugar Added SunButter
1 1/2 tsp apple cider or white distilled vinegar
2 tsp vanilla extract
2 large eggs
---
Instructions
Dark Chocolate Glaze
Start by making the glaze so that it has time to cool and thicken.
Combine the chocolate and SunButter in a heat safe bowl.
Microwave in 30 second intervals until smooth.
Leave the chocolate at room temperature to cool while we make the donuts.
Dark Chocolate Cake Donuts
Preheat the oven to 350F and grease the donut pans (prepare for 12 donuts total).
In a large mixing bowl, whisk together the flour, cocoa powder, sugars, baking powder, baking soda, and salt.
In a separate bowl whisk together the hot water and espresso, followed by the SunButter, vinegar, and vanilla.
Once smooth, whisk in the eggs.
Pour the wet ingredients into the dry ingredients and use a rubber spatula to fold the batter together.
Add the batter to a large piping bag and pipe the donuts into the baking pan, filling each about 2/3 full. *The batter is the perfect amount for 12 donuts
Bake for 8-10 minutes. To test for doneness, lightly tap the surface of the donuts. They should feel soft and bouncy.
Allow the donuts to cool in the pan for about 10 minutes, then transfer the donuts to a cooling rack.
When the donuts have completely cooled and the glaze has thickened, dunk each donut in the glaze.
Sprinkle with more chocolate and a pinch of sea salt. They're best served fresh so dig in!
Equipment
Prep Time: 20 minutes
Cooling Time: 1 hour
Cook Time: 10 minutes
Category: Dessert
Method: Baking
Cuisine: American
Keywords: chocolate cake donuts, baked chocolate donuts, gluten free chocolate donuts, dairy free chocolate donuts, dark chocolate donuts, chocolate donut recipe
Recipe Card powered by