These cheesecake bars are the perfect summer treat! Homemade mango curd is swirled on top of a layer of coconut cheesecake with a coconut graham cracker crust. They're creamy, sweet, tangy, and SO easy to make.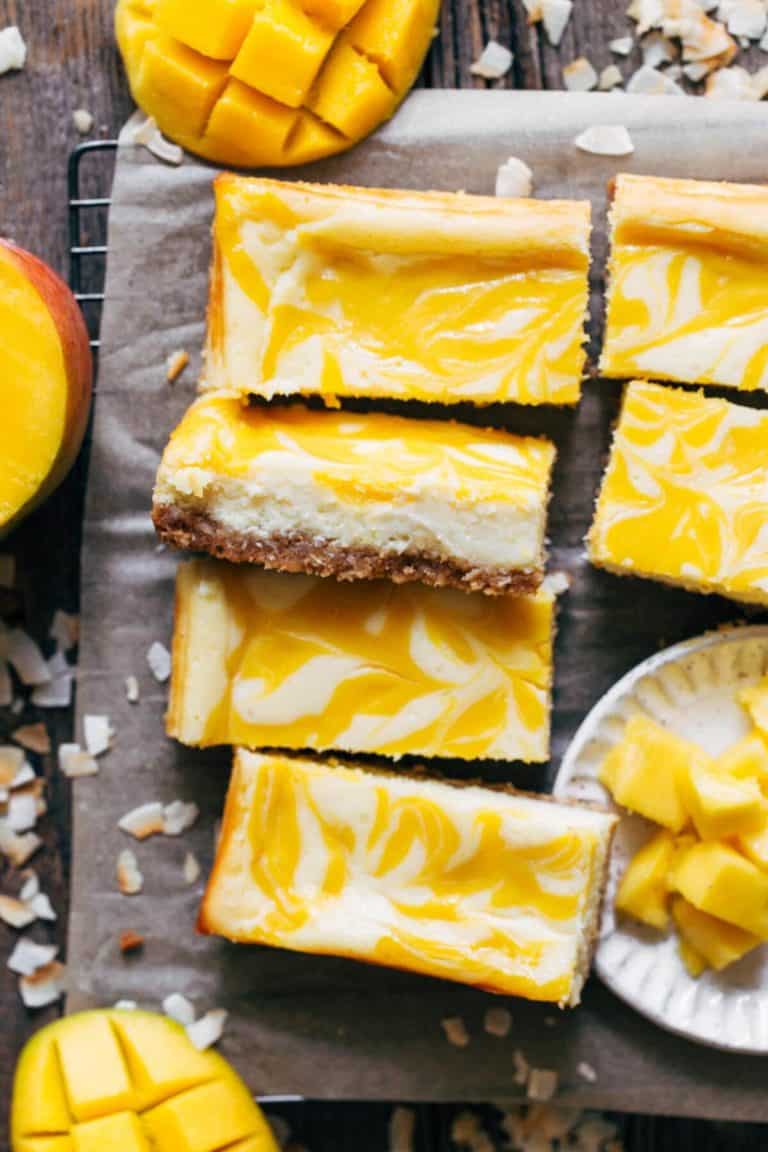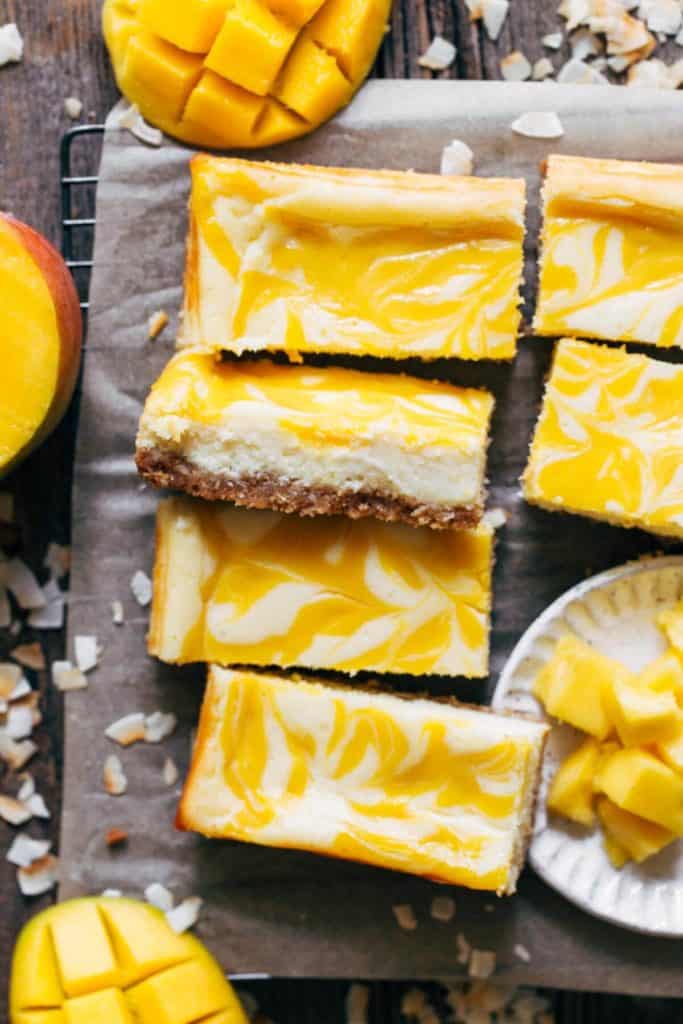 Why use mango curd?
Homemade mango curd is so quick and simple to make and is the perfect way to add delicious mango flavor to these cheesecake bars. After experimenting with a few different ways to incorporate mango into this recipe, curd turned out to be the best option.
With plain mango puree, it's a bit too thin to withstand the creamy cheesecake underneath. When baked, it would sink into the cheesecake and the swirls nearly disappeared.
I also tried mango chunks which were delicious but obstructed the creamy cheesecake texture. This is a personal preference, so you can definitely add some mango chunks to the cheesecake batter for even more mango.
So in the end, I landed on mango curd! It's made up of fresh mango puree, cornstarch, eggs, lime juice, and sugar. This creates a thick consistency that closely mimics the texture of the cheesecake batter, providing a seamless swirl on top.
How to make mango puree
The base of the curd recipe is mango puree. Cut up one large fresh mango (which should be enough for this recipe) into small chunks. Blend it in a food processor or blender until completely smooth.
Tips for adding curd to cheesecake bars
For the curd, you can either make it the day before to save time or at the start of the recipe. If making it a day ahead, warm up the curd in the microwave for about 20 seconds to thin it out. The curd will thicken quite a bit as it cools, which makes it very difficult to swirl into the cheesecake bars.
It's also important to ensure you don't overcook it. Let the curd boil for about 30 seconds, then pull it off the heat and pour it into a container. The curd will become much too thick to swirl if it's taken past that 30 second mark.
If you curd turns out too thick, add a couple tablespoons of fresh mango puree to the mixture. Not only is this a simple and quick solution, but it also adds even more mango flavor.
Coconut graham cracker crust options
To add more coconut to the recipe, shredded coconut is baked right into the graham cracker crust. The coconut is finely ground, just like the graham crackers, which blends seamlessly into the crust. Here are a few different ways you could make your coconut graham cracker crust:
You can use shredded or flaked coconut, as long as it's unsweetened. Sugar is added to the crust, so using sweetened coconut would make it too sweet.
Toasting the coconut beforehand adds an extra layer of flavor, but this is an optional step as it will not make or break the crust. Read how to toast coconut in my post for Gluten Free Chocolate Coconut Cake.
Coconut cheesecake batter
Once the curd is made and the crust is pre-baked, it's time to make the batter. It can be made using a hand or stand mixer and comes together in minutes!
To ensure it turns out completely smooth and creamy, bring the cream cheese up to room temperature before using. Otherwise you'll be left with a really lumpy cheesecake. Also use room temperature eggs. If you add cold eggs to room temperature batter, it can curdle the cream cheese.
To get the most flavor, add a bit of coconut extract to the batter. I opted for 1/4 teaspoon, but if you LOVE coconut and want a really bold coconut cheesecake, add 1/2 teaspoon. Coconut cream is also added to the batter for an extra layer of coconut.
What is coconut cream?
Coconut cream comes from coconut milk (coconut and water). I'm not talking about cartons of coconut milk that you would use in cereal. True coconut milk is found in tins, usually in the Asian cuisine section at your local grocery store.
As the tins sit, the water and the coconut separate where the water sinks to the bottom and the creamy coconut rests on top. You can choose to shake up the can to get a really rich and creamy milk consistency, or keep it separated in order to skim off the coconut cream on top.
You can also purchase tins of just coconut cream, although tinned coconut milk is a little easier to find (always make sure to get full fat). At room temperature, coconut cream closely resembles the consistency of yogurt or sour cream. It has a slight coconut flavor and adds tons of creaminess and richness to any dessert.
For the best result, place the tin in the refrigerator the night before. This makes it much easier to skim the cream off the top. When chilled, the cream is too thick to add to the batter. Pop the separated cream in the microwave for a few seconds to help loosen it up. When adding it to the batter, it should look like the second picture above.
How to perfectly swirl cheesecake batter
This is a trick I use in every swirled dessert and was first discovered with my tahini and peanut butter swirled brownies. It ensures the swirls turn out even and uniform, without any large clumps or puddles of curd resting on top.
To achieve perfect swirls, add the curd to a small ziplock bag and snip off a corner to create a small hole. Pipe the curd all around the filling in a random but uniform pattern. Try to evenly space the swirls so you don't have any large clusters of curd sitting on top.
Next, use a toothpick to swirl in the curd. Less is more here, so stop once all of the pipped lines are blended into the batter. Now it's ready to bake!
How to know when the bars are done
The bars will bake for about 50 minutes. You know they're ready when the bars are slightly puffed and the center of the pan jiggles when you nudge it. If it wobbles like a bowl of milk, continue baking for another 5-10 minutes.
When to slice the bars
Take the bars out of the oven once baked, then let them rest at room temperature for about 20 minutes.
After the 20 minutes, transfer the bars to the fridge to chill uncovered for at least 4 hours or overnight. This allows the filling to COMPLETELY set, giving these bars much more stability and structure when sliced.
How to store cheesecake bars
Place the bars into an air tight container, or keep in the baking pan and wrap it in foil. It's important to only contain them once they've cooled completely. Store in the refrigerator for up to 5 days.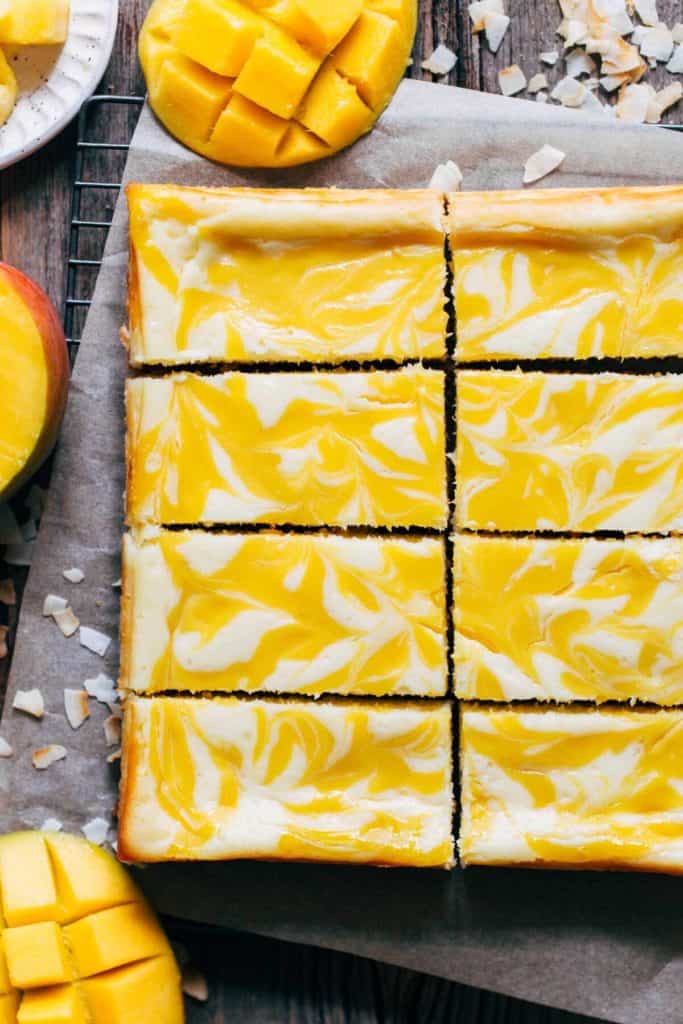 For more delicious fruity dessert recipes, check out my:
Make sure to tag me @butternutbakery on Instagram and leave a review below if you make these Coconut Mango Cheesecake Bars. To pin this recipe and save it for later, you can use the button on the recipe card, the buttons above or below this post, or on any of the photos above. Happy baking!
Print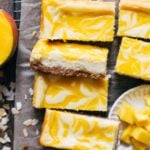 Coconut Mango Cheesecake Bars
---
Author: Jenna Barnard
Total Time: 1 hour 20 minutes + 4 hours refrigerated
Yield: 8-16 bars
Description
Creamy coconut cheesecake baked on top of a coconut graham cracker crusted and swirled with a homemade mango curd.
---
Mango Curd
1/2 cup (120g) fresh mango puree (about 1 large mango) 
1/4 cup (55g) granulated sugar
Juice of 1/2 lime
1 tbsp cornstarch
1 whole egg + 1 egg yolk
Coconut Graham Cracker Crust
1 cup (110g) graham cracker crumbs (regular or gluten free)
1/2 cup (45g) unsweetened shredded or flaked coconut, ground to fine crumbs
1/4 cup (55g) granulated sugar
6 tbsp (85g) unsalted butter, melted
Coconut Cheesecake
16oz full fat cream cheese, room temp (preferably Philadelphia)
1 cup (200g) granulated sugar
2 large eggs, room temp
1/3 cup (70g) coconut cream *SEE NOTES
1/4 tsp coconut extract *SEE NOTES
---
Instructions
Mango Curd
Whisk together all of the ingredients in a saucepan and cook over medium heat. Continue whisking and bring the mixture to a boil. Only boil for 30 seconds, then immediately remove it from the heat and transfer to a heat safe container or bowl.
If you have any leftover mango puree, add up to 2 tablespoons to the curd after it's done cooking. (This is optional so if you don't have any leftover, that's OK). Leave it out at room temp while you make the rest of the recipe.
Coconut Graham Cracker Crust
Preheat the oven to 350F and coat an 8×8 pan with nonstick spray. Line the bottom and sides with parchment paper. 
Combine all of the ingredients in a bowl until it resembles the texture of wet sand. Pour into the baking dish and press it down into a firm and even layer. Bake for 8 minutes.
Coconut Cheesecake
Once the crust is baked, make the filling. Using a hand or stand mixer, whisk the cream cheese on medium speed until smooth (careful not to over mix).
Add the sugar and whisk to combine. Scrape down the bowl.
Mix in the eggs one at a time, followed up with the coconut cream and coconut extract. Scrape down the bowl again and give it one more mix.
Pour the batter on top of the crust and spread it even. Add the curd to a ziplock bag and snip off a corner to create a small hole. *Make sure the curd is at room temperature and not chilled. If it's too cold it will be too thick to swirl.
Pipe random lines and curls all around the surface of the batter. Once you've used up all the curd, use a toothpick to swirl it into the cheesecake batter.
Bake for 45-50 minutes, or until it's evenly puffed and jiggles in the center like jello. If it's too thin and wobbly, continue baking for another 5-10 minutes.
Remove the bars from the oven once baked and cool at room temperature for 20 minutes. Then transfer to the fridge and chill uncovered for at least 4 hours, but preferably overnight. Don't skip this step otherwise the bars will be too runny to slice! 
Once chilled, lift the cheesecake out of the pan and slice into as many bars as you like. It makes 8 large bars or 16 squares. Store any leftovers in the refrigerator. Enjoy! 
Notes
COCONUT CREAM – Coconut cream can be skimmed off the top of a can of full fat coconut milk or you can purchase a can of coconut cream on its own. It should be a similar consistency to sour cream. I like to pop a can of coconut milk into the refrigerator the day before as it's much easier to pull the cream out once it's chilled. You may also use regular sour cream or Greek yogurt in place of the coconut cream.
COCONUT EXTRACT – Add 1/4 tsp or 1/2 tsp, depending on how strong you like the coconut flavor to be.
Prep Time: 30 minutes
Cook Time: 50 minutes
Keywords: mango cheesecake, coconut cheesecake, coconut mango, cheesecake bars
Recipe Card powered by