These Tahini Peanut Butter Swirl Brownies are SUPER fudgy and have delicious swirls of tahini and peanut butter evenly spread throughout. I'm even sharing a handy trick to get those swirls just right. And if you've never baked with tahini before, THIS is the recipe to start with!
Why I love these super fudgy brownies
These Tahini Peanut Butter Swirl Brownies are seriously SO fudgy and soft! It took me quite a few tries to get these brownies just right but it was definitely all worth it in the end.
For starters, I'm using an annoying amount of butter here. I know, who uses 7 tablespoons?? Why not just use the whole stick? I hear ya. But that's just what worked best to get these brownies just right!
Like many of my brownie recipes, I begin by whisking together the sugar and eggs until they get light and silky. This creates that super smooth and almost creamy texture.
Then, whisk in the 7 tablespoons of butter along with 2 tablespoons of tahini. I love adding this into the batter because it's another ingredient that helps to make these super fudgy brownies. It also pairs well with the chocolate!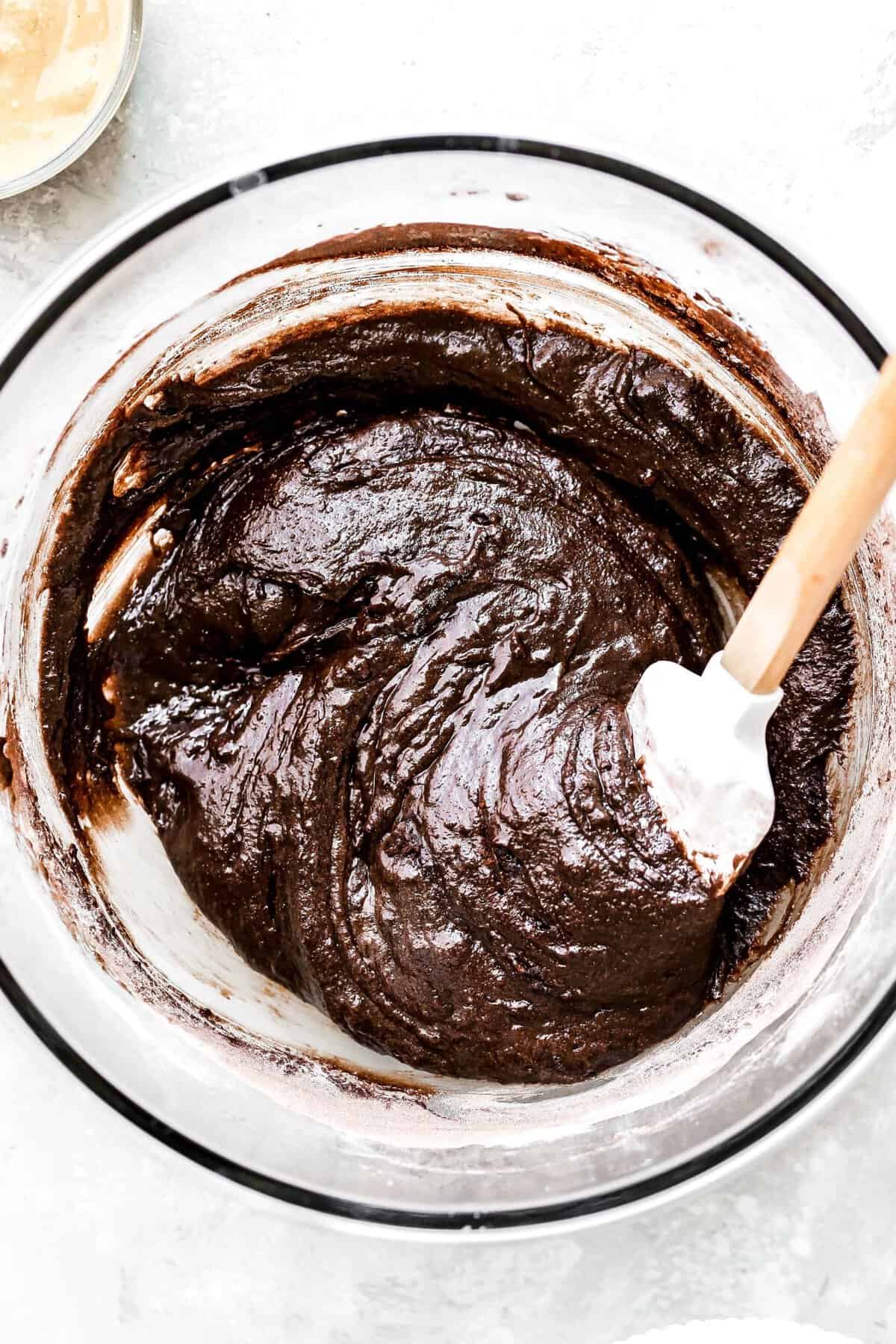 How to swirl peanut butter into brownies
The biggest struggle I have with making swirled brownies is getting an even distribution of the swirls. Sometimes you're left with a glob here, a glob there, and some completely bare areas.
Lucky for you, I created a very simple solution to this problem! All you need is a ziploc bag and a toothpick.
Once you've mixed together your peanut butter, tahini, and powdered sugar, spoon it into a plastic bag and snip off one of the corners.
Pipe on some random lines and squiggles, like you see below, until you've run out of the tahini and peanut butter mixture. Make sure you're distributing it as evenly as possible.
Using a toothpick, run it through the batter to create the swirls. Less is more here, so stop when your brownies look a little something like the picture below.
Now your tahini and peanut butter swirl brownies are ready to bake!
What is tahini?
Tahini is toasted and ground sesame seeds. It's creamy and a bit thinner than peanut butter. And just like peanut butter, there can be good and no-so-great tahini's out there so make sure to purchase a good one.
What used to be a pretty obscure ingredient has now become a regular on grocery store shelves. More and more people are finding ways to utilize tahini in their savory and sweet recipes.
My favorite is by Soom Foods because it's not too bitter and bakes really well. A couple other favorites include the Trader Joe's tahini and the Whole Foods brand tahini.
The flavor of good tahini is nutty, rich, silky, and just slightly bitter and acidic. That's why it's grown in popularity as a baking ingredient because it compliments sweetness so well.
Ways to use tahini
If you can't justify buying a jar for just one recipe, let me share with you just how much use you can get out of tahini! I use it in my Vegan Chocolate Chip Cookies, and in my Chocolate Hazelnut Tahini Brownies.
My favorite way to utilize tahini, besides baking, is to make homemade hummus. It's so much more flavorful than store bought and you can adjust the spices to your liking. Here is the hummus recipe I really like.
You can also make delicious salad dressings with tahini. This is a super simple recipe for hummus sauce that I use on everything! Salads, grilled chicken, or as a dipping sauce.
It's also just great to keep around when you see a tahini recipe pop up that you'd like to try. It keeps in the fridge for up to 6 months!
The best way to cleanly cut fudgy brownies
Since these peanut butter swirl brownies are super fudgy, it's important to practice PATIENCE! Cutting into these brownies right away or while they're still warm will just leave you with an ooey gooey brownie mess.
When you take them out of the oven, they might look a little underdone in the center which is exactly what we want. Then, pop the pan in the fridge on top of a cloth so you don't damage your shelves.
This halts the baking process and brings down the temperature of your brownies much quicker… meaning less time you have to wait to dig into your brownies!
Once the brownies have cooled completely, about 1 hour, you're ready to slice. A good test for this is to see how much the brownies bend when you left them out of the pan. If there's too much give in the middle, they need to chill for a bit longer.
Using a large knife, make a clean slice down the middle with very little sawing or lifting motions as possible. Wipe your knife and continue to slice each of those halves in half. Continue again on the other end, remembering to wipe down your knife between each cut.
And there you have it! Perfectly sliced fudgy tahini and peanut butter swirl brownies.
FAQs
Can I use this swirl with boxed brownies?
Yes, and it will still be totally delicious. I do love this brownie recipe though, so I urge you to give it a go!
Do I need to keep tahini in the fridge?
I've always known to refrigerate it just so it lasts longer. You don't HAVE to but I don't use it enough to keep it in the cupboard so I store it in the fridge!
Can I skip the peanut butter in the tahini swirl?
You could but the tahini may be too thin. If it's a nut allergy reason, I recommend swapping it with sunflower butter.
For more delicious brownie recipes, check out my:
MAKE SURE TO TAG ME @BUTTERNUTBAKERY ON INSTAGRAM OR COMMENT BELOW IF YOU MAKE THESE TAHINI AND PEANUT BUTTER SWIRL BROWNIES. TO PIN THIS RECIPE AND SAVE IT FOR LATER, YOU CAN USE THE BUTTON ON THE RECIPE CARD, THE BUTTONS ABOVE OR BELOW THIS POST, OR ON ANY OF THE PHOTOS ABOVE. HAPPY BAKING!
Print
Tahini Peanut Butter Swirl Brownies
---
Author: Jenna Barnard
Total Time: 1 hour 45 minutes
Yield: 16 brownies
Description
These peanut butter swirl brownies are also baked with ribbons of tahini! It's baked into the batter as well as swirled on top. The combination of tahini and peanut butter makes these brownies super fudgy and compliments the chocolate so well. It's a match made in heaven!
---
Brownies
2 large eggs
1 1/4 cup (250g) granulated sugar
7 tbsp unsalted butter, melted
2 tbsp tahini 
2 tsp vanilla extract
3/4 cup (95g) all-purpose flour
1/2 cup (50g) dutch processed cocoa powder
1/2 tsp salt
Tahini and Peanut Butter Swirl
2 tbsp tahini
2 tbsp creamy peanut butter, like Jif or Skippy
2 tbsp powdered sugar
---
Instructions
Preheat the oven to 350F and grease and line an 8×8 square baking pan with parchment paper. Make sure the paper extends over the sides so you can easily lift out the brownies later.
In a small bowl, mix together the tahini, peanut butter, and powdered sugar for the swirl portion. Set aside.
In a large bowl, whisk together the eggs and sugar until they become pale and silky. About 1-2 minutes of fast whisking.
Next, whisk in the melted butter, tahini, and vanilla.
Sift in the flour, cocoa powder, and salt and gently fold it into the batter using a rubber spatula. Careful not the over mix.
Spread the batter into your prepared pan and fill a ziploc bag with the tahini and peanut butter mixture. Snip off one of the corners and pipe random squiggly lines on top of the brownie batter. Make sure they're evenly distributed.
Using a toothpick, run it through the batter to create the swirls. It's easy to get carried away here so remember, less is more. 
Bake for 25-30 minutes.
Let the brownies cool for about 45 minutes at room temp, or until the bottom of the pan is no longer warm and you're able to lift them out of the pan without the brownies bending in the center.
Now just slice and enjoy!
Equipment
Prep Time: 30 minutes
Cooling Time: 45 minutes
Cook Time: 30 minutes
Category: Dessert
Method: Baking
Cuisine: American
Keywords: peanut butter swirl brownies, tahini swirl brownies, fudgy brownies
Recipe Card powered by