These pumpkin cookies are unlike any other! They're dense, chewy, and packed with so much flavor including brown butter and maple. With an added coating of brown sugar cinnamon, these cookies are bound to be your new favorite this fall. The dough also requires ZERO time in the refrigerator, so they're quick and easy to make.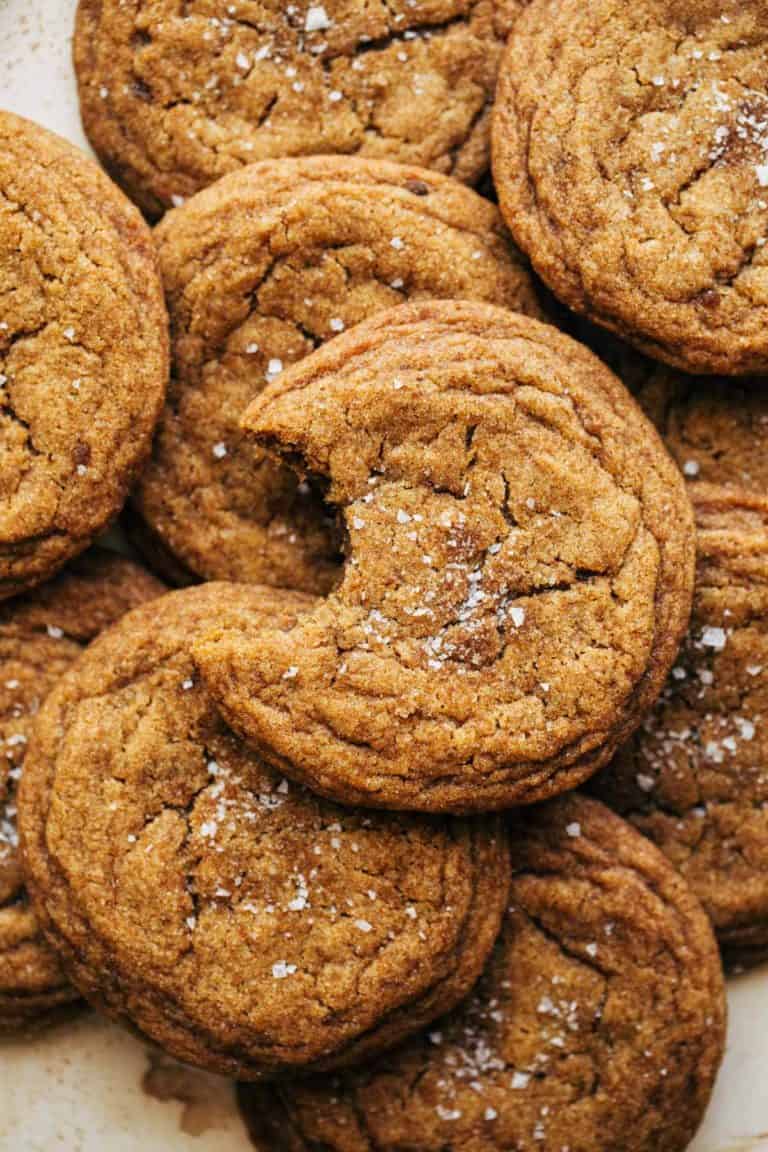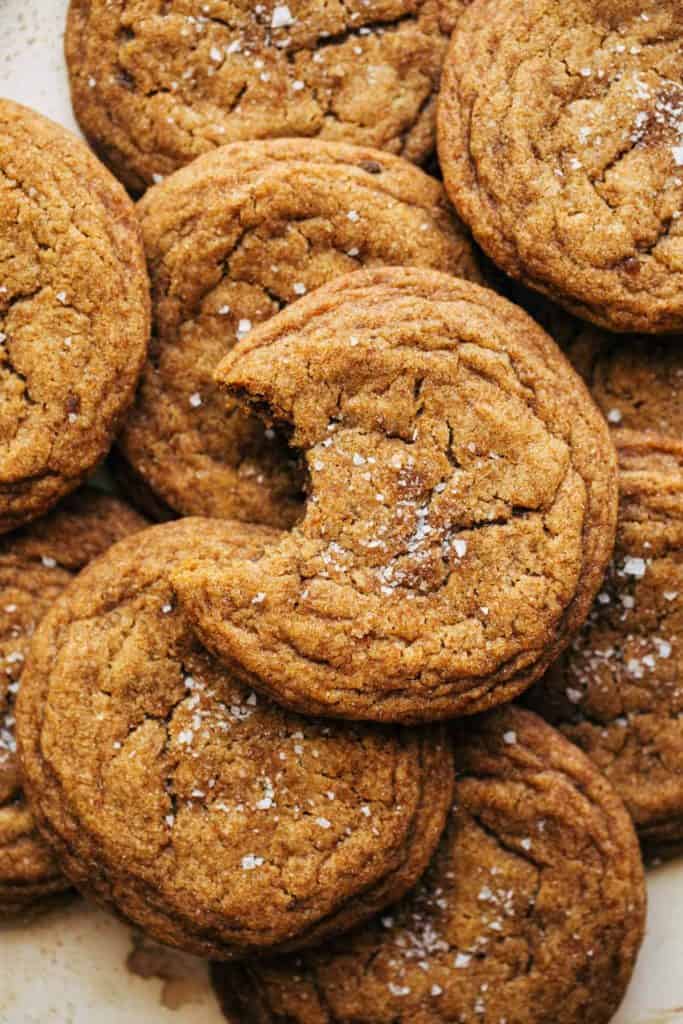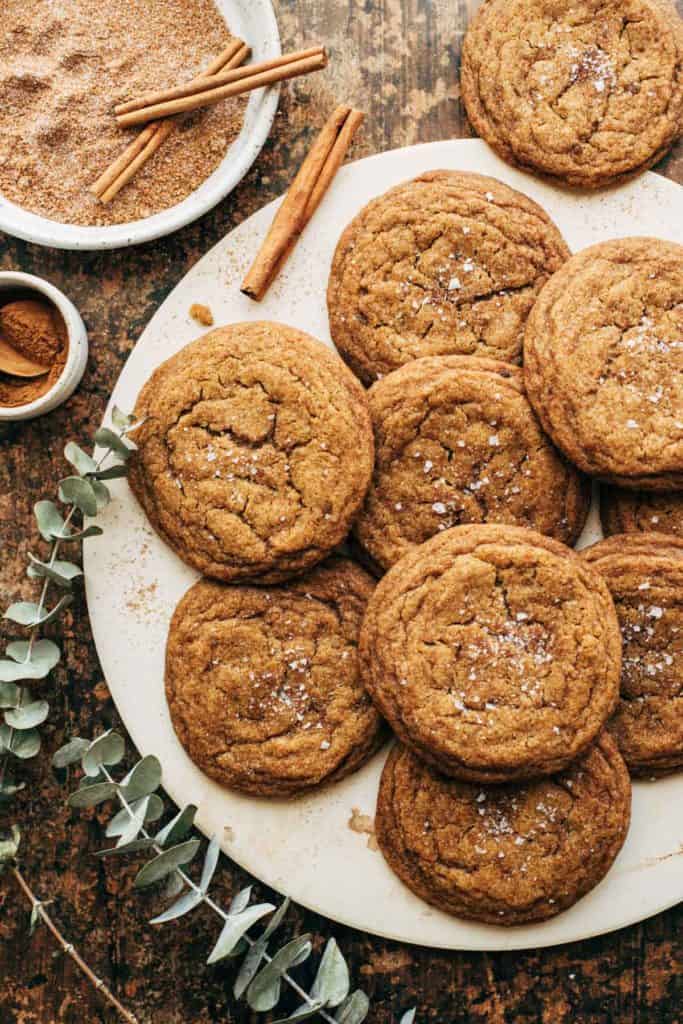 Tips for browning butter
The base of this recipe is rich brown butter. It adds so much flavor to these cookies and pairs perfectly with the warm spices and pumpkin. The very first step in this recipe is to brown the butter, so make sure you don't skip it!
What is brown butter? Brown butter is exactly what is sounds like…butter that has been browned! It's a process of melting butter over medium heat in order to separate the water from the milk solids. The solids sink to the bottom of the pot where they darken, roast, and brown. This short and simple process transforms the color and flavor of the butter from pale and mild to dark and nutty.
How do you brown butter? I have a whole post dedicated to the process of browning butter, but here are a few tips to ensure you get it just right:
Have patience – The entire process takes about 10 minutes, but most of the time nothing really happens. The browning takes place at the very end, and it happens very fast. Just keep an eye on the butter and as soon as it starts to foam up, keep stirring until it turns a rich amber color.
Don't take it too far – The brown color will go from light to dark very fast, but you want to land somewhere in the middle. As soon as you start to see the butter turn brown, keep it over the heat for a few more seconds to take it a shade darker. Then, remove from heat and pour into a separate container. It's important to pour it out of the hot pot as soon as you can to prevent it from browning any further.
Scrape the pot – All the flavor is in the brown bits at the bottom of the pot, so don't leave those out! When you're pouring the butter into a measuring glass, make sure you scrape in the little brown specks.
Expect less – The amount of butter you start out with is not the same amount you will end with. Expect to have just a bit less than 1 cup of browned butter as some of the liquid evaporates during the browning process.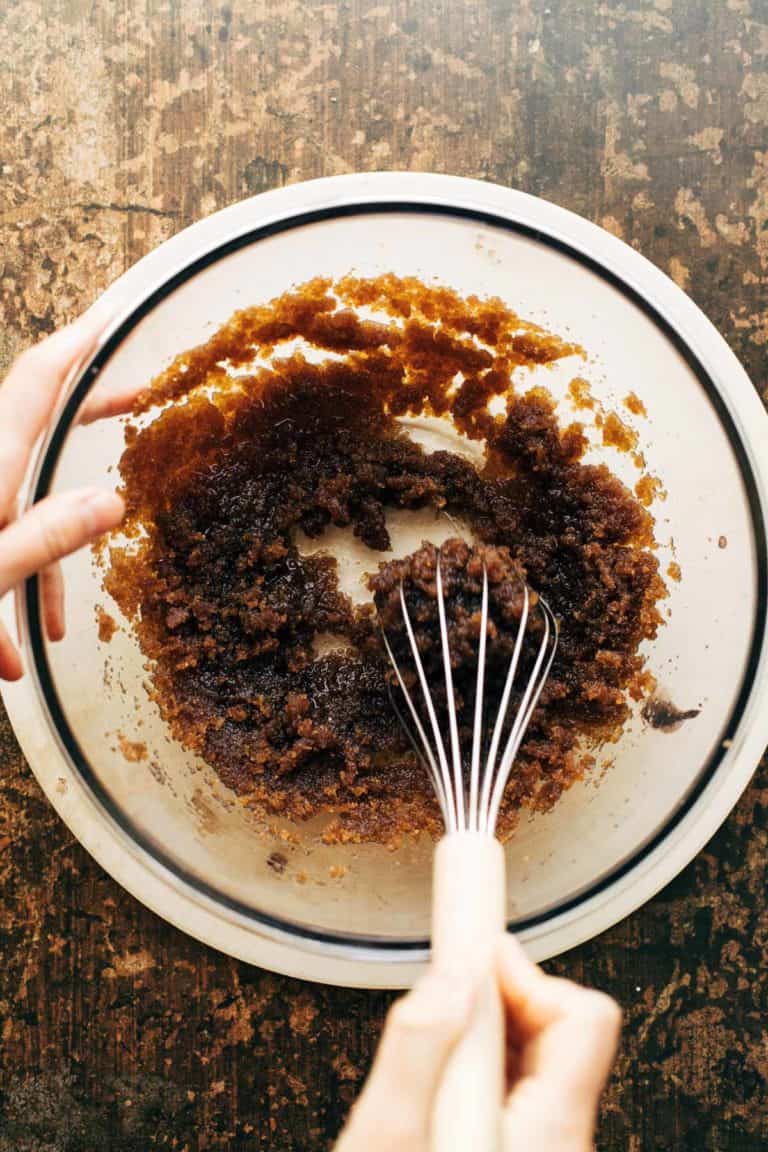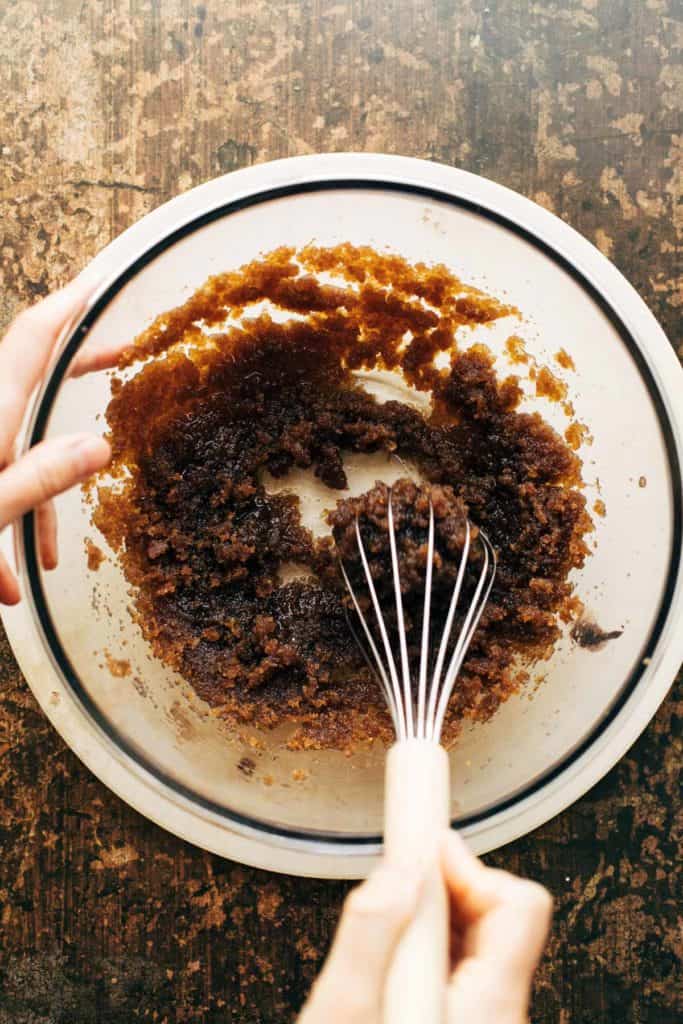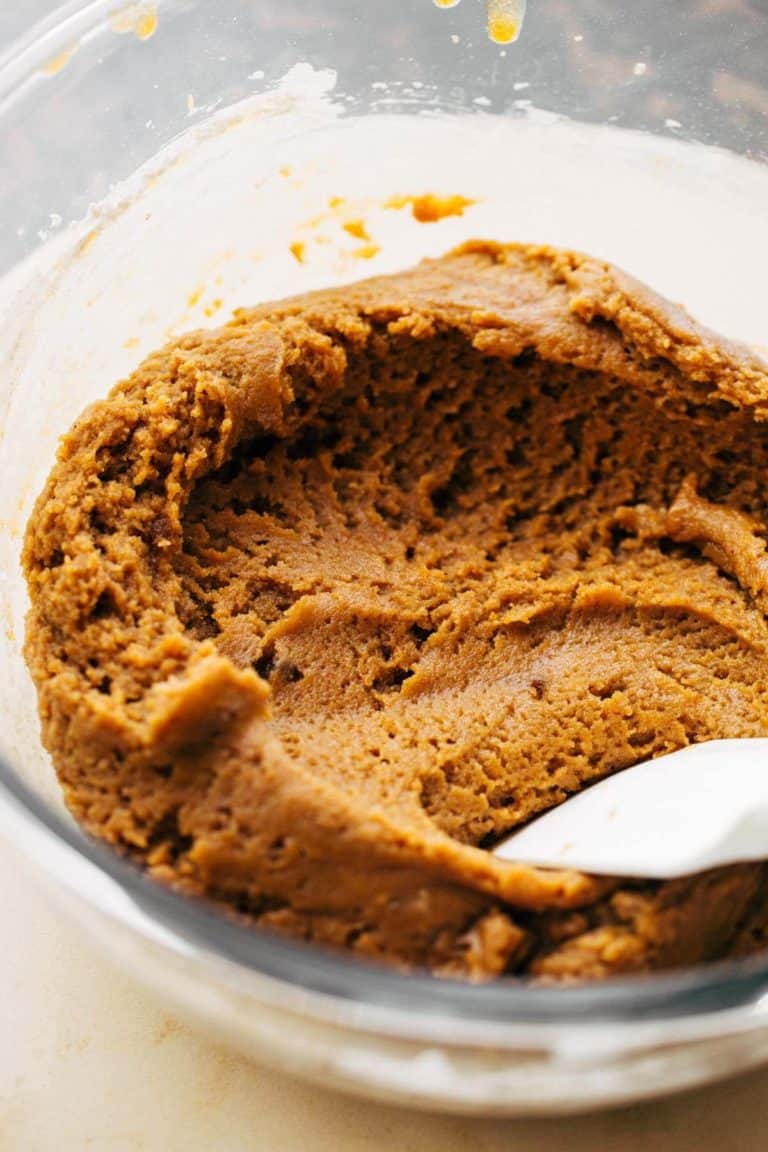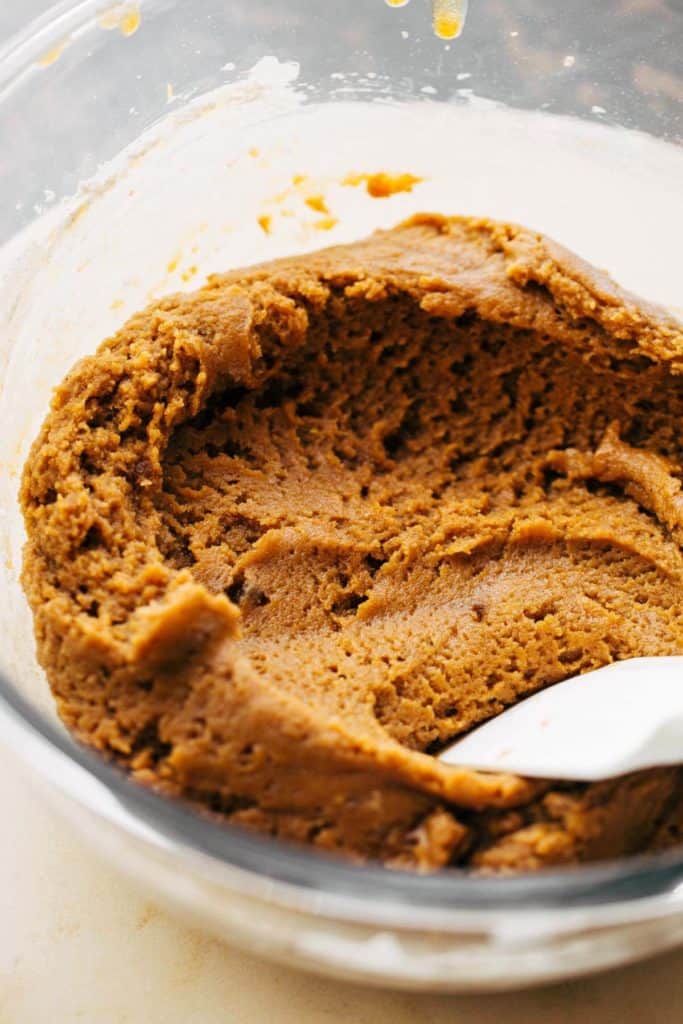 How to bake chewy pumpkin cookies
Pumpkin cookies are SO delicious but SO tricky to get just right. Due to the amount of moisture in pumpkin, pumpkin cookies tend to be more light and fluffy rather than dense and chewy…which is how I like my cookies to be. It took quite a few tests, but here is what is needed to get a dense and chewy pumpkin cookie:
Butter – Using melted butter is a great way to get a more dense cookie. With room temperature butter, air is whipped into the dough during the creaming process. But with melted butter, it's nearly impossible to build up any air inside the dough.
Flour – It's important to strike perfect balance of butter and flour. Too much flour and the cookies won't spread, too little and the cookies will turn oily and thin. To ensure you use the exact amount needed for these cookies, gently spoon the flour into your measuring cup and level if off with a flat edge. If you scoop directly into the flour container, it pacts it down into the cup which could leave you with 1/4 cup or more of added flour.
Maple & Dark Brown Sugar – This is like a one two punch of these chewy cookies. These two add so much flavor to these cookies, while also building a strong and chewy texture. Dark brown sugar contains a higher amount of molasses than light brown sugar, so it builds a much more dense cookie. Paired with the maple syrup, the two help weigh down the cookie to stop it from puffing up.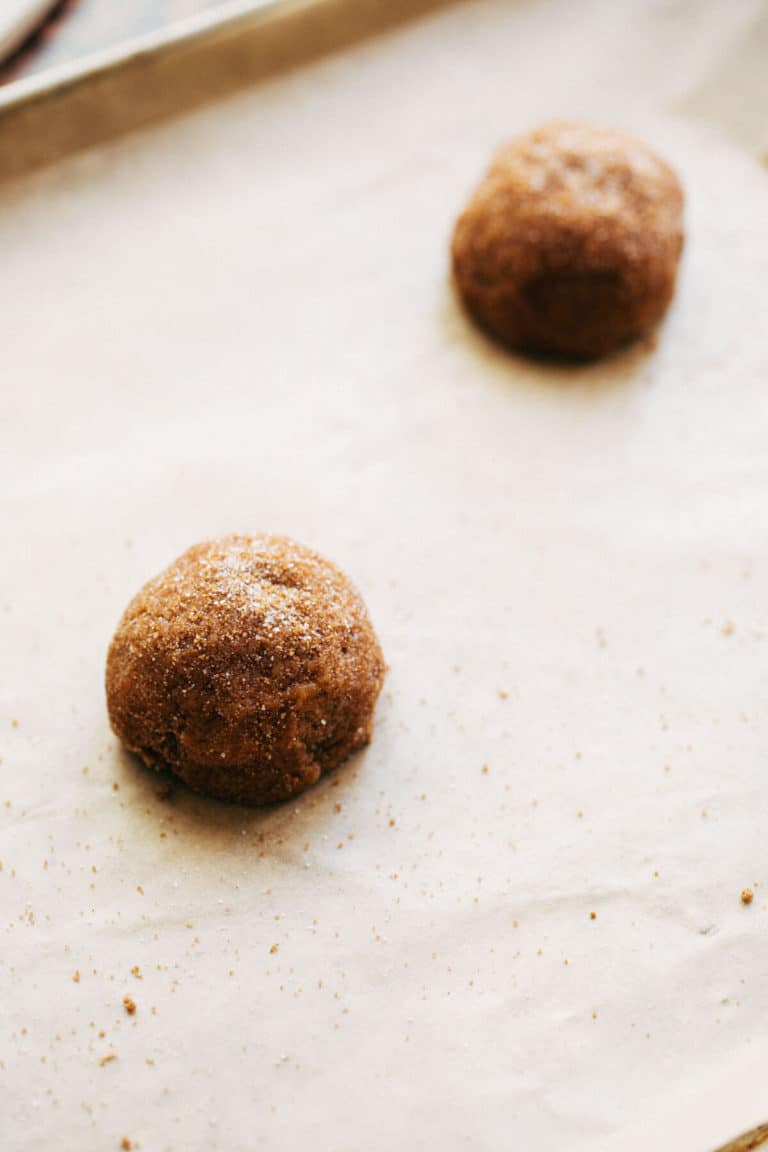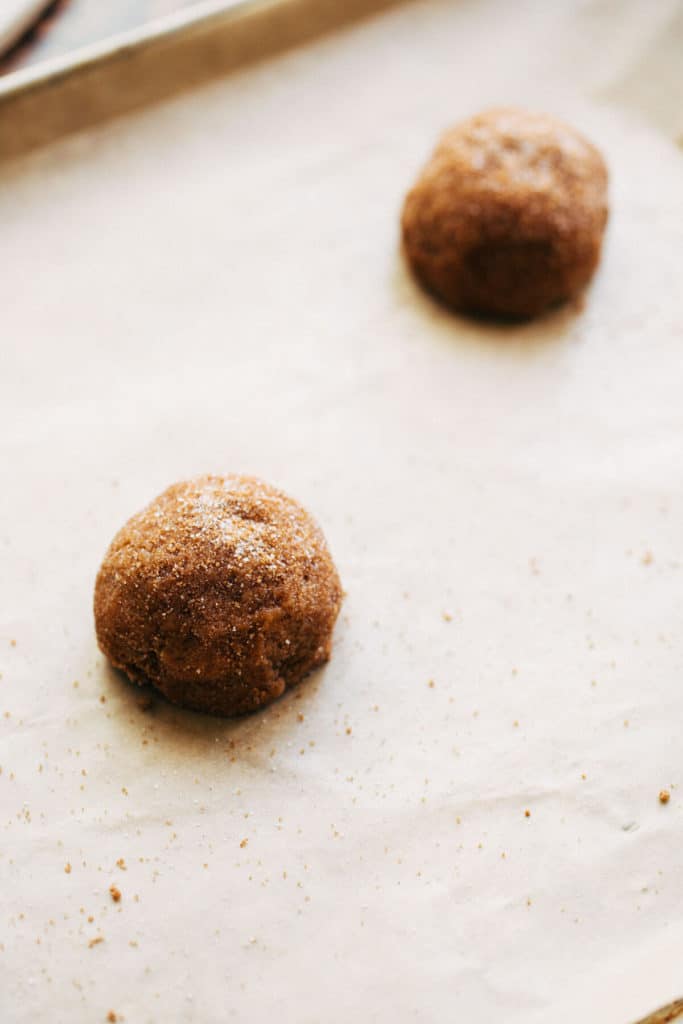 Brown sugar cinnamon coating
The coating is optional, but it does add a touch of extra sweetness and texture to these cookies. It's a simple combination of light brown sugar, granulated sugar, and cinnamon.
When the dough is ready, scoop each dough ball directly into the dish of the coating. The dough will be very soft, so use a light touch to toss it in the sugar. Gently form it back into a ball and place it on the baking sheet. Sprinkle a little extra coating on the very tops and bake.
How to tell when pumpkin cookies are done baking
The key to a dense and chewy cookie is to pull it out of the oven when the center still looks a bit underdone. You know they're ready when the edges are flat and golden but the center is pale and puffed.
The residual heat will continue to bake the cookies outside of the oven and the centers will firm up and settle as they cool. In the end you're left with wrinkly and chewy edges with a soft and tender center.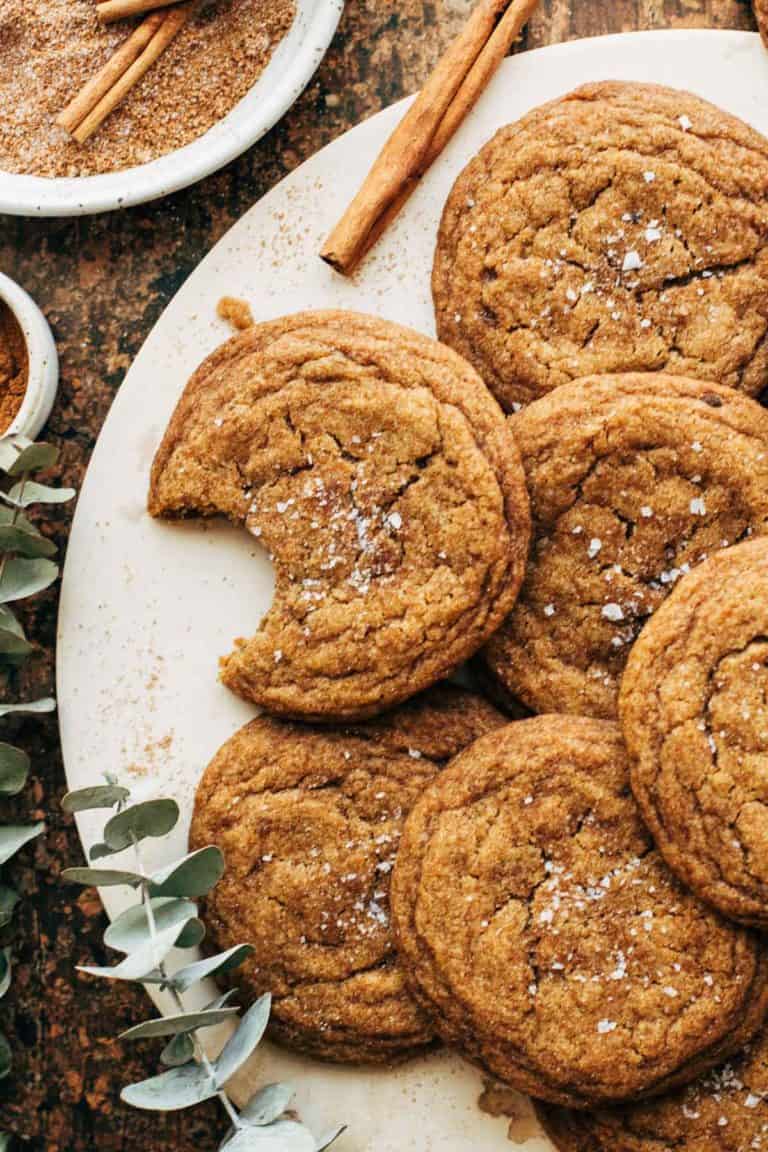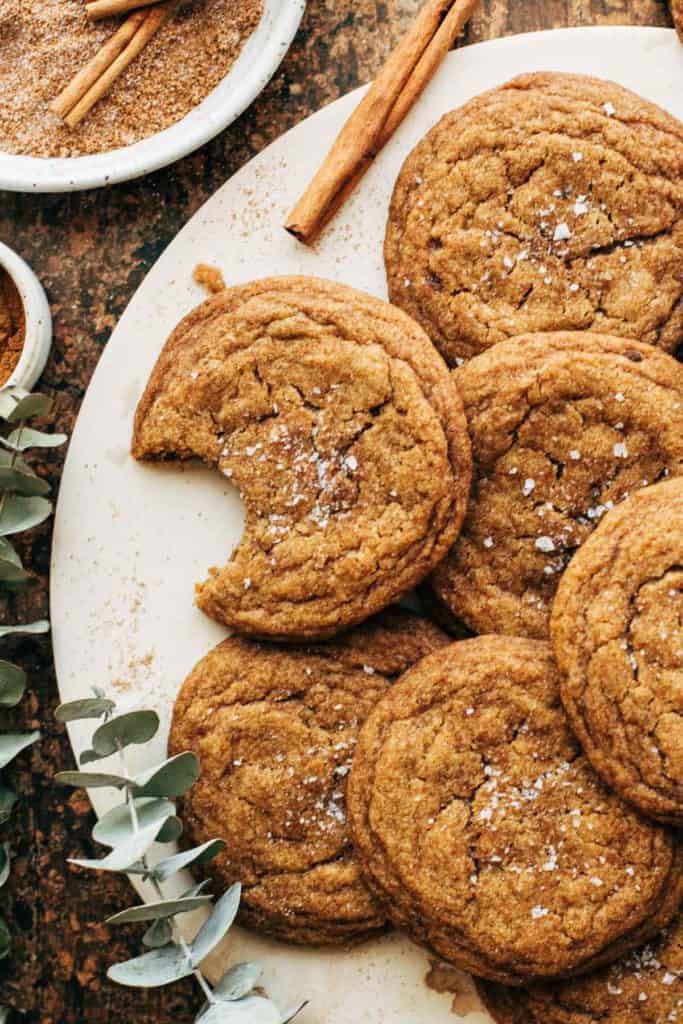 Troubleshooting your pumpkin cookies
My cookies didn't spread in the oven – 99% of the time, this is due to how you measured the flour. Like I mentioned earlier, always spoon the flour into your measuring cup and level it off with a flat edge. Don't ever scoop directly into the flour container or shake it down/pack it in. This will give you way too much flour, thus creating a thick dough that won't spread properly.
My cookies spread too much – Your butter may have been too hot when you added it to the dough. Make sure the brown butter is at room temperature before using. Also make sure it's right between 3/4 cup and 1 cup. If there's too much or too little, it can throw off the entire cookie.
Another issue could be with the pumpkin. I find that canned pumpkin can have a lot of variability. If you can, use Libby's canned pumpkin. Otherwise, if you have trouble with these cookies, try placing the pumpkin in a bowl lined with paper towels. This will help absorb any excess liquid before adding to the dough.
Lastly, it can also be the type of butter used. For this cookie, I used basic unsalted butter. If using a nicer butter with a higher butter fat (like Kerrygold or a European-style butter) that extra fat can cause the cookies to spread more.
Can I freeze the dough?
Yes, but the end result will leave you with a thicker cookie. Cover the dough and place it in the refrigerator for 1 hour. Once it's firmed up a bit, scoop the balls into a freezer safe bag and freeze.
To bake, let the dough rest at room temperature for about 45 minutes. Then toss in the coating and bake.
How to store chewy pumpkin cookies
Store the leftovers in an air tight container at room temperature. Make sure to stack them directly on top of each other as they tend to soften the longer they sit. If they're arranged randomly, some of them will bend and warp in the container.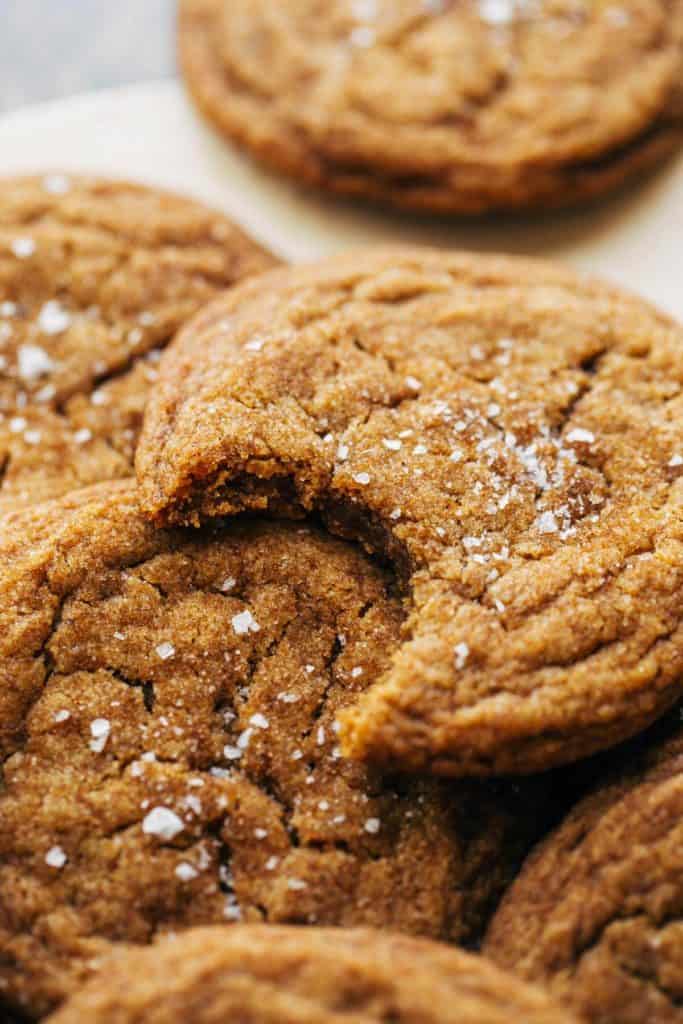 For more fall cookie recipes, check out my:
Make sure to tag me @butternutbakery on Instagram and comment below if you make these Brown Butter Maple Pumpkin Cookies. To pin this recipe and save it for later, you can use the button on the recipe card or on any of the photos above. Happy baking!
Watch how to make these pumpkin cookies here:
Print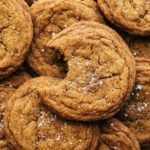 Brown Butter and Maple Chewy Pumpkin Cookies
---
Author: Jenna Barnard
Total Time: 50 minutes
Yield: 11-12 large cookies
Description
These chewy pumpkin cookies are bursting with flavor! Baked with loads of brown butter, warm spices, and pure pumpkin, these are the ultimate warm and cozy cookies that are perfect for the Fall baking season.
---
Pumpkin Cookies
1 cup (220g) unsalted butter
1 1/2 cups (280g) dark brown sugar, packed
1 large egg yolk
3 tbsp pure maple syrup
1 tsp vanilla extract
1/3 cup (80g) pumpkin puree
2 1/4 cups (280g) all purpose flour
1 tsp baking soda
1/2 tsp baking powder
1/2 tsp salt
1 1/2 tsp pumpkin pie spice
1/2 tsp cinnamon
Coating
2 tbsp brown sugar
2 tbsp granulated sugar
1 tsp cinnamon
---
Instructions
First, brown the butter. Melt 1 cup of butter over medium heat, continuing to stir until it reaches a rich amber color. Click here for more details on how to brown butter.
Pour the butter into a measuring glass to ensure you have the right amount, making sure to scrape the bottom of the pot to get all of the brown bits as well. It should be a bit short of 1 cup. Place in the refrigerator to chill for about 20 minutes. Don't let it solidify.
Preheat the oven to 350F and line a large baking sheet with parchment paper.
In a medium bowl, whisk together the flour, baking soda, baking powder, salt, and spices. Set aside.
In a large mixing bowl, whisk together the brown sugar and cooled brown butter. It should look like clumpy wet sand.
Whisk in the egg yolk, maple syrup, vanilla, and pumpkin until smooth.
Add in all of the dry ingredients and use a rubber spatula to fold into the dough. *If your dough feels too thin (it should hold its shape when scooped), chill the dough for about 15-20 minutes until thickened. This can happen sometimes if the butter is too warm at the start.
Off to the side, mix together the coating ingredients in a small dish.
Use a large cookie scoop (2oz) or 1/4 measuring cup and scoop out the dough. Drop into the cinnamon sugar mixture and toss to coat. The dough will be very soft but not sticky.
Place onto the baking sheet, spaced about 3 inches apart from each other. You should be able to bake 4-5 cookies at a time. Leave the rest of the dough out at room temperature.
Bake for 12-15 minutes or until the edges are darkened and the center looks puffed and slightly underdone.
Allow them to rest on the baking sheet for a couple minutes, then transfer to a cooling rack. Continue to bake the rest of the cookie dough.
Allow the cookies to cool, then dig in!
Prep Time: 20 minutes
Cook Time: 30 minutes
Keywords: pumpkin cookies, brown butter, pumpkin spice, chewy pumpkin cookies
Recipe Card powered by