These Pumpkin Cheesecake Cookies are the PERFECT fall dessert. Soft pumpkin cookie surrounds a silky cream cheese filling, all topped with a crunchy and sweet streusel topping. It's a pumpkin cheesecake/coffee cake hybrid that is unlike any other pumpkin cookie!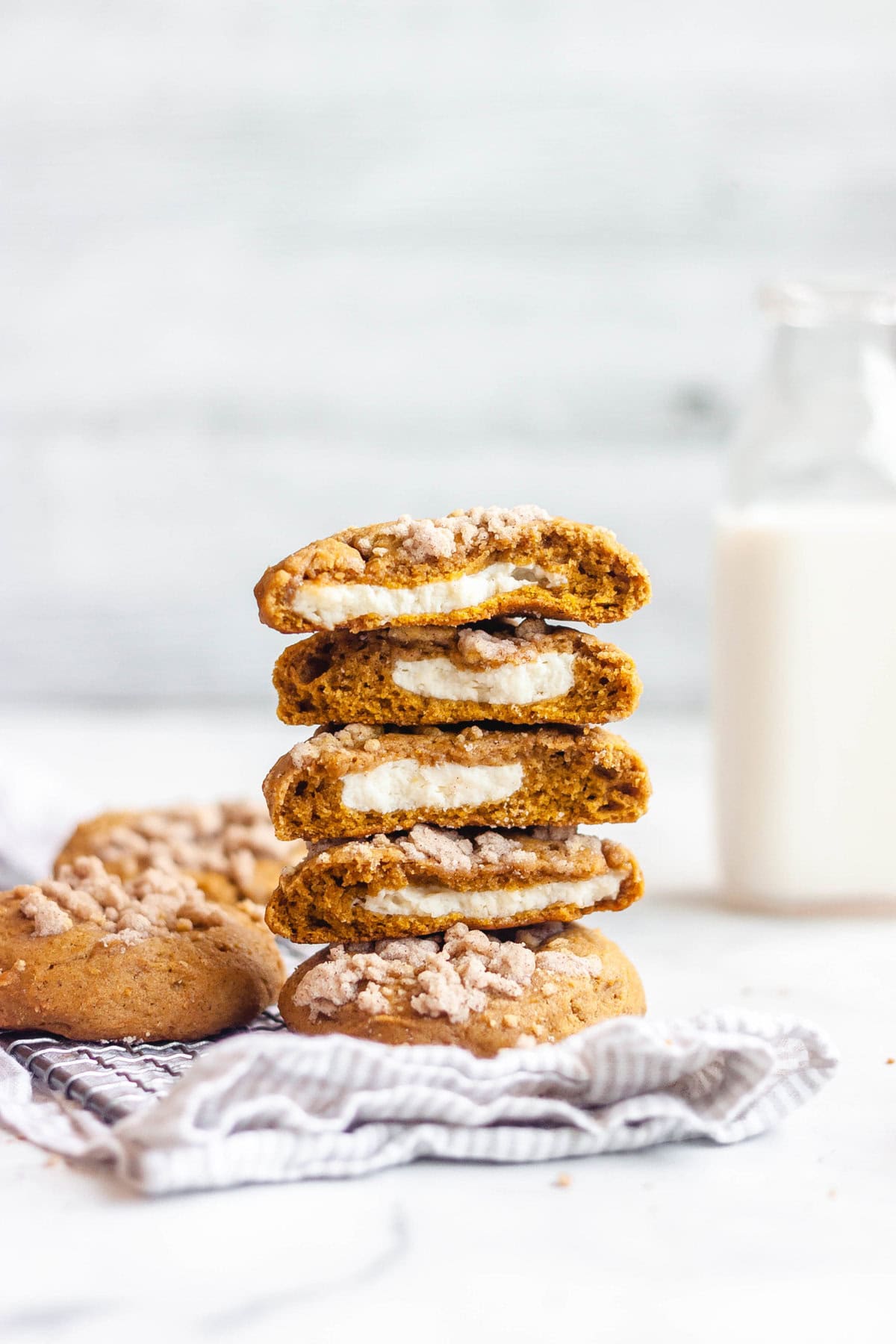 Why are these cookies so good?
I love how these Pumpkin Cheesecake Cookies are two desserts in one: a delicious pumpkin cheesecake in cookie form… and a delicious, streusel-topped pumpkin coffee cake… also in cookie form!
The streusel on top is a little added bonus but it also helps with the texture. With a soft pumpkin cookie and a soft cream cheese center, the streusel breaks up the monotony with a little added crunch. You can also think of these as a pumpkin cream cheese coffee cake… but, you know, in a portable, easy to eat cookie. The best of both worlds!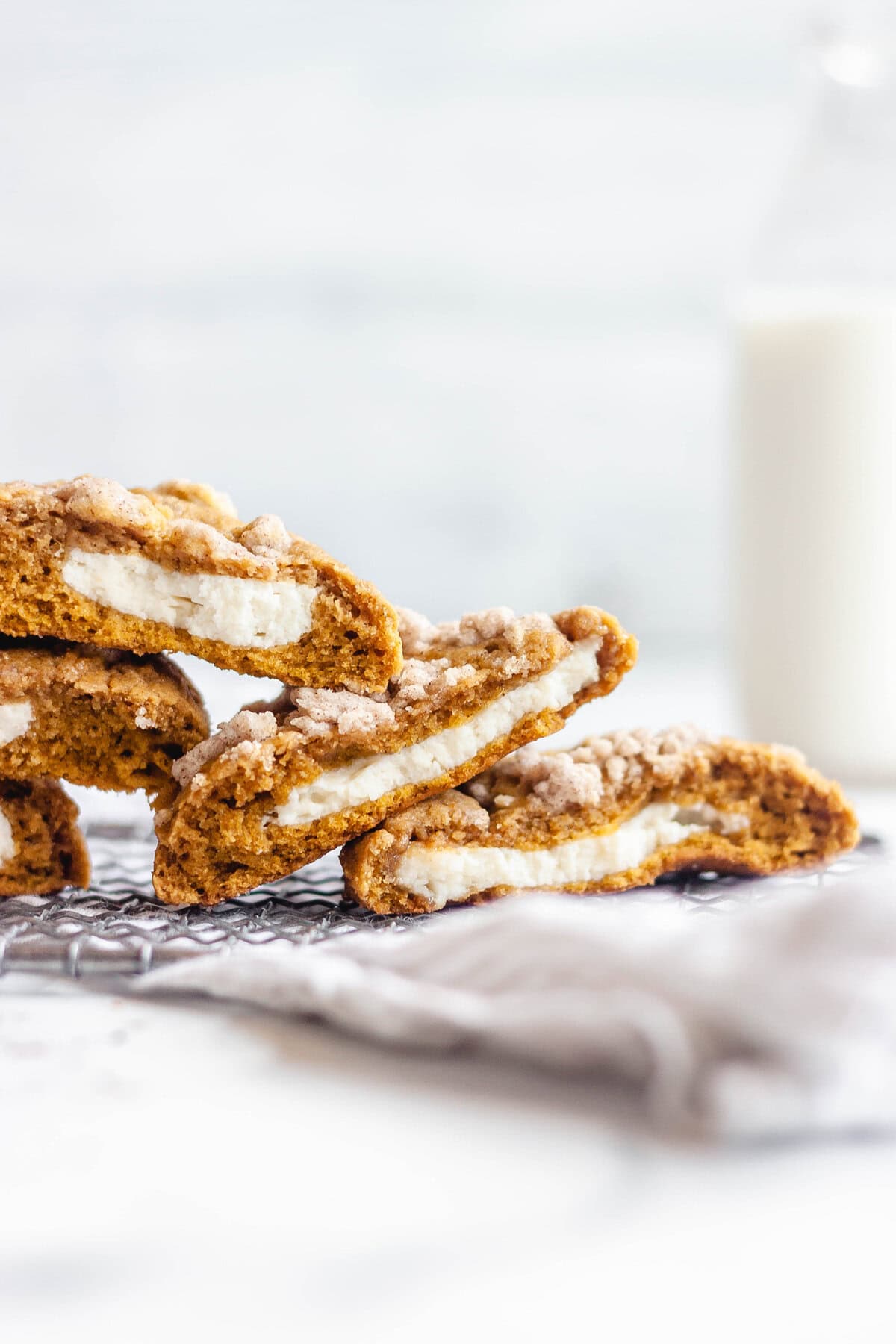 How to make stuffed cookies
Making stuffed cookies can seem a little daunting. You have to make sure the center doesn't seep out and that you don't over bake the actual cookie. Plus, how the heck do you even get that cream cheese in there? Trust me, it's so easy to do… but a little messy. Just a little!
The key is to pre-scoop and freeze the cream cheese portion of the cookie.
The very first step in the recipe is to make the filling so they can freeze and set by the time the cookie dough is ready. This prevents the filling from turning into a soupy mess in the oven and allows your cookie to stay intact while baking.
Now, I say it's a little messy because of the cookie dough itself. Because it's such a soft cookie and you're working with pumpkin, it can get pretty sticky. To help with the mess, you also want to pre-scoop the cookie dough and refrigerate it for 1-2 hours. It will still be a little sticky but no where near what it would be if you tried to assemble them right away. And believe me… I've tried. When ready, you just press the frozen cream cheese into the chilled cookie dough, seal, and bake. Easy peasy!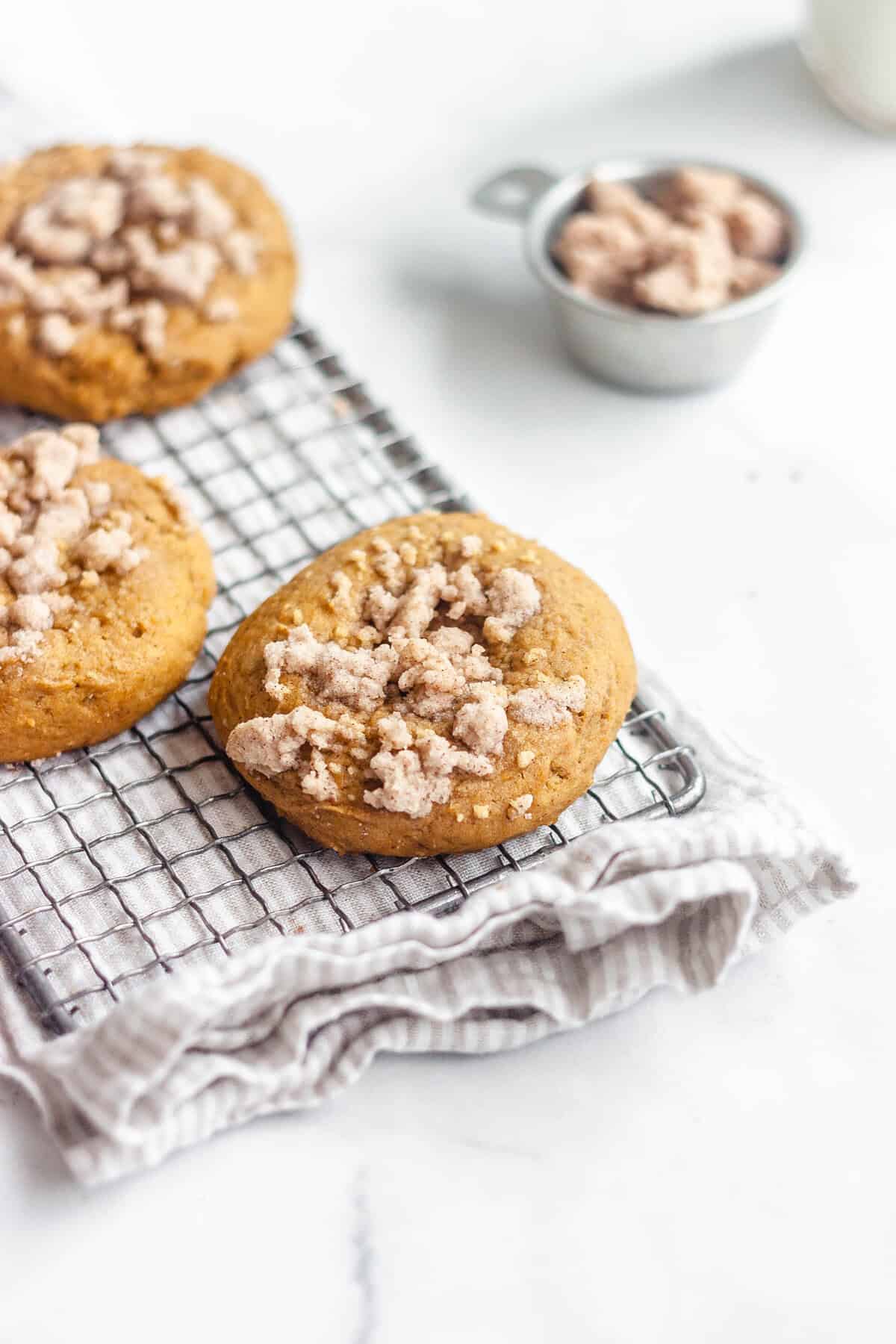 FAQs
What if I can't buy pumpkin puree where I live?
Readers have told me that mashed sweet potato also works in this recipe, as well as homemade pumpkin puree. This recipe always works really well and is also great for freezing.
How long do these cookies last after baking?
They stay moist for quite a while! Store in the fridge and they'll keep for about a week. You can also freeze them after baking, just make sure that they're well wrapped!
Why do you have to store the cookies in the fridge?
Because of the cream cheese filling, it's safer to leave them in the fridge. They're also a very soft cookie… almost like pumpkin bread in a way… so they won't really harden in the fridge. You can always pop them in the microwave for about 10-15 seconds before eating and they're good as new if you're worried about eating a cold cookie! But they also taste just as delicious when chilled.
For more pumpkin recipes, check out my:
Make sure to tag me @butternutbakery on Instagram and comment below if you make these Pumpkin Cheesecake Cookies. To pin this recipe and save it for later, you can use the button on the recipe card or on any of the photos above. Happy baking!
Print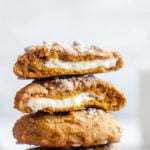 Pumpkin Cheesecake Cookies
---
Author: Jenna Barnard
Total Time: 2 hours 20 minutes
Yield: 15 cookies
Description
These soft pumpkin cheesecake cookies are stuffed with cream cheese and sprinkled with a streusel topping.
---
Cream Cheese Center
8 oz cream cheese, room temp
1/4 cup (50g) granulated sugar
1 tsp vanilla extract
Streusel Topping
3 tbsp unsalted butter, room temp
1/4 cup (50g) granulated sugar
1 tsp ground cinnamon
6 tbsp all-purpose flour
Pinch of kosher salt
Pumpkin Cookies
2 1/2 cups (330g) all-purpose flour
3/4 tsp baking soda
1/2 tsp salt
1/2 tsp ground cinnamon
1 1/2 tsp pumpkin pie spice
1 cup (220g) unsalted butter, cold and cubed
1 cup (200g) light brown sugar, packed
1/2 cup (100g) granulated sugar
1/2 cup (115g) pure canned pumpkin
2 tsp vanilla extract
---
Instructions
Cream Cheese Center
In a small bowl, mix together the cream cheese, sugar, and vanilla. Your cream cheese should be soft enough to where you can mix it together with a spoon.
Use a small cookie scoop (or about 1 tbsp) and scoop out the cream cheese onto a plate lined with wax paper. You should get about 16 scoops. Pop those in the fridge for 30 minutes to an hour or until they're frozen solid.
Streusel Topping
Add all of the ingredients to a medium sized bowl and crumble together with your fingers. Place this in the fridge while you make the pumpkin cookies.
Pumpkin Cookies
In a medium sized bowl, mix together the flour, baking soda, salt, cinnamon, and pumpkin pie spice. Set aside.
In a bowl using an electric mixer, cream together the cold butter and sugars until smooth and well combined. When measuring out the pumpkin, make sure you don't level it off to an exact 1/2 cup. If it's over the top by a smidge, that's OK! Add the pumpkin and vanilla to the butter and sugar and mix to combine. It might look a little curdled but the flour with smooth it out.
Slowly mix in the dry ingredients until just combined. Don't over mix.
Using a large ice cream scoop like this one to scoop out the cookie dough and prep for chilling. If you don't have a large ice cream scoop, you can use a 1/3 measuring cup. You should get about 15 cookies. Place in the fridge for 1-2 hours to chill.
Assemble and Bake
When ready, preheat the oven to 325F and line a large cookie sheet with parchment paper. Prepare about 4-5 cookies at a time and place everything back in the fridge or freeze in between bakes.
Take a cookie in your hand and push one of the cream cheese scoops into the center. Spread the cookie dough over the top to seal. It might get a little sticky but just make sure no cream cheese is showing. Smooth it out the best you can and place on the cookie sheet. Top with a small mound of crumbled streusel.
Bake for 20-23 minutes or until the top is no longer shiny. The edges will not brown so make sure you don't over bake them. Place the cookies on a cooling rack and assemble the next batch.
Store in the fridge and serve cold or at room temp. Enjoy!
Notes
Store in the fridge and they'll keep for about a week. You can also freeze them after baking, just make sure that they're well wrapped!
Prep Time: 2 hours
Cook Time: 20 minutes
Category: Dessert
Method: Baking
Cuisine: American
Keywords: pumpkin cookies, fall desserts, pumpkin cheesecake
Recipe Card powered by