These rich and buttery maple cookies are swirled with spiced maple butter and drizzled with maple icing! The edges are wrinkly and chewy while the center remains soft and tender. They also smell incredible which is why I collaborated with Siblings to create a Spiced Maple Butter Cookie Candle! Your whole home can smell just like these cookies all season long.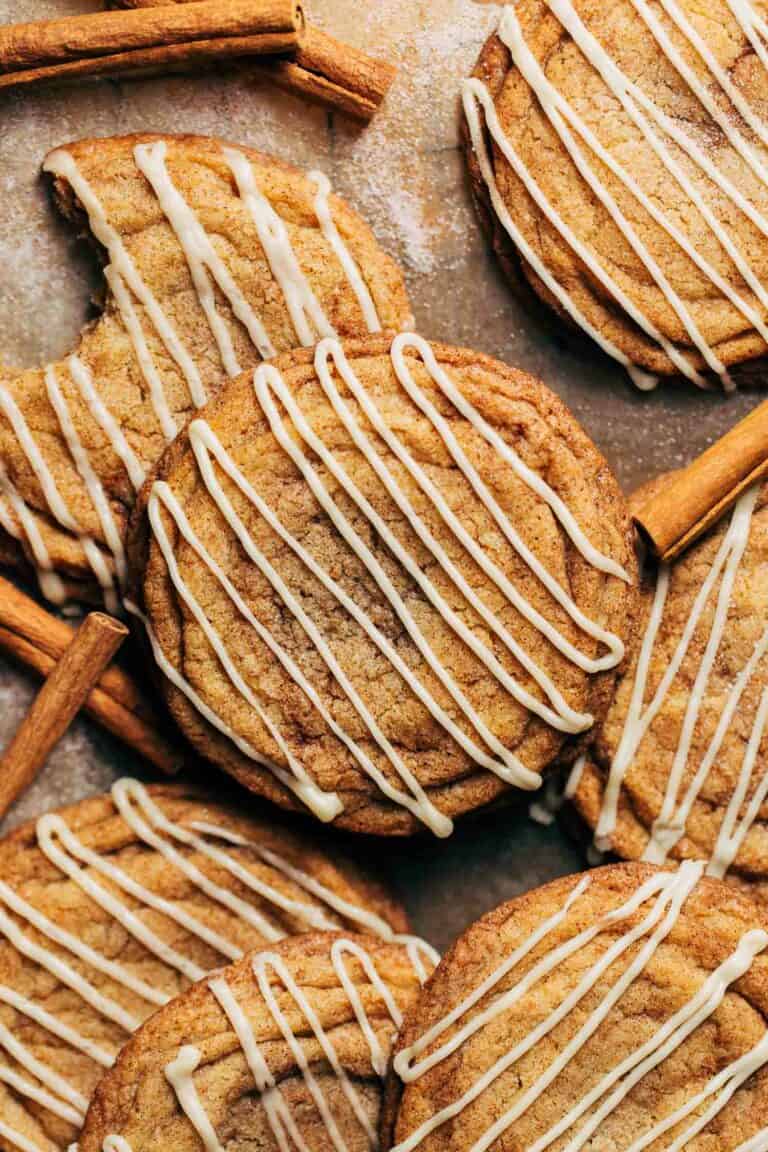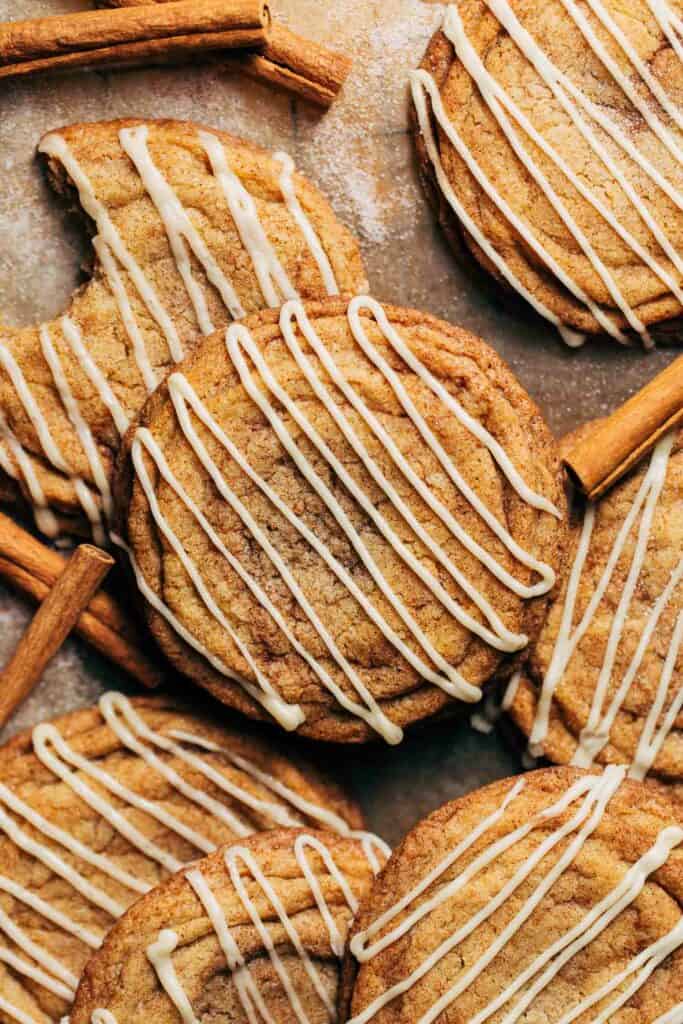 Spiced maple butter cookies concept
I thought of the idea for this scent back in February (it's now August) because myself and the team at Siblings wanted to release a candle in the fall.
The first scent most people associate with fall is pumpkin, but I wanted to do something a little different!
A few ideas were written up and sent to a testing lab. Once I received the first round of samples, spiced maple butter cookie easily beat out the others. The combination of maple, cinnamon, and vanilla is so incredibly comforting and it's exactly how I want my home to smell when the leaves start changing colors.
With a few more tweaks in the lab, the final scent is perfectly balanced and not too sweet – that was my one criteria! Once the scent was finalized, I worked backwards to create a spiced maple butter cookie recipe.
Using the notes of our scent, my jumping off point was maple, cinnamon, nutmeg, and vanilla.
But rather than throwing all the flavors into one dough, I had this idea of creating a spiced maple butter swirl. So with a soft maple cookie base, the maple butter is folded into the final dough to create streaks of spiced maple all throughout.
After rolling in cinnamon sugar and topping with a maple icing, these cookies smell EXACTLY like our scent! They're also so warm, comforting and inviting which is the feeling I really wanted to evoke both with this cookie and the candle.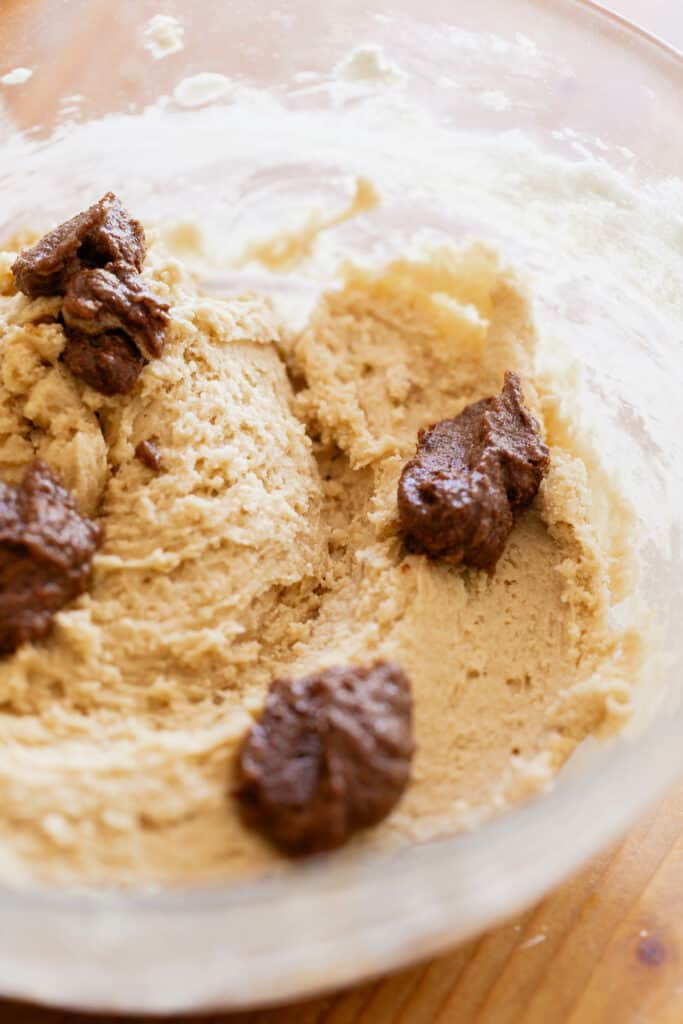 How to make maple cookies with wrinkly edges
Not only are the flavors incredible, but the textures in this cookie are bakery-worthy.
The baking of this dough was tested in so many different ways and while baking them the standard way yielded a delicious cookie, pan banging is what really took these over the top.
This technique for pan banging was created by Sarah Kieffer of The Vanilla Bean Blog. Using this process, cookies are baked just enough to where they start to spread (about halfway through the baking process). Then we open the oven door, lift and drop the pan a couple times, and then continue baking in 2 minute intervals.
Between each interval, the pan is lifted and dropped. This continual process of baking and then deflating the cookies creates a ripple of wrinkles all around the edge of the cookie.
The end result is a soft and buttery center with wrinkly and chewy edges. It creates such a wide variety of textures that just can't be done with straight through baking!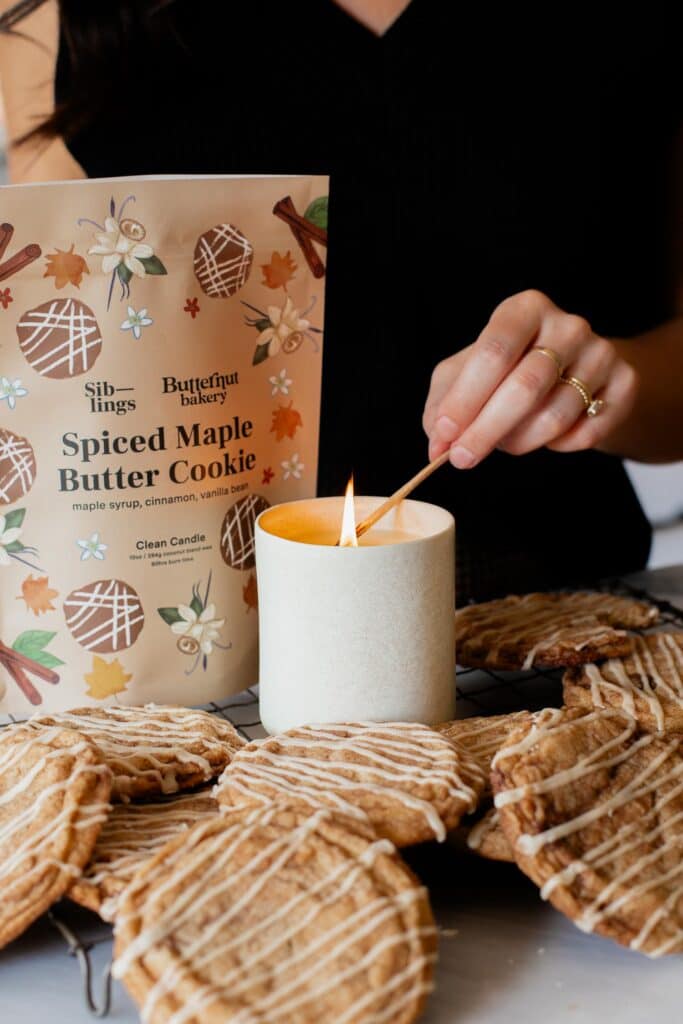 Spiced maple cookie baking tips
Properly measure the flour – I say this in every post, and for good reason. It's the number one reason why most recipes fail, especially for cookies. If there's too much flour, the cookies will turn out dry and they will not spread. If you can, measure the flour with a food scale. Otherwise, to ensure you use the exact amount needed, gently spoon the flour into your measuring cup and level if off with a flat edge. If you scoop directly into the flour container, it packs it down into the cup which could leave you with 1/4 cup or more of added flour.
Type of butter – Butters can all carry different levels of butter fat so for this recipe, stick with a standard unsalted butter. Stay away from European or Irish butter as these contain a higher amount of fat. This added fat can cause the cookies to spread too thin.
Mixing – This dough is thick, so take your time mixing in the dry ingredients. It's easy to miss some of the flour left at the bottom of the bowl, so make sure to scrape the sides and bottom as you mix to ensure everything is well combined.
Butter swirl – When the dough is combined, drop in spoonfuls of the maple butter and fold to disperse. Run your rubber spatula around and through the dough about 4 times. Less is more when it comes to this step!
Large scoop – For the best consistency, use a large 2oz scoop to bake the cookies. This is the key to creating a range of textures with a chewy outside and soft center.
For more fall cookie recipes, check out my:
Make sure to tag me @butternutbakery on Instagram and comment below if you make these spiced maple cookies. To pin this recipe and save it for later, you can use the button on the recipe card or on any of the photos above. Happy baking!
Print
Spiced Maple Butter Cookies
---
Author: Jenna Barnard
Total Time: 1 hour 5 minutes
Yield: 12 large cookies
Description
These maple cookies are swirled with a spiced maple butter and topped with maple icing. They're perfectly soft and buttery in the middle with wrinkly chewy edges! To full your home with the scent of these delicious cookies, check out my Spiced Maple Butter Cookie candle made in collaboration with Siblings! 
---
Maple Cookies
1 cup (220g) unsalted butter, room temp
1 cup (205g) light brown sugar, packed
1/4 cup (50g) granulated sugar
1/4 cup (55g) pure maple syrup
1 large egg
1 tsp vanilla extract
2 1/2 cups (330g) all-purpose flour
1/2 tsp baking powder
1/4 tsp baking soda
1/2 tsp kosher salt
Spiced Maple Butter
1 tbsp pure maple syrup
2 tsp ground cinnamon
1 tsp ground ginger
¼ tsp ground nutmeg
⅛ tsp ground cloves
Cinnamon Sugar
½ cup (100g) granulated sugar
1 tbsp ground cinnamon
Maple Icing
2 tbsp unsalted butter
3 tbsp pure maple syrup
¾ cup (75g) powdered sugar
---
Instructions
Maple Cookies
Preheat the oven to 375F and line a large baking sheet with parchment paper.
In a medium bowl, whisk together the flour, baking powder, baking soda, and salt. Set aside.
Slice 1 tablespoon of butter from the 1 cup of room temperature butter and place that tablespoon into a small dish. Place the rest of butter into the mixing bowl of a hand or stand mixer with the paddle attachment.
Measure out 1 cup of light brown sugar and remove 1 tablespoon. Place that tablespoon into the dish of 1 tablespoon of butter and add the remaining brown sugar to the large mixing bowl.
Now add the granulated sugar to the large mixing bowl and mix on medium-high speed until smooth and lightened in color (about 2 minutes of mixing).
Scrape down the bowl and add in the maple syrup, egg, and vanilla. Mix again on medium-high speed for about 1 minute.
Pour in the dry ingredients and mix to combine. Then use a rubber spatula to mix the dough by hand, scraping down the sides and bottom of the bowl to ensure everything is well combined.
Spiced Maple Butter
To the small dish with the 1 tablespoon of butter and 1 tablespoon of brown sugar, add the rest of the spiced maple butter ingredients and stir to combine.
Plop small amounts of the butter throughout the cookie dough. Using a rubber spatula, gently fold the dough to disperse the butter into ribbons. Careful not to over mix.
Cinnamon Sugar
Using a large 2 oz cookie scoop (or ¼ measuring cup) scoop the dough and roll in a small bowl of the cinnamon sugar.
Place 3-4 cookies on the large baking sheet and bake for 6 minutes.
After 6 minutes, open the oven door and drop the pan against the oven rack about 3 times. Continue to bake for another 2 minutes. After those 2 minutes, repeat the slamming process. Then bake for another 2 minutes, then slam again. Then bake for a final 2 minutes and drop the pan one final time for a total of 12 minutes baking.
Allow the cookies to cool and continue baking the rest of the batch. Once all the cookies have baked, make the icing.
Maple Icing
Whisk together the melted butter and maple syrup, followed by the powdered sugar. Pour the icing into a piping bag or a sandwich bag and snip off a very tiny corner.
Drizzle over the cooled cookies and enjoy!
Equipment
Prep Time: 20 minutes
Cook Time: 45 minutes
Category: Dessert
Method: Baking
Cuisine: American
Keywords: maple cookies, maple cookie recipe, maple sugar cookies, spiced cookies, spiced maple cookies
Recipe Card powered by