This ultra creamy vegan peanut butter cheesecake is so good that you'd never even know it's dairy free! Made with a raw vegan chocolate brownie crust and rich no bake cashew peanut butter cheesecake, these bars are completely gluten free, dairy free, and refined sugar free. Just blend, press, spread, and freeze until set. They're the perfect vegan treat to keep in your freezer and snack on whenever you're craving something sweet.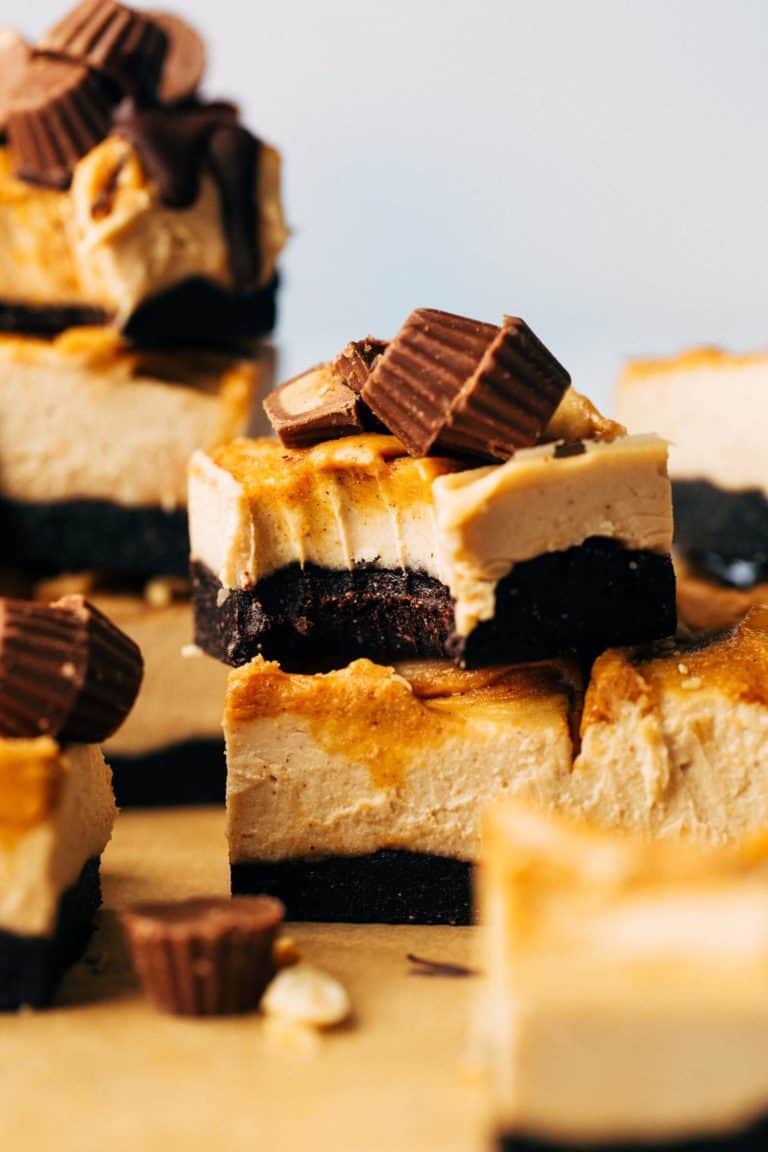 How to make a raw vegan brownie crust
I have to admit, I use this recipe so often when creating delicious vegan desserts. It's the perfect chewy and chocolatey consistency the works so well in indulgent vegan and gluten free recipes. I come back to it time and time again for its flavor and ease, as it's made up of just 5 simple ingredients:
Medjool Dates
Almond Flour
Cocoa Powder
Maple Syrup
Vanilla Extract
These ingredients are blended in a food processor until it reaches a crumbly but moist consistency. When it's packed down into the bottom of a pan, it takes on a completely different texture. It's chewy and rich just like a brownie, with a deep chocolate flavor.
It's also a flexible recipe as you can adjust it to an 8″ square pan, or a 1 pound loaf pan. See how that looks with these Healthy Brownie Cookie Dough Bars. And if you don't have access to almond flour or just want to use something different, feel free to use oat flour instead as it works just as well. I opt for almond flour as I prefer the richness it adds to this brownie crust!
What is vegan peanut butter cheesecake made of?
As you may know, I've cut gluten and dairy out of my diet within the past couple years due to a digestive sensitivity. Cheesecake was one of my FAVORITE desserts so I knew I had to make a dairy free version that tastes just as good. It took some research and some trial and error, but I landed on a formula that creates a super thick and creamy cheesecake that tastes just as indulgent.
The secret? Cashews! Due to their mild flavor but creamy and fatty texture, they're the perfect substitute for cream cheese when paired with the right ingredients. The trick so to tenderize the cashews before use, as this will help create a really smooth cheesecake texture once blended.
To tenderize, you can either allow the cashews to soak in water overnight OR boil them for 10 minutes before use. I tend to forget to prep them the night before, so I typically opt for boiling. Either way, the water helps hydrate and plump up the cashews, making them soft and pliable.
After they've boiled, the cashews are drained and added to a high speed blender along with almond milk, lemon juice, maple syrup, and vanilla. The almond milk helps smooth and thin out the batter, while the lemon juice adds that signature cream cheese tang.
Of course this wouldn't be vegan peanut butter cheesecake without the peanut butter! By adding loads of peanut butter, it helps create an even CREAMIER texture, alongside another addition of coconut butter. The two help create a thick batter that I could honestly eat by the spoonful. Then just spread the batter into your pan and freeze to set.
Do I have to use a high speed blender?
If you'd love to make these cheesecake bars but don't have a high speed blender, here are some other options:
Regular Blender – You can use a regular blender to blend the cashews, almond milk, maple syrup, and vanilla. Just know it might not get AS smooth as you would with a high speed blender. Then, stir in the peanut butter and coconut butter by hand, as the mixture may be too thick for the blender to handle on its own. Melt down the coconut butter before adding it to the batter to ensure it's thoroughly mixed throughout.
Food Processor – Follow all of the same instructions as you would with a high speed blender, but you may have to blitz the cashew/almond milk mixture for quite some time just to get it as smooth as possible. Then blitz in the peanut butter and coconut butter.
Either option will give you a delicious vegan peanut butter cheesecake, it just might not be AS smooth as it could be compared to a high speed blender.
Vegan peanut butter cheesecake substitutions
This recipe is pretty forgiving, so here are some substitutions I would recommend. If they aren't on this list, it's likely it won't work!
BROWNIE CRUST
Sub almond flour for oat flour
You can also sub the entire crust with a simple Oreo crust + vegan butter as Oreos are naturally vegan, just know that they do contain refined sugars.
PEANUT BUTTER CHEESECAKE
Sub the cashews for sunflower seeds that have soaked overnight. I have not tested this, but I have made this substitution in vegan cooking and it has worked well.
Sub the peanut butter with any nut or seed butter, as long as it's natural and made with just one ingredient.
Sub the coconut butter with your favorite non dairy yogurt, or vegan cream cheese.
How to make keto vegan cheesecake
To make this a keto recipe, simply omit the crust as the cheesecake itself is high in fat and low in carbs. You can also substitute the maple syrup for you favorite keto sweetener. Feel free to top them or dip the squares in melted raw cacao.
Can I halve the recipe?
Yes, cut the recipe in half and it will fit into a 9×5 loaf pan.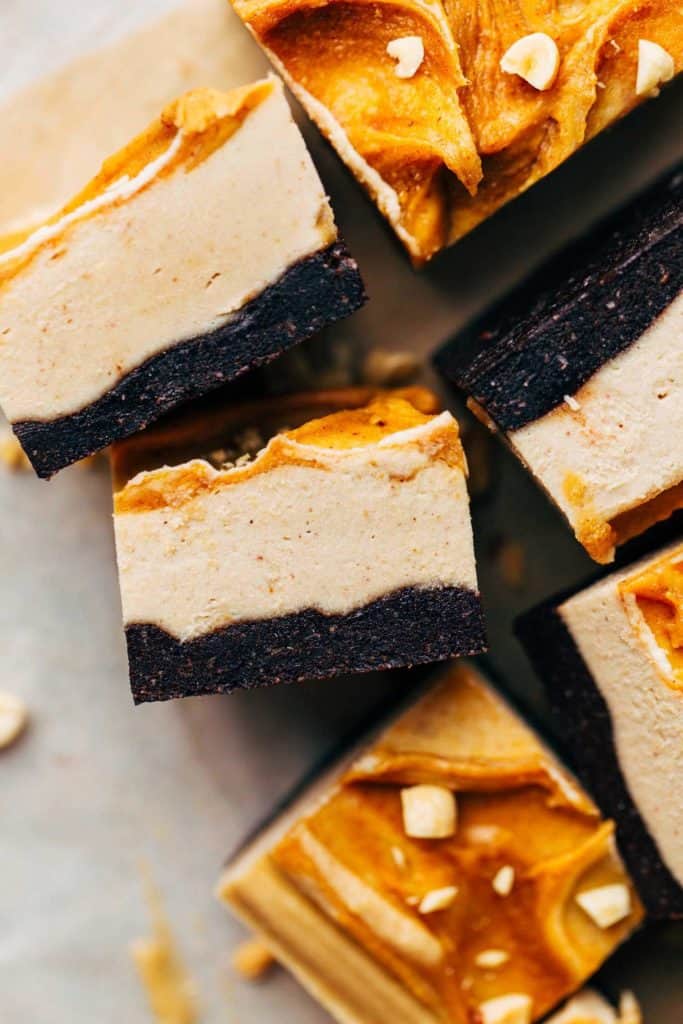 For more vegan dessert recipes, check out my:
Make sure to tag me @butternutbakery on Instagram and comment below if you make these Vegan Peanut Butter Cup Cheesecake Bars. To pin this recipe and save it for later, you can use the button on the recipe card or on any of the photos above. Happy baking!
Print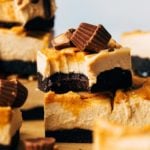 Vegan Peanut Butter Cup Cheesecake
---
Author: Jenna Barnard
Total Time: 30 minutes + 2 hours chilling
Yield: 16 bars
Description
Creamy vegan peanut butter cheesecake on top of a chewy chocolate brownie crust – all vegan, gluten free, and refined sugar free.
---
Chocolate Brownie Crust
1 1/2 cups (320g) pitted Medjool dates (about 16 dates)
1 cup (100g) almond or oat flour
2/3 cup (60g) unsweetened cocoa powder
3 tbsp pure maple syrup
1 tsp vanilla extract
Vegan Peanut Butter Cheesecake
1 1/2 cups (240g) raw unsalted cashews, boiled
1 cup (200ml) almond milk (or any plant-based milk)
3 tbsp maple syrup
2 tsp fresh lemon juice
1 tsp vanilla extract
3/4 cup (200g) natural creamy peanut butter*
3 tbsp coconut butter**
Topping Options
1/4 cup natural creamy peanut butter
1/4 cup dry roasted salted peanuts, chopped
1/4 cup melted vegan chocolate
---
Instructions
Chocolate Brownie Crust
Add all of the ingredients to a food processor and blitz to combine. It should form a crumbly and thick dough that holds its shape when packed together.
Press into the bottom of a 8″ square baking dish lined with parchment paper.
Vegan Peanut Butter Cheesecake
Before you start, boil the cashews for about 10 minutes or until tender. Then drain and cool.
Add the cashews, almond milk, maple syrup, lemon juice, and vanilla to a high speed blender and blend until smooth. Then add the peanut butter and coconut butter and blend again until smooth.
Scoop the batter onto the chocolate crust and spread it even. Drizzle another 1/4 cup of peanut butter on top and swirl it in. If the peanut butter is too thick, microwave it for about 30 seconds to thin out before drizzling on top. Sprinkle or drizzle on any additional toppings.
Place the cheesecake into the freezer for at least 2 hours or until set firm. If you choose to freeze it overnight, cover the pan in plastic wrap and then foil before chilling.
Slice the cheesecake into squares and then let it sit for about 30 minutes at room temperature to soften. Enjoy! *See notes for storage options
Notes
Peanut Butter – Make sure you use natural creamy peanut butter, made with nothing but peanuts. You can also use any nut or seed butter, as long as it's natural.
Coconut Butter – If you can't find coconut butter, feel free to use your flavor vegan yogurt.
Storage – You can either store the cheesecake in the freezer or the refrigerator. Keep in an air tight container and it will keep for up to 2 months in the freezer, or 1 week in the refrigerator. The pros to the freezer is that they last longer, but you will have to thaw for about 30 minutes before eating (unless you enjoy eating them as more firm and frozen). If stored in the refrigerator, they stay nice and soft. You can also store most in the freezer and some in the refrigerator for instant snacking.
Keywords: vegan cheesecake, vegan cheesecake bars, vegan peanut butter cheesecake, vegan keto cheesecake
Recipe Card powered by