This vegan banana cake is INSANELY good! It's incredibly moist, FULL of ripe banana flavor, and very easy to make. Not to mention the rich and fudgy vegan peanut butter chocolate frosting on top. I've also made this cake completely gluten free, but you can opt to use regular flour if you aren't living that GF life. Either way, you're left with a moist and spongey cake that will make you question if it's ACTUALLY vegan (spoiler alert, it really is!).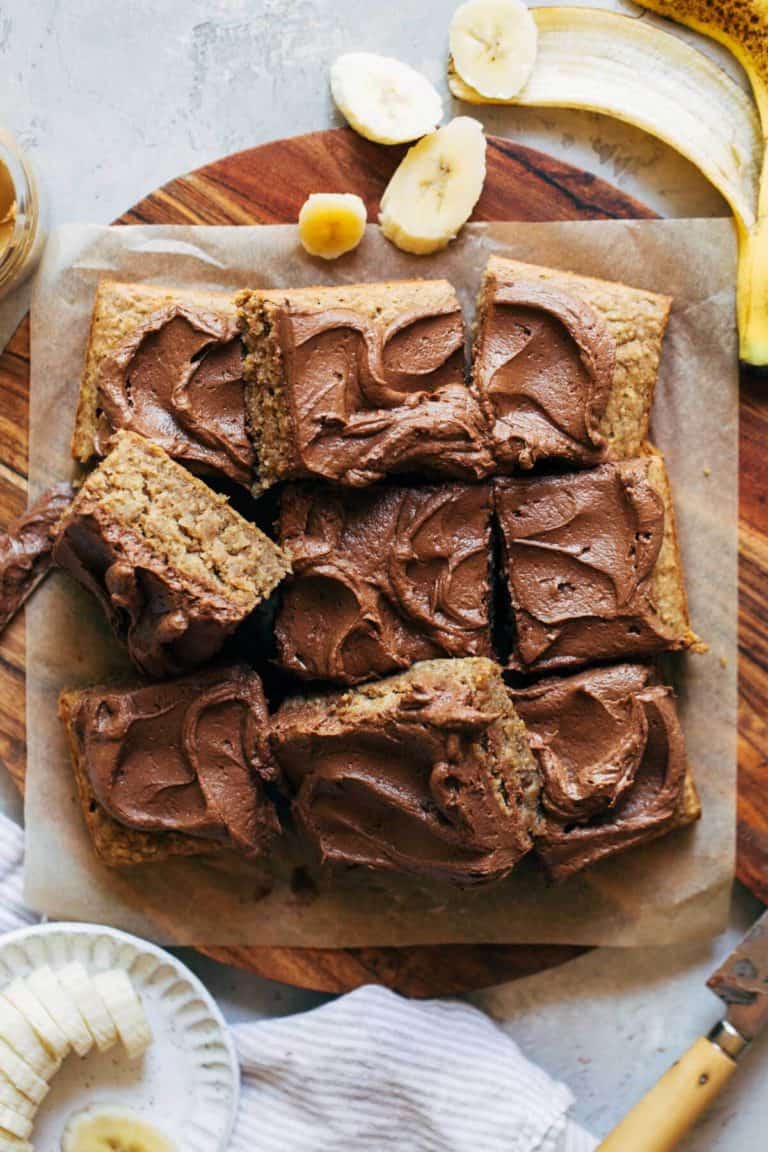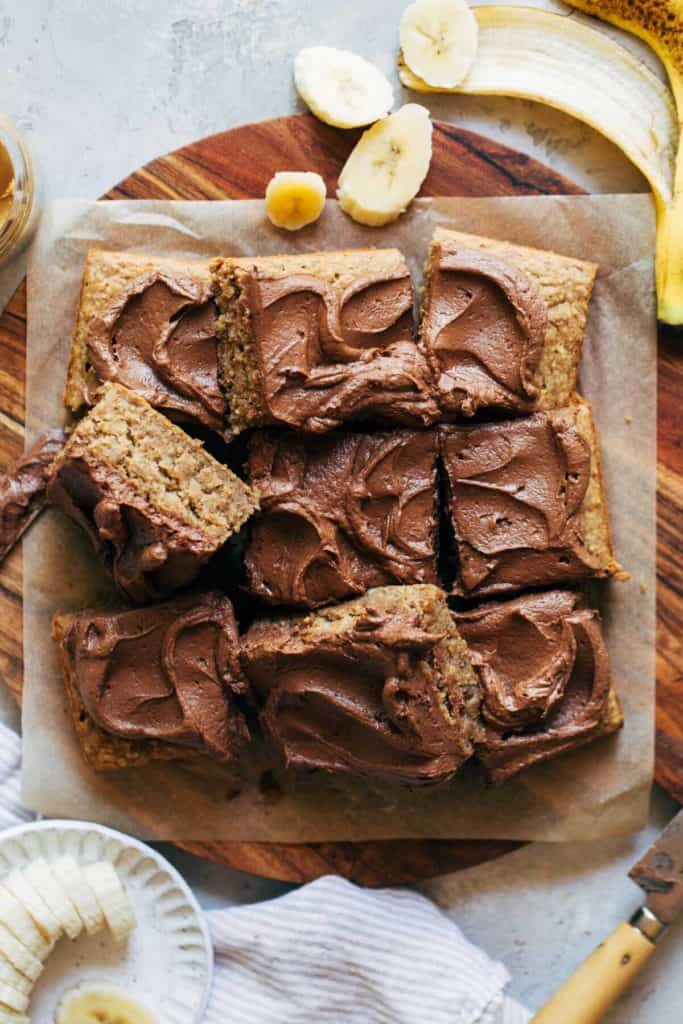 Vegan cake ingredients
Baking a vegan cake isn't that much different from baking a regular cake. And with so many plant-based baking substitutes out there, like vegan butter, it's now even easier! Here are the main three ingredients that turn this cake into a vegan banana cake:
Swapping regular milk for plant milk – There are SO many plant-based milk options now! And any variety will work with this recipe. I've tried it with oat milk, coconut milk, and almond milk. If you want an extra rich cake, you could also use canned coconut milk.
Swapping regular butter for vegan butter – After testing this cake with oil rather than butter, I felt it was missing some richness and flavor. Luckily plant-based butter can be found at just about any grocery store now-a-days. Baking this cake with melted plant-based butter creates a lush flavor and texture. And using it at room temperature leads to a silky and creamy frosting on top.
Swapping egg for aquafaba – Eggs are easily the trickiest ingredient to work around in vegan baking…although there are a few solid options. For this recipe, I chose to go with aquafaba to give it some lift and structure…it is a cake after all. And at this point you might be wondering what aquafaba even is. Scroll down to find out!
What is aquafaba?
Aquafaba is the liquid from a can of chickpeas…simple as that. It's something that is usually discarded or washed down the sink, but it can actually be used as an egg replacement in vegan baking. So the next time you open a can of chickpeas, save the liquid (aquafaba) and store it in the fridge.
Aquafaba closely mimics egg whites and has the ability to whip just like it. It can either be used in liquid form, lightly beaten until frothy, or whipped into a stiff and fluffy consistency. For this recipe, we'll be using the latter. You start by whipping the aquafaba until it's light and fluffy just like the picture above (yep, that's not egg whites!).
Whipping air into the aquafaba helps provide some lift to this cake, but it also helps bind the cake together. To provide some stability, cream of tartar is used in conjunction with the aquafaba in order to give it some strength. Otherwise, it won't whip to the volume needed.
Can you taste it?
Nope! Trust me, if you could taste chickpeas in this cake I would not have gone this route.
Who long does it take to whip?
Aquafaba takes a few more minutes to whip as opposed to egg whites. It's not as protein rich, so it needs a little extra time to reach those soft peaks.
Add it to a bowl and mix using a hand or stand mixer with a whisk attachment. Whip on high speed for about 8 minutes, or until it's light, white, and fluffy just like the mixture above.
Tips for making vegan banana cake batter
This is a super simple recipe, but if it's your first time baking a vegan cake it can get a little tricky. Here are a few tips to ensure it turns out delicicous:
The banana – Accurately measure the mashed banana before adding it to the batter. The recipe calls for about 2 medium bananas, but it's important that you have exactly 3/4 cup. Otherwise, if you add too much, the cake will be too mushy. Too little and the cake could be crumbly and dry. Also mash it up as finely as possible. Larger pieces of banana could disrupt the aquafaba.
Gradually add the sugar – Once the aquafaba is whipped, slowly incorporate the sugar. If you add it in all at once, it could deflate the aquafaba. Slowly pouring it in as the mixer is running will prevent this from happening. Once it's mixed in, it should look glossy and somewhat thinned out.
Combine the wet ingredients – Add the banana, butter, vanilla, and milk into a pourable container, like a measuring glass. Just like the sugar, we slowly pour in the wet ingredients so we don't disrupt the aquafaba.
Outside of these tips, the rest should be smooth sailing. Once it's baked, test the center with a toothpick before removing from the oven. It takes a little bit longer to bake than a regular cake (because it's so moist), so don't take it out of the oven unless it's fully done.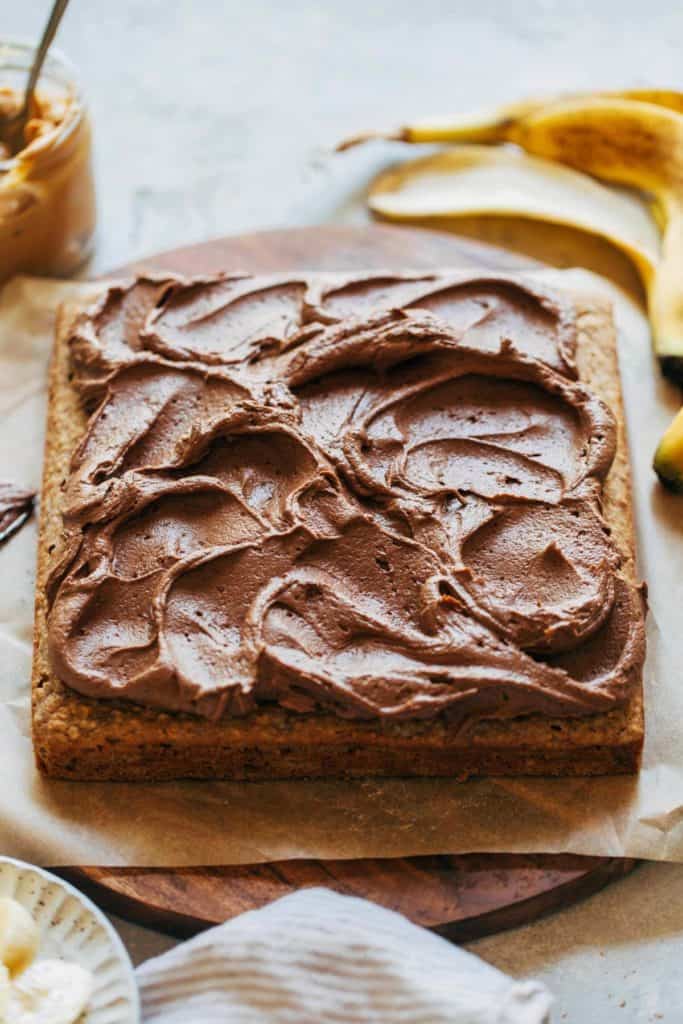 How to make fudgy vegan frosting
I honestly don't know which I love more – the banana cake or the peanut butter chocolate frosting. It's silky, creamy, fudgy…I could just eat it by the spoonful.
That delicious consistency all comes down to two things: plant-based butter and creamy peanut butter. I find that plant-based butter is a bit softer than regular butter, so it creates a really rich and lush frosting.
As far as the peanut butter, make sure to use a standard peanut butter like Jif or Skippy. I tested it with a natural peanut butter but the frosting turned out a bit oily and separated. Still delicious, but not as smooth as it could be.
For the chocolate, I opted for cocoa powder as I didn't want it to over power the peanut butter. It helps thicken the buttercream and add a layer of rich chocolatey goodness. Feel free to use cacao powder if you prefer!
Can I use regular flour instead?
Yep! Simply swap the gluten free flour for regular flour, but still use the oat flour. It helps give this cake some texture which breaks up the overall softness of the cake. Also, omitting the oat flour and using regular or GF flour in its place will throw off the cake overall. It's there for a reason!
You can either use pre-blended oat flour or ground up some oats in a food processor.
My favorite vegan butter
Plant-based butters now come in many varieties, but try to use vegan baking butter sticks. I really like Earth Balance or Country Crock Plant Butter. Both can be found in most grocery stores!
Can I use regular butter instead?
Yes, if you are not vegan you can use regular butter in place of the plant butter. Same goes for the milk.
How long does this cake last?
Store the cake in the refrigerator in an air tight container, or covered if storing in the dish it was baked in. It should last up to 5-7 days in the refrigerator and will barely lose any of its moistness!
For more vegan recipes, check out my:
Make sure to tag me @butternutbakery on Instagram and leave a review below if you make this Vegan Banana Cake. To pin this recipe and save it for later, you can use the button on the recipe card, the buttons above or below this post, or on any of the photos above. Happy baking!
Print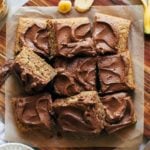 Vegan Banana Cake with Peanut Butter Chocolate Frosting
---
Author: Jenna Barnard
Total Time: 55 minute + 1 hour chilling
Yield: 9 slices
Description
This vegan banana cake is super moist and topped with a fudgy peanut butter chocolate frosting. It can also be made gluten free!
---
Vegan Banana Cake
1 cup (135g) gluten free baking flour with xanthan gum (or regular flour)
1 cup (85g) oat flour *see notes
1 tsp baking powder
1/2 tsp baking soda
1/4 tsp salt
1 tsp ground cinnamon
1/4 tsp ground ginger
1/3 cup (80g) aquafaba (liquid from a can of chickpeas)
1/8 tsp cream of tartar
1/2 cup (100g) granulated sugar
1/4 cup (60g) vegan butter, melted
3/4 cup (220g) finely mashed banana (about 2 medium bananas, measured)
1 tsp vanilla extract
1/2 cup (120ml) plant milk
Peanut Butter Chocolate Frosting
6 tbsp (80g) vegan butter, room temp
1/2 cup (130g) creamy peanut butter like Jif or Skippy
3/4 cup (95g) powdered sugar
1/4 cup (20g) unsweetened cocoa powder
2–3 tbsp plant milk
---
Instructions
Vegan Banana Cake
Preheat the oven to 350F and grease and line an 8×8 pan with parchment paper. Allow some of the paper to hang over the edges so you can lift the cake out later.
Whisk together the flour, oat flour, baking powder, baking soda, salt, cinnamon, and ginger and set aside.
In a large measuring glass (or something that you can easily pour from) mix together the mashed banana (measured to 3/4 cup), melted butter, vanilla, and milk. Set aside.
To a large bowl, add the aquafaba and cream of tartar. Using an electric mixer (hand mixers work best here), whip the aquafaba on high speed until light and fluffy and resembles whipped egg whites. See picture in post for reference. It should take 5-8 minutes of whipping, so keep going until you reach soft airy peaks.
Once you've reached that consistency, continue mixing on high speed and slowly pour in the sugar. It should turn glossy and frothy.
Turn the speed down to medium and slowly pour in the banana mixture, still continuing to mix.
Now turn the speed down a notch and mix in all of the dry ingredients. The batter should be somewhat thin. 
Pour the batter into the pan and bake for 35-40 minutes or until the edges are golden brown and a toothpick comes out clean.
Allow the cake to cool at room temperature for 2o minutes then chill uncovered for about 45 minutes, or until it has completely cooled.
While the cake chills, make the frosting.
Peanut Butter Chocolate Frosting
Using an electric mixer, mix together the butter and peanut butter until smooth and glossy.
Mix in the powdered sugar until well combined, then mix in the cocoa powder.
Add the milk one tablespoon at a time until you reach a smooth and spreadable consistency.
Once the cake has cooled, lift it out of the pan (or leave it in for easy storage), and plop all of the frosting right in the center of a cake. Use a spoon or offset spatula to spread it out towards the edges in swooping motions. This is how you achieve those creamy swirls on top.
Now slice and enjoy! Store any leftovers in a container in the refrigerator.
Notes
OATS – Use certified gluten free oats if making this gluten free. You can also make your own oat flour by blending oats in a food processor.
Prep Time: 20 minutes
Cook Time: 35 minutes
Keywords: vegan banana cake, banana cake, gluten free banana cake, vegan cake
Recipe Card powered by