These vegan snickers are a clean alternative that taste just as indulgent! Made with three layers – these snickers start with a walnut dark chocolate brownie base, a soft cashew nougat center, and a sweet peanut date caramel on top. Each layer is made in a food processor, so this recipe is really easy to make! Just blend them up, layer them up, chill, and slice. It's the perfect treat to keep in the freezer for a sweet afternoon snack.
Triple layer vegan snickers
What I love about this recipe is that everything is made in one food processor so it makes for an easy dessert and quick clean up. Here's what you can expect from all three layers of these snickers:
Cashew Nougat
This is the first layer to blend in the food processor, although it's the second layer of these snickers. The reason why it's first is because it's the lightest in color. If you blended the brownie or the caramel first, you would have to completely clean out the food processor before making the nougat…and no one has time for that! By blending each layer in a certain order, you're able to just scrape down the food processor and move on to the next one.
For the nougat, make sure you start with softened cashews. This is done by either soaking the cashews overnight or boiling them for about 10-15 minutes. Softening them makes for super easy blending – giving you a smooth nougat layer.
The second main ingredient of the nougat is the cacao butter. This is an extract from the cocoa bean and is used in chocolates as the fat substance to give it a smooth texture and flavor. Raw cacao on its own is very firm, but almost tastes like white chocolate. Because of this, it helps solidify the nougat layer without giving it a strong flavor (like a coconut-based product would).
When blending, try to break up the cacao butter into tiny pieces first. If it's too difficult, melt it down for easy blending. If the chunks are left too large, it's hard for the food processor to fully break it down.
After processing, scoop the nougat into a small dish and move on to the date caramel.
Peanut Date Caramel
Next to the food processor is the second lightest-in-color layer that goes right on top – the caramel. Its mainly comprised of two ingredients: dates and peanut butter.
Dates are what gives this caramel that sweet sticky flavor and texture, while the peanut butter helps create a creamy consistency. When blending the two, run the processor as long as you can. As soon as it starts to clump up into one large mass, trickle in a couple tablespoons of water to help thin it out. Just like magic, this caramel goes from thick and clunky to smooth and caramel-y (that's a word, right?).
Walnut Brownie Base
Although it's the first layer, this brownie base is made last because of its super dark color. It's made up of 4 ingredients: walnuts, dates, peanut butter, and cocoa powder. Once blended, it should resemble a wet sand consistency that can be compacted to hold its shape. If it's too dry, trickle in a tablespoon or two of water while the food processor is running. This should help bring it all together.
If you're thinking this dessert has way too many nuts, you can skip this brownie base and stick with just the nougat and caramel. Once frozen, you can cover them in chocolate just like a regular snickers. But if you want to go that extra mile and get the MOST flavor and texture out of this recipe, I highly recommend making the brownie layer.
Layering up these snickers
Now that all the layers are assembled, it's time to bring these snickers together. Since it's a calorically and fiber dense dessert, these snickers are made in a 9×5 loaf pan. This makes 14 snickers total as just a little bit will be enough to fill you up.
To this pan, start by pressing the brownie layer in to the bottom. Really pack it down to prevent any crumbling when sliced.
Spread the nougat on top and freeze for about 20 minutes. This will help solidify the nougat to make it easier to spread the caramel on top. Once chilled, spread on the caramel and top with a layer of peanuts.
I recommend using dry roasted roasted peanuts as this extra bit of salt helps to balance out the sweetness of the caramel.
Now, before slicing, it's important to freeze these snickers until firm. Freezing will ensure that each layer and slice stays in tact. This will take about 30 minutes – 1 hour in the freezer.
Optional toppings
Once chilled, it's time to slice up your snickers and enjoy. They're delicious on their own, but you can add a drizzle of melted 100% cacao on top to round out that chocolate flavor. I also added a sprinkle of sea salt to further balance out the sweetness.
How to store raw vegan snickers
Once sliced, store your snickers in the freezer in an air tight container. They will keep for up to 1 month. I recommend leaving them out at room temperature for about 20 minutes before eating.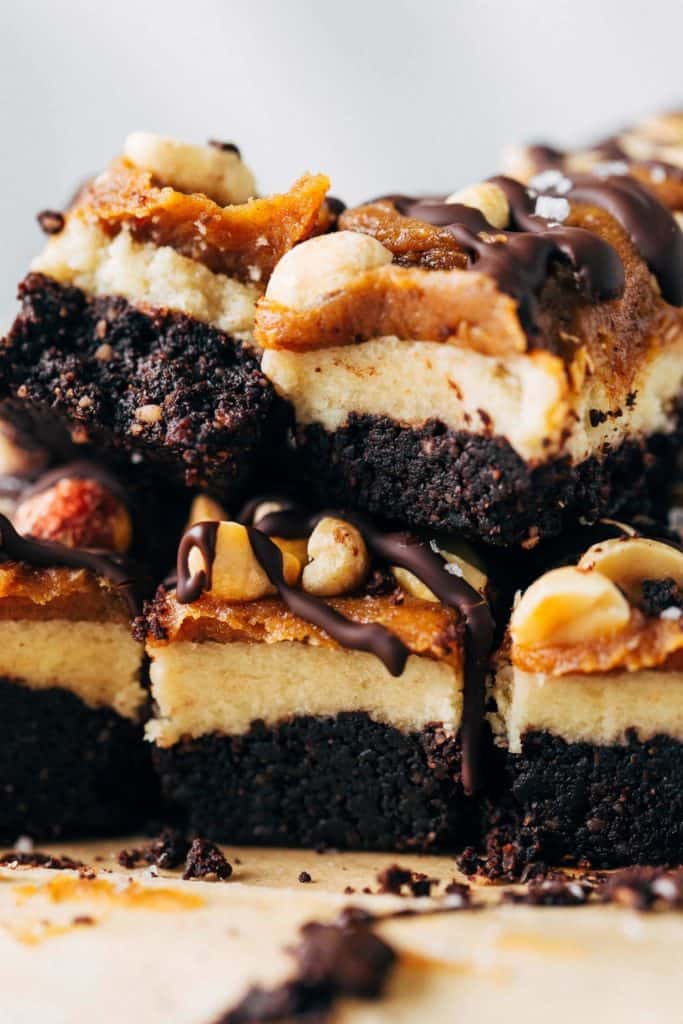 For more healthy dessert recipes:
Make sure to tag me @butternutbakery on Instagram and comment below if you make these Vegan Snickers. To pin this recipe and save it for later, you can use the button on the recipe card or on any of the photos above. Happy baking!
Print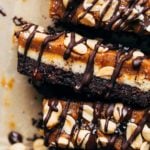 Vegan Snickers Bars
---
Author: Jenna Barnard
Total Time: 40 minutes + 1 hour chilling
Yield: 14 bars
Description
These raw vegan snickers are a cleaner alternative that taste just as indulgent! Made with a walnut brownie crust, soft cashew nougat, and sweet date peanut caramel.
---
Cashew Nougat
1/4 cup (42g) raw cashews, soaked in water overnight or boiled for 10 minutes
1/4 cup (35g) cacao butter*, chopped into small pieces or melted
1/3 cup (30g) almond flour (or oat flour)
2 tbsp pure maple syrup
1/2 tsp vanilla extract
Date Caramel
1/2 cup (100g) pitted Medjool dates (about 5–6 dates)
1/4 cup (70g) natural peanut butter
Pinch of salt
2 tbsp water 
Raw Brownie**
1/2 cup (85g) walnuts
3/4 cup  (140g) pitted Medjool dates (about 7–8 dates)
1/4 cup (70g) natural peanut butter
1/3 cup (35g) unsweetened cocoa or cacao powder
1–2 tbsp water as needed
Topping
1/2 cup dry roasted salted peanuts
1/4 cup 100% cacao chocolate, melted
Flaky sea salt for sprinkling
---
Instructions
Cashew Nougat
Add all of the ingredients to a food processor and blend until completely smooth.
Scoop the nougat into a small dish, scraping the food processor clean. 
Date Caramel
To the same food processor (no need to clean it), add all of the ingredients minus the water.
Blend until it clumps into one large mass. With the food processor still running, feed 1-2 tablespoons of water into the caramel to help smooth it out. It should turn out smooth and sticky. 
Scrape the caramel into a small dish.
Raw Brownie
Add all of the ingredients to the food processor minus the water (again, no need to clean it). Blend until completely combined (about 4-5 minutes).
Test the consistency. It should feel like wet sand but hold its shape when packed together. If it's too crumbly, feed in 1-2 tablespoons of water while the food processor is running. 
Assemble
Coat a 9×5 loaf pan with a light spritz of coconut oil or any nonstick spray. Line the bottom and sides with a sheet of parchment paper, allowing it to hang over the sides for easy removal.
Pack the raw brownie into the bottom of the pan. Pack it down as tight as possible to prevent any crumbling when sliced.
Spread the nougat on top. It's OK if some of the brownie crumbs get mixed in. Freeze for about 20 minutes to set.
Once chilled, spread the caramel on top and sprinkle with a layer of peanuts.
Freeze again for about 1 hour to fully set. 
Lift the bars out of the pan by the overhanging parchment paper. Slice into 7 bars and then slice them down the middle for a total of 14. Top the bars with a drizzle of chocolate and a sprinkle of sea salt if desired.
Enjoy!
Notes
*CACAO BUTTER – This is typically found in the "superfood" section of health-focused grocery stores. If you can't find any, you can swap with coconut butter (found by the coconut oil). Just know that it will give off a slight coconut flavor and make the nougat a bit softer.
**RAW BROWNIE – You can choose to stop at the caramel and omit the brownie layer. Simply spread the nougat and caramel in your loaf pan and freeze to set. Then slice and dunk in chocolate for a more traditional snickers option. 
Keywords: vegan snickers, vegan desserts, snickers, homemade snickers, raw vegan
Recipe Card powered by