If you love bourbon, or even if you're new to it, you will definitely love this cocktail! Peach and bourbon is classic combination and this cocktail has it all – fresh peaches, brown sugar, sweet tea, bourbon, and tons of juicy peach flavor.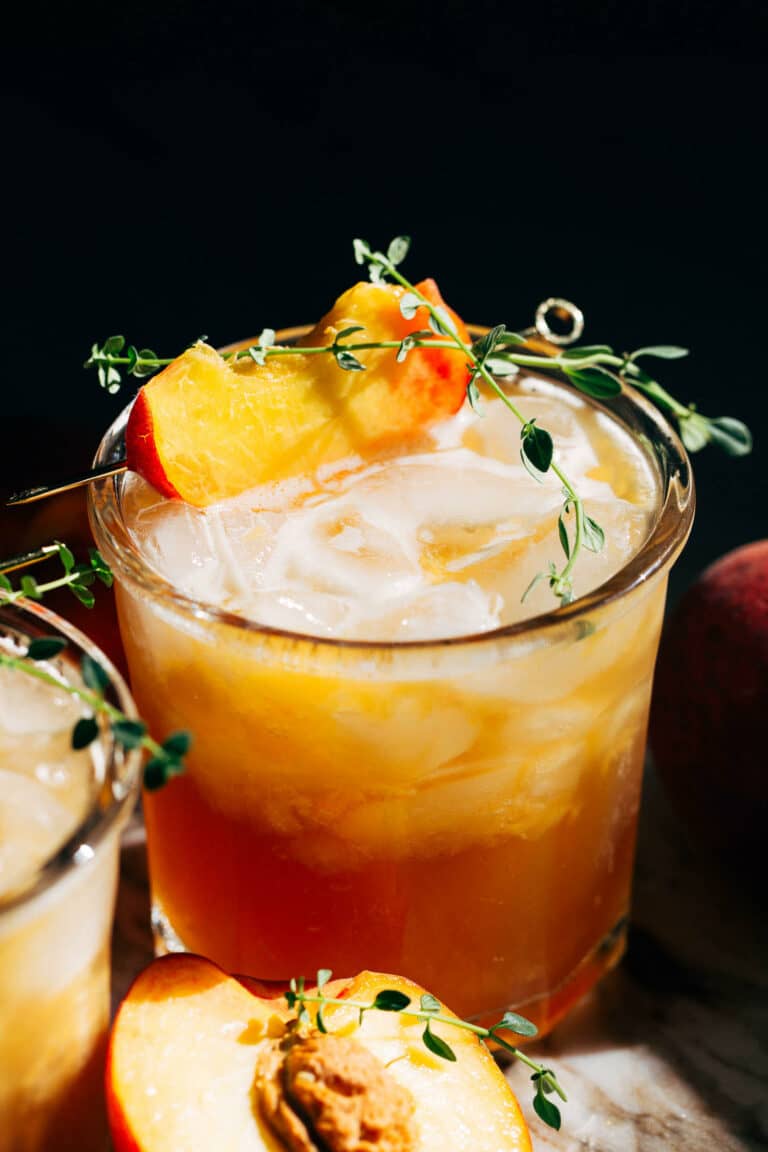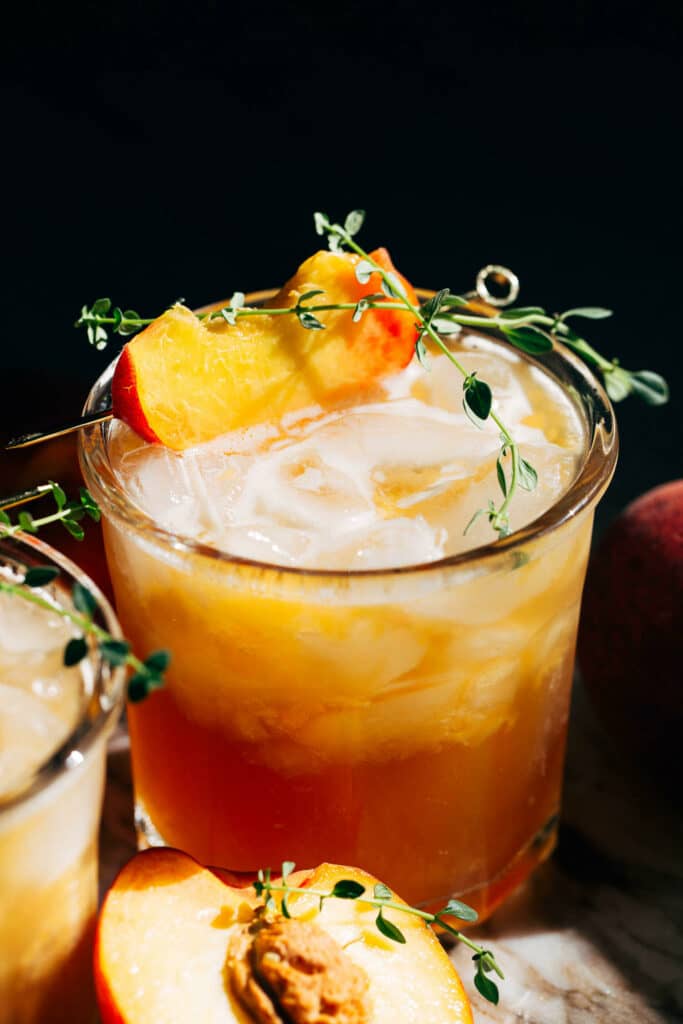 How to make a peach bourbon cocktail
Ok to be honest with you, I'm not the biggest fan of bourbon…but I'm really trying to change that! It's mainly because I could never find a bourbon cocktail that I actually liked. Most of them were way too strong for my liking and/or the other flavors in the cocktail just didn't excite me.
So I made it my mission to create a bourbon cocktail that would change my mind about bourbon and hopefully it will for you too! Although if you already love bourbon, then you will definitely love this too.
To start, peach and bourbon is a classic combination. The sweet earthiness of the peaches pairs so well with the smooth woody bourbon flavor.
To combine the two, fresh ripe peaches are mashed with light brown sugar and lemon juice (always FRESH lemon juice)! Then peach liqueur, amaro, and bourbon are shaken in.
The cocktail is strained and topped with peach tea or sweet tea. It doesn't matter what tea you use, as long as there's a bit of sweetness to it.
This peach bourbon cocktail is sweet, but not overly so, and has tons of peach flavor with the right amount of bourbon shaken in.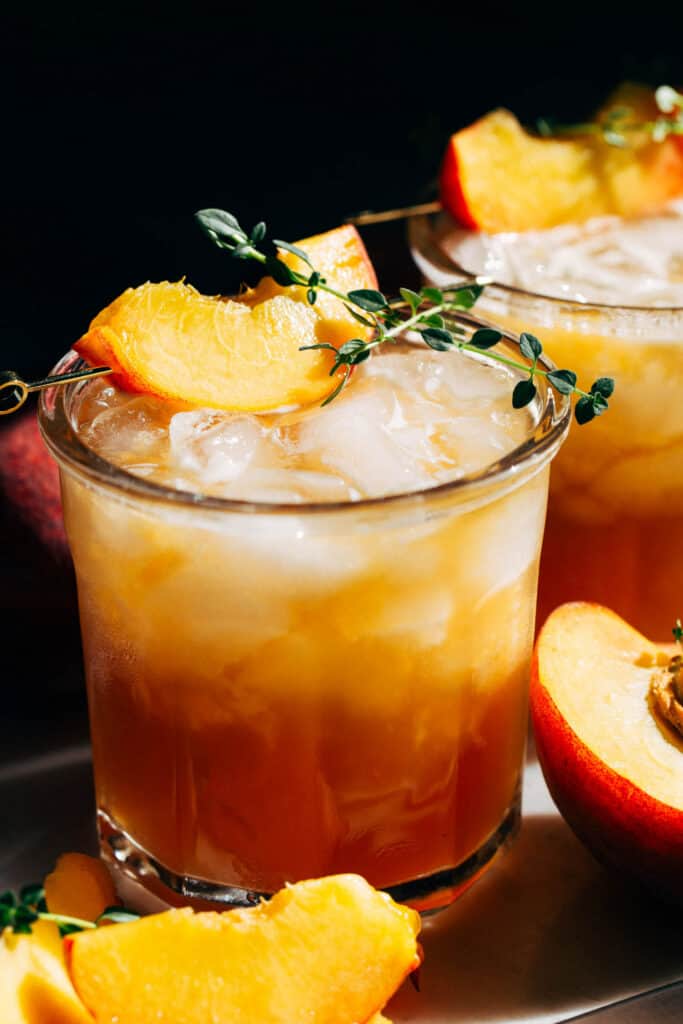 Bourbon peach sweet tea ingredients
For the best results, these are the ingredients I recommend:
Peaches – Fresh ripe peaches are best, but frozen thawed peaches can also be used! Half a fresh peach is equal to about 3/4 cup of frozen thawed peaches.
Lemon Juice – When making cocktails, always stick to fresh citrus. It's a big flavor enhancer and fresh provides the most smooth finish. Bottled citrus tends to be too tangy and tart.
Peach Liqueur – I'm not too picky here. Just use whatever peach liqueur you can find!
Amaro Montenegro – This is an Italian herbal liqueur which plays up the tea element of this cocktail. It can be found at big chain liquor stores but if you can't get your hands on it, you can either leave it out or use Jagermeister in a pinch. Amaro Montenegro is a bit more sweet and smooth than Jagermeister, so pull back just a bit on the ounces if you make the swap.
Bourbon – Go for a standard bourbon that's 90-95 proof. I really like Elijah Craig small batch because it's really smooth and not too punchy.
Peach Tea – For this cocktail, I really like Swoon peach iced tea because it's sweetened with monk fruit sweetener instead of sugar. I like that it reduces the overall sugar content in this cocktail. But something like Crystal Light or Snapple can be used, just as long as it's a sweetened tea.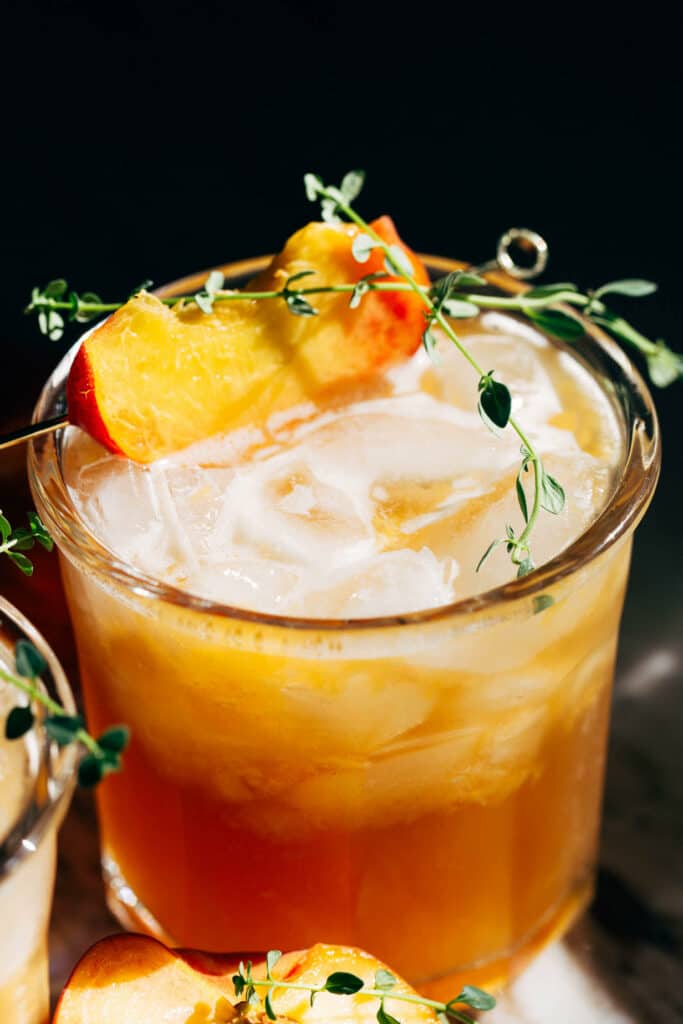 For more cocktail recipes, check out my:
Make sure to tag me @butternutbakery on Instagram and comment below if you make this peach bourbon sweet tea. To pin this recipe and save it for later, you can use the button on the recipe card, the buttons above or below this post, or on any of the photos above. Cheers!
Print
Bourbon Peach Sweet Tea
---
Description
This peach bourbon sweet tea is like summer in a cocktail. Fresh peaches are mashed with a hint of brown sugar and balanced with lemon juice, bourbon, peach liqueur, and amaro. It's all topped with peach tea to round out those delicious flavors!
---
---
Instructions
Bourbon Peach Sweet Tea
Add the sliced peaches to a shaker along with the brown sugar and lemon juice.
Mash into a pulp, then add in the peach liqueur, amaro, and bourbon.
Add ice and shake for about 30 seconds.
Strain into a cocktail glass filled with ice and top with your preferred sweet tea.
Garnish with a peach slice and thyme and enjoy!
Equipment
Notes
MOCKTAIL – To make this a mocktail, leave out all of the alcohol and add in even more tea!
*FROZEN PEACHES – You can also use frozen thawed peaches
**AMARO – If you can't get your hands on this specific liqueur, really any amaro would work. You could also use Jagermeister in a pinch but I suggest only using about 1/4 oz since it has a stronger flavor than an amaro.
Prep Time: 3 minutes
Category: Drinks
Method: Shaken
Cuisine: American
Keywords: peach bourbon, peach bourbon smash, bourbon sweet tea, peach bourbon sweet tea, bourbon peach smash
Recipe Card powered by