This mango margarita is served on the rocks with a bit of somethin' else – our secret ingredient. It helps balance the sweet flavors of mango while also adding a beautiful color to this cocktail. This margarita is sweet, refreshing, and so dang good! Make sure to check out the recipe notes for frozen margarita instructions as well as a mocktail variation.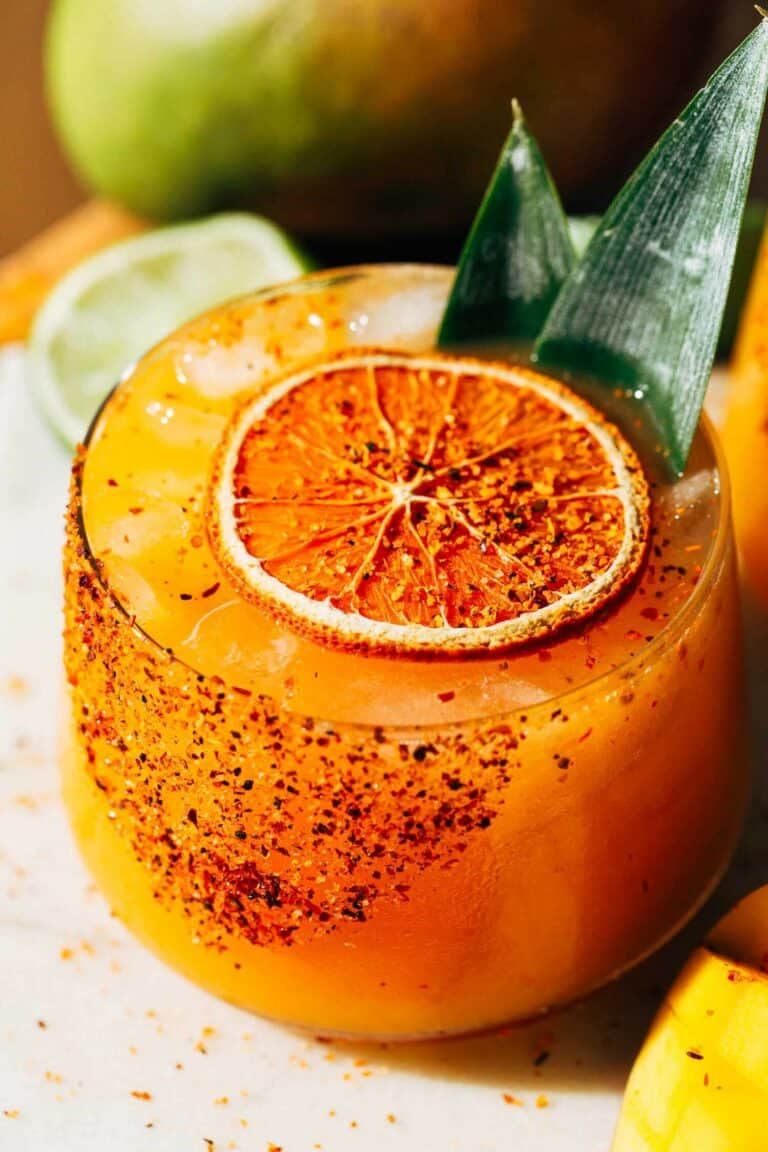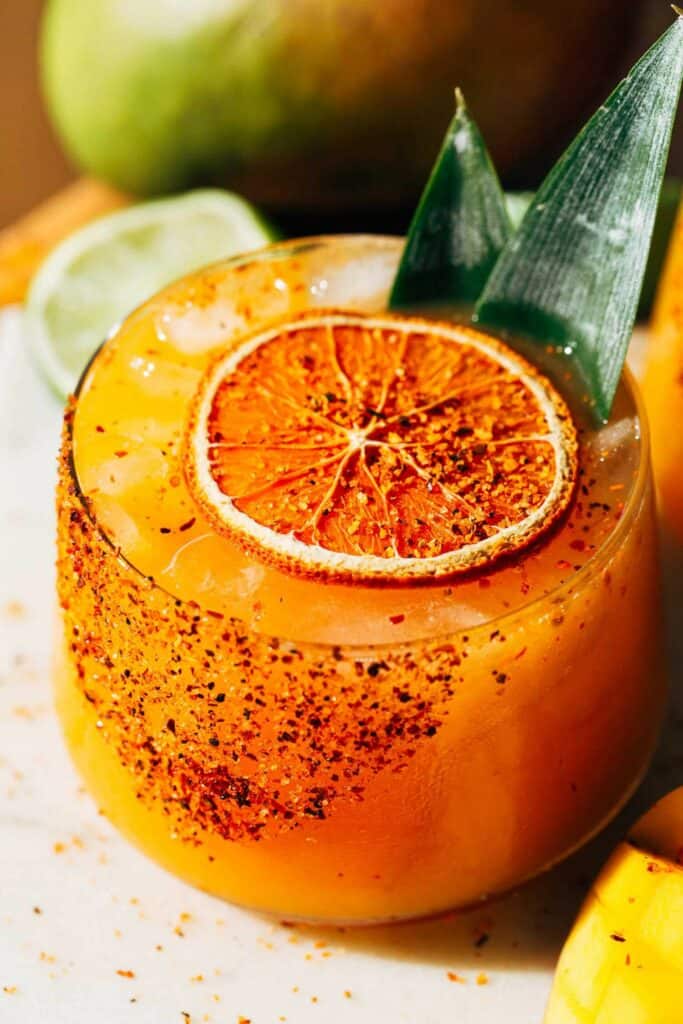 Mango Margarita, plus our magic ingredient
Don't get me wrong, I absolutely LOVE mango margaritas…or just mango cocktails in general. But I've also had too many mango drinks that were just much too sweet and syrupy.
So for this mango margarita, I decided to add a subtle layer of flavor that goes nearly undetected but works like magic.
And that magic ingredient is……….fresh carrot juice! Yes, we are hiding our vegetables in cocktails like how parents blend vegetables into their toddlers food. But don't worry, this mango margarita tastes NOTHING like V8.
But in all seriousness, the fresh carrot juice pairs so well with the mango puree. It's slightly sweet without being too bitter or earthy. It really just grounds that mango flavor while creating a beautiful bright orange color as an added bonus.
Just make sure to use pure carrot juice with no other vegetables blended in. You can also make your own if you have a juicer!
How to make mango puree
The mango portion of this mango margarita recipe consists of mango puree. This can easily be store bought but it's also incredibly easy to make at home! Here's what you will need:
Frozen mango chunks, thawed
Water
Sugar
Fresh mango can also be used, but frozen mango is much more reliable as far as flavor and sweetness. But if you're making a mango margarita on the rocks, make sure to use thawed frozen mango. *See recipe notes for a frozen mango margarita option.
Once thawed, all three ingredients are blended in a food processor until smooth. It should be thick but pourable.
When the puree is ready, all of our margarita ingredients are shaken and poured over ice. The thick mango puree and opaque carrot juice create a unique consistency that's so delicious.
For more cocktail recipes, check out my:
Make sure to tag me @butternutbakery on Instagram and comment below if you make this mango margarita. To pin this recipe and save it for later, you can use the button on the recipe card, the buttons above or below this post, or on any of the photos above. Cheers!
Print
Magic Mango Margarita
---
Description
This mango margarita is bright, fresh, sweet, and contains a secret ingredient to create a well balanced flavor and beautiful color! This recipe is served on the rocks or can be blended for to make a frozen mango margarita.
---
Mango Puree
1 cup frozen mango chunks, thawed
2 tbsp granulated sugar
2 tbsp water
Magic Mango Margarita (1 cocktail)
1 1/2 oz blanco tequila or mezcal
1/2 oz orange liqueur
3/4 oz fresh lime juice
2 oz mango puree
1 oz pure carrot juice
Tajin, dehydrated orange slice, pineapple leaves (for garnish)
---
Instructions
Mango Puree
Blend all of the ingredients in a food processor until smooth. This amount makes about 3 cocktails, so double the recipe if needed.
Magic Mango Margarita
Run a lime wedge around the rim of a cocktail glass and coat in tajin.
To a cocktail shaker, add all of the ingredients plus a handful of ice.
Shake for 30 seconds, then pour over ice.
Garnish with pineapple leaves and enjoy!
Equipment
Notes
FROZEN MARGARITA – To make a frozen margarita, add 2 cups frozen mango chunks (not thawed), 3 tbsp agave, 3 oz tequila, 1 oz orange liqueur, 1 1/2 oz lime juice, 2 oz carrot juice, and 1 cup of a ice to a blender. Blend until smooth to make 2 margaritas.
MOCKTAIL – Replace the tequila with equal parts club soda and replace the orange liqueur with fresh squeezed orange juice.
Prep Time: 10 minutes
Category: Drinks
Method: Shaken
Cuisine: Tex-Mex
Keywords: mango margarita, mango margarita recipe, mango margarita on the rocks, mango margaritas
Recipe Card powered by