These Guinness brownies are the perfect pairing of rich stout beer and fudgy dark chocolate. The two work so well together to create a deep flavor unlike any other brownie. Top with homemade salted caramel and crunchy pretzels for some extra layers of flavor!
Pairing Dark Beer with Chocolate
Drinking dark beer and eating chocolate is like pairing wine with cheese. They just go together. Dark beer is rich, smooth, and has a strong depth of flavor. Chocolate is very similar…especially dark chocolate. Mixing the two together allows the flavors to bounce off of each other, creating a harmonious and rich bite.
Flavor and texture of stout brownies
If you're sitting there questioning beer and brownies, I assure you there's nothing to worry about! These taste just like a deliciously rich dark chocolate brownie, but with a hint of dark stout flavor.
When I say stout flavor, that doesn't mean you can actually taste beer. By only using 1/2 cup of Guinness in the batter, you get that rich dark beer flavor that's nothing like the beer itself. It's like taking all the best attributes of a dark beer and leaving the rest behind!
As far as the texture, these brownies are fudgy and creamy. The carbonation adds a slight airiness to the brownies that makes each bite super tender, but we don't want TOO much carbonation. I've added a little trick to this recipe to knock out some of those bubbles to ensure these brownies don't rise too much. Because we don't want cakey Guinness brownies!
How to make Guinness brownies
These brownies are quick to make, but require a few extra simple steps to bring in that Guinness flavor. The batter consists of 4 main parts:
Part 1: the beer – The first step in this recipe is to reduce the amount of carbonation in the beer. Otherwise, it gives too much lift to these brownies and creates a cakey texture. To remove the carbonation, pour the beer back and forth between two glasses. And don't try to do a nice smooth pour as we want to flatten out the beer. At first, tons of foam will form. When you've poured out all the beer and only foam remains, rinse it out and continue to pour back and forth. Stop when you're able to make a smooth pour with zero foam. This should take 8-10 pours.
Part 2: the dry ingredients – These brownies call for flour, cocoa powder, and salt. Combine all three and set aside. For the cocoa powder, you can use regular unsweetened or dark unsweetened cocoa powder. I like to use Hershey's dark cocoa in this recipe.
Part 3: the chocolate and butter – The bulk of the chocolate flavor in these brownies comes from 8oz of bittersweet chocolate. To add it to the batter, melt it down with some unsalted butter. Combine the two in a heat safe container and microwave in 30 second intervals, stirring between each time. It shouldn't take more than 90 seconds to reach a smooth consistency.
Part 4: The sugar and eggs: In order to get a really smooth brownie texture, whip together the sugar and eggs. This gives you a crackly meringue top and really creamy brownie.
After all parts are prepped and ready to go, it's time to bring them all together! This can be done by hand or using a stand mixer. I've included instructions on how to do each in the recipe card below.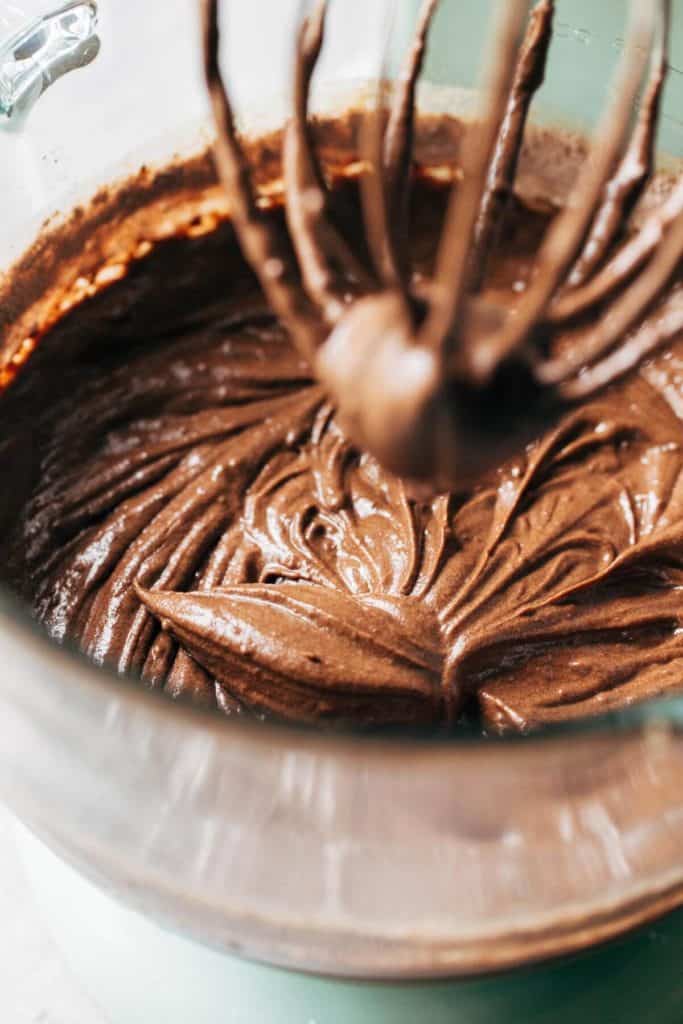 Brownie toppings
These brownies are delicious on their own, but you can totally take it up a notch with some added toppings.
Without the toppings, you can really taste that Guinness flavor coming through in the brownies. With the toppings, that flavor is more subdued and you're left with a super fudgy and creamy brownie with caramel and pretzels and a HINT of Guinness flavor.
It's totally up to you on how you'd like to enjoy your brownies. Feel free to add any toppings you like but for me, caramel and pretzels go perfectly with beer!
The caramel is taken from my super simple recipe for homemade salted caramel. It includes very few ingredients and always turns out perfect. Half this recipe is the perfect amount for these brownies.
Lastly, top with as much or as little pretzels as you like. I chose to nearly cover the entire brownies in pretzels, but you could also evenly line them up one by one or just add one on top of each brownie slice.
To take things up a notch, you could instead top them with my salted caramel buttercream used for my Guinness chocolate cupcakes.
The importance of pan banging brownies
For this and many of my brownie recipes, you'll notice and interesting added step in the baking processes.
Halfway through baking, it's important to take the brownies out of the oven and drop the pan against the counter a few times. Simply pick it up a few inches off the counter, and let go to drop it down.
This process helps remove any air bubbles around the edges of the brownies. Since the edges bake faster than the center, they rise much more. Dropping the brownies helps flatten out the edges to create a seamless texture and even level all throughout.
Allowing the brownies to cool
Since these brownies are extra fudgy, it's VERY important to allow them to chill in the fridge for a couple hours. Otherwise, the center will just be molten chocolate soup when you try to slice in.
Allow the brownies to cool at room temp for 30 minutes, then add your optional toppings. Transfer the brownies to the fridge for a couple hours or the freezer for 1 hour. Then slice and serve!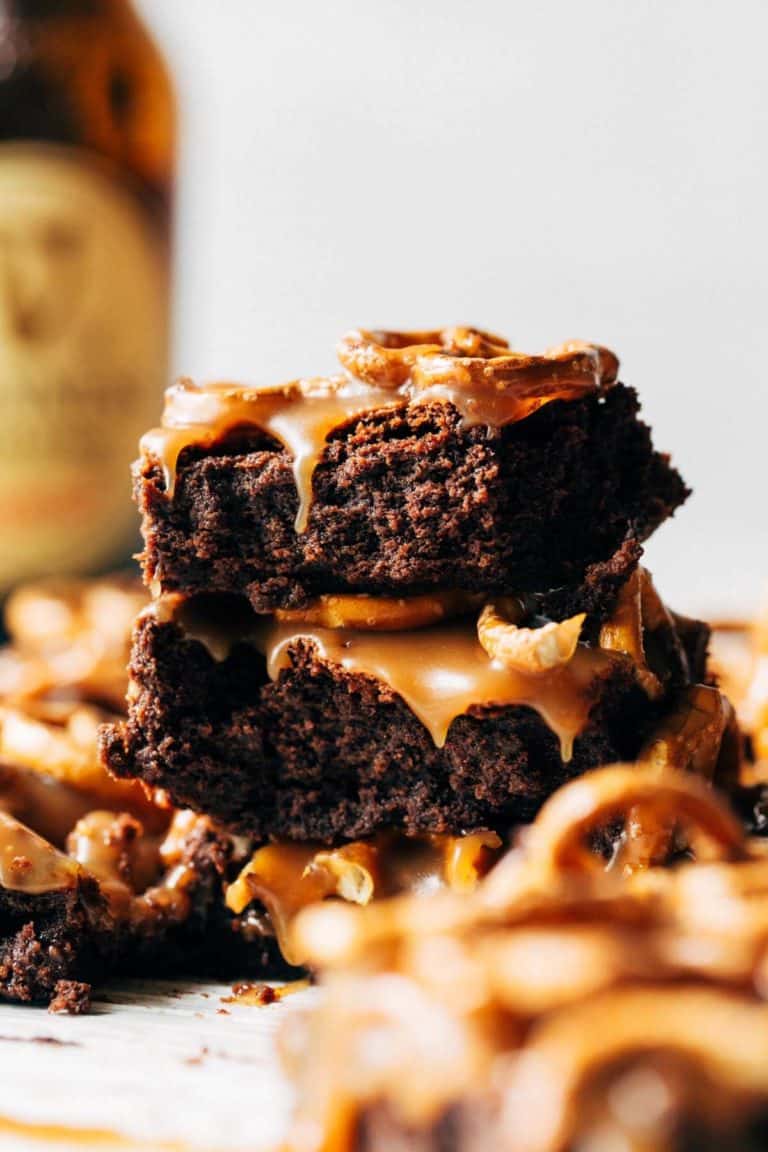 For more brownie recipes, check out my:
Make sure to tag me @butternutbakery on Instagram and comment below if you make these Guinness Brownies. To pin this recipe and save it for later, you can use the button on the recipe card, the buttons above or below this post, or on any of the photos above. Happy baking!
Print
Guinness Brownies
---
Description
These chocolate Guinness brownies have a delicious deep flavor and creamy texture. They're thick, dense, and topped with salted caramel and pretzels.
---
Guinness Brownies
1 cup (120g) all-purpose flour
1/4 cup (25g) unsweetened dark cocoa powder
1/2 tsp salt
1/2 cup (110g) unsalted butter
8 oz bittersweet chocolate, chopped
1 cup (230g) dark brown sugar, packed
1/2 cup (110g) granulated sugar
2 large eggs
(1) 11.2 fl oz bottle of Guinness
Optional Toppings
---
Instructions
Guinness Brownies
Preheat the oven to 350F and grease and line an 8×8 baking pan with parchment paper. Allow the paper to stick up and over the edges for easy removal.
To remove some of the carbonation from the beer, pour it into a glass. Grab a separate empty glass and pour the beer back and forth between the two cups. When your cup starts to pour just foam, rinse it with water and continue pouring back and forth. It should take about 8-19 pours total until no foam remains.
Measure out 1/2 cup (120ml) of the beer and set aside.
In a small bowl, whisk together the flour, cocoa powder, and salt. Set aside.
In a microwave safe bowl, melt the butter and chopped chocolate in 30 second intervals until smooth, mixing between each time. It shouldn't take more than 90 seconds total. Set aside.
In a large mixing bowl, vigorously whisk together the sugars and eggs until pale and frothy. You can do this by hand (3 minutes) or use a stand mixer on medium high speed (1 minute).
Pour the chocolate and butter into the sugar mixer while the mixer is running on medium low speed. If mixing by hand, pour the chocolate into the batter in thirds, mixing between each addition.
Once combined, mix in half of the dry ingredients, then the 1/2 cup of Guinness, then the rest of the dry ingredients. Careful not to over mix.
Pour it into your baking pan and bake for 20 minutes. Take the pan out the oven and close the oven door. Drop the pan against the counter about 8 times (lifting only a few inches off the counter) to help flatten the edges as they rise faster than the center. If using a glass baking dish, drop it onto a kitchen towel.
Place the brownies back in the oven and bake for an additional 20-25 minutes. The edges will be cracked and the center will be puffed up. Drop it against the counter just once to help flatten the top.
Let the brownies sit out for 30 minutes to cool then place them in the fridge for a couple hours or in the freezer for 1 hour. This is to help get those nice clean edges when cutting them as these brownies are very fudgy.
Optional Toppings
Make the salted caramel before the brownies. Pour into a glass container and allow it to cool in the fridge while you make and bake the brownie batter.
After the brownies have cooled for 30 minutes, top with an even layer of the caramel and sprinkle as much or as little pretzels as you like. If the caramel has thickened too much to spread, microwave for 10-15 seconds to loosen.
Allow the brownies to chill as instructed.
Prep Time: 1 hour 20 minutes
Cook Time: 40 minutes
Keywords: Guinness brownies, stout brownies, beer brownies, brownie recipe
Recipe Card powered by