I may have outdone myself with this one. These are super fudgy white chocolate brownies stuffed with Reese's eggs! They're my absolute favorite type of Reese's so I had no choice but to create a recipe with them. It involves an easy white chocolate brownie recipe with a layer of Reese's eggs. Need I say more??
What chocolate to use in white chocolate brownies
If you want to skip the Reese's and just make the white chocolate brownies, go for it! They are absolutely amazing on their own because they're soft, fudgy, super moist, and have so much more flavor than just white chocolate. Although I'm sure you didn't come here for the brownies alone!
The base of this recipe is white chocolate and butter melted together. Make sure to use good quality white chocolate and NOT chocolate chips. I used the Ghirardelli baking white chocolate bar and it turned out perfect. It's also exactly 4 oz so no measuring needed!
Also don't be alarmed if the butter and chocolate separates as the mixture cools. It will all come together again in the batter.
Next, and most importantly, WHIP your eggs and sugar on high speed. You're looking for a pale yellow color and a slightly frothy texture. It should look exactly like this picture after 4-5 minutes:
How to get that glossy, crackly top on brownies
This is a trick I use on almost all my brownie recipes. You can definitely see it on my better than boxed chocolate fudge brownies. Whipping together the eggs and sugar incorporates air into the batter while creating a dense and silky texture.
As the brownies bake, a layer of meringue rises to the top, causing that crackly surface. That's why we whip the eggs and sugar so we can get those egg whites nice and frothy.
It also helps to dissolve the sugar, giving your white chocolate brownies a super silky and almost creamy texture. Try it on any brownie recipe and you'll be shocked by how much better they turn out!
How to stuff brownies with Reese's
First and foremost, you do NOT need to use peanut butter eggs specifically. These are just my personal favorite. You could use regular Reese's cups, Reese's trees, Reese's pumpkins, or pour in all of the batter and load up the top with chopped mini Reese's cups. Make it however you like using whatever is in season!
But, make sure that you are working with cold Reese's. I pop mine in the fridge while I make the batter so they can firm up. This makes them easier to handle and you want them chilled a bit when baking.
Simply pour half of your batter into a prepared 8×8″ baking pan, spread it even, press in your favorite Reese's, and pour the rest of the batter on top. Use an offset spatula to even out the top and make sure all the eggs are covered.
If you're skipping the stuffing, pour in all of your batter, spread it even, then sprinkle on your favorite toppings before baking.
What makes these white chocolate brownies so special?
So the obvious one is the Reese's cause…duh. But these aren't your average white chocolate brownies for more than just the eggs!
One of my concerns with this recipe was making it TOO sweet. Between the white chocolate and the eggs, it could have gone way overboard…even for my taste.
Two interesting ingredients in this easy white chocolate brownie recipe are lemon juice and malted milk powder. I'm on a huge malted milk powder kick after making my malted cookie dough cheesecake.
It's just the easiest way to bump up the flavor profile of any recipe to make it taste 10x better. In a way, it's also replacing the cocoa powder that you'd see in a standard chocolate brownie recipe.
I also needed that depth of flavor in these brownies to help tone down the sweetness of the white chocolate. The malted milk powder worked like a charm!
The lemon juice not only balances out the sweetness, but it also helps create a tender texture. It's the tiniest amount so you can't actually taste it but the acidity helps to cut the richness of these brownies.
I've honestly heard so many reasons as to why it's a great addition to any recipe, especially chocolate chip cookies, but I've never been able to pinpoint the exact science behind it. I just know it creates a tender but chewy texture!
Last but not least, the sprinkling of sea salt on top is a must. It cuts the sweetness even more while also bringing out that deliciously rich white chocolate and peanut butter flavor.
For even more stuffed bars and brownies:
Make sure to tag me @butternutbakery on Instagram if you make these White Chocolate Brownies Stuffed with Reese's. I love seeing my recipes come to life in YOUR kitchen! To pin this recipe and save it for later, you can use the button on the recipe card, the buttons above or below this post, or on any of the photos above. Happy baking!
Print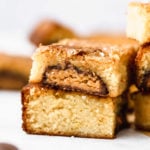 White Chocolate Brownies Stuffed with Reese's
---
Description
These super fudgy white chocolate brownies are STUFFED with Reese's eggs! They're easy to make and are so delicious without being over-the-top sweet.
---
1/2 cup (110g) unsalted butter
4 oz good quality white chocolate, chopped
1/2 cup (100g) granulated sugar
2 large eggs + 1 egg yolk
1 tsp vanilla extract
1/2 tsp fresh lemon juice
1/2 cup (63g) all-purpose flour
1/4 cup (33g) malted milk powder
1/2 tsp salt
12 Reese's Eggs*, chilled in the fridge
Sea salt flakes for sprinkling
---
Instructions
Preheat the oven to 350F and grease and line an 8×8 baking pan with parchment paper – preferably a light colored aluminum baking pan. Also make sure the paper sticks up over the edges so the bars are easy to lift out later.
In a microwave safe bowl, melt the butter and chocolate in 30 second intervals. Set aside to cool.
Using an electric mixer and the whisk attachment, beat the sugar and eggs on high speed for 4-5 minutes until pale and frothy (see image in post for reference). 
Mix in the vanilla, lemon juice, and then slowly pour in the chocolate mixture while the mixer is running. The butter might have separated from the chocolate but it will all come together once mixed into the batter.
Whisk together the flour, malted milk powder, and salt in a small bowl and then dump it into the batter. Fold it in with a rubber spatula – careful not to over mix.
Pour half of the batter into the pan and spread it even. Place 12 Reese's eggs on top. They'll sink in on their own. Pour the rest of the batter on top and spread it even so that it covers the eggs.
Bake for 25-30 minutes or until its golden brown on top and slightly bubbly in the middle.
Let the bars cool completely before removing from the pan and slicing. Store in an air tight container either in the fridge or at room temperature. Enjoy!
Notes
I used the bag of individually wrapped Reese's eggs which are a little bit smaller than the Reese's eggs in the wrapping AND cardboard casing. The eggs I used are .6 oz each whereas the standard size is 1.2 oz each. 
Prep Time: 20 minutes
Cook Time: 25 minutes
Keywords: white chocolate brownies, reese's stuffed brownies
Recipe Card powered by