You have a birthday to celebrate but don't need an entire three layer birthday cake. But of course…it's a birthday so you still need cake! Enter this delicious small birthday cake. It's a single layer 6 inch vanilla cake that's so moist and flavorful and smothered in a creamy chocolate frosting. It serves two to four, depending on how big of a slice you like, and is the perfect centerpiece to any intimate occasion.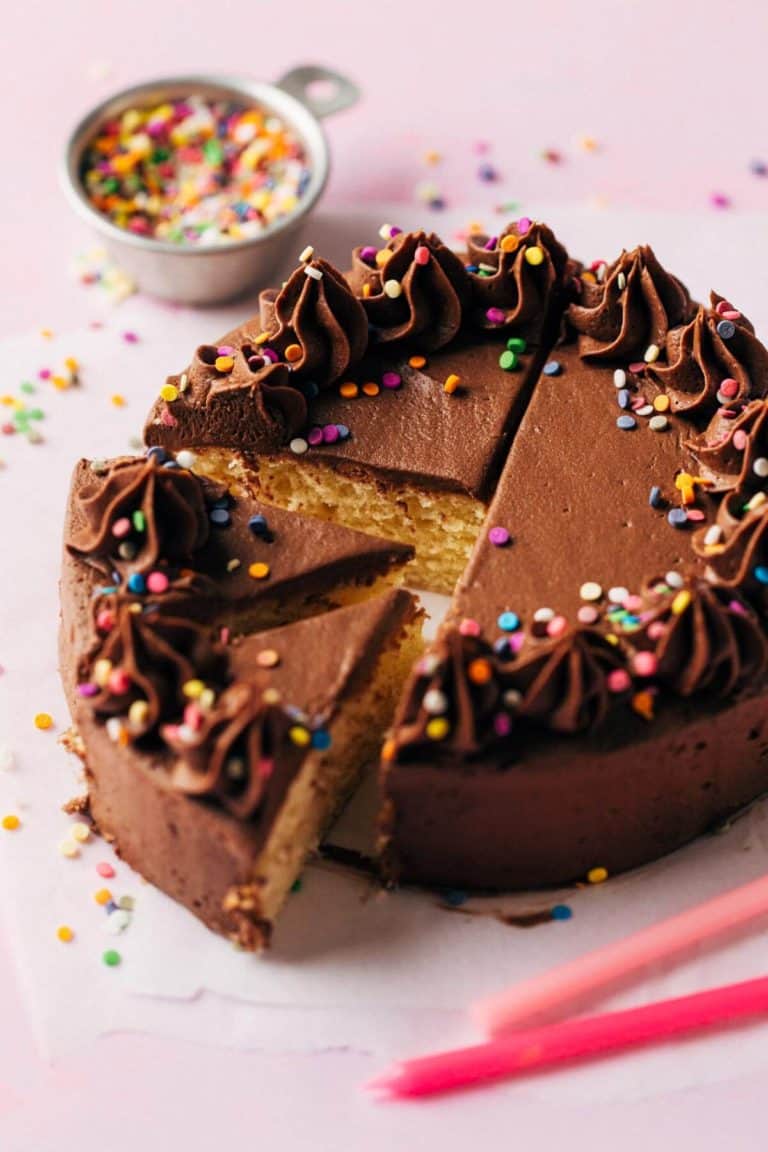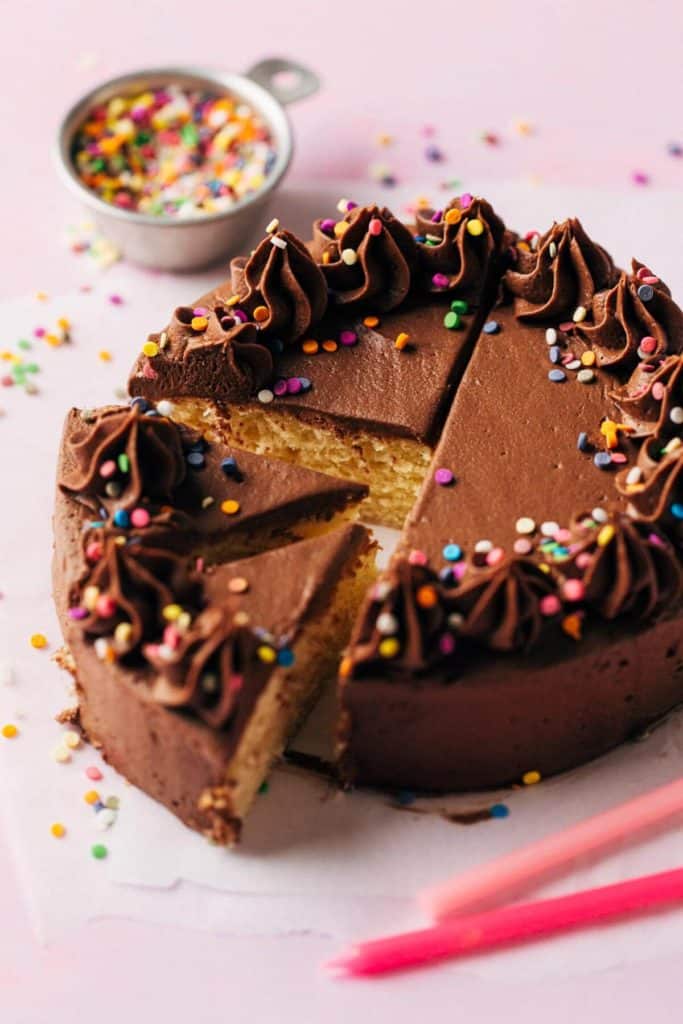 Tips for making a small 6 inch cake
It may seem like a tiny cake would be easier to make, but a small amount of batter leaves a larger room for error. To ensure your small birthday cake turns out perfectly moist and flavorful, here's what you need to know:
Flour – I say this in every post, and for good reason. It's the number one reason why most recipes fail. If there's too much flour, the cake will turn out dry and crumbly. If you can, measure the flour with a food scale. Otherwise, to ensure you use the exact amount needed, gently spoon the flour into your measuring cup and level if off with a flat edge. If you scoop directly into the flour container, it packs it down into the cup which could leave you with too much added flour.
Butter & Sugar – First, make sure your butter is at room temperature before starting. This ensures your butter will blend seamlessly into the cake with zero lumps. Then, cream together the butter and sugar. Creaming is the process of whipping together butter and sugar, allowing the sugar granules to build up air pockets inside the butter. This helps give lift to your cake and provides a much more even bake. If you've done it right, your butter and sugar should like pale, light, and fluffy before moving on to the vanilla and egg.
Egg – Also make sure your egg is at room temperature. Otherwise, the chilled egg against the creamed butter will curdle the batter.
Baking – Spread the batter in an even layer inside a well greased and lined 6 inch cake pan. When testing for doneness, do not pull the cake out of the oven. Instead, give the pan a light nudge. If the center wobbles, it's not done. If the center stays put, test with a toothpick. If you remove the cake from the oven OR leave the oven door open too long, the cake will rapidly drop in temperature which will make it more difficult to bake all the way through. This will leave you with a sunken center.
How to frost a tiny birthday cake
The frosting itself is very easy to make, but applying frosting to a tiny cake can be a bit tricky. Because the cake is light and small, it tends to move around when frosting.
To ensure an even application, frost your cake on a sheet of parchment paper. Before placing the cake on top, spread a small smudge of frosting right in the center of the paper to help lock the cake in place. Then, dollop a decent helping of frosting on top and use a small offset spatula to spread it all around the top and sides.
If your cake moves around, just use your hand to hold it in place, working in small sections so you have some bare cake to hold on to. Then with any remaining frosting, place it into a piping bag fitted with a star tip. Pipe around the edges of your cake and top with your favorite rainbow sprinkles.
I personally love the look of gourmet sprinkles which I get from Sweetapolita. They offer a wide variety of sprinkles that can easily elevate the look of this simple and tiny cake.
Can I make this cake gluten free?
I haven't tested it, but your best option would be to swap the flour with a good 1-to-1 gluten free baking flour like this one from Bob's Red Mill. I find it yields the best results!
How many people does this small cake serve?
This cake can serve two to four people, depending on how big of a slice you like. This small cake will give you two large slices or four regular slices. You can even extend it to 6 people, which I would then recommend serving each tiny slice with a scoop of ice cream.
Can I bake this in something besides a 6 inch cake pan?
I haven't tested it, but I believe this recipe could do well for small batch cupcakes as well. It should bake 6 or 8 cupcakes, only filling the liners half full. Bake at 350F for 15-18 minutes and test for doneness with a toothpick.
Can I use vanilla frosting instead of chocolate frosting?
Yes, swap the cocoa powder in the frosting recipe for additional powdered sugar. Then add 1/2 teaspoon of vanilla extract.
How to store a small birthday cake
Keep this cake in an air tight container in the refrigerator where it will keep for up to 4 days. When serving, leave it out at room temperature to soften – about 1 hour.
For more cake recipes, check out my:
Make sure to tag me @butternutbakery on Instagram and leave a review below if you make these this Small Birthday Cake. To pin this recipe and save it for later, you can use the button on the recipe card, the buttons above or below this post, or on any of the photos above. Happy baking!
Print
Small Birthday Cake
---
Author: Jenna Barnard
Total Time: 50 minutes + 1 hour cooling
Yield: 4 slices
Description
This small birthday cake is perfect for intimate celebrations! It serves two to four people, but has all the flavor and moist texture of a delicious birthday cake.
---
Vanilla Cake
1/2 cup + 2 tbsp (86g) all purpose flour *see notes for GF option
1 tbsp cornstarch
1/2 tsp salt
3/4 tsp baking powder
1/4 cup (55g) unsalted butter, room temperature
1/2 cup (100g) granulated sugar
1 tsp vanilla extract
1 large egg, room temperature
1/3 cup (85g) sour cream or 2% plain Greek yogurt
Chocolate Frosting
6 tbsp unsalted butter, room temp
1 cup (120g) powdered sugar
3 tbsp unsweetened cocoa powder
1–2 tbsp milk
Rainbow sprinkles for decorating
---
Instructions
Vanilla Cake
Preheat the oven to 350F and coat a 6 inch round cake pan with nonstick spray. Line the bottom of the pan with a round piece of parchment paper that's cut to the same diameter as the pan. Set aside.
In a bowl, whisk together the flour, cornstarch, salt, and baking powder. Set aside.
In the bowl of a hand or stand mixer with the paddle attachment, cream together the butter and sugar until pale and fluffy.
Scrape down the bottom and sides of the bowl and mix in the vanilla and egg. Scrape down the bowl again and  then mix in the sour cream.
Pour in the dry ingredients and mix on low speed until combined. Remove the bowl from the mixer and use a rubber spatula to ensure all of the ingredients are fully incorporated. 
Scoop the batter into your prepared pan and spread it even. Bake for 28-30 minutes or until a toothpick in the center comes out clean. 
Allow the cake to cool inside the pan for 30 minutes, then run a knife around the edge and release the cake. Let it cool on a wire rack until it is no longer warm to the touch. To speed up this process, place the cake in the refrigerator. The cake must be completely cooled before frosting. 
Chocolate Frosting
In a bowl using a hand or stand mixer with the whisk attachment, mix together the butter and powdered sugar. 
Once smooth, mix in the cocoa powder. It should be pretty thick at this point, so mix in 1 or 2 tablespoons of milk to achieve a creamy consistency. 
Spread the frosting on your cooled cake and top with sprinkles. Enjoy!
Notes
*GLUTEN FREE – Although I haven't tested it, I believe this cake would work well with gluten free flour. Sub the flour with a good quality gluten free baking flour. I like Bob's Red Mill 1-to-1 gluten free baking flour. I also suggest weighing the flour rather than measuring by cups, to ensure accuracy. 
Prep Time: 20 minutes
Cook Time: 30 minutes
Keywords: small birthday cake, birthday cake, birthday cake for two, 6 inch cake
Recipe Card powered by