Gooey and chewy are the two words that best describe these Gluten Free Almond Chocolate Chip Cookie Bars. They're so chewy and rich that you won't even know they're gluten and dairy free (with a vegan option)! These cookie bars are loaded with oats, almonds, and chocolate to create the best ever chocolate chip cookie bars.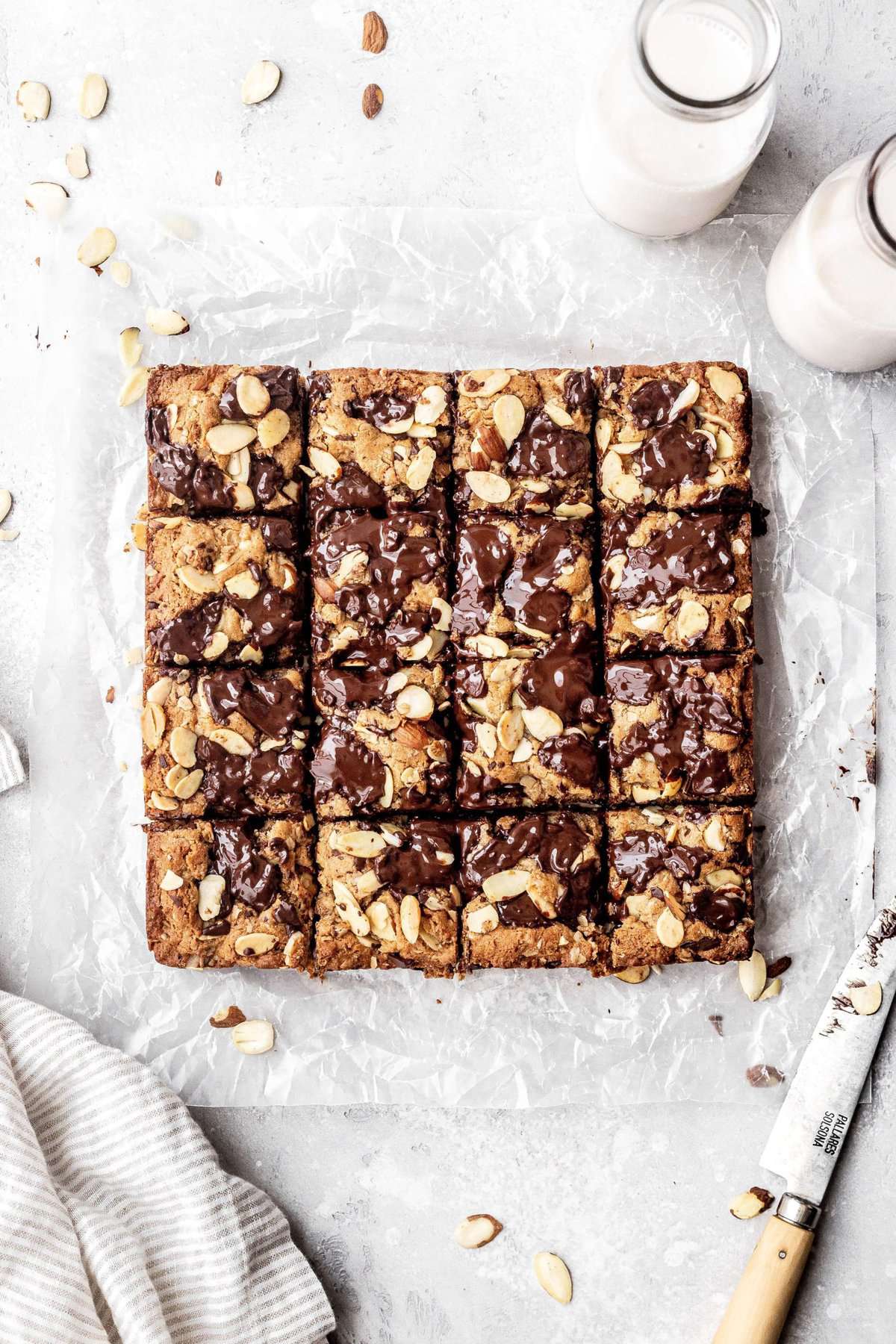 This post is sponsored by Bob's Red Mill but all thoughts and opinions are my own. Thank you for supporting the brands that make Butternut Bakery possible!
Why this recipe works
This is really just a game to see how many times I can fit the word "chewy" in one post. But for real… these cookie bars are full of texture and flavor. To be honest, they're one of my favorite recipes on the blog!
The tough part about baking gluten free recipes is replicating that chew factor. Gluten is what strengthens the dough or batter to give it that hearty bite and chew. Without it, you're sometimes left with this unexplainable emptiness in the texture.
But not with this recipe! Three simple ingredients is all it takes to get these gluten free chocolate chip cookie bars up to my standard of chewiness.
First is brown sugar. This recipe calls for ALL brown sugar. The molasses in the brown sugar helps to give any dessert a bit more… you guessed it… chew.
The other ingredient is the extra egg yolk. I like to throw in an extra yolk to just about any cookie, bar, or brownie recipe if I want to bump up the chewiness. Since the yolk holds the entire fat content of an egg, it enhances the richness and flavor to create a chewier cookie or brownie.
These bars are also full of texture. You get a little extra chew from the oats, crunch from the almonds, and gooiness from the chocolate. They've just. got it. goin'. on.
How to bake with almond flour
The reason why these chocolate chip cookie bars are completely gluten free is due to the almond flour. This is a great and common ingredient used in gluten free baking and is very easy to bake with.
Especially the super-fine natural almond flour by Bob's Red Mill. It's my favorite almond flour to work with because of how finely ground it is. It blends seamlessly into any dough or batter without leaving a gritty texture.
Baking with Bob's Red Mill almond flour is very simple because you mix it in just like regular flour. Although, there's no exact swaps for the two. If a recipe calls for almond flour, I don't recommend subbing the same amount in regular flour or any other flour and vice versa.
Because almond flour is made up of ground almonds, it acts very differently than a regular flour which is made up of wheat. The two do not weigh the same and they produce very different outcomes in baking.
But when you are baking with almond flour, make sure to store it in the fridge. Since nuts contain oil, it's possible for the flour to go bad. It will keep up to 6 months in the fridge… which is plenty of time because after making these once, you'll want to make them again and again.
The best almond butter to use in cookie bars
Baking with any nut butter can be finicky. There are many different types, variations, and flavors so it's important to pick the right one.
For this recipe, go for a thick almond butter. If you turn the jar upside down and the almond butter doesn't move, that's the one you want to use.
Almond butter acts as the glue for these cookie bars because we are lacking the gluten strands that would typically hold it all together. That's why it's important to bake with a nut butter that is thick and not too oily.
You can also swap out the almond butter for any other nut butter of your choosing. As long as it's not natural, oily or too thin. Although, I still HIGHLY recommend using almond butter for the best flavor.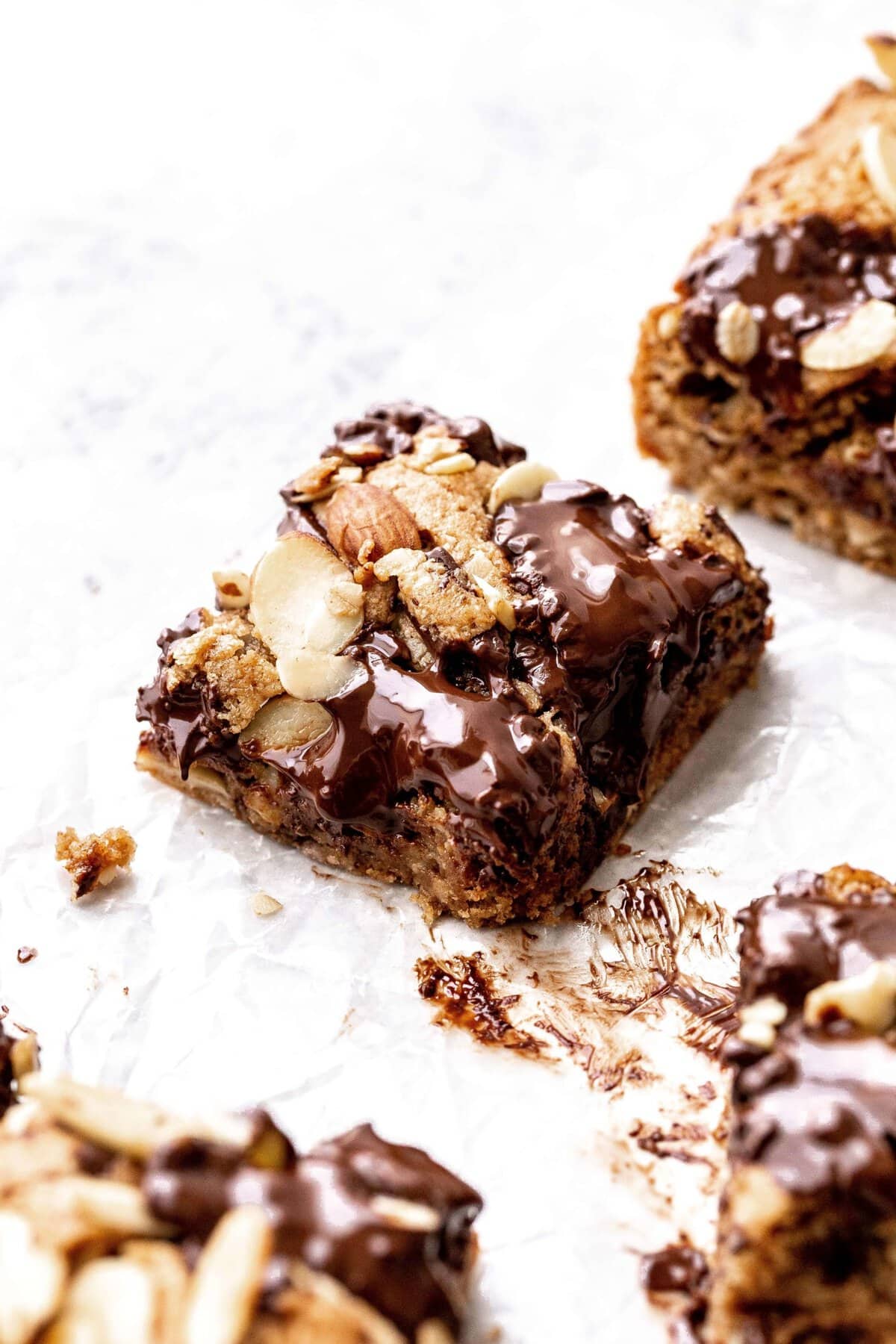 How to get the perfect melty chocolate on top
We can't forget those glossy chocolate puddles all throughout these almond cookie bars!
For this recipe, I used roughly chopped dark chocolate. I recommend using a good quality chocolate so that it melts well. The rough chop also gives you those big globs of melted chocolate.
And since this is a COOKIE bar, the batter itself is more like a dough. You have to press it into the baking pan, almost like making a giant almond chocolate chip cookie.
Because the dough isn't thin or sticky, the chocolate and almond slices won't fully adhere to the dough. As you take chunks of the dough and press it into the pan, you will be left with some chocolate and almond bits at the bottom of the bowl.
Take the remaining mix-ins and press them into the top of the cookie bars. When it's fresh from the oven, run a butter knife through the chocolate to create those chocolate puddles you see here. They just need a little help to loosen up their shape.
For more delicious gluten free desserts, check out my:
Make sure to tag me @butternutbakery on Instagram or comment below if you make these Gluten Free Almond Chocolate Chip Cookie Bars. To pin this recipe and save it for later, you can use the button on the recipe card, the buttons above or below this post, or on any of the photos above. Happy baking!
Print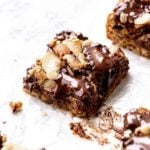 Almond Chocolate Chip Cookie Bars (Gluten Free and Dairy Free)
---
Author: Jenna Barnard
Total Time: 50 minutes
Yield: 16 bars
Diet: Gluten Free
Description
These almond chocolate chip cookie bars are gluten free and dairy free! They're extra chewy and gooey, made with a mix of almonds, oats, and chocolate.
---
3/4 cup natural almond butter
1 cup packed light brown sugar (or 1/2 cup coconut sugar and 1/4 cup pure maple syrup)
1 large egg + 1 egg yolk (or 2 tbsp ground flax + 4 tbsp water – mix and let sit for 5–10 minutes before use)
2 tsp vanilla extract
1/4 tsp almond extract
1 tsp baking powder
1/4 tsp ground cinnamon
1/2 tsp salt
6 oz dark chocolate, roughly chopped
1/2 cup sliced almonds
---
Instructions
Preheat the oven to 350F and grease and line an 8×8 baking pan with parchment paper.
In a bowl, mix together the almond flour, oats, baking powder, cinnamon, and salt. Set aside.
In a separate bowl using an electric mixer, mix together the almond butter and brown sugar. 
Mix in the egg, egg yolk, vanilla, and almond extract.
Dump in the dry ingredients and mix until combined. At this point the dough will be very thick. 
Try your best to fold in the chocolate and almonds as evenly as possible.
Take large chunks of the dough and press it into the pan. Some chocolate and almonds will fall to the bottom of the bowl. Sprinkle those all over the top of the dough and press them in.
Bake for 28-32 minutes or until the edges are golden brown.
Let it cool in the pan for about 20 minutes then slice and serve. Enjoy!
Prep Time: 20 minutes
Cook Time: 30 minutes
Category: Baking
Cuisine: American
Keywords: cookie bars, gluten free chocolate chip cookie bars, almond chocolate chip cookie bars
Recipe Card powered by