I'm starting off my holiday cookie baking this year with these festive Pistachio and Raspberry Thumbprint Cookies. They're soft, buttery, crunchy, tart, sweet, and just all around delicious. These would be the perfect cookie to make for a cookie exchange this holiday season!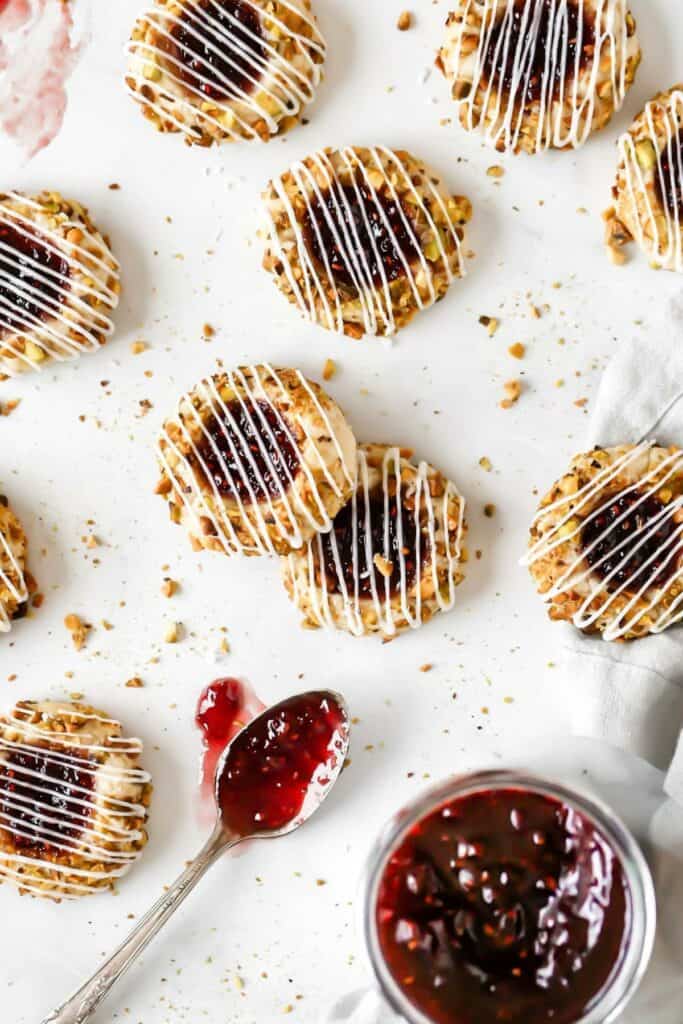 I have to admit, I only thought of this flavor combo for these Pistachio and Raspberry Thumbprint Cookies because of the colors. They're just perfect for Christmas! And I don't typically use food coloring so I depended on the natural colors in these ingredients. The muted green of the pistachio and the vibrant red of the raspberry preserves just look so pretty together.
Now, I don't create fruity bakes too often so I didn't have high expectations when going into baking these thumbprint cookies. At this point you're probably wondering why the heck I'm underselling these cookies. It's because I was blown away by how delicious they turned out! I truly could not stop eating them and neither could my coworkers. I received so many compliments on how tasty they were. I mean people would come up to me just to tell me how bummed they were that they were all gone. Yep, THAT good.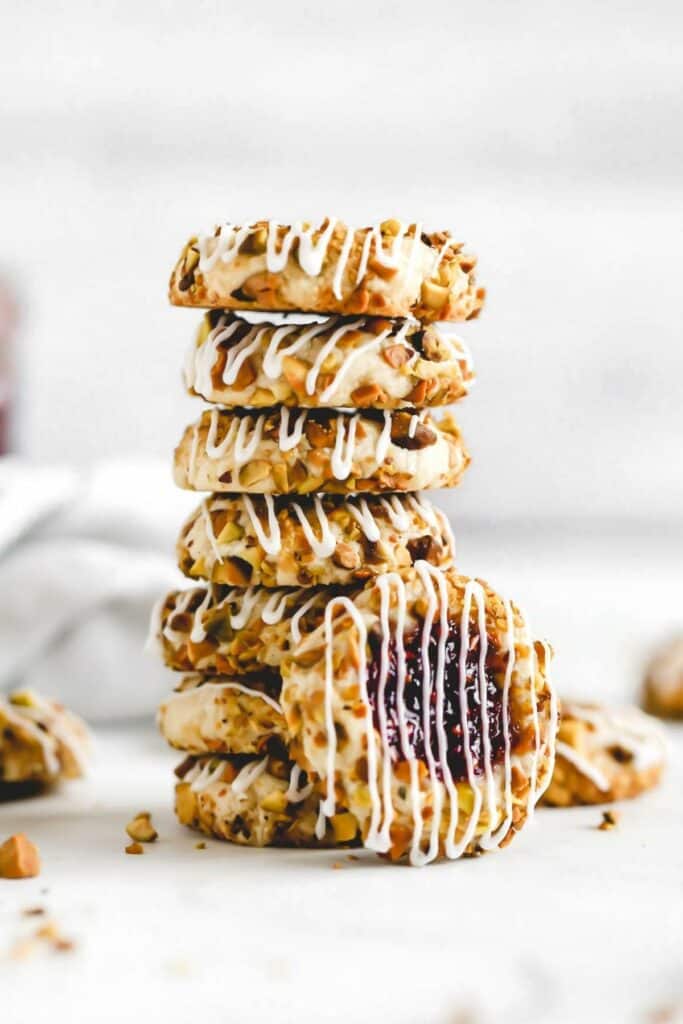 Baking these festive thumbprint cookies
Getting that signature raspberry thumbprint is easy peasy. The base of the cookie is a little bit softer than a shortbread cookie as it needs to be moldable in order to create that divet. It doesn't crumble and is soft and buttery.
In order to get the pistachios to stick, I brushed my cookie dough balls in an egg white wash and then rolled them the chopped pistachios. Using an egg white allows the nuts to stick without giving the cookie any additional color.
To make them uniform, I like to use the back of a round teaspoon. This creates a perfect indent on each cookie where using you thumb might leave uneven imprints for the raspberry preserves to sit. Then, using that same measuring spoon, scoop about 1 teaspoon of jam into each cookie.
I like to press the indent into the cookies as I roll them out. Leaving this step to the end might leave cracks on the edges of the cookies. The cookie will also spread just a little bit as they bake which is why you should lightly push the raspberry preserves up against the walls of the imprint. This will prevent any gaps between the cookie and raspberry filling as the cookie spreads.
Drizzle them with some easy powdered sugar icing and there you have it! Delicious Pistachio and Raspberry Thumbprint Cookies that are sure to impress.
How long do these cookies last?
Uhhh not very long because I will eat all of them. LOL JK wow that was lame. But in all seriousness, they will keep for up to 5 days in an air tight container left at room temperature. After the 5 day mark, the raspberry jam will have seeped into the cookie, making it slightly soggy. They will still taste delicious but the texture won't be as appealing.
To keep them longer, you can place them in the fridge for up to 2 weeks. The raspberry jam will still sink into the cookie but not nearly as fast as they would at room temperature. Luckily they're so good that they'll probably be devoured the first day you make them!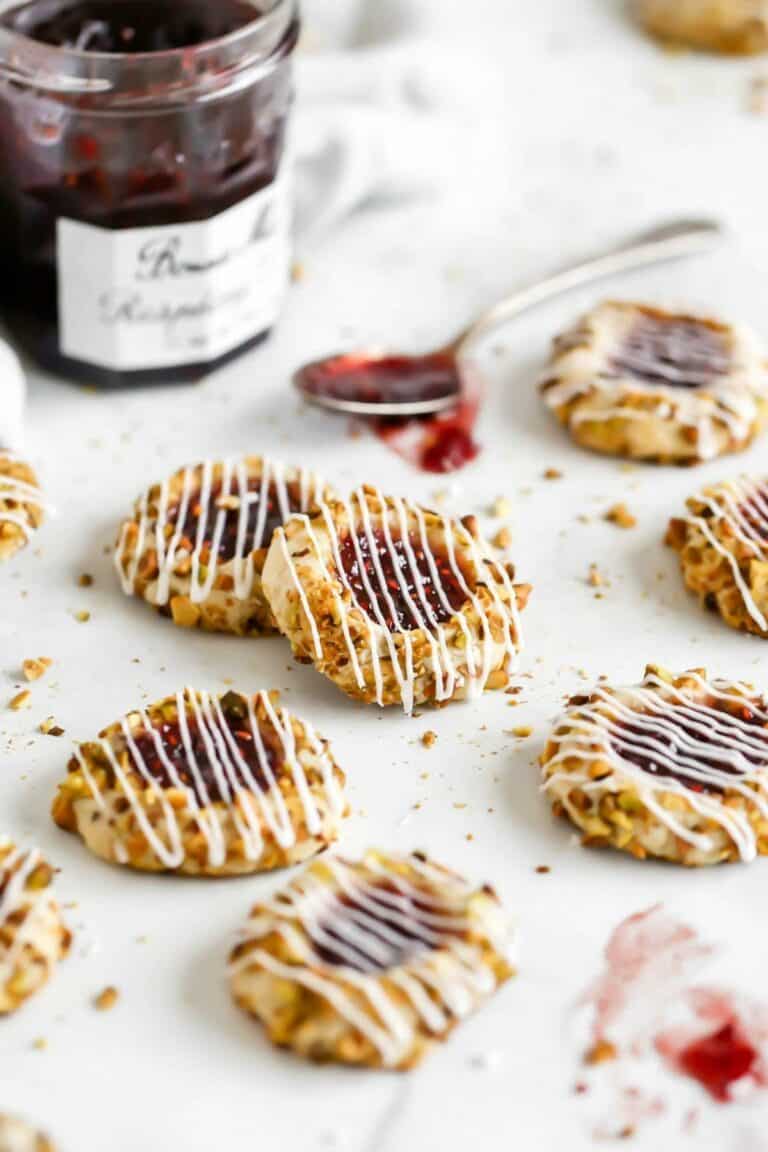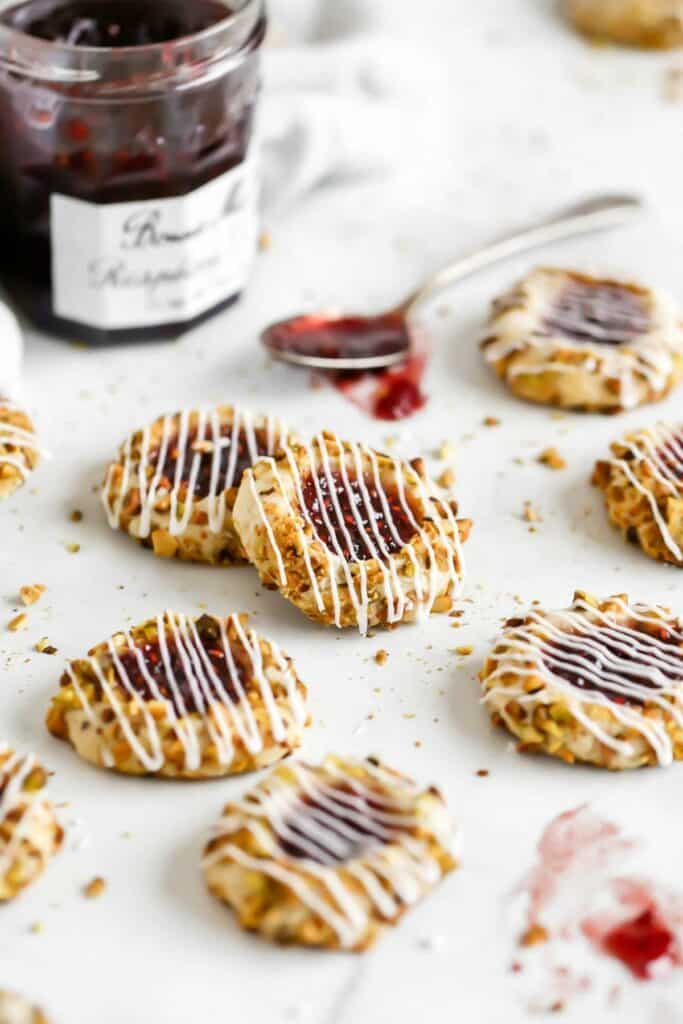 Can I omit the pistachios or substitute a different filling?
Absolutely! If raspberry isn't your favorite, you can go with any other flavor. You can use either jam or preserves. I used preserves here because I love the texture but if you want something smoother, go with jam. My favorite brand is Bonne Maman and they have a variety of flavors to choose from. They can also be found in most grocery stores.
As for the pistachios, you can either leave them out completely or replace them with a different nut. You could use chopped pecans, walnuts, hazelnuts, almonds, or any other nut you like! I would just make sure they pair well with the flavor of jam you choose.
If you're looking for more holiday cookie recipes, why not try:
Make sure to tag me @butternutbakery on Instagram if you make these Pistachio and Raspberry Thumbprint Cookies. I love seeing my recipes come to life in YOUR kitchen! To pin this recipe and save it for later, you can use the button on the recipe card, the buttons above or below this post, or on any of the photos above. Happy baking!
Print
Pistachio and Raspberry Thumbprint Cookies
---
Author: Jenna Barnard
Total Time: 45 minutes
Yield: 17-18 cookies
Description
These pistachio and raspberry thumbprint cookies are the perfect balance of salty, sweet, and tart. They have a buttery shortbread base that's rolled in pistachios and baked with a puddle of raspberry jam right in the center. They're a simple and delicious cookie that's perfect for the Holidays!
---
Cookies
1/2 cup unsalted butter, room temp
1/4 cup granulated sugar
2 tbsp brown sugar
1 large egg, separated
1/2 tsp water
1/2 tsp vanilla bean paste, or vanilla extract
1 cup + 1 tbsp all-purpose flour
1/8 tsp salt
1/2 cup salted pistachios, finely chopped
1/4 cup raspberry preserves
Icing
---
Instructions
Preheat your oven to 350F and line a large cookie sheet with parchment paper.
Using an electric mixer, cream together the butter and sugars until light and fluffy.
Add in the egg YOLK (not the whole egg) and vanilla bean paste.
Once combined, mix in the flour and salt. Place the dough in the fridge for about 20 minutes while you clear some space for rolling them in pistachios.
In a small dish, whisk together your remaining egg white and 1/2 tsp water.
Using a tablespoon or small cookie scoop, scoop out your dough and roll between your palms to create a ball. Brush it with your egg white wash and roll it in the chopped pistachios.
Place it in your cookie sheet and use the back of a round teaspoon to press in a "thumbprint" for your raspberry preserves. If you don't have a round teaspoon, you can also use your fingers to create the imprint.
Don't roll out all of the cookies then go back and press. You want to roll, press, repeat. Saving the pressing for last could create cracks in the cookies. Set your cookies about an inch apart on your cookie sheet.
Use your measuring spoon to place 1 teaspoon of raspberry preserves into the cookies. Lightly push the preserves to the edges of the imprint.
Bake for 14-16 minutes. They won't change in color too much but they will turn dull when done. They'll also seem a bit soft when you transfer them from the cookie sheet to the cooling rack but they'll firm up as they cool.
When all of your cookies are completely cool, make the icing. Mix together all of the ingredients and add more milk if your icing is too thick. Place it in a ziplock back and snip the tiniest hole off of one of the corners. Drizzle it over your cookies.
Store in an air tight container at room temperature (to last 5 days) or in the fridge (to last 2 weeks). Enjoy!
Notes
These cookies will keep for up to 5 days in an air tight container left at room temperature. After the 5 day mark, the raspberry jam will have seeped into the cookie, making it slightly soggy. They will still taste delicious but the texture won't be as appealing.
Prep Time: 30 minutes
Cook Time: 15 minutes
Category: Baking
Cuisine: American
Keywords: thumbprint cookies, raspberry thumbprint cookies
Recipe Card powered by
*Some of the links above are affiliate links, which pay me a small commission for my referral at no extra cost to you! Thank you for supporting Butternut Bakery.