These are definitely the BEST gingerbread cookies and it's bound to be your new go-to recipe! They're thick, soft, and chewy but hold their shape SO well when baked. It's an eggless recipe so it's easy to make vegan as well. I've also included a few baking tips to ensure they turn out just right every time!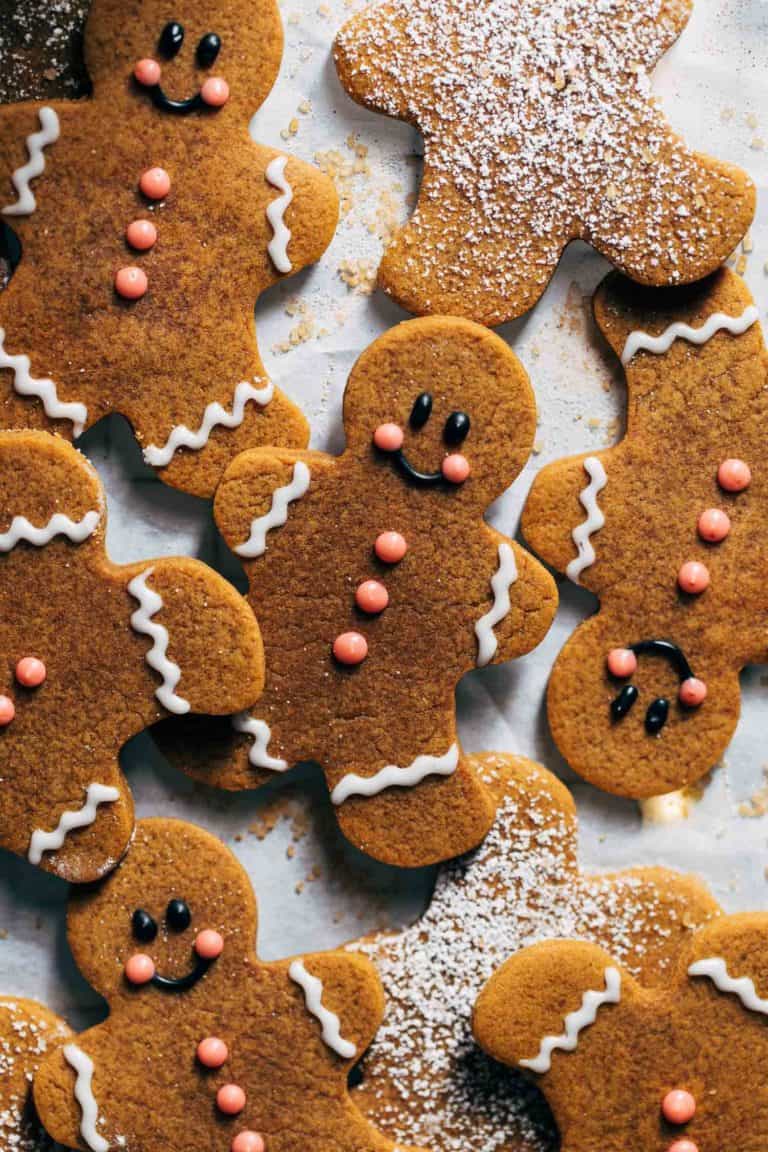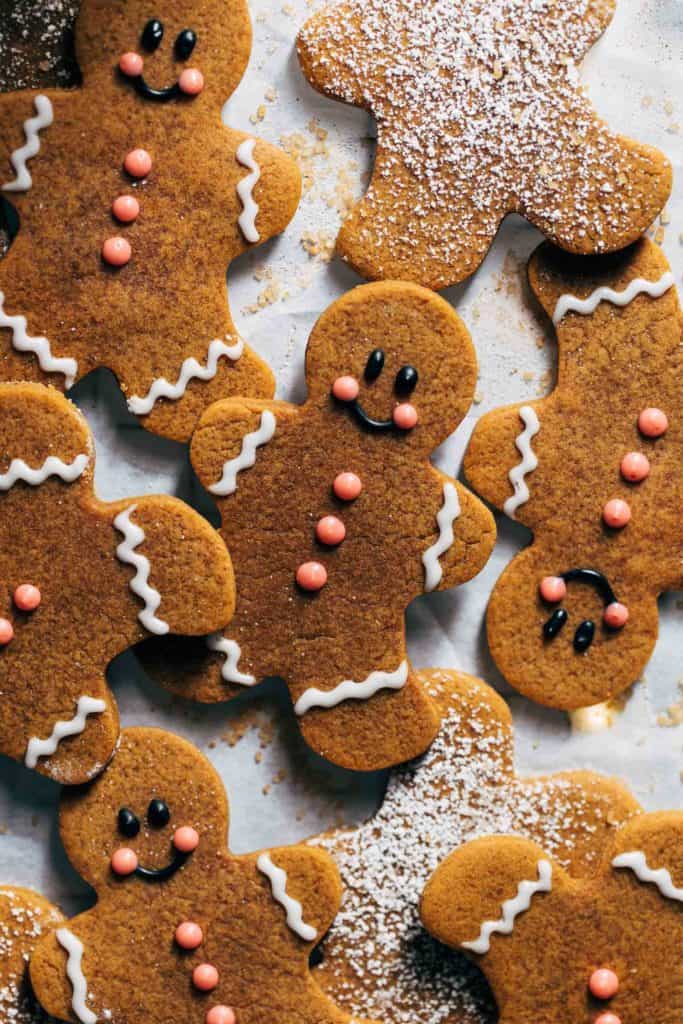 What makes these the best gingerbread cookies?
I know, "BEST" is a bold word to put in front of any recipe and I don't take it lightly. But gingerbread cookies are the entire reason why I started baking in the first place, so I made it my mission to create a recipe that's not only delicious but also consistent.
Growing up, my mom, sister, and I would bake homemade gingerbread cookies every year for Christmas and every year they turned out different! Some were perfectly chewy, while others were a bit tough and dry. So for this recipe, I made it pretty much impossible to have any variation. These cookies bake perfectly thick and chewy every time.
The secret is in the flour. The last cup of flour in this recipe is added gradually at the very end. This way, you can have full control over the consistency of the dough. Depending on where you live or how you measured the flour, the dough could turn out too wet or too dry. This final cup prevents this from happening.
This recipe is also eggless! I always found it odd that gingerbread cookies had eggs considering the amount of molasses in the dough. Molasses helps to create a thick and stable dough. And although it doesn't emulsify like eggs do, the amount of flour in this dough prevents any sort of separation between the water and oil portions.
Lastly, the dough is rolled before it is chilled. The soft dough is MUCH easier to roll compared to a ball of firm chilled dough. Once rolled, it is then chilled for just 30 minutes before cutting and baking. In other words, this recipe is super quick and easy.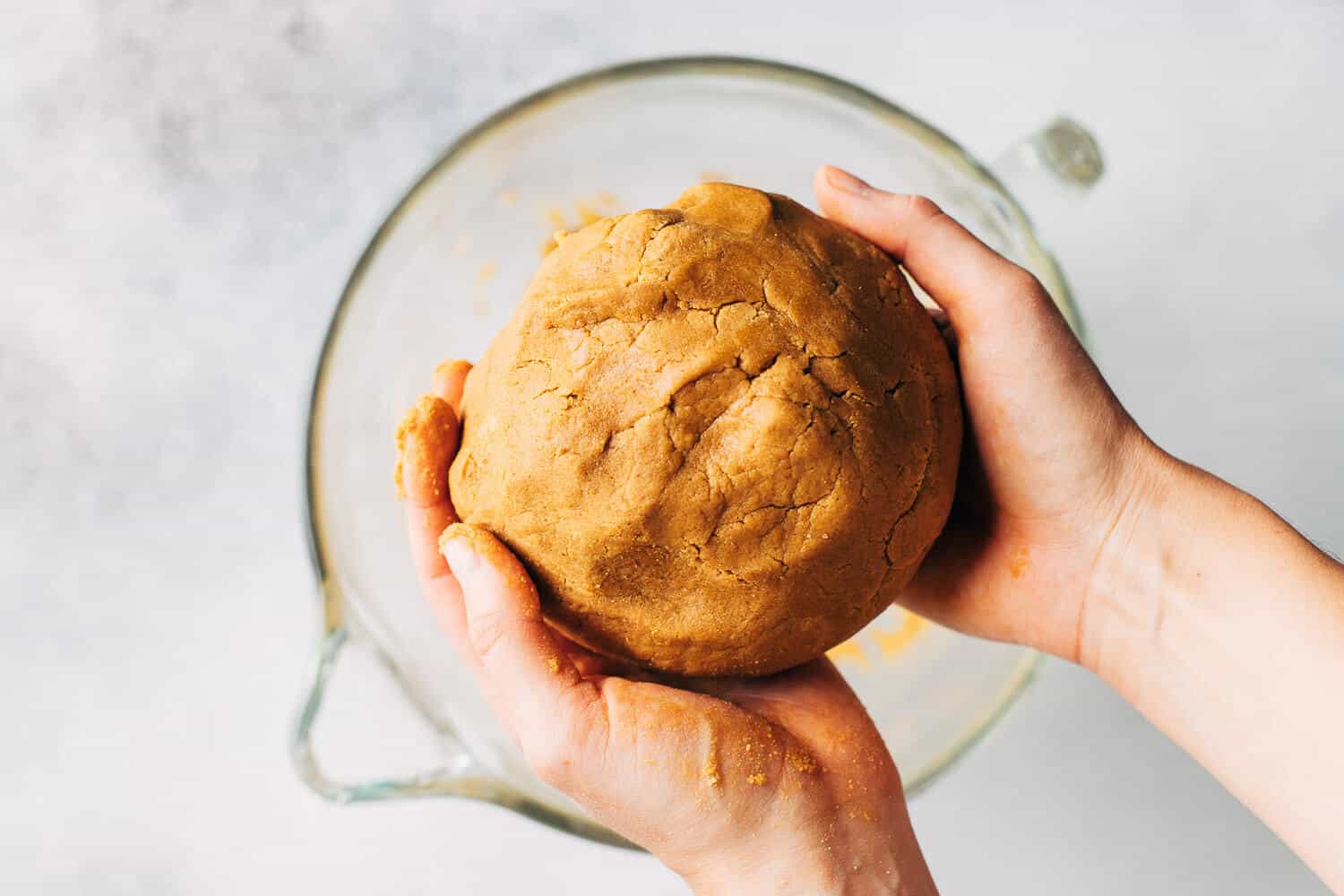 Making gingerbread cookies – what to look for
The one and only trick to perfecting this recipe is in the final stage of making the dough. Luckily it's very easy to tell when the dough is ready, so here is what you need to know:
Butter & Sugar – First, the butter and sugars a mixed together. Make sure to fully cream the two together in to a light and fluffy consistency. This takes about 1-2 minutes on medium-high speed. This process whips tiny air holes into the butter, allowing the heat from the oven to freely move through the dough as the gingerbread cookies bake.
Molasses – No need to get fancy with this recipe. Just basic molasses that you can find at just about any grocery store. I always use Grandma's brand.
Dry Ingredients (first batch) – The entire recipe calls for three cups of flour, but the dry ingredient mixture is whisked together with just two of those cups. For these two cups, make sure to spoon the flour into the measuring cup and level it off with a flat edge. Don't pack it in, shake it down, or scoop directly into the flour bag. Also REALLY whisk the ingredients together so that the spices are well distributed.
Dry Ingredients (second batch) – When the first batch of dry ingredients are added, pinch a bit of the dough between your fingers. It won't be too sticky, but you'll notice it's very soft and tacky. This is not what we want. So, measure out one final cup of flour and gradually add it to the dough as it's mixing. You may not need the entire cup, so keep an eye on it. You're looking for a more play-doh-like consistency. The dough will start to look clumpy but NOT crumbly. If it looks crumbly you went too far. Now to test the dough, press it between your fingers again. It should still be soft but a bit more firm than the first batch, and it will leave your thumb print without any stick.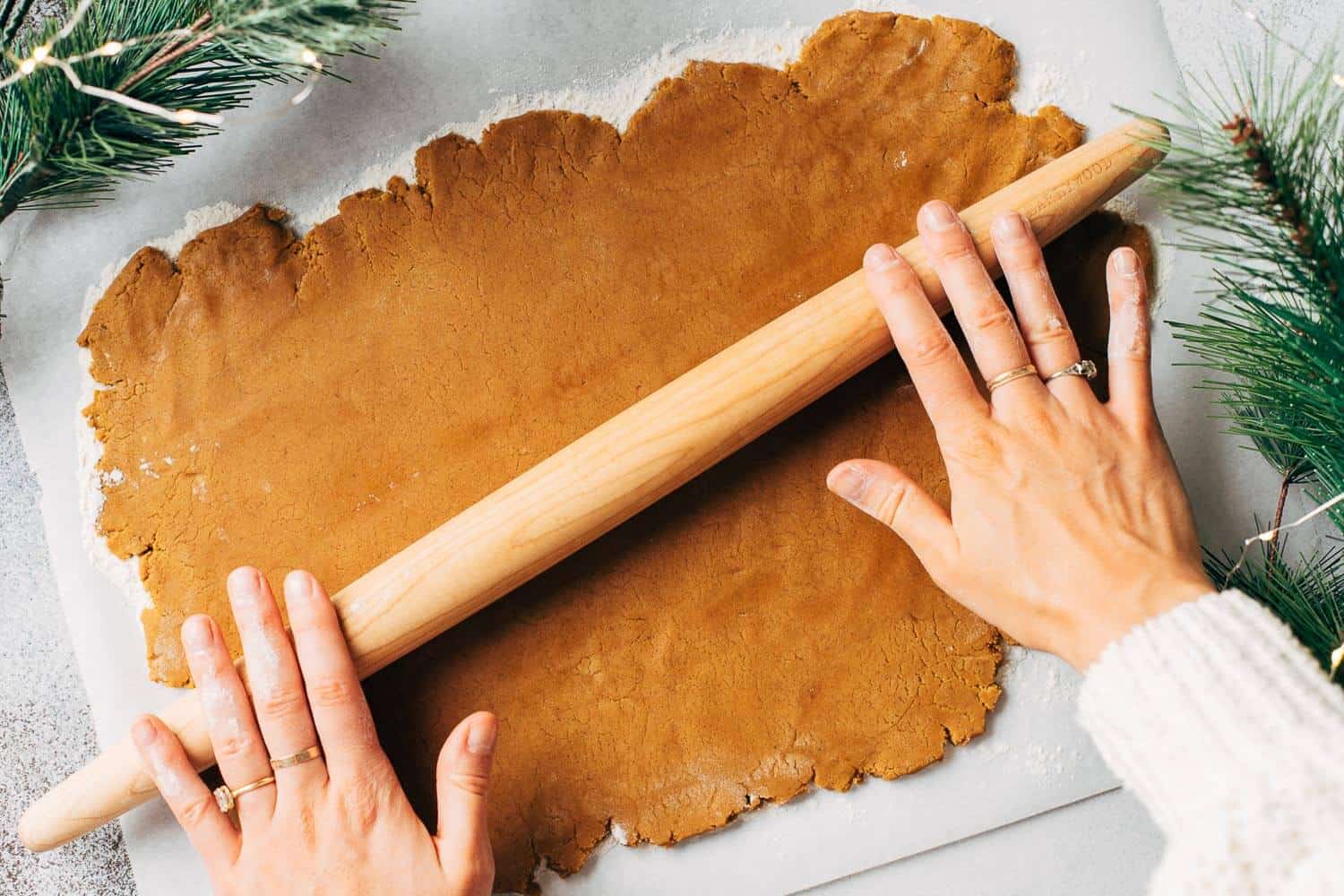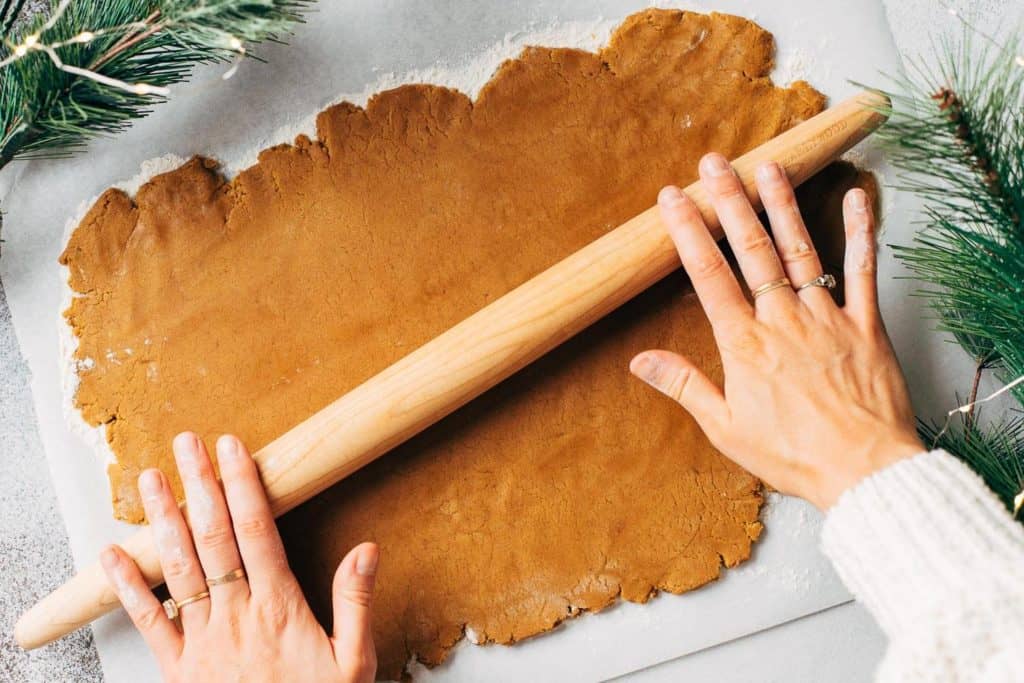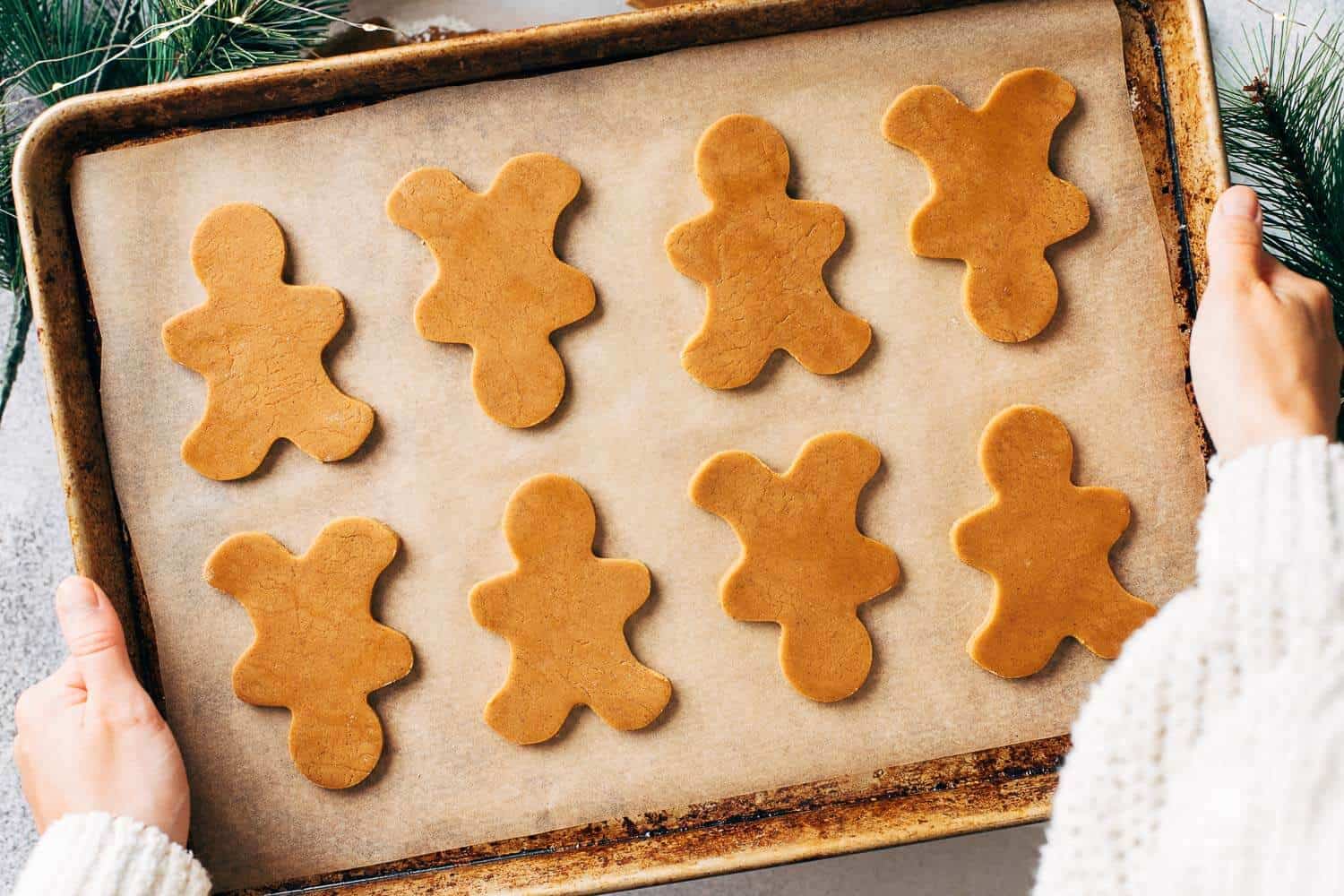 Rolling gingerbread cookie dough
Most gingerbread cookie recipes require the dough to be wrapped and chilled in one big ball. But then when it comes time to roll it out, it's firm and hard to roll out.
This actually calls for a very simple solution, and that is to roll the dough and THEN chill it! Revolutionary, I know.
For this recipe, lay a sheet of parchment paper on a large cutting board or anything with a flat surface. Coat the entire surface with a dusting of flour and roll the dough out on the sheet. Roll to about 1/4 inch thickness, which gives the best thick and chewy cookies.
Once rolled, transfer the dough (cutting board and all) into the refrigerator to chill for 30 minutes. This is the perfect window of time to make the icing!
Baking gingerbread cookies
Once chilled, it's very easy to cut out the cookies without any sort of warping or breaking when transferred to the baking sheet.
Another big plus to this recipe is that the dough barely spreads when baked. Because of this, it's possible to fit quite a few cookies on one baking sheet.
To tell when they're ready to be pulled from the oven, look at the surface of each cookie. If it appears lightly puffed, evenly colored, and dull (not wet), they're ready. Do not wait for the edges to turn a darker color because by that time it's too late!
Why is there no baking powder or baking soda?
To be quite honest, I just didn't feel a need for it. Leaveners modify the spread of a cookie, which wasn't entirely necessary for this recipe. In order to get thick and chewy gingerbread cookies, no amount of lift or spread is required.
Decorating gingerbread cookies
When the cookies are completely cooled, it's time to decorate. The icing recipe for these cookies is VERY easy to make and also dries firm.
The ingredients are simply powdered sugar, water, vanilla, and corn syrup. Corn syrup is what will provide a skin on the icing, basically turning it into a much easier royal icing.
The right consistency should look like Elmer's glue, but a bit thicker. When all of the ingredients are mixed together, assess the icing. If it's too thin, add a tablespoon of powdered sugar. Too thick, add a teaspoon of water. Adding bit by bit allows full control over the icing consistency.
To decorate, small round piping tips work best. For these cookies, I use a No. 2 Wilton piping tip for the white squiggles, eyes, and smile, and a No. 3 tip for the cheeks and buttons. The smaller the piping tip, the easier it is to create detailed designs.
These cookies are also moist enough to where icing isn't all that necessary and is purely decorative, so another option is to dust the cookies in powdered sugar before baking. Just that hint of sweetness pairs perfectly with the rich molasses flavor.
Can these be made gluten free?
Sadly, I tested these with gluten free flour and it was not pleasant. They appeared to be the exact same, but the texture was all off. The gluten free flour created an odd dry and sandy consistency. I'll have to work on a separate gluten free gingerbread cookie recipe!
How long do these cookies keep?
Because of how soft and chewy these gingerbread cookies are, they keep for quite some time and continue to get even more moist. Store in an air tight container at room temperature and they'll keep fresh for up to a week. Store in the refrigerator to keep up to 10-12 days.
Does this recipe work well with other cookie cutters?
Yes! Just about any cookie cutter will work. I even tested it with more detailed and pointy shapes like Christmas trees and it worked great. Just be aware of the size of the cookies, as smaller cookies take less time to bake.
For more Christmas cookie recipes, check out my:
Make sure to tag me @butternutbakery on Instagram and comment below if you make these gingerbread cookies. To pin this recipe and save it for later, you can use the button on the recipe card or on any of the photos above. Happy baking!
Watch how I made these gingerbread cookies:
Print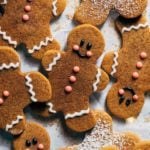 BEST Gingerbread Cookies
---
Author: Jenna Barnard
Total Time: 48 minutes + 30 minutes chilling
Yield: 22 cookies
Description
These are the BEST gingerbread cookies because they're thick, soft and chewy and hold their shape when baked! The recipe is also eggless, so it's easy to make regular or vegan. 
---
Gingerbread Cookies
2–3 cups all purpose flour (2 cups = 265g) 
1/4 tsp salt
1 1/2 tsp ground ginger
1 1/2 tsp ground cinnamon
1/4 tsp ground clove
1/4 tsp nutmeg
6 tbsp unsalted butter, room temp (reg or vegan)
1/2 cup (100g) light brown sugar, packed
1/4 cup (50g) granulated sugar
1 tsp vanilla extract
2 tbsp milk (reg or plant-based)
1/2 cup (140g) molasses
Icing
1 1/2 cups powdered sugar
4–5 tsp water
1 tsp corn syrup
1/2 tsp vanilla extract
Gel food coloring (optional)
---
Instructions
Gingerbread Cookies
Combine two cups of flour, salt, ginger, cinnamon, clove and nutmeg and whisk well. Set aside.
In a large mixing bowl using a hand or stand mixer with the paddle attachment, add the butter, brown sugar, and sugar. Mix on medium-high speed for 1-2 minutes or until light and fluffy.
Add the vanilla, milk, and molasses and mix to combine. Scrape down the bowl and mix again. 
Mix in the flour mixture on medium-low speed and then test the dough with your fingers. It should feel soft, tacky, and slightly sticky. This is not what we want. 
Measure out the final 1 cup of flour and gradually add it to the dough while the mixer is running. Note that you may not need the entire cup as the dough should turn clumpy but NOT crumbly. Pinch the dough again. It should still feel soft, but thicker and smoother than before without any stick. Almost like play-doh. 
Place a sheet of parchment paper on a cutting board or any flat but moveable surface that can fit in your fridge. Dust the entire sheet with flour. 
Form the dough into one large ball in your hands. Pat it down on the floured parchment paper, then lift up the dough, flour the surface underneath it, and flip the dough over so that both sides are now well floured. 
Roll the dough to about 1/4 inch thickness. Then place the dough (cutting board and all) in the refrigerator to chill for 30 minutes.
Preheat the oven to 350F and line a large baking sheet with parchment paper.
When the dough has chilled, remove it from the fridge and cut out the cookies using a cookie cutter. Transfer to the baking pan, each spaced only 1/2 inch apart as they don't spread very much.
Bake for 8-10 minutes, or until the have an even color, lightly puffed, and the centers look dull and no longer wet. While these cookies bake, use the dough scraps to roll out more cookies.
Transfer the cookies to a cooling rack and cool completely before icing.
Icing
Whisk together all of the ingredients, starting with 4 tsp of water. The consistency should be slightly thicker than glue.
If it's too thin, add 1 tbsp of powdered sugar at a time until it's just right. If it's too thick, do the same but with 1 tsp of water at a time. 
Separate the icing accordingly and color with 1 drop of gel food coloring if desired. Pipe designs onto the cooled gingerbread cookies and enjoy!
Notes
SIZE – The gingerbread man cookie cutter I used was about 4×2.5″ and 8 minutes was the perfect bake time. Keep in mind that if your cookies are smaller, they may only need 6-8 minutes, if quite larger, they will need 10-12 minutes.
GLUTEN FREE – I tested this recipe with gluten free flour thinking it would work well, but sadly it did not. The cookies looked exactly the same, but the texture was all wrong. Unfortunately the flour added a grittiness that was very off-putting. 
STORAGE – Store the cookies in an air tight container at room temperature where they'll keep for about a week (they will continue to get softer as the days go on). To keep for a few extra days, store in the fridge. 
Prep Time: 40 minutes
Cook Time: 8 minutes
Keywords: gingerbread cookies, gingerbread cookie recipe, vegan gingerbread cookies, gingerbread men
Recipe Card powered by