It's time to raid your pantry and throw in all the toppings for this compost skillet cookie! It has just about everything you would need with a mix of both salty and sweet ingredients. The base is an oatmeal graham cracker espresso cookie which is loaded with toffee, chocolate, pretzels, and potato chips. It's the ultimate skillet cookie that's perfect for sharing with family and friends.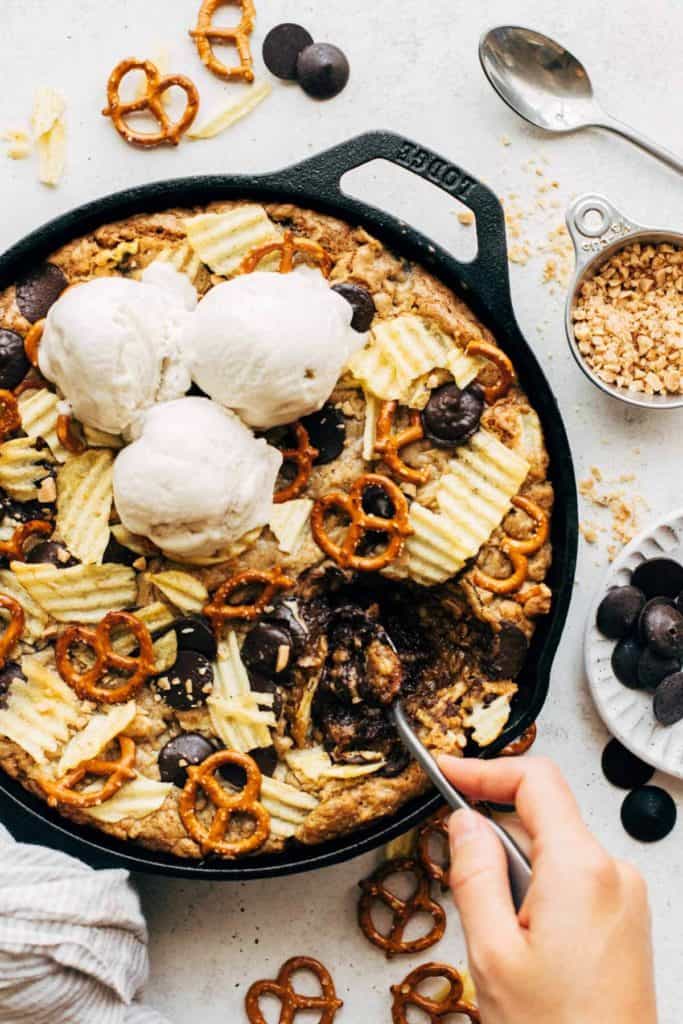 What is a compost cookie?
The original concept comes from the famous Milk Bar bakery. They serve their own compost cookies which is full of very similar ingredients. The idea is to empty out your pantry with any snacks or mix-ins and toss them into a cookie. The outcome is a delicious sweet and salty treat that's bursting with SO many different flavors.
For my version, I opted to create a massive compost cookie in order to load up on the mix-ins. The skillet cookie itself is gooey and rich, made with oats, crushed graham crackers, and espresso powder. It's then loaded up with chocolate, toffee, potato chips, and pretzels. All the mix-ins are both mixed into the dough and pressed on top. Add the chips and pretzels on top still gives them a crisp crunch once baked, so each bite is a medley of flavors and textures.
Tips for making the BEST skillet cookie
Skillet cookies are one of my favorite desserts because they turn out crispy on the outside, super gooey on the inside, and are so easy to make and share. Here are a few tips to ensure yours turns out perfect:
Use a cast iron – Cast iron skillets are the best for these mega cookies because they heat up and cool down fast. This gives you a chewy crust around the edges with a gooey center. Also make sure to grease the inside of the skillet before adding the batter. This makes it much easier to clean up.
The flour – Don't use too much flour, otherwise the cookie could turn out too dense and stiff. Never scoop straight into the flour bag or container and don't pack it or shake it down into the cup. Simply spoon the flour into your measuring cup and level it off with a flat edge.
Don't over mix – This goes for the dough and the mix-ins. Right when the dough comes together, stop mixing. When adding the potato chips and pretzels, give it a few folds but don't completely crush them. The goal is to have large pieces of chips and pretzels all throughout.
Don't over bake – The secret to a good skillet cookie is to have a warm but underdone center. When it's ready, the edges will be a light golden brown. Allow the cookie to cool for about 15 minutes, then dig right in.
Mix-in options
You can definitely get creative with this skillet cookie, but try not to stray away from the ingredients that make up the dough. This includes the oats and graham cracker. These help maintain the consistency and structure of the cookie, so definitely don't leave these out. Otherwise, feel free to swap out any other mix-in. Just make sure to leave a solid balance of salty and sweet. Here are a few other ingredient options:
Sweet
Butterscotch chips
Peanut butter chips
White chocolate chips
Caramel pieces
M&Ms
Chocolate covered coffee beans
Salty
Corn flakes
Salted nuts (peanut, cashew, pistachio, pecan…)
Ritz crackers
Buttered popcorn
Can I use a different dish?
While I highly recommend a 10″ cast iron skillet, there are a couple alternatives you could use if you don't have one or can't get your hands on one. You could use a 9″ square baking dish or 9″ springform pan. If using the springform pan, make sure to cover the base in foil so it doesn't leak any butter. The cookie may need to bake for an extra 5-10 minutes as well. Don't release the ring, just eat it straight out of the pan.
How to save leftovers
This cookie is definitely best served warm with ice cream on top. It's gooey, crispy, melty, and absolute perfection. If you plan on having leftovers, I recommend reserving the ice cream of individual servings rather than placing it on top of the entire cookie.
Once the cookie is completely cooled and you've taken as much of a serving as you like, cover it in foil and leave it at room temp. When you're ready for more, bake at 300F for 5-10 minutes to warm up.
Note that the chips and pretzels on top may turn a bit soft after the first day. If you'd like to prevent this, you can leave them off completely or pick them off before covering.
For more cast iron skillet desserts, check out my:
Make sure to tag me @butternutbakery on Instagram and comment below if you make this Compost Skillet Cookie. To pin this recipe and save it for later, you can use the button on the recipe card or on any of the photos above. Happy baking!
Print
Compost Skillet Cookie
---
Description
This is the ULTIMATE skillet cookie with graham crackers, coffee, toffee, chocolate, potato chips, pretzels, and the entire kitchen sink.
---
3/4 cups (170g) unsalted butter, room temp
1 cup (200g) light brown sugar, packed
1/2 cup (100g) granulated sugar
2 tsp vanilla extract
2 large eggs
2 cups (260g) all purpose flour
1 cup (100g) old fashioned rolled oats
1/2 cup (55g) graham cracker crumbs
2 tsp instant espresso powder
1 tsp baking soda
1/2 tsp salt
1/2 cup (80g) toffee bits
1 cup (180g) chocolate chunks (dark or semisweet)
1 cup pretzels
1 cup wavy potato chips
---
Instructions
Preheat the oven to 350F and grease a 9″ cast iron skillet.
In a large mixing bowl, mix together the butter and sugars until smooth using a hand or stand mixer with the paddle attachment.
Mix in the vanilla and eggs until smooth. Scrape down the bowl and give it another mix.
Add in the flour, oats, graham cracker crumbs, espresso powder, baking soda, and salt and mix to combine.
Fold in the toffee bits and chocolate. Once well distributed, toss in a fist full each of the pretzels and potato chips. Gently fold them in just break them up a bit but don't completely crush them.
Press the dough into your prepared skillet and add some extra chocolate, pretzels, and potato chips on top (mainly for aesthetic purposes).
Bake for 20-25 minutes and allow it to cool for 20-30 minutes. Top with a few scoops of ice cream and dig in!
Notes
MIX-INS – You can use any mix-ins you like, as long as it equals to the amounts listed in the ingredients.
Prep Time: 20 minutes
Cook Time: 20 minutes
Keywords: skillet cookie, compost cookie, kitchen sink cookie
Recipe Card powered by