You may have never thought you needed peanut butter mocha brownies in your life, but you most definitely do now! These brownies are a delicious combination of creamy peanut butter, rich chocolate, and strong espresso. They're also made in one bowl and are super easy to make. Top with your favorite peanut butter, chocolate, and coffee toppings for some added flare and dig right in.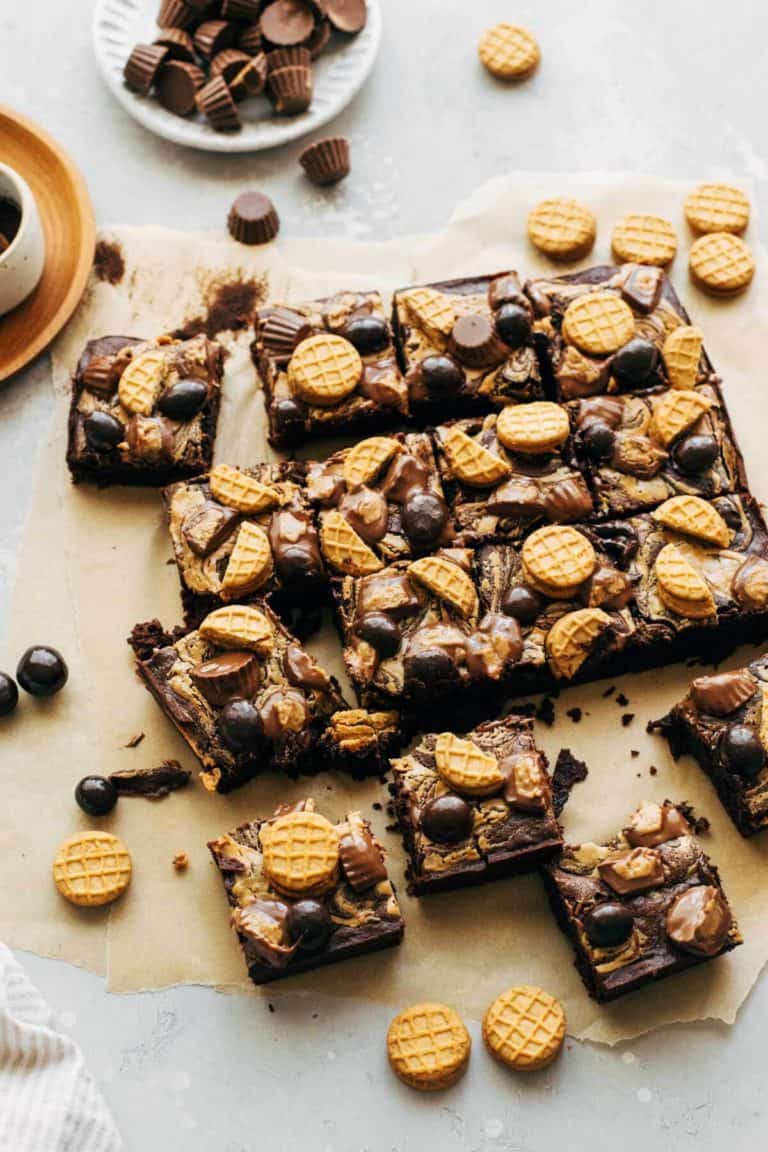 How to make one bowl espresso brownies
What I love about this recipe is that everything is made in one bowl and mixed by hand. No special equipment and easy clean up!
If you're worried about the brownies tasting a little too much like coffee, you have nothing to worry about. The espresso definitely comes through, but it doesn't overpower the brownies and pairs nicely with the rich and creamy peanut butter. It's a pretty equal balance of flavors between the peanut butter, espresso, and chocolate.
To make them, simply combine all of the wet ingredients in a large bowl then mix in the dry ingredients. Pour, swirl, and bake. It's that easy! But here are a few things to keep note of:
Instant Espresso Powder – Make sure to use INSTANT espresso powder, as standard is a bit too grainy. Espresso powder is also your best option to get the biggest flavor payoff. Instant coffee can be used if you don't have espresso, but you may not get that deep flavor.
Cocoa powder – You can use any cocoa powder you like, whether that's regular, dark, or dutch processed. Either way, always sift it before adding it to your batter to prevent any lumps.
Chocolate – The very last step is to mix in some chocolate, whether chips or chopped. If you're working with chocolate bars, chop into small bite-sized pieces. If you have large chunks in the batter, it will be a bit more difficult to swirl the peanut butter topping. I also recommend using dark chocolate as it pairs well with espresso.
Brownie peanut butter swirl
To top it all off before baking, add a layer of swirled peanut butter. This is a very easy step and you can use as much or as little peanut butter as you like. I recommend 1/4 cup as a minimum, but you can add up to 1/2 cup if you prefer.
Melt the peanut butter in the microwave for about 30 seconds, or until runny. Pour it in a zig-zag pattern over the surface of the brownies. Swirl with a toothpick until it's evenly distributed. Don't swirl too much, otherwise the peanut butter will blend in with the brownies and we want two distinct layers.
How to bake peanut butter mocha brownies
Once swirled, bake for 25-30 minutes. I recommend starting at 25 minutes and then work your way up form there. It should be slightly puffed in the middle and will not jiggle or wobble in the center when nudged. If you're unsure, it's best to under bake brownies than over bake.
Espresso brownie toppings
When the brownies are fresh from the oven, allow them to cool for about 15 minutes before adding your toppings. This is for two main reasons: One, when they're piping hot the toppings will completely melt on top. Two, you still want the brownies to be fairly warm so the toppings can stick to the surface.
If you're using chocolate toppings, place them in the refrigerator to firm up beforehand. Preferably overnight, but you can do so at the very start of making the brownies. If they're chilled, they're less likely to melt.
The toppings I recommend are mini peanut butter cups, mini peanut butter sandwich cookies, and chocolate covered coffee beans. You can use any toppings you like, but I encourage you to at least include chocolate covered coffee beans. They bump up the flavor and add a really nice depth of flavor to these brownies.
When the brownies are warm and in the pan, press the toppings into the surface. Start with the larger pieces first (like the cookies) and then work your way down to the smaller pieces. Allow the brownies to then chill for about 1 hour to fully set before slicing.
Serving the brownies
Never dig into brownies when they're still hot, unless you're working with a gooey skillet brownie because those are made for scooping right into. Brownies need to chill and set before slicing, otherwise they'll completely fall apart. So don't skip this step!
Slicing the brownies
Once chilled, lift the brownies out of the pan and place onto a cutting board. Using a large knife, make quick and straight slices. Try not to saw or drag your knife, as this will move around the toppings. Simply press quickly and firmly straight down into the brownies and lift the knife straight up and out with as few motions as possible.
Can I modify this recipe?
I haven't tested any modifications, but I provided the best options to make these gluten free or vegan in the recipe notes. They may turn out a bit more dense or fragile, but brownies are intended to be both fudgy and messy so I'm sure they'll turn out just fine!
Otherwise, all other ingredients should remain the same if you're making these brownies as is. Brownies can be finicky, so any adjustments (unless otherwise stated in this post or recipe) could lead to a totally different outcome.
For more brownie recipes, check out my:
Make sure to tag me @butternutbakery on Instagram and comment below if you make these Peanut Butter Mocha Brownies. To pin this recipe and save it for later, you can use the button on the recipe card or on any of the photos above. Happy baking!
Print
Peanut Butter Mocha Brownies
---
Author: Jenna Barnard
Total Time: 50 minutes + 1 hour cooling
Yield: 16 brownies
Description
Rich espresso brownies swirled with peanut butter and topped with peanut butter cookies, cups, and chocolate covered coffee beans.
---
Peanut Butter Mocha Brownies
6 tbsp (85g) unsalted butter, melted
1/4 cup (50g) vegetable oil (or canola, almond, avocado, melted coconut..etc)
1/2 cup (100g) granulated sugar
1/2 cup (100g) brown sugar, packed (light or dark)
1 1/2 tsp instant espresso powder
2 large eggs
2 tsp vanilla extract
1/2 cup (70g) all purpose flour
3/4 cup (60g) unsweetened cocoa powder, sifted
1/2 tsp salt
1/2 cup dark chocolate, chips or chopped
1/3 cup creamy peanut butter, melted
Toppings
Mini unwrapped peanut butter cups
Mini peanut butter cookies (I used NutterButter bites)
Dark chocolate covered coffee beans
---
Instructions
Preheat the oven to 325F and line an 8×8 baking dish with nonstick spray and parchment paper.
In a large bowl, whisk together the butter, oil, sugars, and espresso powder. 
Once combined, mix in the eggs and vanilla.
Mix in the flour, cocoa powder, and salt.
Fold in the chocolate.
Pour the batter into the prepared pan and spread it even. Drizzle the melted peanut butter over top in a zig-zag pattern and swirl with a toothpick.
Bake for 25-30 minutes.
Allow the brownies to cool for 15 minutes, then press in your toppings. 
Chill the brownies for about an hour to set, then slice and enjoy!
Notes
VEGAN – I haven't tested it, but use melted coconut oil for your oil, swap the butter with vegan baking sticks and the eggs with two flax eggs (2 tbsp ground flax mixed with 5 tbsp water and let it sit for 10 minutes to gel). Also make sure to use vegan chocolate and toppings. Bake for 20-25 minutes.
GLUTEN FREE – I haven't tested it, but swap the all purpose flour with gluten free baking flour (with xanthan gum mixed in). My favorite is by Bob's Red Mill. Also make sure to use gluten free toppings.
Prep Time: 20 minutes
Cook Time: 30 minutes
Keywords: brownies, espresso brownies, peanut butter brownies, peanut butter mocha brownies
Recipe Card powered by