This dark chocolate mousse is so light and airy yet so rich. It's made with real dark chocolate along with coconut cream, SunButter, and maple syrup for a completely vegan and naturally sweetened mousse! The entire recipe takes under an hour to make and yields the most delicious treat.
This post is sponsored by SunButter and all thoughts and opinions are my own. Thank you for supporting the brands that make Butternut Bakery possible!
What is chocolate mousse made of?
Typical chocolate mousse is made of melted chocolate folded with whipped egg whites or whipped cream. It creates a light and fluffy chocolate dessert that's eaten by the spoonful.
How to vegan chocolate mousse
This recipe requires a unique set of simple ingredients to obtain that same light and airy consistency but without any dairy whatsoever.
Vegan Dark Chocolate – For a true chocolate flavor, this mousse is made with lots of dark chocolate. Make sure to use a chopped bar of chocolate for better quality!
Natural SunButter – Without dairy, there's a layer of richness that needs to be supplemented. My favorite ingredient for this is SunButter because it is incredibly smooth and creamy so it blends into this mousse SEAMLESSLY. Natural SunButter also has a hint of sweetness that pairs really well with the dark chocolate.
Coconut Cream – To replace heavy cream, coconut cream is used in its place. It acts almost exactly like heavy cream but hardest as it chills. This yields an extra thick mousse that's whipped when cold.
Maple Syrup – For natural sweetness, maple syrup is mixed in. I opted for 1/2 cup which is the most that can be used. If you prefer a deeper mousse flavor, try just 1/4 or 1/3 cup. Also make sure to use pure 100% maple syrup and not pancake syrup!
Cocoa Powder – Just two tablespoons is all that's needed to bump up that chocolate flavor.
Vanilla Extract – Of course no dessert is completely without a hint of vanilla!
Whipped dark chocolate mousse
Once all of the ingredients are melted down and mixed together, the bowl chills for at least 30 minutes. The goal is to cool the mousse completely so the bowl should no longer be warm to the touch.
After it has cooled, use a hand or stand mixer with the whisk attachment to whip the mousse into a light and fluffy consistency. Mix on high speed for a good 3 minutes for the best results!
Because the mixture is whipped as one, there's no added steps of gently folding the mousse so this makes the entire recipe so quick and easy.
How to serve chocolate mousse
For easy serving, use an ice cream scoop to scoop out 6 servings. This can be in any bowl of your choosing.
It's best to serve the mousse when it's fresh because at room temperature, it has the lightest and airiest texture.
Top with dairy free whipped cream, cocoa powder, chocolate shavings, or fresh berries. It's also delicious all on its own!
How to store chocolate mousse
Once whipped, store the mousse in the refrigerator in an air tight container. It will keep for about 5 days. Then to serve, I suggest bringing it up to room temperature although it can be served chilled as well.
Can this chocolate mousse recipe be made with different chocolate?
Luckily the sweetness of this chocolate mousse recipe can easily be adjusted to accommodate most chocolates.
If you would like to use a vegan milk or semisweet chocolate, simply cut back on the amount of maple syrup in the mousse. Start with 1/4 cup and taste as you go to determine your preferred level of sweetness.
Can this chocolate mousse be made with Chocolate SunButter?
Yes! For an added layer of chocolate, feel free to swap the Natural SunButter with Chocolate SunButter. Both have an incredibly smooth consistency that creates the best mousse texture.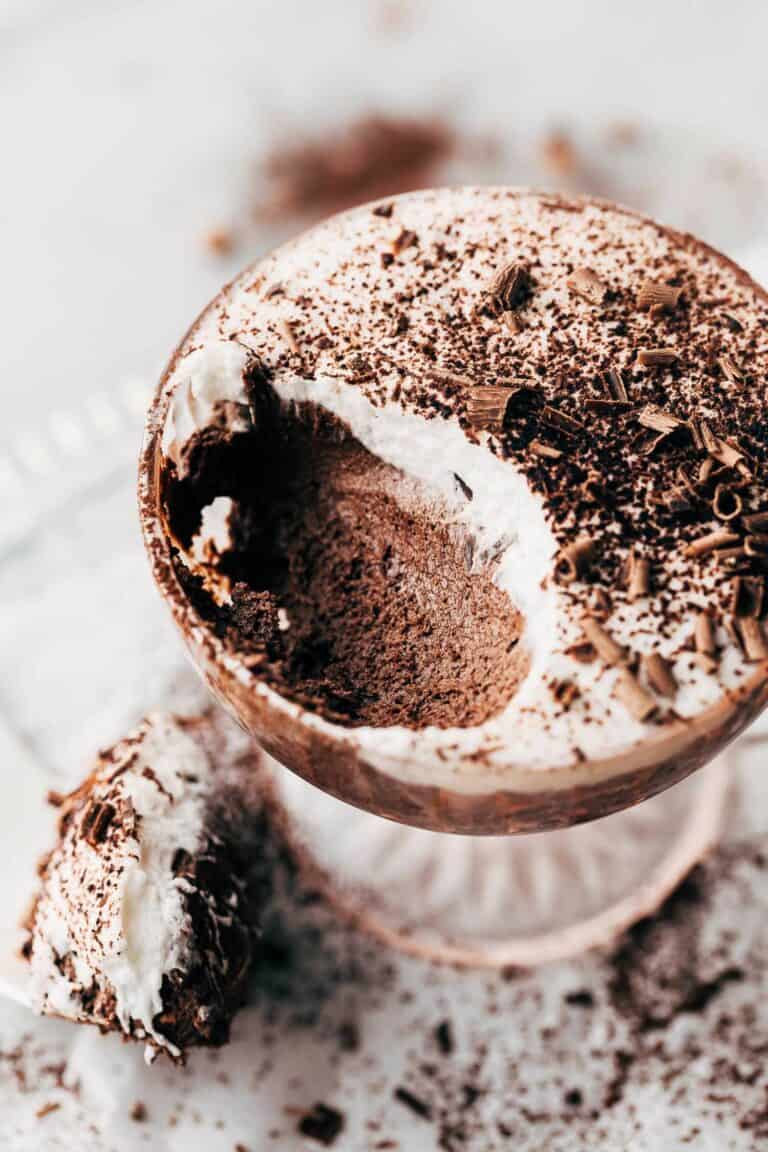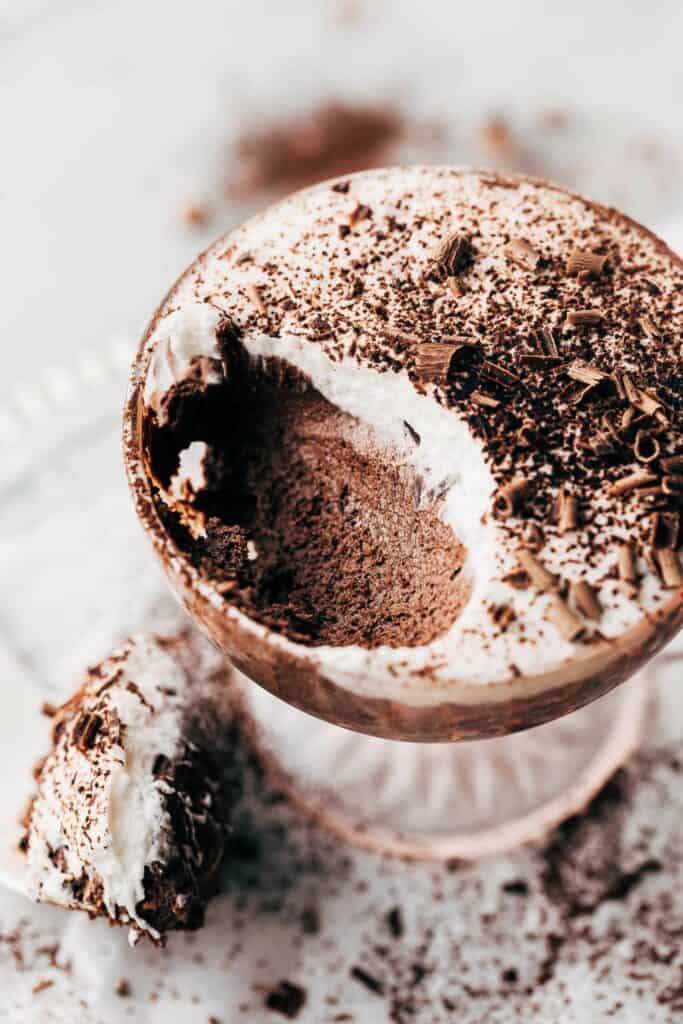 For more chocolate no bake recipes, check out my:
Make sure to tag me @butternutbakery on Instagram and leave a review below if you make this dark chocolate mousse. To pin this recipe and save it for later, you can use the button on the recipe card, the buttons above or below this post, or on any of the photos above. Happy baking!
Print
Rich Dark Chocolate Mousse
---
Author: Jenna Barnard
Total Time: 1 hour
Yield: 6 servings
Diet: Vegan
Description
This dark chocolate mousse is made with real dark chocolate for a thick and rich consistency. Using coconut cream, sunflower seed butter, and maple syrup, this recipe is also completely gluten free and vegan!
---
Chocolate Mousse
1 14 oz can full fat coconut milk, chilled overnight
7 oz vegan dark chocolate, chopped
1/3 cup (90g) Natural SunButter
2 tbsp unsweetened cocoa powder or raw cacao powder
1/2 cup (165g) pure maple syrup
2 tsp vanilla extract
Coconut whipped cream, optional topping
Fresh berries, optional topping
---
Instructions
Chocolate Mousse
Remove the chilled can of coconut milk from the refrigerator and turn it upside down. Use a can opener to cut the bottom and pour out the clear coconut water, leaving behind the coconut cream (about a heaping 1/2 cup).
Scoop the coconut cream into a large heat-safe bowl and add the chocolate and SunButter.
Place the bowl over a pot of simmering water. Stir the mixture until smooth and melted. 
Remove from the heat and mix in the cocoa powder, maple syrup, and vanilla.
Keep mixing until it's completely smooth and well combined.
Place the bowl in the refrigerator to chill for about 30 minutes or until the bowl is no longer warm on the bottom.
Once chilled, whip the mousse using an electric hand mixer. Mix on high speed until lightened and fluffy.
Distribute the mousse between 6 small dishes and add your favorite toppings. Eat right away or store in the refrigerator. Enjoy!
Equipment
Prep Time: 15 minutes
Cooling Time: 30 minutes
Cook Time: 15 minutes
Category: Dessert
Method: No Bake
Cuisine: French
Keywords: vegan chocolate mousse, dark chocolate mousse, chocolate mousse recipe, easy chocolate mousse, dairy free chocolate mousse, chocolate mousse
Recipe Card powered by