This chocolate snack cake is the easiest cake you will ever make! It's made with fresh brewed coffee, creamy SunButter, and fudgy salted dark chocolate frosting. Both the batter and frosting are mixed by hand, making this a really simple recipe. This cake is also completely gluten free and vegan, but you would never even know!
This post is sponsored by SunButter and all thoughts and opinions are my own. Thank you for supporting the brands that make Butternut Bakery possible!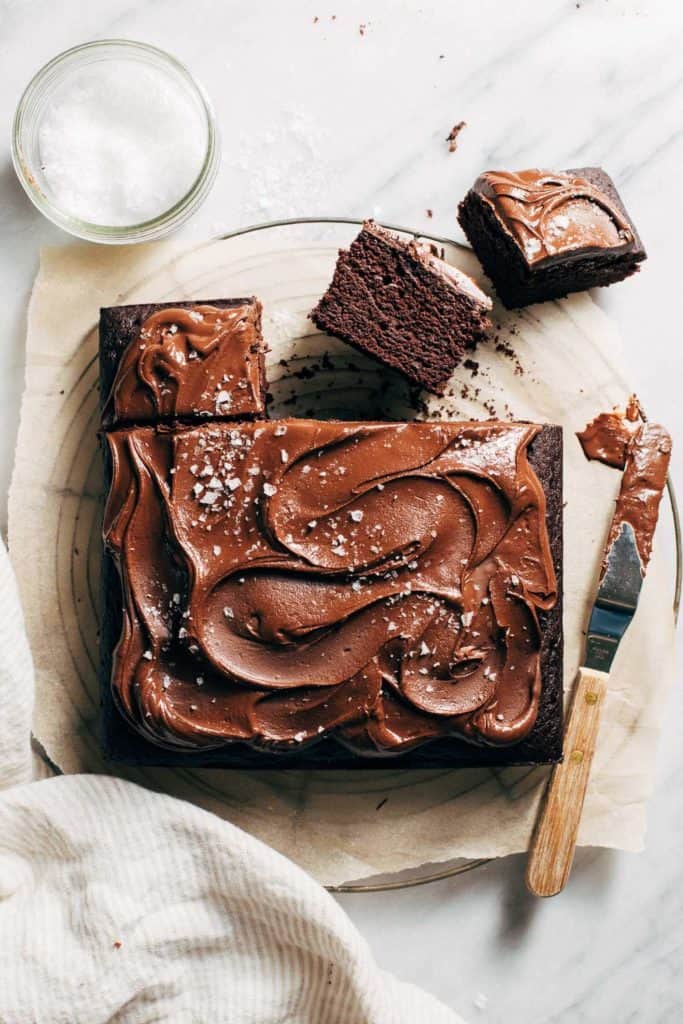 What is snack cake?
It's all in the name…it's cake you can have as a snack! It's definitely not a layer cake, and it's half the size of a sheet cake so it's perfect for when you need a small batch of cake.
This also means they're incredibly easy to make. Since it's a small batch, it's typically mixed in one bowl and bakes in about 30 minutes. It's the perfect quick cake recipe when you're in a pinch, or are just craving some chocolate cake!
Ingredients for chocolate snack cake
Here's what you need to make this super simple snack cake recipe:
Gluten Free Flour – Use a good gluten free flour blend that's made for baking. These typically have xanthan gum in the mix which helps mimic a fluffy cake texture.
Dutch Process Cocoa – Unlike regular cocoa, dutch process cocoa is alkalized to give it a smooth, less acidic flavor. It also has a rich dark chocolate color.
Granulated Sugar – No cake is completely without sugar!
Baking Soda and Baking Powder – These will leaven the cake, and the combination both activates when the batter is mixed and again as the cake bakes. The double action is great for gluten free cakes!
Coffee – Coffee and chocolate is a classic combination because the brewed coffee helps bring out the different notes of the chocolate. Water can be used instead, but for the most flavor I highly recommend sticking with coffee.
Creamy SunButter – SunButter does a lot of the heavy lifting in this cake. Not only does it help bind the cake (since the batter is sans eggs) but it also adds a layer of richness that makes this cake extra moist. SunButter is also SUPER creamy so it blends seamlessly into the batter!
Vinegar – This is a common ingredient in gluten free and vegan cakes, mainly because it boosts the activation of the baking soda. Without gluten, it can be much more difficult for a cake to bake with a fluffy structure. So when the vinegar reacts with the baking soda, bubbles begin to form which helps lift the cake as it bakes.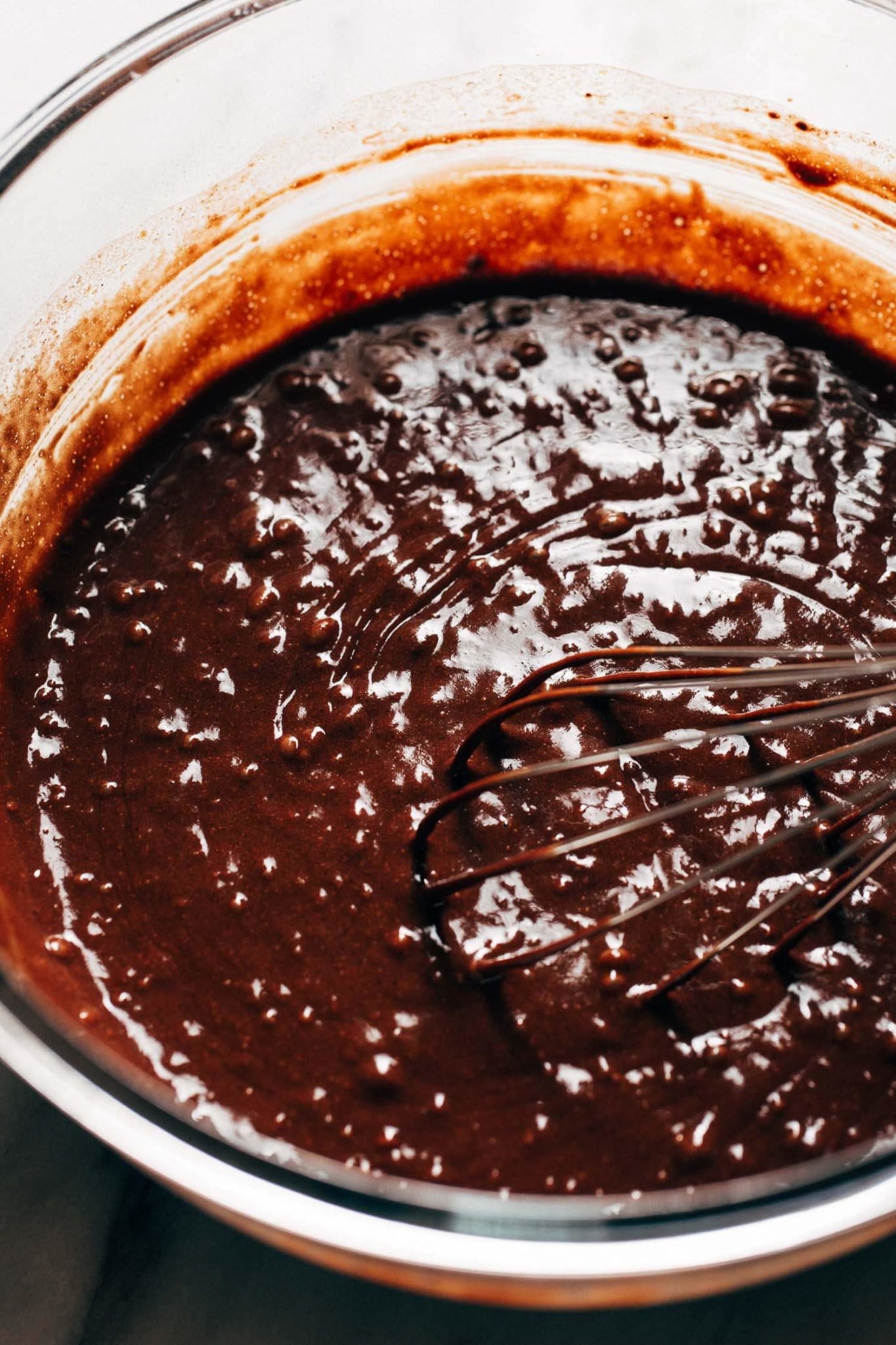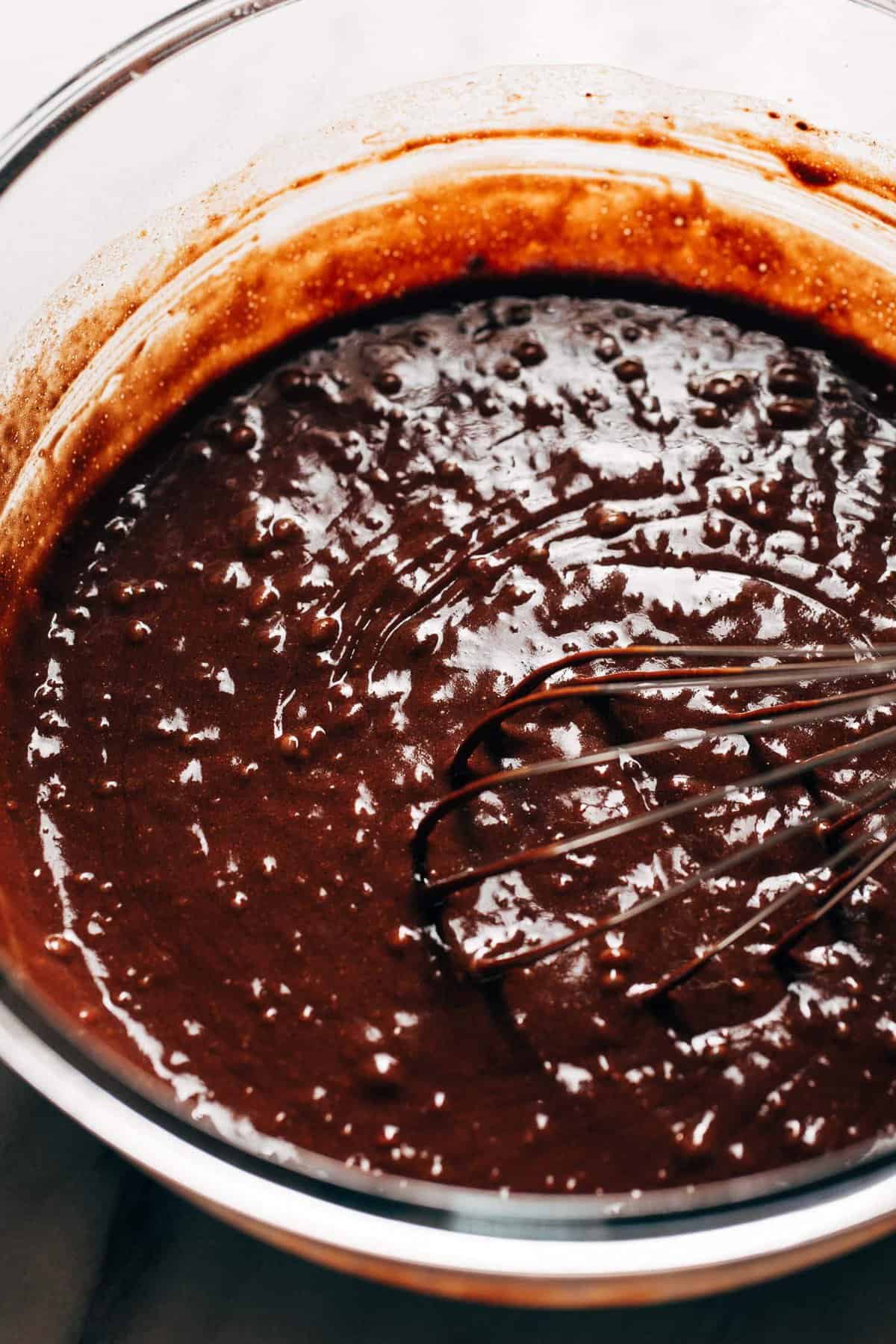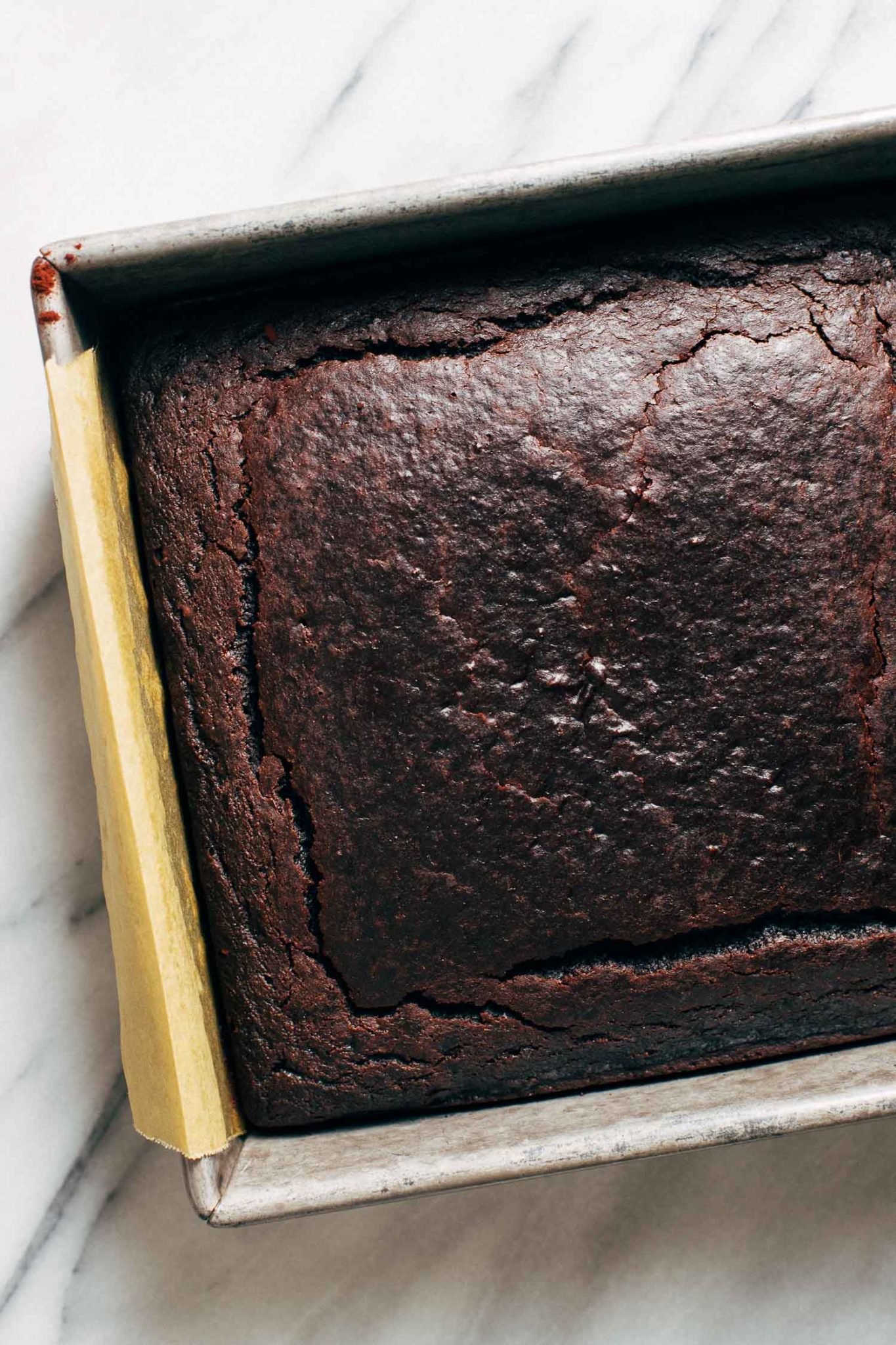 Tips for baking chocolate snack cake
Baking Pan – For the best results, use an aluminum alloy baking pan. This material conducts heat very well, providing the cake with an even bake.
Prep – Lightly spray the pan with nonstick spray. Then cut a sheet of parchment paper that fits the width of the pan. Lay the sheet inside to cover the bottom and two sides. Allow the sheet to hang over those two edges. This makes it easy to release the cake from the pan later on.
Bake – The cake bakes for about 30 minutes. It's done when the cake appears to be evenly puffed with cracked edges, and a toothpick in the center comes out clean with a few moist crumbs.
Cool – Gluten free cakes are more delicate, so chilling the cake helps lock in that structure. Refrigerate the cake for about 1-2 hours or until it's completely cool. It will then be easy to release from the pan and slice!
Chocolate snack cake frosting
This is probably the easiest frosting you will ever make! Only 4 ingredients are needed and they're melted together to form a delicious fudgy frosting.
Dark Chocolate – Use quality dark chocolate for the frosting as this will melt seamlessly into a smooth texture.
Creamy SunButter – SunButter is what gives this frosting a rich and fudgy consistency. It's melted down with the chocolate to create a thick frosting. The flavor also pairs really well with the dark chocolate as they both have light roasted notes.
Coffee Granules – To bring in the coffee from the cake, instant coffee granules are added to the frosting. If you don't have this, it's OK to leave it out but do not sub in regular brewed coffee. The water will make the chocolate stiffen and seize up.
Powdered Sugar – This not only thickens the frosting, but it also adds just the right amount of sweetness that isn't too over the top.
After the ingredients are melted and stirred, the frosting will appear somewhat thin. As it cools, it will turn into a smooth and fudgy consistency. This is perfect for spreading into swooping swirls.
When the frosting cools even further once it's spread on the cake, it will firm up into a fudge-like consistency. If you prefer the creamy texture, heat up a slice in the microwave for about 10 seconds and it will come right back!
How to store chocolate snack cake
Store this snack cake in the refrigerator in an air tight container. It will keep for about a week. If you don't plan on having it around that long, it's OK to store at room temperature in a container for a couple days.
Optional snack cake toppings
This cake is topped with flaky sea salt to tie in all of the flavors. If you don't have flaky sea salt or want something a bit different, go ahead and sprinkle on your flavor toppings!
This includes rainbow sprinkles, roasted salted sunflower seeds, chopped candy bits, toasted coconut, cacao nibs, chocolate shavings, or dried edible flowers. Different toppings allow this cake to fit just about any occasion.
For more gluten free chocolate desserts, check out my:
Make sure to tag me @butternutbakery on Instagram and comment below if you make this chocolate snack cake. To pin this recipe and save it for later, you can use the button on the recipe card, the buttons above or below this post, or on any of the photos above. Happy baking!
Print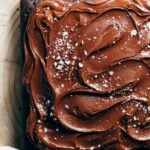 Salted Chocolate Mocha Snack Cake
---
Author: Jenna Barnard
Total Time: 50 minutes + 2 hours cooling
Yield: 6 slices
Description
This rich chocolate snack cake is made with fresh brewed coffee and topped with fudgy chocolate mocha frosting. It's also completely gluten free and vegan but you would never even know! It's so flavorful, so moist, and so delicious.
---
Chocolate Cake
1 1/2 cups (200g) gluten free baking flour
1/2 cup (50g) unsweetened dutch process cocoa powder
1 cup (200g) granulated sugar
1 tsp baking soda
1/2 tsp baking powder
1/2 tsp salt
1 1/4 cup (295ml) hot brewed coffee
1/3 cup (85g) creamy SunButter
2 tsp vanilla extract
1 tbsp apple cider vinegar
Chocolate Frosting
3.5 oz 70% vegan dark chocolate, chopped
1 tsp instant coffee granules
1/2 cup (120g) creamy SunButter
1/2 cup (60g) powdered sugar
Flaky sea salt, for sprinkling
---
Instructions
Chocolate Cake
Preheat the oven to 350F and grease and line a square 8×8 baking pan with parchment paper. Allow the paper to hang over the sides for easy release.
In a large mixing bowl, whisk together the flour, cocoa powder, sugar, baking soda, baking powder, and salt.
In a separate bowl, whisk together the coffee, SunButter, vanilla, and vinegar. The SunButter may not fully incorporate, but that's OK.
Pour the wet ingredients into the dry ingredients and whisk to combine.
Pour the batter into the pan and bake for 25-30 minutes.
Allow the cake to cool at room temp for about 30 minutes, then transfer to the refrigerator to chill for another 1-2 hours, or until the cake is completely cooled.
Chocolate Frosting
While the cake cools, make the frosting by adding the chopped chocolate, coffee granules, and SunButter to a heat safe dish.
Microwave in 30 second intervals, stirring between each time, until smooth. It shouldn't take more than 60 seconds total.
Stir in the powdered sugar 1/4 cup at a time. Allow the frosting to sit at room temperature while the cake continues to chill. As the frosting cools down, it will thicken into a spreadable consistency. If it thickens and cools TOO much, pop it in the microwave for 10 seconds to loosen up.
Spread the frosting over the chilled cake and sprinkle with sea salt. Then slice and enjoy!
Equipment
Prep Time: 20 minutes
Cook Time: 30 minutes
Category: Dessert
Method: Baking
Cuisine: American
Keywords: chocolate snack cake, gluten free chocolate cake, gluten free chocolate snack cake, mocha chocolate cake, vegan chocolate cake, vegan chocolate snack cake
Recipe Card powered by