This simple recipe for Gluten Free Pumpkin Muffins is SO delicious! They're also dairy free, made with almond flour and coated in cinnamon sugar for a little extra sweetness. With an incredibly moist texture and rich pumpkin flavor, this is bound to be your new favorite pumpkin muffin recipe!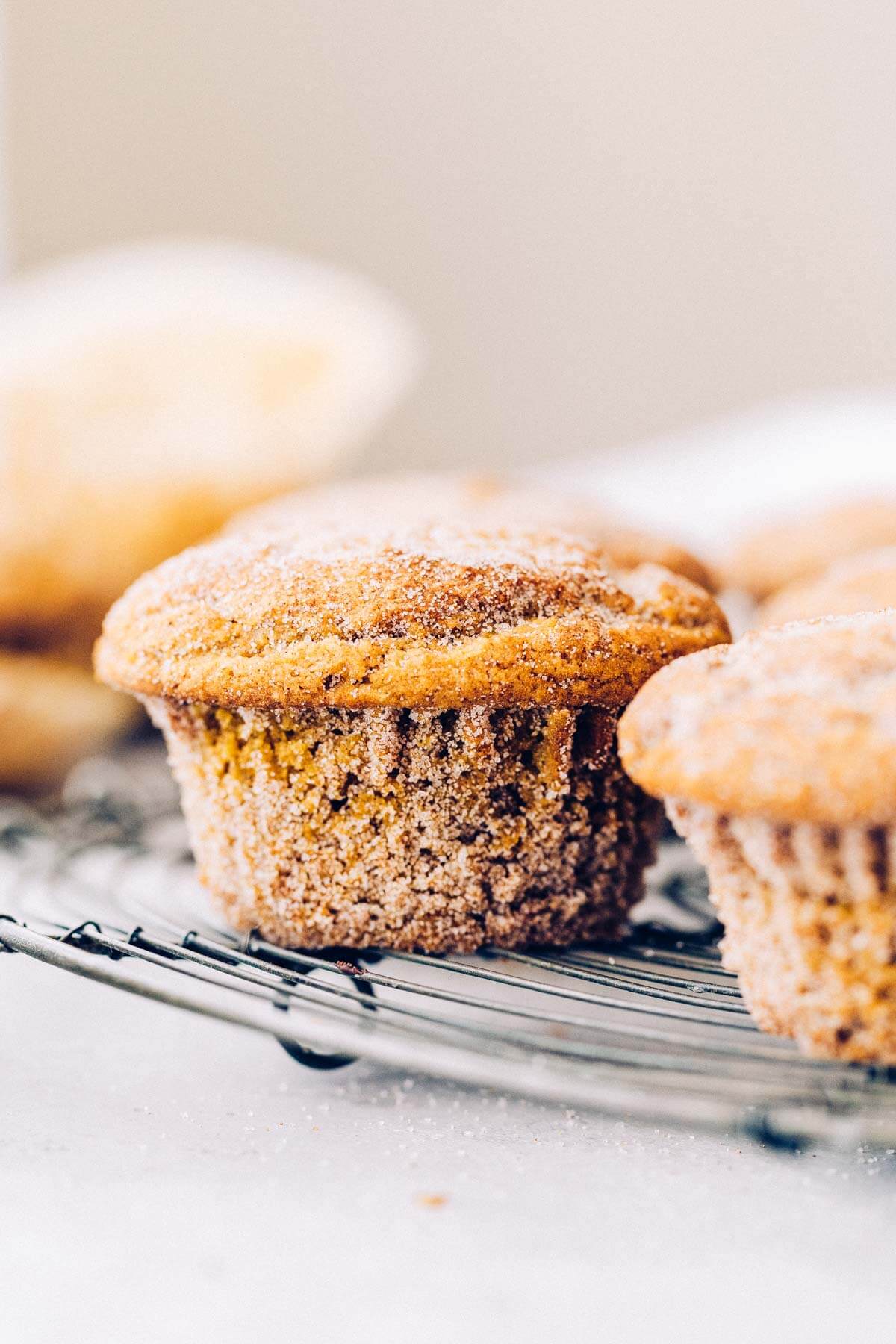 Why I love this recipe
These Gluten Free Pumpkin Muffins are SO easy to make and taste AMAZING. You won't even know they're completely gluten and dairy free. Using a blend of gluten free flours along with coconut oil, these muffins are super moist with a soft and delicate texture. Better yet, they stay moist for days!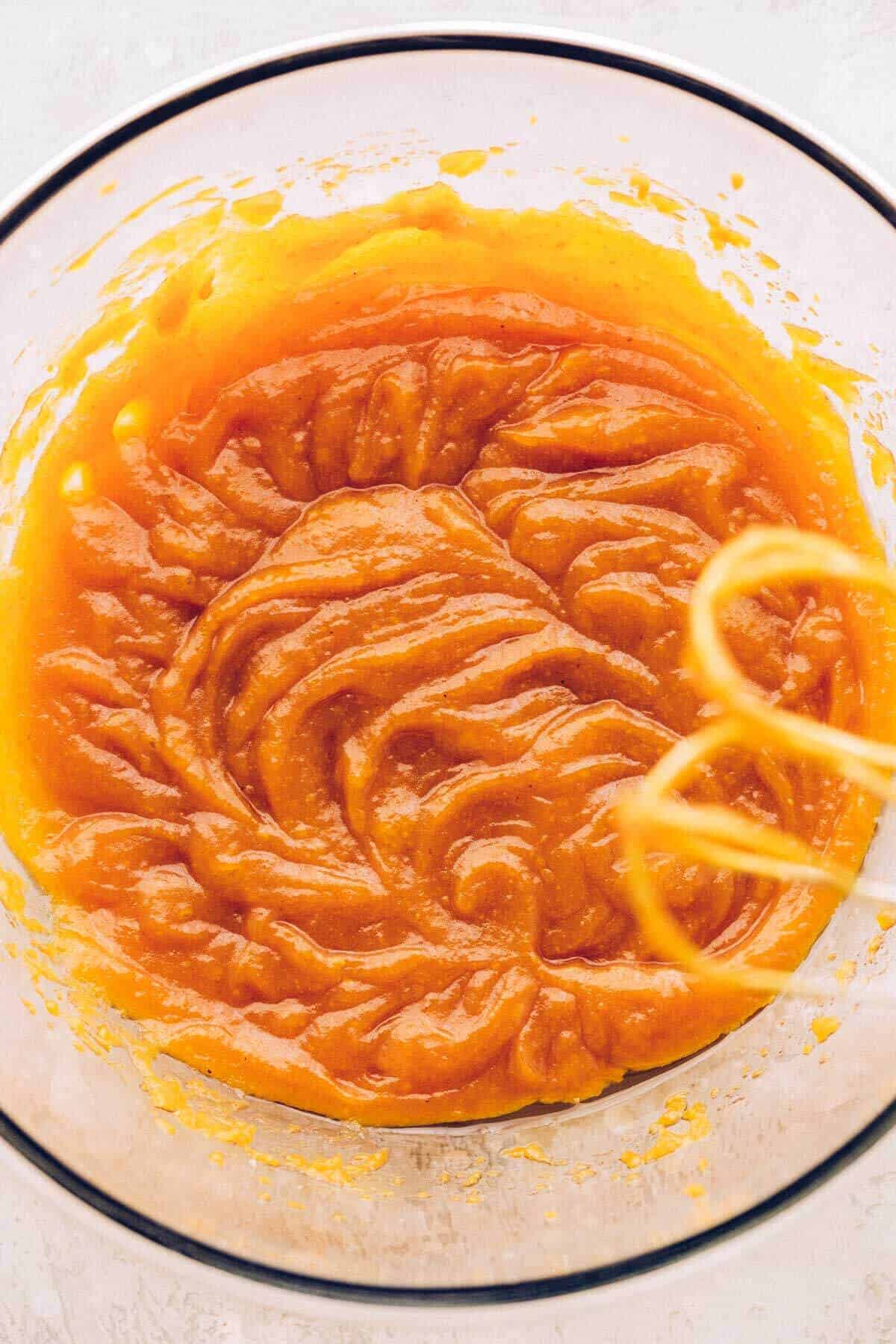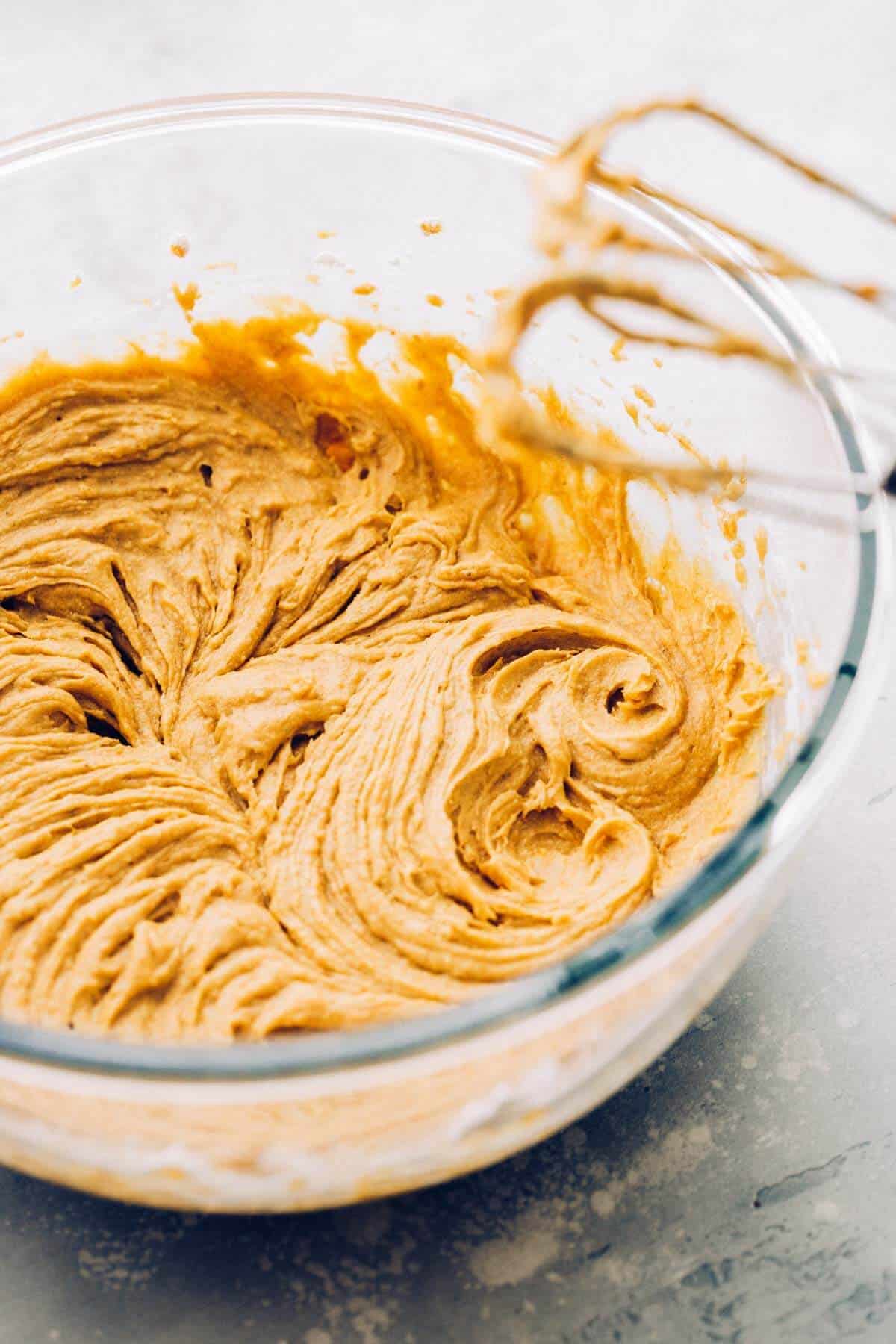 Tips for baking perfect gluten free muffins
This is still a simple recipe, but following these tips will ensure they turn out perfect every time:
Pumpkin puree – I'll let you in on a little secret, using chilled pumpkin puree makes this recipe even better! It doesn't make or break it, but I found that when I refrigerated the pumpkin puree before making these muffins, they turned out just a little bit more dense and moist.
Coconut oil – Make sure the coconut oil is completely melted before adding it to the batter. Otherwise, you'll be left with a clumpy batter and pockets of oil in the muffins.
Mixing the batter – For each step, make sure the batter is thoroughly mixed. Above is each stage; from the coconut oil, pumpkin, and sugar, then adding the eggs and vanilla, and finally the dry ingredients. This will ensure a completely smooth batter.
Use a cookie scoop – This is a fairly thick batter, so use a large cookie or ice cream scoop to make filling these liners easy. The recipe makes exactly 12 muffins so as long as all the muffins are evenly filled, they should all bake the exact same.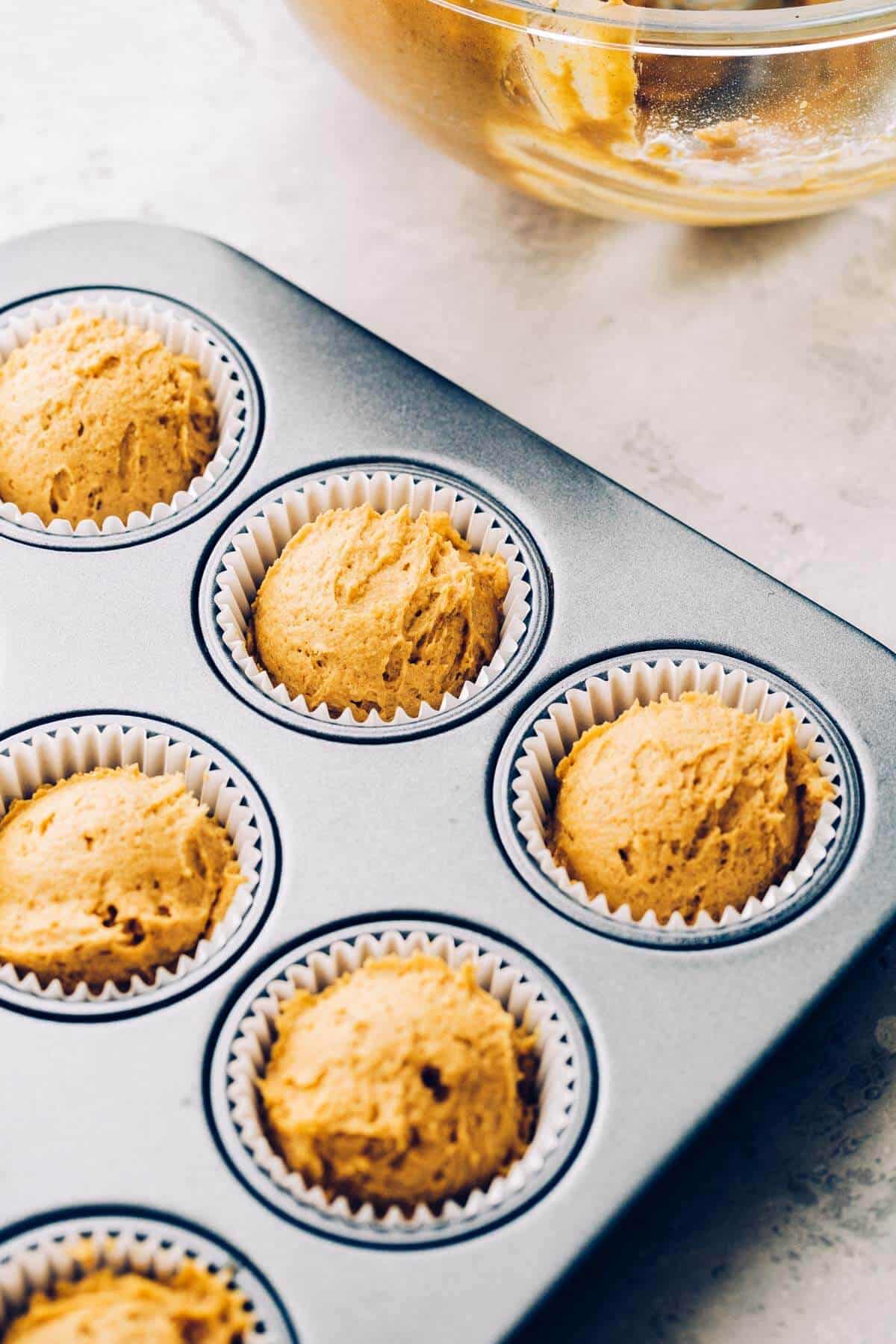 This is the scoop I use for these muffins. It distributes the perfect amount of batter into each liner. Plus, it's what I use for 90% of my cookie recipes so it's definitely a staple in my kitchen!
If you don't have a scoop, just use two spoons. Take a large spoonful of batter and push it into the liner with the other spoon. Each muffin takes about 2 heaping spoonfuls.
This recipe makes exactly 12 muffins so it isn't a guessing game when it comes to filling the liners. Each should be filled 3/4 of the way full with zero batter left behind.
These muffins bake for 20 minutes. When they're done, they should be puffed up with some shallow cracks running through the tops. Stick a toothpick in the center to make sure they're completely baked through.
If they aren't, keep baking for 1-2 minutes at a time. It's easy to over bake these so just keep testing them until they're ready.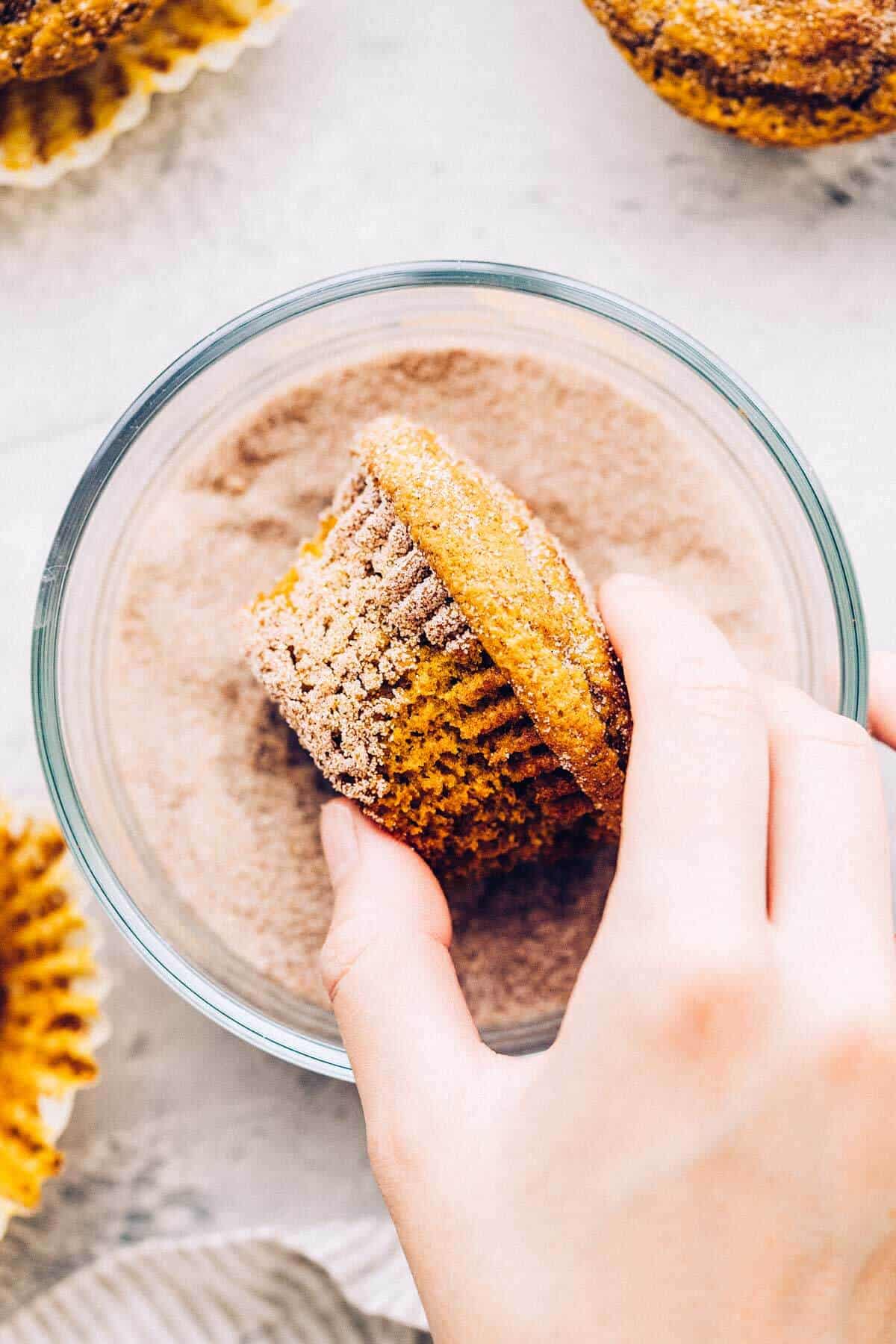 Cinnamon Sugar Coating
The cinnamon sugar coating turns these Gluten Free Pumpkin Muffins into Snickerdoodle Pumpkin Muffins! It adds just a touch more sweetness and flavor to take this recipe over the top.
There are two options with the coating. You can either just coat the tops or the entire muffin. For the tops, dunk them in the cinnamon sugar when they're still warm and twist to coat. Be careful as they'll be extra soft at this point.
To coat the entire muffin, wait about 20 minutes until the muffins are completely cool. Then, gently tear the liners off and toss in a bowl of cinnamon sugar. They're so moist that the sugar will easy stick.
It's best to do this right before serving. By the next day the sugar will being to dissolve into the muffins because again, they're super moist! It doesn't disrupt the flavor or texture, just the muffin's appearance.
FAQs
Can I omit the cinnamon sugar coating?
Absolutely! It doesn't make or break this recipe, it's just a little extra something to jazz up these muffins. I've tried them both ways and they're equally delicious.
Can I make these muffins any healthier?
A majority of the ingredients in this recipe are fairly healthy, as far as muffin recipes go. The only ingredient you would need to swap is the sugar. For a healthy pumpkin muffin recipe, swap the granulated sugar with coconut sugar. The muffins will turn out a little darker but they'll taste just as good! As for the coating, coconut sugar won't stick as well as granulated sugar. Instead, leave out the cinnamon sugar coating and opt for pumpkin seeds. Sprinkle some on top of the muffins before baking for a little extra crunch.
Can I make my own pumpkin puree?
Of course! This recipe works really well and freezes well in silicone ice cube trays. It is also great for using up carving pumpkins the day after Halloween.
Can I bake these with regular all-purpose flour?
Unfortunately the recipe won't turn out the same. But I do have a recipe for Pumpkin Bread that also works great as muffins… or bake it just the way it is! For muffins, bake at 350F for 20 minutes and fill the liners 2/3 of the way full. Either follow the toppings in that recipe or stick with the cinnamon sugar coating used there. Trust me, it's just as good as this recipe!
Can I use a different oil besides coconut?
Yes, just make sure to stick with an oil. Butter doesn't make these muffins as moist and apple sauce makes the muffins too mushy. You can swap with any mild-flavored oil of your choosing.
How long will these muffins keep?
The best part about this recipe is that they stay moist for days later. If anything, they just keep getting better. These muffins will keep in a air tight container at room temperature for up to 5 days…if they aren't gobbled up by then! For a little longer, they'll keep in the fridge for up to 10 days. They can be enjoyed warm, at room temperature, or chilled. It's all depends in your preference.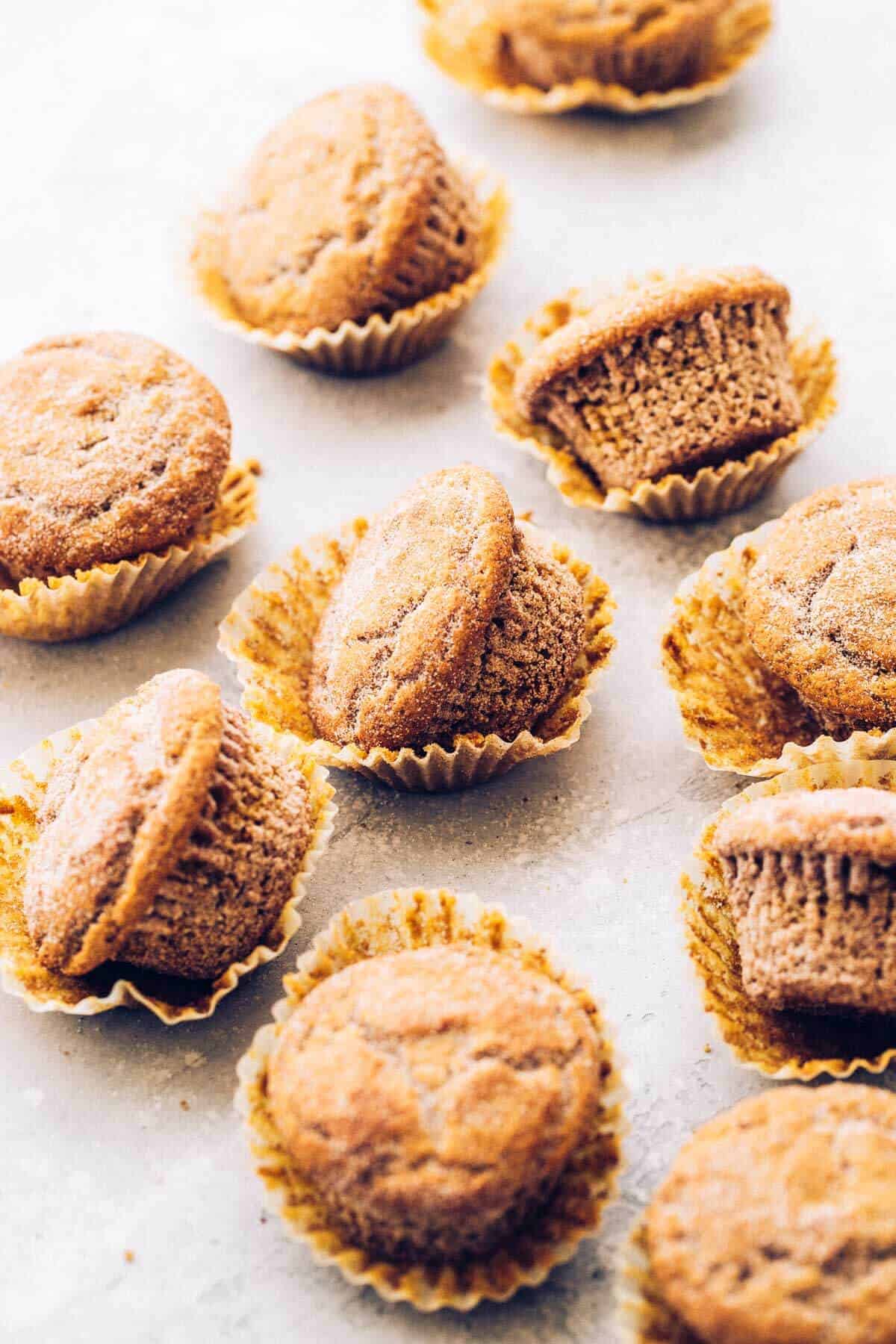 For more delicious pumpkin recipes, check out my:
Make sure to tag me @butternutbakery on Instagram and comment below if you make these Gluten Free Pumpkin Muffins. To pin this recipe and save it for later, you can use the button on the recipe card, the buttons above or below this post, or on any of the photos above. Happy baking!
Print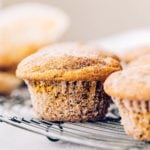 Gluten Free Pumpkin Muffins
---
Author: Jenna Barnard
Total Time: 35 minutes
Yield: 12 muffins
Diet: Gluten Free
Description
These dairy free and gluten free pumpkin muffins have the PERFECT texture. They're super moist, soft, and coated in a cinnamon sugar.
---
Pumpkin Muffins
1 1/4 cup gluten free all purpose flour (with xanathan gum*)
1/4 cup almond flour
2 tsp baking powder
1/2 tsp baking soda
1/2 tsp salt
1 1/2 tsp cinnamon
1/2 tsp nutmeg
1/4 tsp ginger
1 cup pure pumpkin puree
1/2 cup coconut oil, melted
1 1/4 cups granulated sugar**
2 large eggs
1 tsp vanilla
Cinnamon Sugar Coating
1/4 cup granulated sugar
1 1/2 tsp cinnamon
---
Instructions
Preheat the oven to 350F and fill a muffin tin with 12 paper liners.
Combine the all purpose flour, almond flour, baking powder, baking soda, salt, and spices and set aside.
Mix together the pumpkin, coconut oil, and sugar in a large bowl using a whisk or electric mixer. 
When well combined, mix in the eggs and vanilla. 
Mix in the dry ingredients until you reach a smooth batter.
Fill the liners 3/4 of the way full. The recipe makes exactly 12 muffins so don't leave any batter behind.
Bake for 20-22 minutes or until a toothpick in the center comes out clean. They should be puffed up with some cracks running through the tops.
Let them cool for a few minutes in the tin then transfer the muffins to a cooling rack.
Mix together the cinnamon sugar coating.
You can either coat the tops in cinnamon sugar or the entire muffins. If just the tops, gently dunk the warm muffin tops into the mixture and twist to coat.
To coat the entire muffins, let them cool for about 20 minutes and then remove the liners. Toss in the bowl bowl of cinnamon sugar to coat.
Store in an air tight container at room temperature for up to 5 days or in the fridge for up to 10 days. Enjoy!
Notes
*If your flour doesn't have xanthan gum, add 1 1/4 tsp of xanthan gum to this recipe.
**For a healthier option, you can sub coconut sugar and omit the cinnamon sugar coating.
Prep Time: 15 minutes
Cook Time: 20 minutes
Category: Baking
Cuisine: American
Keywords: gluten free pumpkin muffins, dairy free pumpkin muffins, pumpkin muffins, pumpkin muffin recipe
Recipe Card powered by