These Pumpkin Cinnamon Rolls are SO soft and delicious. No crispy edges here, just fluffy cinnamon rolls with a smooth cream cheese icing. With pumpkin in the dough and filling, these easy cinnamon rolls are bursting with pumpkin spice flavor.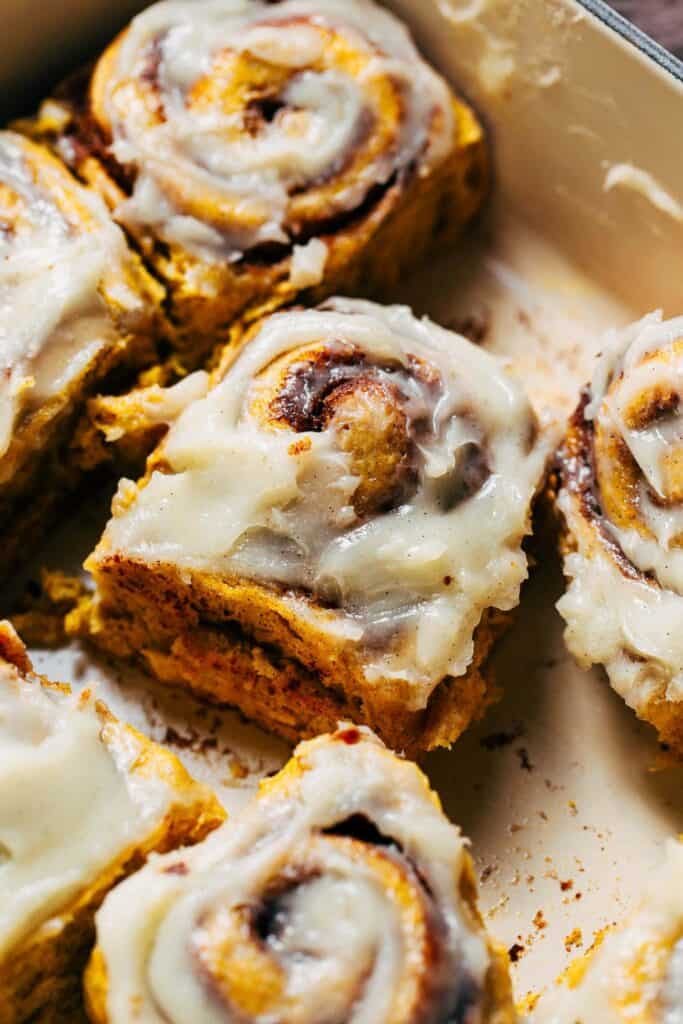 Why I love these pumpkin cinnamon rolls
What I love most about these Pumpkin Cinnamon Rolls is how they're so soft and fluffy. I honestly could not stop eating them because they're just so so good! The best part about a cinnamon roll is the ooey gooey center, but why only leave that for one bite?
These cinnamon rolls are soft all throughout with no crispy edges. You can dig your fork in like you would a slice of cake and it cuts so nicely. That's how you know it's a good cinnamon roll recipe!
Adding the pumpkin is what creates that ooey gooey texture. I honestly wish there was an ingredient that mimicked pumpkin just without the flavor… I'd add it to everything!
On top of that, the filling is made with a pumpkin butter. By squeezing out some of the moisture, the pumpkin creates the perfect spreadable consistency. Topped with brown sugar, cinnamon, and more pumpkin pie spice, these cinnamon rolls have so much flavor!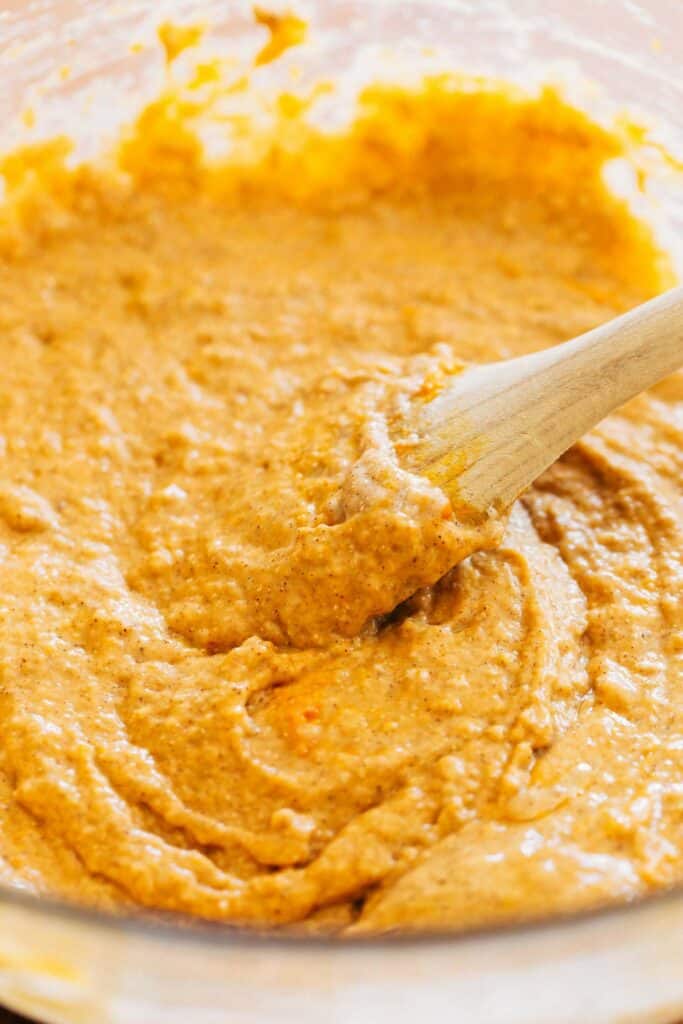 Pumpkin cinnamon roll baking tips
Making homemade cinnamon rolls can seem like such a daunting task… mainly because yeast is involved. But if you follow these tips, you should get perfect rolls every time!
Make sure your milk is at the right temperature. When you add the milk and butter mixture to your yeast and dry ingredients, the milk must be warm to the touch but not hot. If it's too hot or too cold, your yeast won't activate and your pumpkin cinnamon rolls will be more like pumpkin pancakes!
Gradually work in the flour. To have more control over the dough, the remaining 2 cups of flour are added at the very end. Since dough is easily influenced by the environment around it, slowly working in the flour ensures that everyone's dough turns out just right. Work and knead in the flour until you reach a soft dough that's no longer sticky to the touch.
Use flavorless floss to cut your rolls. Just slide it under where you plan on cutting and pull the two ends up and over the roll, cross them over, and pull. You'll get perfectly round rolls that would typically get squished with a knife.
For the best rise (although this is optional), proof the rolls in the oven on the lowest temperature possible. Preheat the oven to the lowest temperature, turn the oven off, and then place the rolls inside. This creates a nice warm environment for the rolls to puff up. They will also puff up at room temperature but if your home runs on the cooler side, this trick really helps.
How to make pumpkin cinnamon roll filling
Not only is there pumpkin the dough itself, but it's also worked in to the cinnamon swirl filling.
When I initially created this recipe YEARS ago (in my very early years of blogging), I added pumpkin to the filling as is. It tasted great, but it also took some careful attention as the filling became very soft and could easily squish out the sides.
Now going back and updating this pumpkin cinnamon roll recipe, I knew I needed to make the filling leak-proof.
The solution – squeeze some of the moisture out of the pumpkin before mixing it with the butter. This is done with a few sheets of paper towels, although a cheese cloth can be used as well. By wringing out the pumpkin, you still get that pumpkin flavor but without the messy liquid.
To bump up that pumpkin flavor even more, a bit of pumpkin pie spice is mixed with the cinnamon.
The best baking dish for cinnamon rolls
This recipe makes 12 cinnamon rolls, so a 9×13 baking dish is the best option, creating 4 rows of 3 rolls. This spread ensures each roll bakes all the way through.
As far as material, go for a light metal or stoneware pan. These conduct heat the best compared to glass pans.
Alternatively, a large cast iron skillet can be used. Just make sure the rolls have a bit of space between each other. Otherwise, if they're bunched in too tight, the rolls may turn out doughy.
How to make the best cream cheese icing
Arguably, a cinnamon roll isn't a cinnamon roll without cream cheese icing. It's such a simple recipe but can be made so many different ways. Luckily, it's easy to adjust it to your liking. But number one rule is to use ROOM TEMPERATURE CREAM CHEESE so you get a nice and smooth icing.
For this Pumpkin Cinnamon Roll recipe, the cream cheese frosting isn't too thick or too thin. By adding the perfect balance of milk and sugar, the frosting is spreadable but won't completely melt into the rolls. But if you prefer a different texture, reduce the amount of sugar to make it thinner or add more to make it thicker.
The best time to spread on the frosting is when the rolls have had about 15 minutes to cool. Cinnamon rolls are always best served warm, so at this point the rolls are at the perfect temperature while allowing the icing to remain thick and smooth.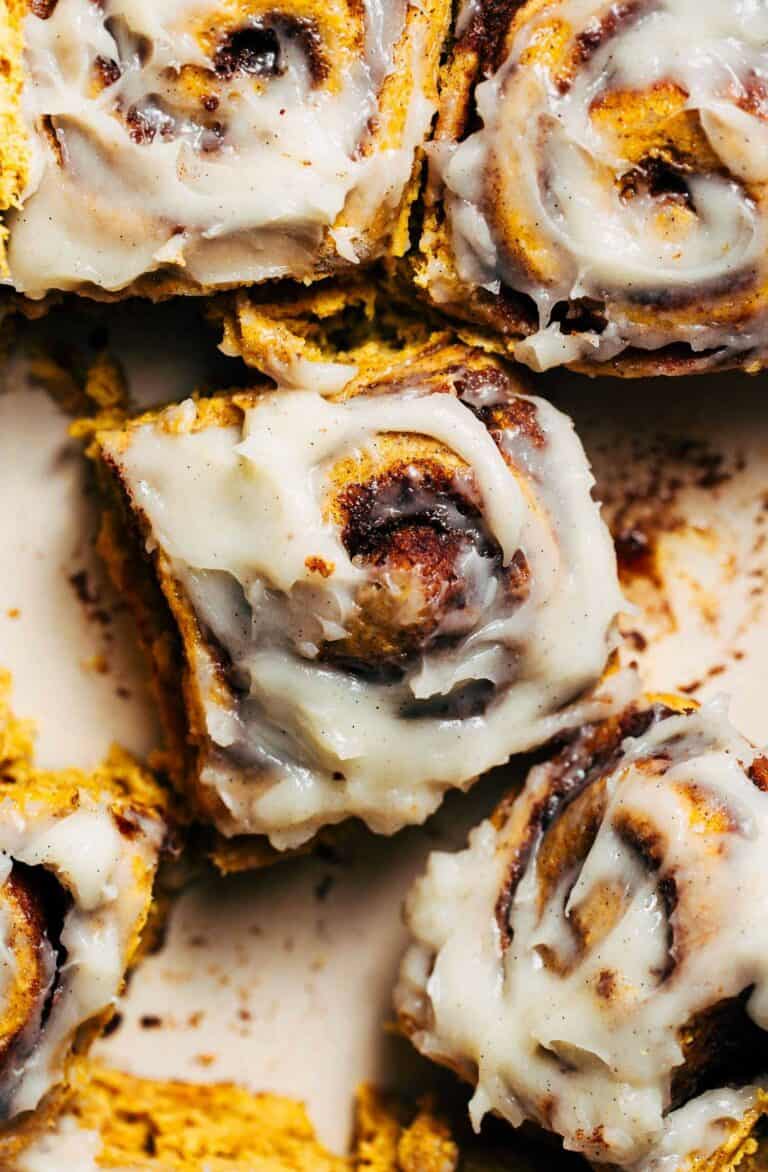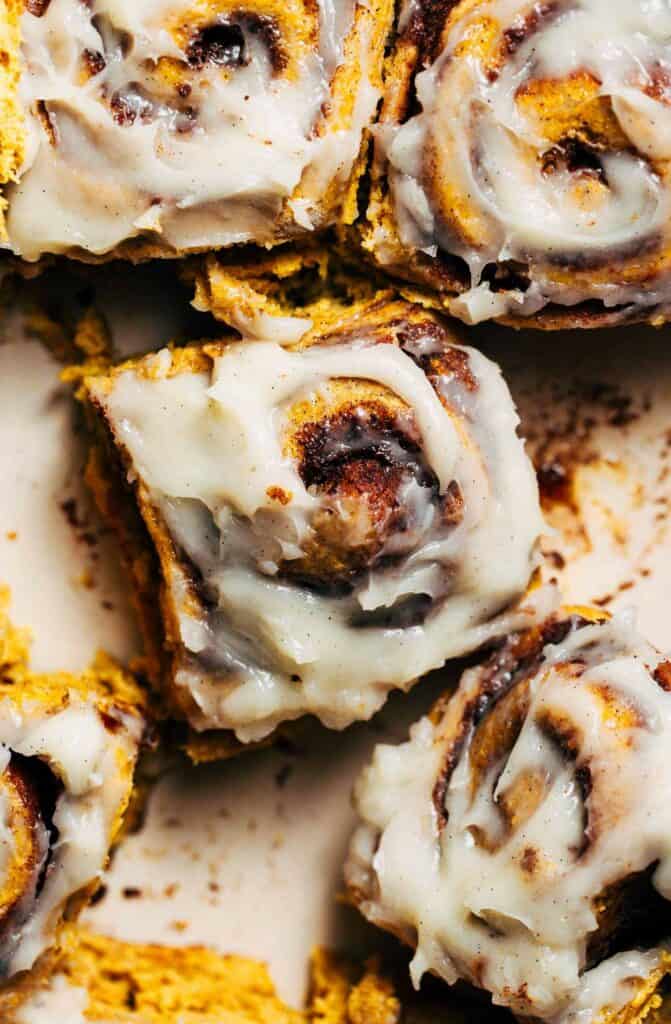 Pumpkin Cinnamon Rolls FAQs
Can these pumpkin cinnamon rolls be made overnight?
Once the rolls have doubled in size, cover the pan and chill overnight. When you're ready to bake, let the cinnamon rolls sit out at room temperature for about 30 minutes and then bake as instructed.
Can I use active dry yeast instead of instant yeast?
Unfortunately this recipe was made specifically for instant yeast as it makes the process a bit quicker. I cannot guarantee the rolls will turn out the same if active dry yeast is used.
Can these pumpkin cinnamon rolls be made gluten free?
Cinnamon rolls can be very tricky to make gluten free. So instead, I suggest using my gluten free cinnamon rolls recipe but swapping in the filling used for this recipe. This will guarantee a delicious cinnamon roll with some added pumpkin flavor!
How long do pumpkin cinnamon rolls keep?
The pumpkin allows these rolls to remain nice and soft for a bit longer than traditional rolls. Keep the rolls in an air tight container and they can keep at room temperature for a day or two. Otherwise, store in the refrigerator for up to a week. I suggest reheating a roll in the microwave for about 15 seconds to revive that delicious soft texture.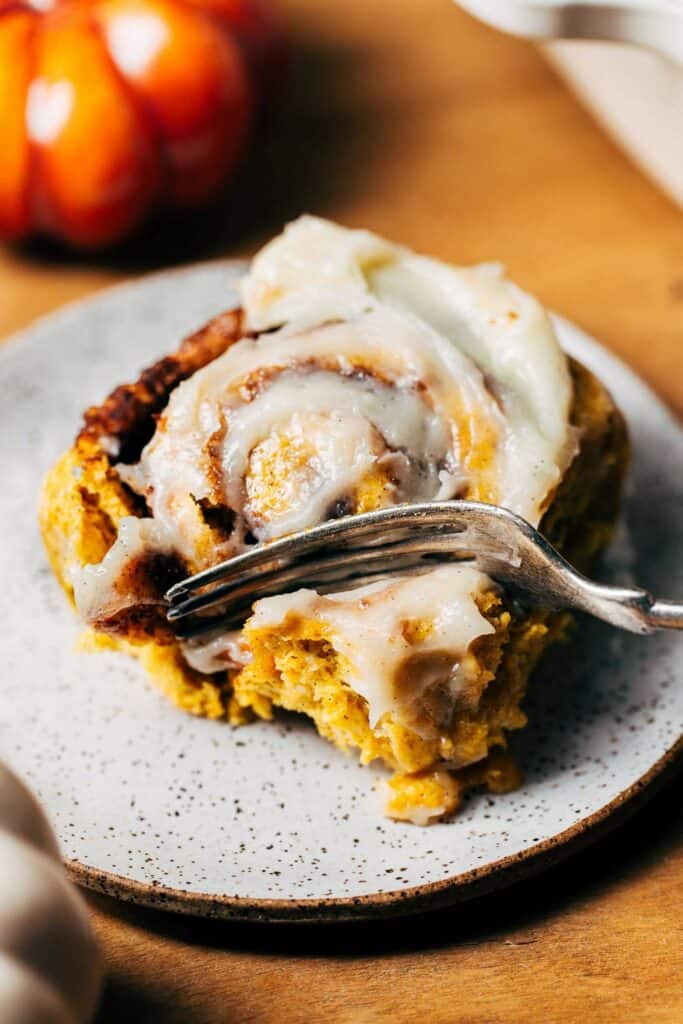 For even more pumpkin dessert recipes:
Make sure to tag me @butternutbakery on Instagram if you make these Pumpkin Cinnamon Rolls. I love seeing these recipes come to life in YOUR kitchen! To pin this recipe and save it for later, you can use the button on the recipe card, the buttons above or below this post, or on any of the photos above. Happy baking!
Print
Pumpkin Cinnamon Rolls
---
Author: Jenna Barnard
Total Time: 2 hours 20 minutes
Yield: 12 rolls
Description
These pumpkin cinnamon rolls are so soft and fluffy all throughout with pumpkin both in the dough and in the filling. They're also flavored with pumpkin spice and smothered in a silky vanilla bean cream cheese frosting. It's the coziest treat to make this fall! 
---
Pumpkin Cinnamon Roll Dough
4–5 cups all-purpose flour, divided
1/3 cup (65g) granulated sugar
4 1/2 tsp instant yeast (2 packets)
1 tbsp pumpkin pie spice
1 tsp kosher salt
1 cup (240g) whole milk
1/4 cup (55g) unsalted butter, sliced
1/2 cup (115g) canned pumpkin puree
1 large egg
Pumpkin Butter Filling
1/4 cup (55g) unsalted butter, room temp
1/4 cup (58g) canned pumpkin
2/3 cup (135g) light brown sugar, packed
1 1/2 tbsp ground cinnamon
1 1/2 tsp pumpkin pie spice
Vanilla Bean Cream Cheese Icing
1/4 cup (55g) unsalted butter, room temp
4 oz cream cheese, room temp
1 cup (100g) powdered sugar
1 tsp vanilla bean paste (or vanilla extract)
---
Instructions
Pumpkin Cinnamon Roll Dough
In a large mixing bowl, whisk together 2 cups of flour with the sugar, yeast, pumpkin pie spice, and salt.
In a measuring glass, add the milk and sliced butter. Microwave for 60-90 seconds or until warm but not hot. It's ok if the butter doesn't completely melt.
Poor the warm milk into the dry mix and use a wooden spoon to stir and combine.
Then mix in the pumpkin and egg.
Scoop in 1 1/2 cups of flour and stir to combine. The dough may turn shaggy so ditch the spoon and work the dough with your hands.
Dust in extra flour as needed and knead (inside the bowl) until you reach a soft dough that's no longer sticky to the touch. Form the dough into a ball and press a finger into the surface. If the dough slowly springs back, it's ready. 
Allow the dough to rest for 10 minutes while we prep the filling. 
Pumpkin Butter Filling 
Scoop the pumpkin into the center of a paper towel. Gather up the sides and squeeze out as much moisture as possible. Replace with a clean paper towel and squeeze again.
Place the butter in a small dish and add the pumpkin. Mash the two together with a fork until you reach a smooth consistency.
By now, the dough should have puffed slightly. Roll out the dough on a lightly-floured surface, making a 15×18″ rectangle.
Spread the pumpkin butter in an even layer on the cinnamon roll dough, leaving about 1/2 inch bare around the edges.
Sprinkle the brown sugar on top followed by the cinnamon. Use your hands to evenly spread the cinnamon sugar. Then roll up the dough into a log, rolling from the longest side.
Slide some flavorless floss underneath the log to make your cuts, starting by cutting off and discarding the two uneven ends. Then move to the very center to cut the log into two equal pieces, then cut those two pieces in half to create four equal pieces, then cut the four pieces into three slices to create 12 rolls in total.
Place your rolls in a lightly buttered 9×13 baking dish. Cover and allow the rolls to rise a room temperature for about an hour.
Close to the hour mark, preheat the oven to 350F.
The rolls should have nearly doubled in size. *see notes for overnight instructions
Bake for 20-25 minutes. To test for doneness, lightly press the very center of one of the middle rolls. If it has some resistance, they're done. If it still feels doughy, bake for another 3-5 minutes.
Allow the rolls to cool for about 15 minutes while we make the icing.
Vanilla Bean Cream Cheese Icing
Mix and mash together the butter and cream cheese with a fork.
Mix in the powdered sugar 1/2 cup at a time and then the vanilla. Switch to a whisk to vigorously whisk out any potential lumps. 
Scoop a spoonful of icing onto each roll and then spread even.
Serve while they're fresh and warm. Enjoy!
Notes
OVERNIGHT CINNAMON ROLLS – After the rolls have puffed and doubled in size, cover the pan and chill overnight. The next morning, allow the rolls to rest at room temp for about 30 minutes then bake as instructed. 
Prep Time: 2 hours
Cook Time: 20 minutes
Category: Brunch
Method: Baking
Cuisine: American
Keywords: pumpkin cinnamon rolls, cinnamon rolls, pumpkin spice, pumpkin spice cinnamon rolls, pumpkin cinnamon rolls recipe
Recipe Card powered by