This recipe is for all my fellow cookie dough lovers! Super creamy vegan cookie dough cheesecake is spread on top of a chocolate cookie crust and is all topped with globs of edible vegan cookie dough. It's incredibly rich in the best way and is so fun to make! This recipe can also be made gluten free or not, depending on your needs. Either way, the outcome is slices of cookie dough heaven.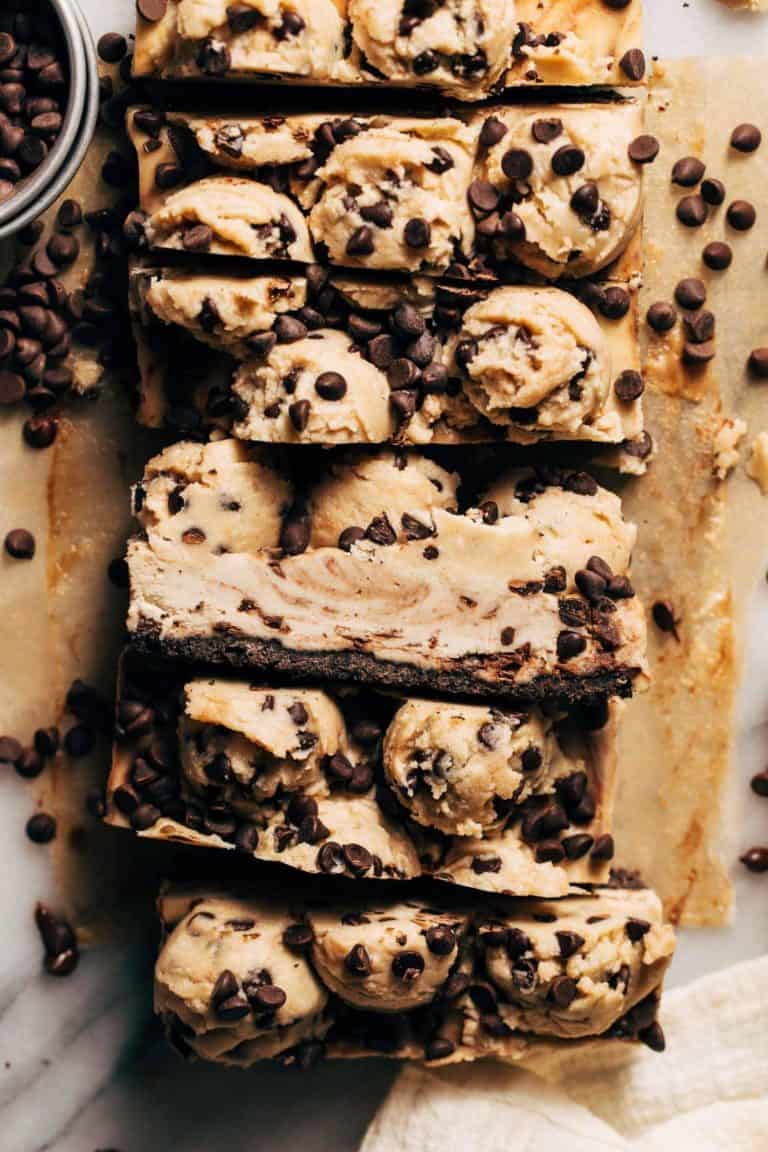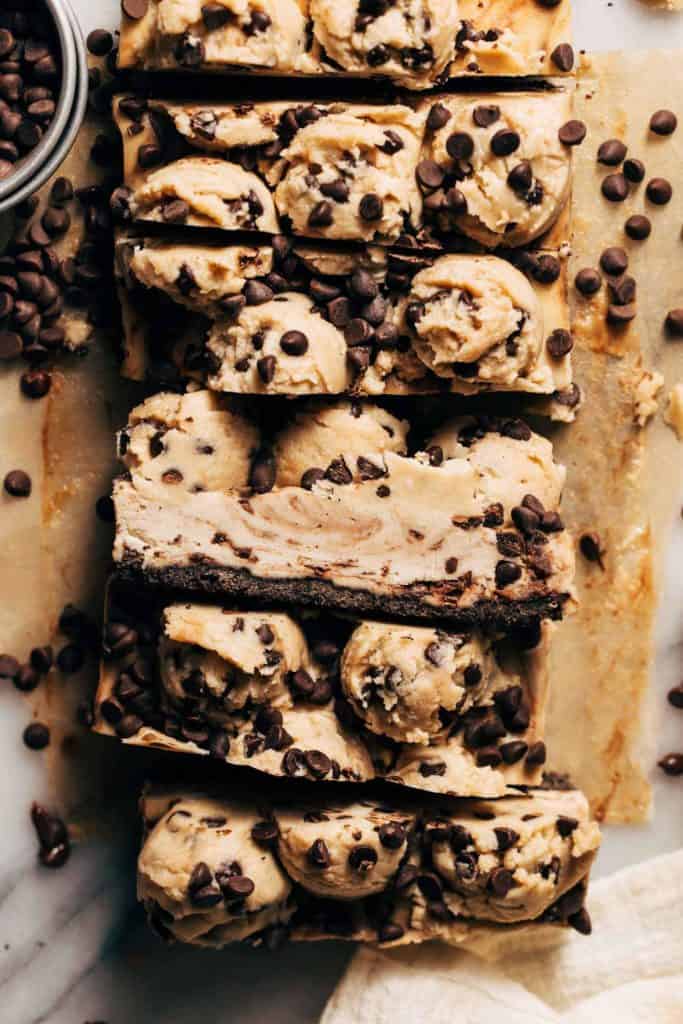 No Bake Vegan Cookie Dough Cheesecake
Vegan cheesecakes are always my go-to for just about any party because they're easy to whip up and everyone can enjoy them! They also surprise people, especially those who still consume dairy. Everyone is always shocked by how much it tastes like ACTUAL cheesecake! And when cookie dough is involved, these bars go FAST.
So what makes these bars so special? Other than being vegan and gluten free, these bars are also no bake and the easiest thing to make. Here's what we're looking at:
Chocolate Cookie Crust – To break up the monotony of cookie dough on cookie dough, this chocolate crust helps balance out the flavors and add an extra kick of chocolate flavor. All that's needed is chocolate sandwich cookies, coconut oil, and pure maple syrup!
Cookie Dough Cheesecake – On top of the crust is a thick layer of no bake cheesecake that is so rich and creamy that you can't even tell it's dairy free. Flavored with vanilla and chocolate chips, it's the perfect pairing to what lies on top.
Vegan Cookie Dough – Scoops of edible vegan cookie dough are plopped on top of the cheesecake, taking this recipe over the top!
After assembly, the cheesecake is stored in the freezer for a few hours or overnight. That's another reason why I love this recipe – I can make it a day ahead, and then just transfer it to the refrigerator a couple hours before the party and they're ready to go. In the freezer, they turn firm and hard. Then, once thawed in the refrigerator, they'll change to a super smooth and creamy texture just like cheesecake.
What is vegan cookie dough cheesecake made of?
As you may know, I've cut gluten and dairy out of my diet within the past couple years due to a digestive sensitivity. Cheesecake was one of my FAVORITE desserts so I knew I had to make a dairy free version that tastes just as good.
The secret? Cashews! Due to their mild flavor but creamy and fatty texture, they're the perfect substitute for cream cheese when paired with the right ingredients. The trick so to hydrate the cashews before use, as this will help create a really smooth cheesecake texture once blended.
To hydrate, you can either allow the cashews to soak in water overnight OR boil them for 10 minutes before use. I tend to forget to prep them the night before, so I typically opt for boiling. Either way, the water helps plump up the cashews, making them soft and pliable.
After they've boiled, the cashews are drained and added to a high speed blender along with coconut cream, lemon juice, maple syrup, and vanilla. The coconut cream helps enrich the batter, while the lemon juice adds that signature cream cheese tang.
Once blended, it turns into an ultra creamy batter that's ready to be poured into your loaf pan. Refrain from eating it straight out of the blender with a spoon…you've been warned.
How to make vegan edible cookie dough
The real show stopper of this recipe is what lies on top. This cheesecake instantly draws people in as it's adorned with the ultimate dessert – full scoops of edible cookie dough!
To make this cookie dough completely vegan, only one simple swap needs to be made. In place of regular butter, we're using vegan butter. There are so many great options available that it's hard to even tell a difference!
I made the base of this recipe with softened Miyoko's vegan butter. To get it to the right temperature, remove it from the refrigerator about 1 hour before starting. Vegan butter softens VERY fast so keep an eye on it!
It's then mashed and mixed with brown sugar, maple syrup, and vanilla. I used a combo of brown sugar and maple syrup because the flavor of brown sugar is more true to actual cookie dough, but too much can cause the dough to feel grainy. Maple syrup is there to add just a touch more sweetness!
To thicken the dough, a cup of flour is mixed in. Now, it's very important to use heat treated flour here. Flour has the potential to become cross contaminated during the milling process, so heating the flour helps kill any potential bacteria.
To heat treat, microwave the flour for about 90 seconds. It will become VERY hot which is a good thing! But adding hot flour to an already soft butter can turn the dough way too thin. Pop the flour in the freezer to cool off before mixing in to the dough.
After the chocolate chips are added, use a 1 tablespoon cookie scoop and place globs of cookie dough all over the surface of the cheesecake!
Vegan Cheesecake FAQs
Why are the bars frozen?
The delicious creamy texture happens when the cheesecake batter is chilled. To speed up this process, the bars are frozen until solid. This just ensures they're fully set and ready to eat.

But rather than eating them frozen, allow them to rest at room temperature for about 20-30 minutes before eating. This slowly thaws the bars into that soft and creamy texture. From here, the bars can either be left in the fridge for easy access, or placed back in the freezer to keep for about a month.
How to store vegan cheesecake
Once frozen and sliced, the bars must be store in an air tight container. They can be left in the freezer where they'll keep for about a month, or store in the refrigerator to have soft and creamy bars on demand. They'll keep in the fridge for about a week.
What can I substitute for coconut cream?
Coconut cream can be found in a can of coconut milk that has been chilled overnight. When chilled, the liquid of the milk sinks to the bottom, while the cream floats to the top. It's thick and lush, kind of like yogurt. If you can't get your hands on coconut cream, you can also sub in 1/2 cup of vegan cream cheese.
Can I double the recipe?
Yep! If you want to make enough for a crowd, double the recipe and use an 8×8 square baking dish in place of the loaf pan. All other instructions remain the same.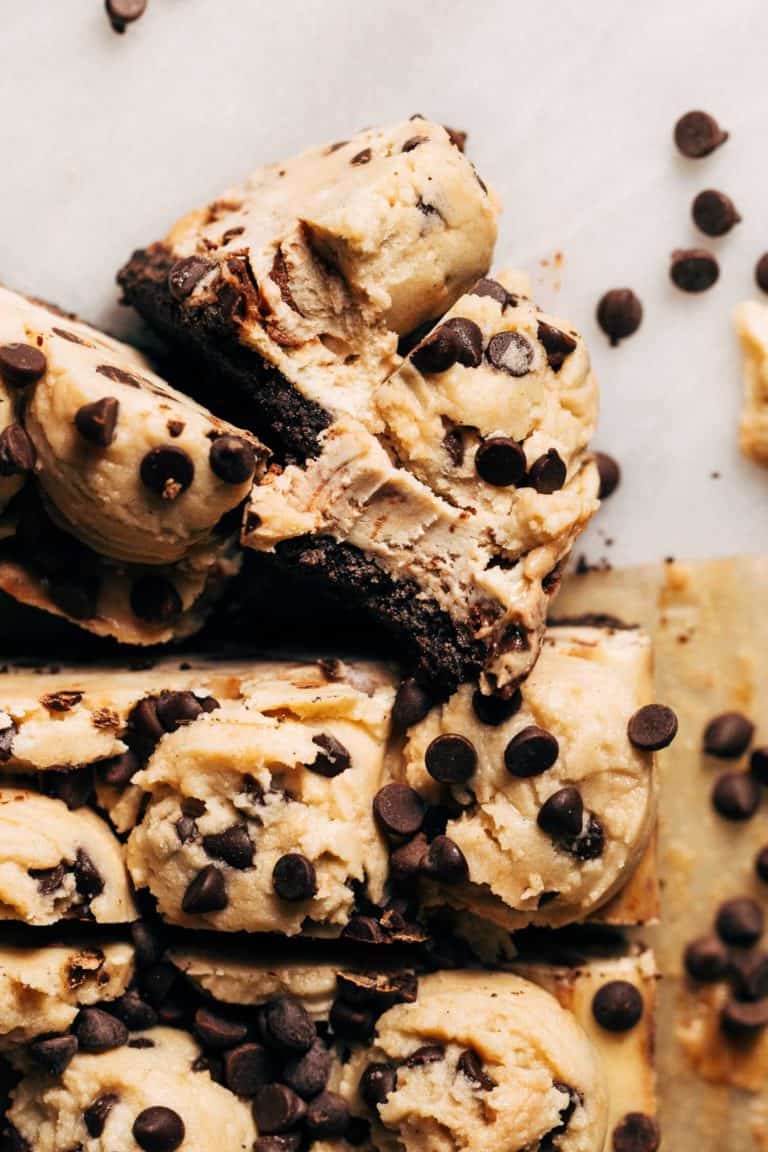 For more vegan dessert recipes, check out my:
Make sure to tag me @butternutbakery on Instagram and leave a review below if you make these vegan cheesecake bars. To pin this recipe and save it for later, you can use the button on the recipe card, the buttons above or below this post, or on any of the photos above. Happy baking!
Watch how to make these vegan cheesecake bars:
Print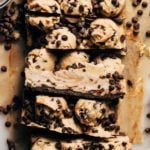 Vegan Cookie Dough Cheesecake Bars
---
Author: Jenna Barnard
Total Time: 4 hours 30 minutes
Yield: 8-10 slices
Diet: Vegan
Description
This vegan cookie dough cheesecake has a creamy no bake cookie dough batter spread on top of a chocolate cookie crust and is all topped with vegan edible cookie dough! It's no bake, gluten free, and so incredibly rich and delicious. 
---
Crust
Vegan Cookie Dough Cheesecake
Edible Cookie Dough
---
Instructions
Crust
Grease and line a 1lb loaf pan with parchment paper, allowing the paper to hang over the two longest sides for easy removal. 
Stir together the crushed Oreos, coconut oil, and maple syrup until evenly moistened. 
Press the crust into the bottom of the pan and freeze while we make the cheesecake.
Vegan Cookie Dough Cheesecake
Drain the cashews and place into a high speed blender along with the coconut cream, maple syrup, lemon juice, and vanilla extract. If your coconut cream is pretty firm, microwave it for about 20 seconds to loosen it up. If it's too thick and firm, the mixture will be difficult to blend.
Blend until completely smooth, then stir in the chocolate chips. The batter will be warm from the friction of the blender so it may cause the chocolate chips to melt a bit. If you would like the chips to remain in tact, allow the batter to cool before adding in the chocolate chips.
Pour the batter over the frozen crust and spread even. Return to the freezer.
Edible Cookie Dough
Add the softened butter, brown sugar, maple syrup, and vanilla to a bowl and use a fork to mash and mix together.
Once smooth, mix in the heat treated flour followed by the chocolate chips. If the dough appears too thin for scooping (since vegan butter tends to soften very fast), chill the dough for about 15 minutes before scooping on top of the cheesecake.
Once the dough is at a scoopable consistency, scoop tablespoon-sized balls on top of the cheesecake and sprinkle with a handful of chocolate chips.
Return to the freezer and allow the cheesecake to chill for at least 4 hours or until firm.
When ready, lift the bars out of the pan and slice when frozen. Then allow the bars to sit at room temp for about 20 minutes to soften before eating. Enjoy! 
Notes
*COCONUT CREAM – This can either come from a can of coconut cream or a can of full fat coconut milk. If using full fat coconut milk, chill the can overnight to allow the cream to separate from the liquid. Then open the can and scoop the cream from the top. 
**HEAT TREATED FLOUR – This is an important step as flour should never be consumed raw due to potential bacteria. Simply microwave the flour for about 90 seconds. At this point the flour will be very hot so pop it in the freezer to chill before mixing in to the dough.
Prep Time: 30 minutes
Chill Time: 4 hours
Category: Dessert
Method: No Bake
Cuisine: American
Keywords: vegan cookie dough, vegan cookie dough cheesecake, vegan cheesecake, vegan cheesecake recipe
Recipe Card powered by