This banana coffee cake is absolute bliss. Not only is moist like banana bread, but it's also swirled with cinnamon sugar and topped with a sweet and crumble crumble. If you love coffee cake, you definitely need to try this recipe!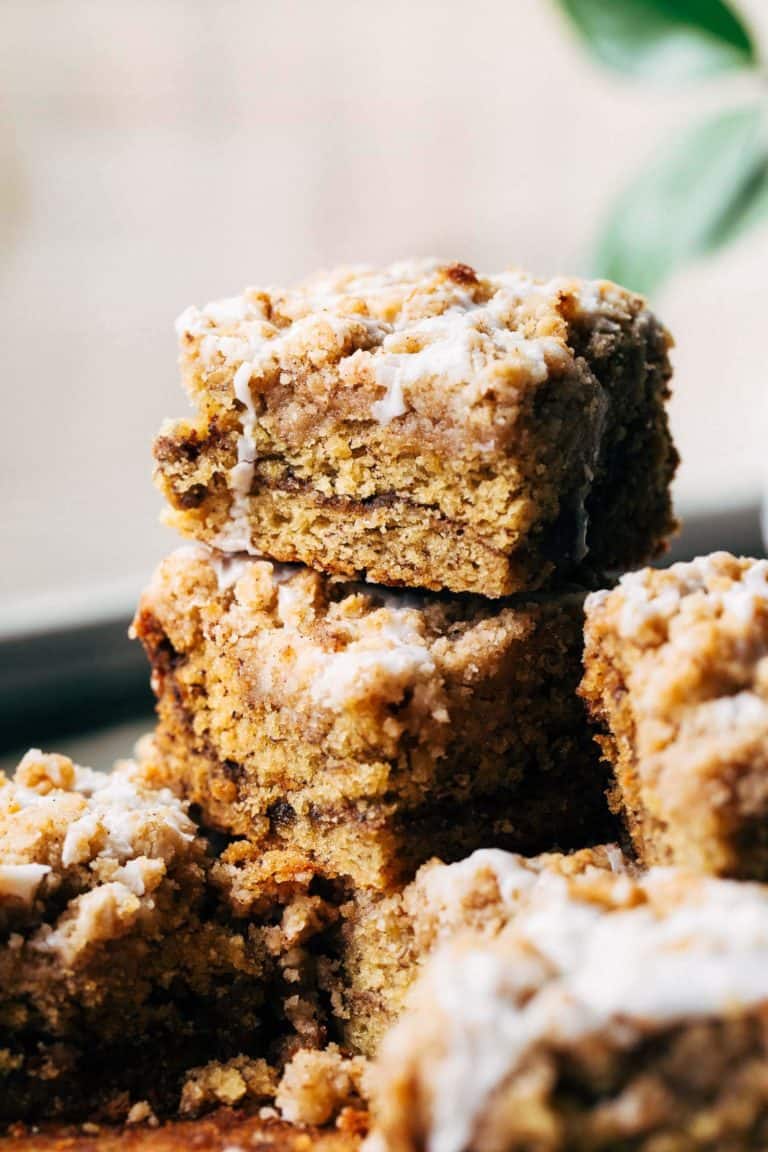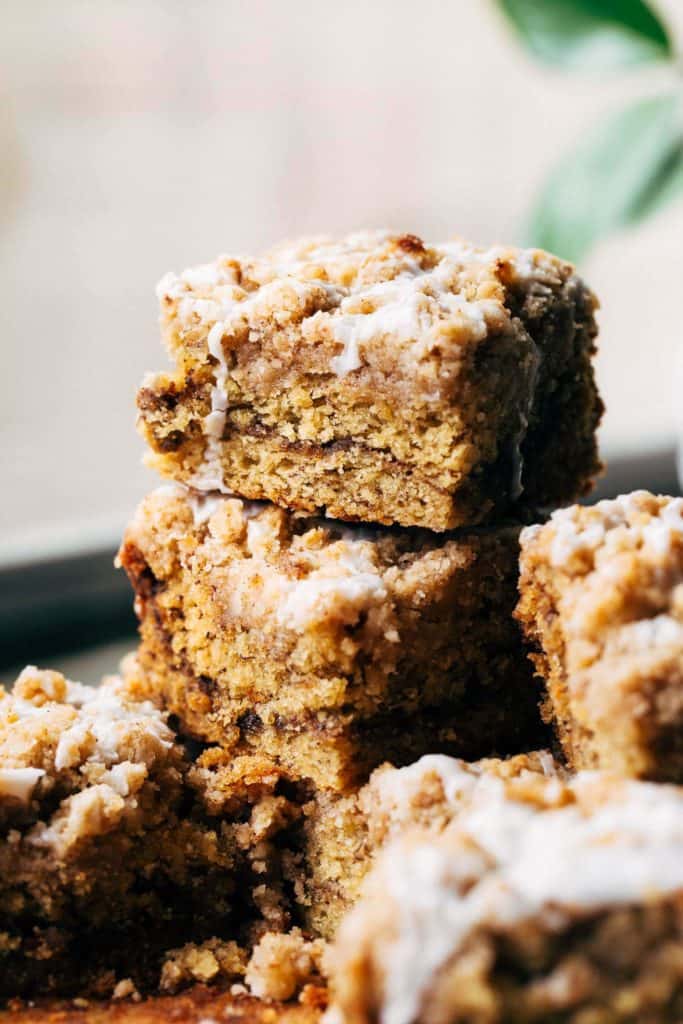 What makes this banana coffee cake SO good?
I made this when I had a friend visiting from out of town and we probably had two to three pieces a day for the entire weekend. We could not be stopped. It was out of hand. We have no regrets.
To break this down, you've got a super moist and dense cinnamon banana coffee cake with a sweet and crunchy brown sugar crumble AND an icing drizzle. Not to mention it's insanely easy to make. Here's what to expect from this banana coffee cake recipe:
Banana Cake – But it's more like banana bread! It has the perfect amount of bananas and is incredibly moist.
Cinnamon Swirl – A layer of brown sugar and cinnamon is sprinkled in the middle, adding even more flavor.
Brown Sugar Crumble – A hefty layer of cinnamon sugar crumble is added on top! It has just the right amount of sugar, flour, and butter making it chunky and crispy but not overly sweet.
Icing – This is optional, but the icing drizzle really seals the deal.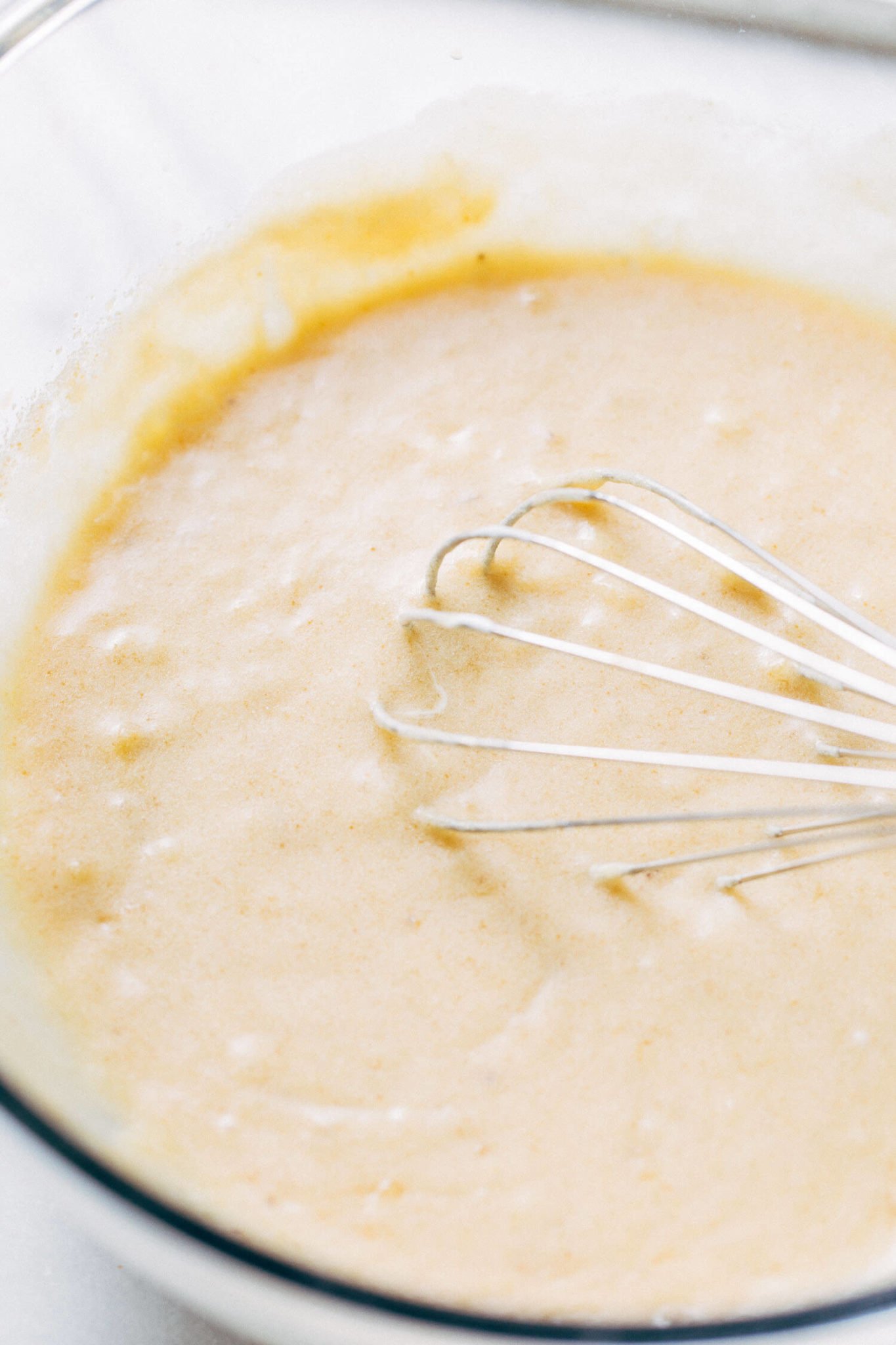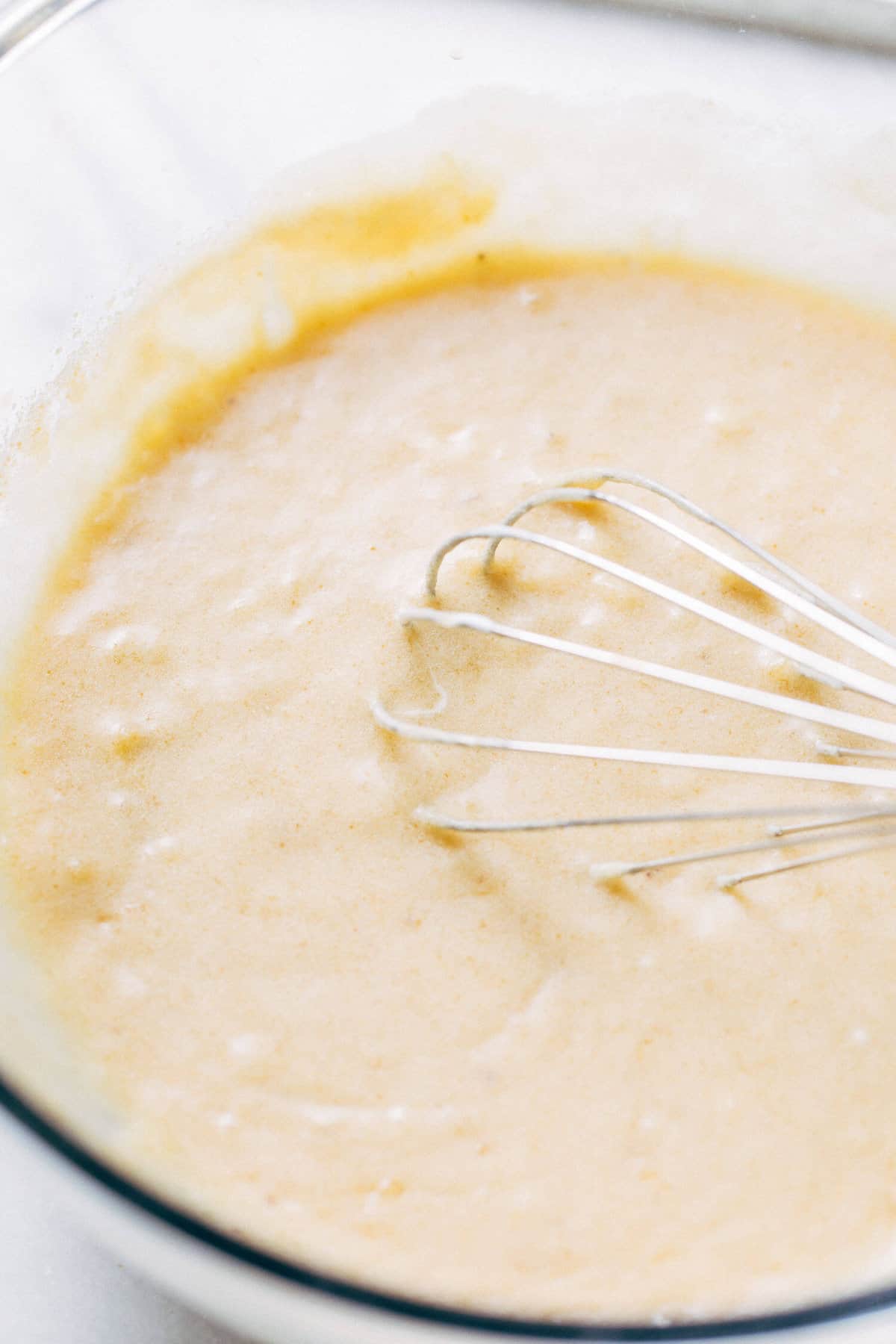 Tips for making banana coffee cake
There are quite a few components to this banana crumb cake, but they're all very easy to make! Here are my top tips to ensure your banana cake turns out just right:
Flour – Measure the flour by grams instead of cups. Weighing is much more accurate than measuring by volume. If you don't have a kitchen scale to measure, simply spoon the flour into the measuring cup and level it off with a flat edge. Don't pack it in or shake it down, and do not scoop directly into the flour bag. This will add WAY too much flour to the batter. This goes for the crumble too!
Banana – About 2 medium bananas will make up 3/4 cup, but always always always measure the banana when baking. It's important than exactly 3/4 cup is used. Too little and the cake won't be as moist, too much and the cake will be too soft and mushy.
Mixing – After the dry ingredients are added, very carefully mix the batter with a rubber spatula. Over mixing can lead to a tough cake, so take it slow and steady and stop mixing right when the flour is fully absorbed.
Layering – After sprinkling the cinnamon sugar layer, scoop spoonfuls of the remaining batter on top. Space them out evenly so that when you spread it into a level layer, it won't disturb the cinnamon sugar underneath.
Crumble – Once the crumble has chilled, it should turn very firm. Break it up with a fork or knife and sprinkle it in an even layer on top of the cake batter. Make sure to include both large and small chunks of crumble as this variation will lead to the best crunchy top.
How to bake banana crumb cake
This recipe took SO much trial and error, mainly because I wanted a really moist banana cake but it also needed to be solid enough to hold up the weight of the crumble.
The trick is to bake the coffee cake low and slow. It bakes at 325F for about 40-45 minutes which is nearly double the typical bake time for coffee cake.
It's ready when the crumble is a light golden brown and a toothpick in the center comes out clean. The surface should also be evenly puffed.
When to serve banana coffee cake
Once the cake has baked, allow it to cool in the pan for about 30-40 minutes. It's best served when its just slightly warm.
It's also best to drizzle with the icing at this point because it won't melt and disappear into the crumble. Once cooled, lift the cake out of the pan using the parchment paper over hang. Then drizzle with icing, slice, and serve!
For more BEST EVER banana recipes, check out my:
Make sure to tag me @butternutbakery on Instagram if you make this banana coffee cake. I love seeing my recipes come to life in YOUR kitchen! To pin this recipe and save it for later, you can use the button on the recipe card, the buttons above or below this post, or on any of the photos above. Happy baking!
Print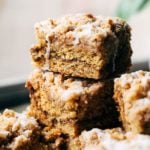 Banana Coffee Cake
---
Author: Jenna Barnard
Total Time: 1 hour 10 minutes + 30 minutes cooling
Yield: 16 slices
Description
This banana coffee cake is like a cross between banana bread and cinnamon coffee cake. It's super moist like banana bread but with a cinnamon sugar swirl and sweet crumble topping!
---
Banana Cake
1 1/2 cups (195g) all-purpose flour
3/4 teaspoon baking soda
1/2 teaspoon salt
6 tbsp unsalted butter, melted
1/2 cup (100g) granulated sugar
1/2 cup (100g) light brown sugar, packed
1/3 cup (80g) sour cream, room temp
1 large egg, room temp
2 tsp vanilla extract
3/4 cup (190g) mashed ripe bananas (about 2 medium bananas)
Cinnamon Sugar
3 tbsp light brown sugar
1 1/2 tsp cinnamon
Crumble
1 cup + 2 tbsp (150g) all-purpose flour
1 tsp cinnamon
1/3 cup (65g) granulated sugar
1/3 cup (65g) light brown sugar, packed
1/2 cup (110g) unsalted butter, melted
Icing
---
Instructions
Preheat your oven the 325F and grease and line an 8×8 baking pan, allowing the paper to hang over the sides for easy removal.
Start by making the crumble – Combine the flour, cinnamon, and sugars in a bowl. Then mix in the melted butter. The mixture should resemble wet sand. Place the bowl in the refrigerator to chill while the rest of the cake is made.
For the banana cake, whisk together the flour, baking soda, and salt in a medium bowl. Set aside.
In a large mixing bowl, whisk together the sugars and butter.
Once fully combined, whisk in the sour cream, egg, vanilla, and mashed banana.
Gently mix in the dry ingredients using a rubber spatula.
Spread half of the batter into the pan. Combine the cinnamon sugar mixture and sprinkle an even layer on top.
Cover with the remaining batter and gently spread it even.
Remove the crumble from the refrigerator. It should now be cold and firm. Crumble it on top in an even layer.
Bake for 40-45 minutes or until a toothpick in the center comes out clean with a few moist crumbs.
Allow the cake to cool for about 30-40 minutes.
While it cools, whisk together the powdered sugar and milk to make the icing. It should make a glue-like consistency. If it's too thick, add 1/2 tbsp of milk at a time until it turns smooth.
Drizzle the icing on top of the slightly warm cake and enjoy!
Equipment
Prep Time: 30 minutes
Cook Time: 40 minutes
Category: Dessert
Method: Baking
Cuisine: American
Keywords: banana coffee cake, banana crumb cake, banana cake, banana coffee cake recipe
Recipe Card powered by