This is your new go-to recipe for chocolate chip zucchini bread! Not only is it incredibly moist, but it has a thin and crisp crust on top with loads of melty chocolate throughout. And by using finely grated zucchini, this bread has a seamless texture that's so soft and tender.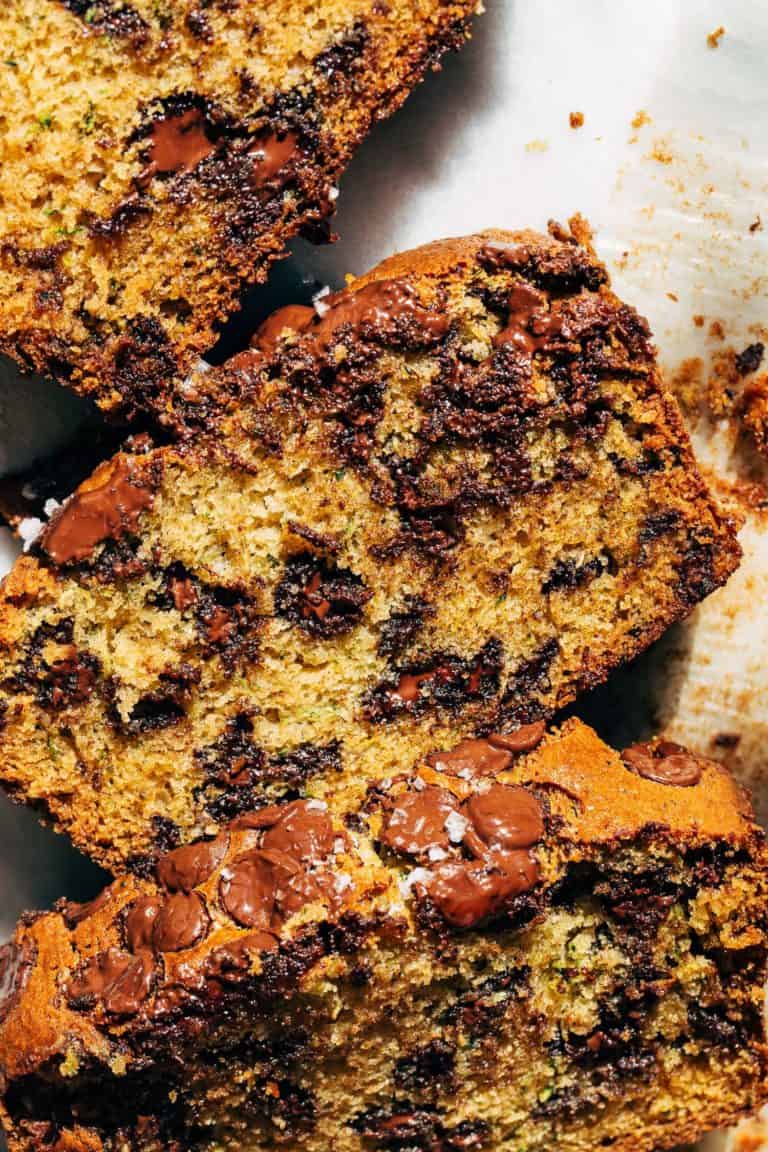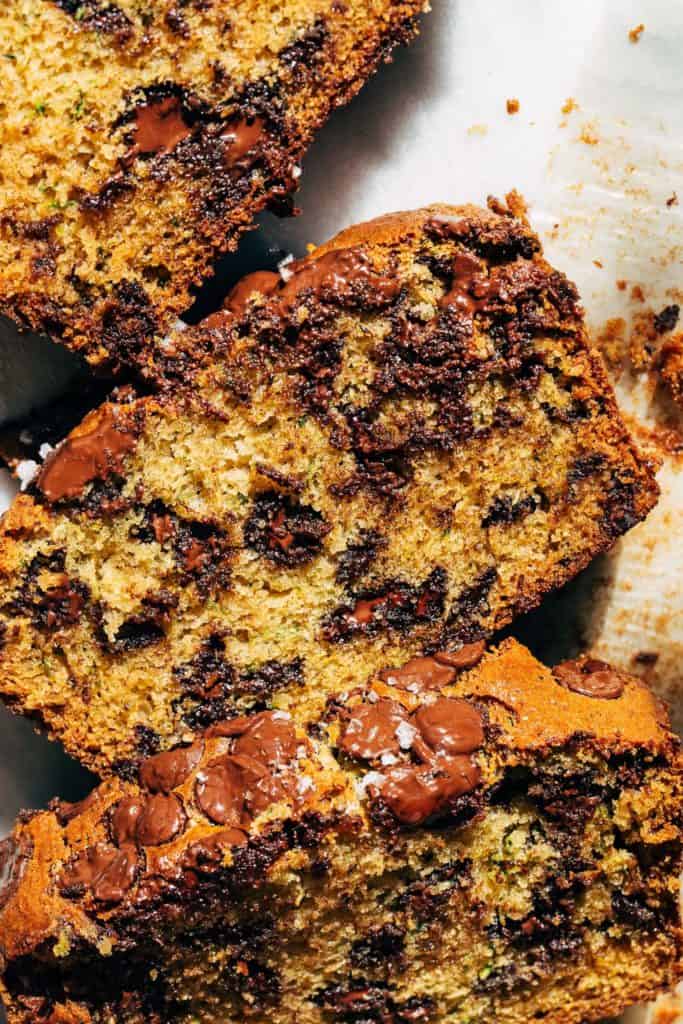 What makes this the BEST chocolate chip zucchini bread?
I try to capture photos that allow the recipe to speak for itself, so I hope that slice above is doing a good job! It basically sums up this chocolate chip zucchini bread recipe…super moist with melty chocolate throughout.
So what makes it this way? First, the moist texture is due to a few simple ingredients and properly prepped zucchini.
For the zucchini, it's finely shredded and then squeeze to rid it of excess water. If left in, the zucchini bread could turn out too soft and mushy. But when squeezed, the zucchini then adds just enough moisture and flavor without any issues.
This zucchini chocolate chip bread is also made with the right balance of butter, sour cream, and flour. Too much of either of these ingredients could lead to a zucchini bread that's either too soft OR too dry. But by using the perfect amount of each, this bread is incredibly moist and tender without leaning too far in either direction.
Last but not least, the chocolate. Zucchini bread with chocolate chips is absolute heaven, especially when it's super melty dark chocolate chips. By using dark chocolate, the high cocoa percentage allows it to actually melt into chocolate pockets. Plus, the dark chocolate pairs perfectly with the not-too-sweet bread.
Top it with a sprinkle of flaky sea salt to round out the flavors and slice in to your new favorite chocolate chip zucchini bread!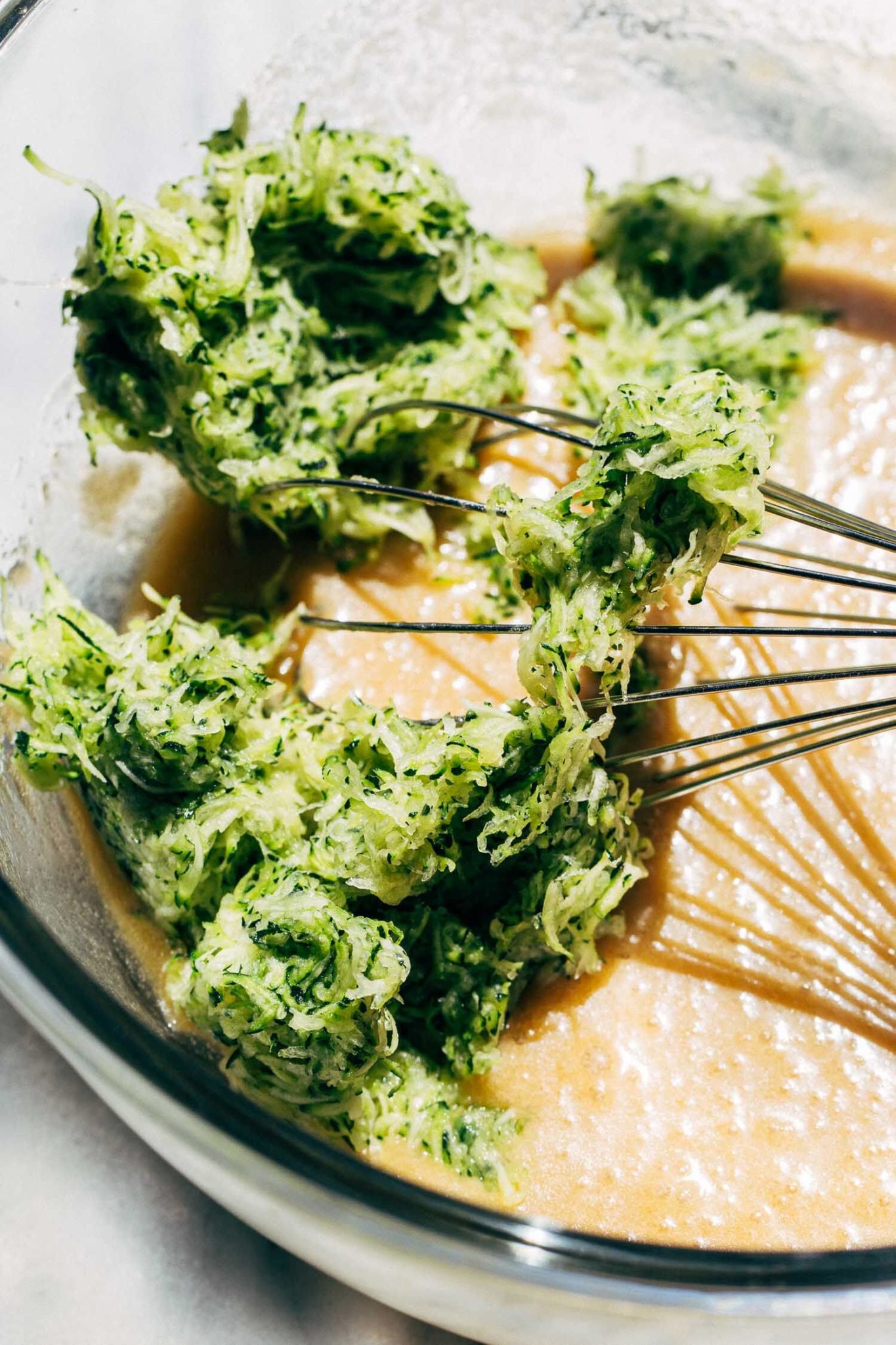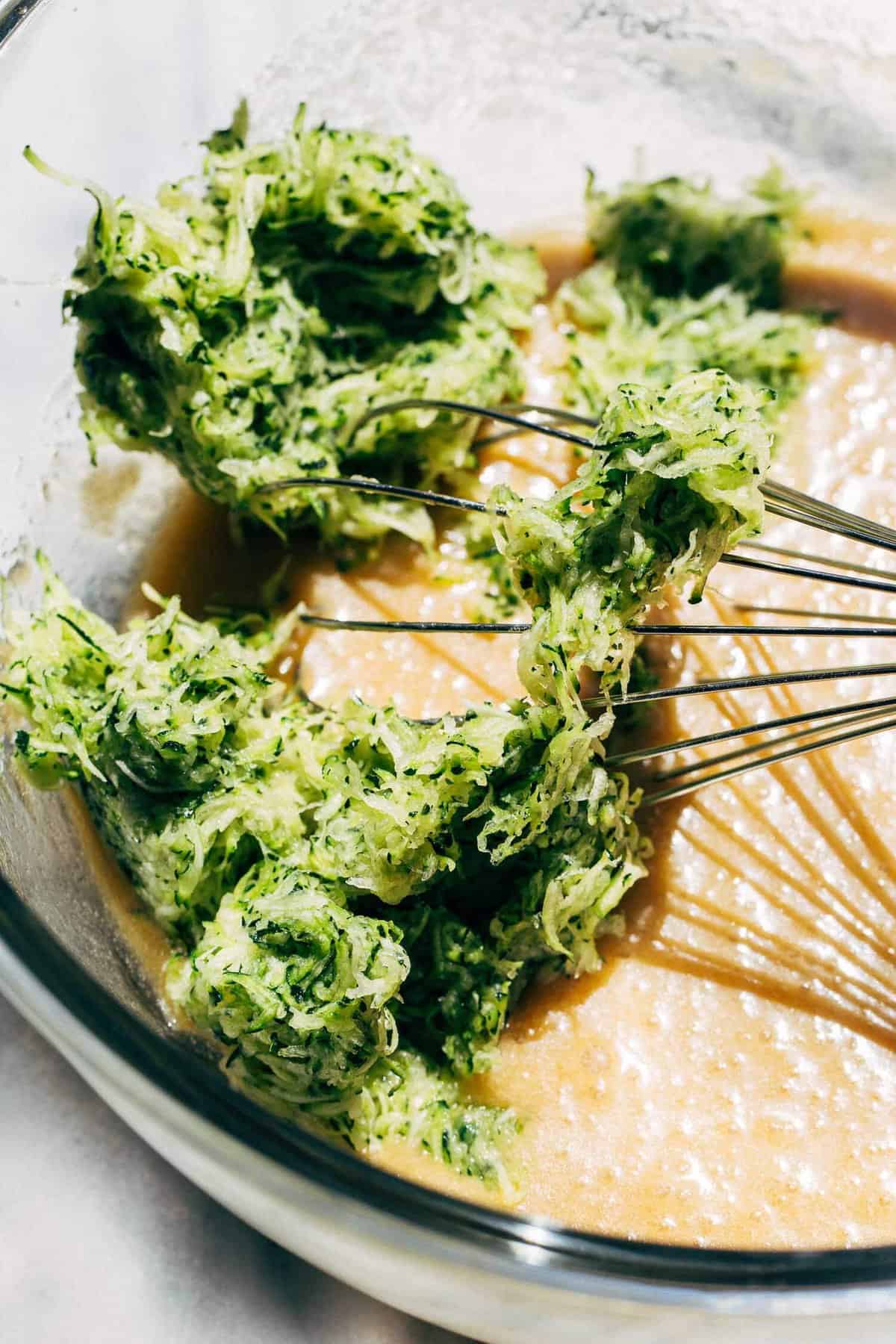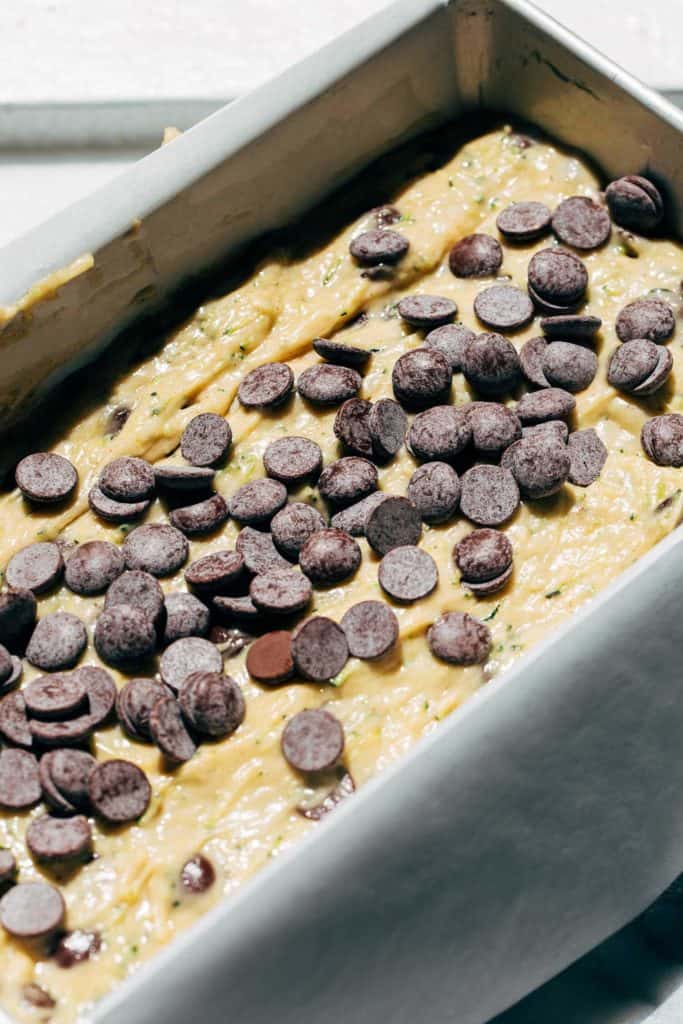 How to make chocolate chip zucchini bread
First and foremost, start with the right pan. There are two very common loaf pans – a 1 pound loaf pan and a true 9×5 loaf pan. This recipe calls for a true 9×5 loaf pan because of its high moisture content. If the batter is baked in a pan that's too small or narrow, it will be difficult for the center to bake through.
So instead, reach for a larger loaf pan that's specifically meant for baking breads! This one is my favorite.
With the right pan ready to go, here are a few key steps in this chocolate chip zucchini bread recipe:
Zucchini – If using a box grater, use the smaller holes as we want a fine grate on the zucchini. This will provide a much more seamless and smooth texture. Then, after the zucchini is measured out, take a handful at a time and squeeze out any excess water into the kitchen sink. Now it's ready to mix into the batter!
Flour – I say this in every post, and for good reason. It's the number one reason why most recipes fail. If there's too much flour, the bread will turn out tough and dry. If possible, measure the flour with a food scale. Otherwise, to ensure the exact amount, gently spoon the flour into the measuring cup and level it off with a flat edge. If scooped directly into the flour container, the flour becomes packed down into the cup which could leave you with 1/4 cup or more of added flour.
Mixing – Once the dry ingredients are added, switch to a rubber spatula and carefully mix the batter together. Over mixing can lead to a tough bread with a sunken center so take the last few steps nice and easy!
Topping – Sprinkle the top of the zucchini bread with even more chocolate before baking. Because who doesn't love MORE chocolate?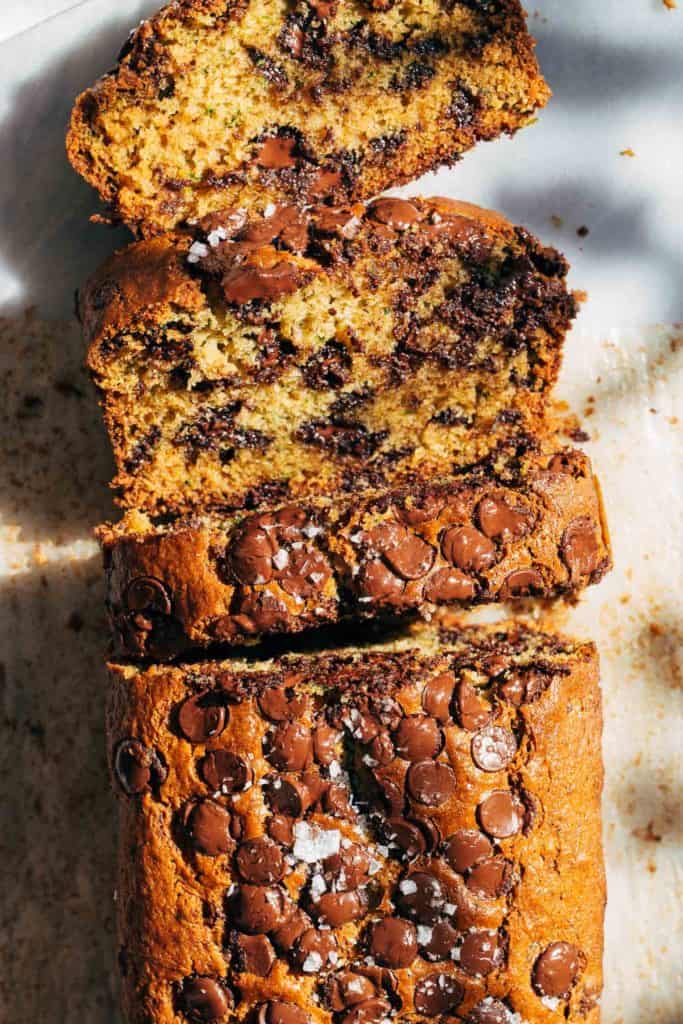 Troubleshooting zucchini bread with chocolate chips
A common issue with baking zucchini bread is that it sometimes can't bake all the way through. This is because of the high moisture content. So if you run into this same problem, here are a few places to look.
The Pan – How big is the pan you baked it in? Is it a true 9×5 loaf pan or is it a 1 pound loaf pan? 1 pound loaf pans usually measure around 4.25×8.25″. This small size can make it hard for the bread to bake through so it's important to use a true 9×5 pan. Also look at the material. A light colored aluminum is best for conducting heat!
The Zucchini – Were you able to squeeze out at least 80% of the water? It's easy to forget this step! But if too much water is left in the zucchini, this excess moisture can lead to a mushy bread.
Mixing – Over mixed batter can lead to a dense bread with a sunken center. So after the flour is added, take the mixing nice and slow to prevent this from happening.
Temperature – Some ovens can run too hot or too cold, even if they're set to 350F. Always use a separate oven thermometer to ensure your oven is at the right temp and adjust accordingly if needed.
How to store zucchini chocolate chip bread
This chocolate chip zucchini bread stays moist for days! So simply store it in an air tight container at room temperature where it can keep for a couple days.
If it needs any longer than a couple days (it doesn't stick around long in my house!), then store it in an air tight container in the refrigerator for up to a week. Then heat up a slice in the microwave for about 10 seconds before digging in!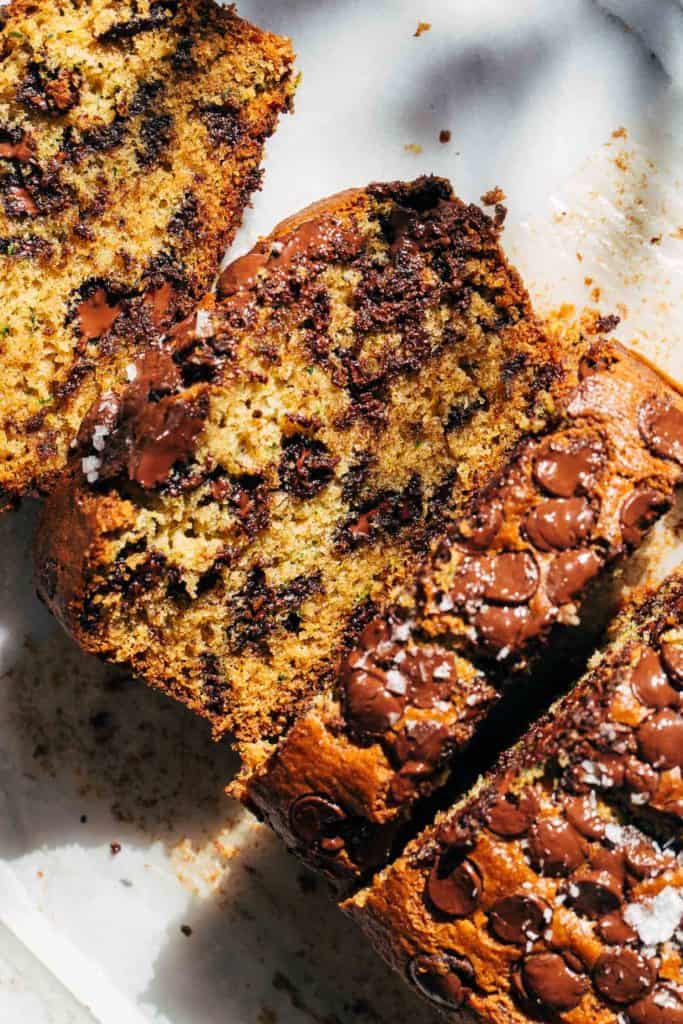 For more sweet bread recipes, check out my:
Make sure to tag me @butternutbakery on Instagram and leave a review below if you make this chocolate chip zucchini bread. To pin this recipe and save it for later, you can use the button on the recipe card, the buttons above or below this post, or on any of the photos above. Happy baking!
Watch how to make this chocolate chip zucchini bread:
Print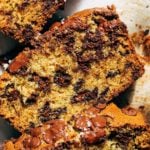 Chocolate Chip Zucchini Bread
---
Author: Jenna Barnard
Total Time: 1 hour 20 minutes + 30 minutes cooling
Yield: 1 loaf
Description
This is the BEST chocolate chip zucchini bread! It's super moist with a crispy crust and is loaded with melty dark chocolate chips. This loaf is also lightly spiced and topped with flaky sea salt to help round out the flavors.
---
1 1/2 cups (270g) finely grated zucchini (about 1 1/2 medium zucchini)
2 cups (264g) all purpose flour, spooned and leveled
1/2 tsp ground cinnamon
1/4 tsp ground nutmeg
1 tsp baking soda
1/2 tsp baking powder
1/2 tsp kosher salt
1/2 cup unsalted butter, melted and cooled
1/2 cup (100g) granulated sugar
1/2 cup (100g) light brown sugar, packed
1/3 cup (82g) sour cream
2 large eggs
2 tsp vanilla extract
1 1/2 cups dark chocolate chips, plus more for sprinkling on top
Flaky sea salt, for sprinkling on top (optional)
---
Instructions
Preheat the oven to 350F and grease and line a 9×5 loaf pan with parchment paper.
Grate the zucchini, measure it out to 1 1/2 cups, and then squeeze out the water. You can do so by grabbing a handful and wringing it out into the kitchen sink. Set aside the squeezed zucchini.
In a medium bowl, whisk together the flour, baking soda, baking powder, cinnamon, nutmeg, and salt. Set aside.
In a large mixing bowl, whisk together the butter and sugars. Once combined, mix in the sour cream, eggs, vanilla, and squeezed zucchini.
Pour in the dry ingredients and use a rubber spatula to gently mix the batter.
With a little flour still showing, add in the chocolate chips and continue to gently mix to combine.
Pour the batter into the pan and spread it even. Top with more chocolate and bake for 1 hour to 1 hour 10 minutes. Test for doneness with a toothpick. 
Place the pan on a cooling rack and allow the bread to cool for about 30-40 minutes.
Then top with flaky sea salt, slice, and enjoy!
Equipment
Prep Time: 20 minutes
Cook Time: 1 hour
Category: Dessert
Method: Baking
Cuisine: American
Keywords: chocolate chip zucchini bread, zucchini bread chocolate chip, zucchini bread with chocolate chips, chocolate chip zucchini bread recipe, zucchini chocolate chip bread
Recipe Card powered by