This cinnamon banana bread is so easy to make and tastes SO delicious and moist! With a ribbon of cinnamon sugar swirled throughout and a crisp cinnamon sugar crust on top, it's a unique version of a classic recipe.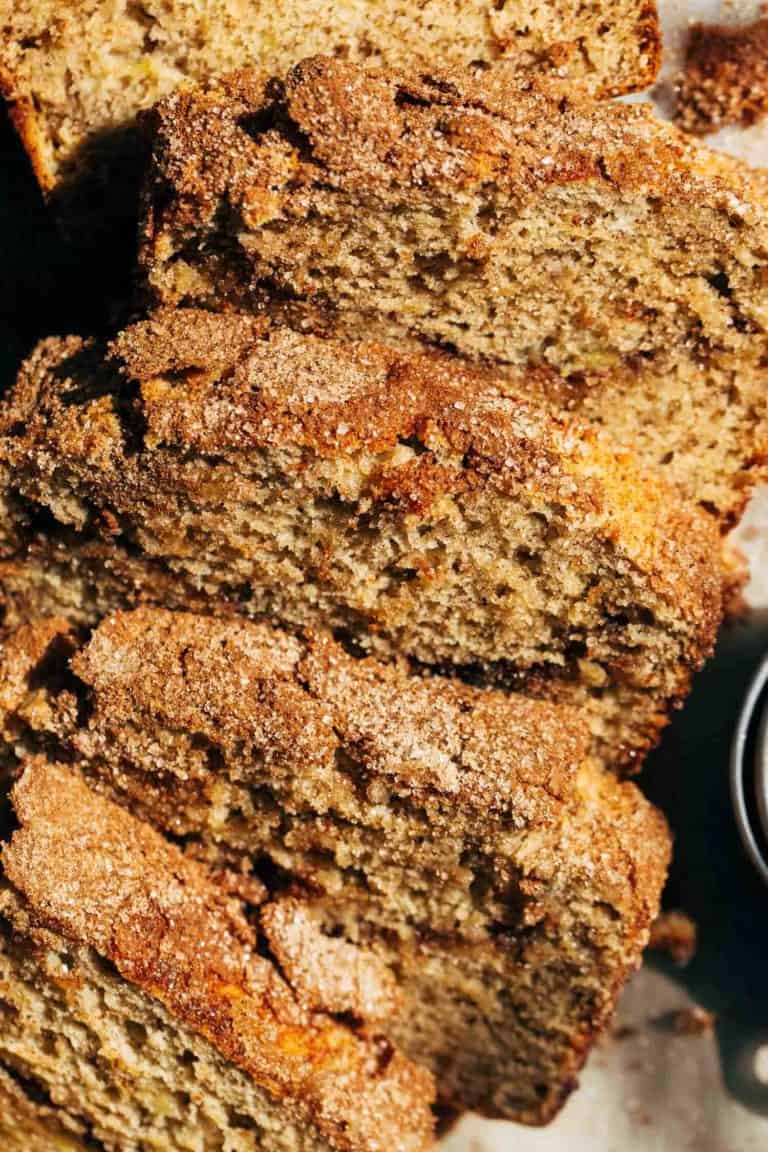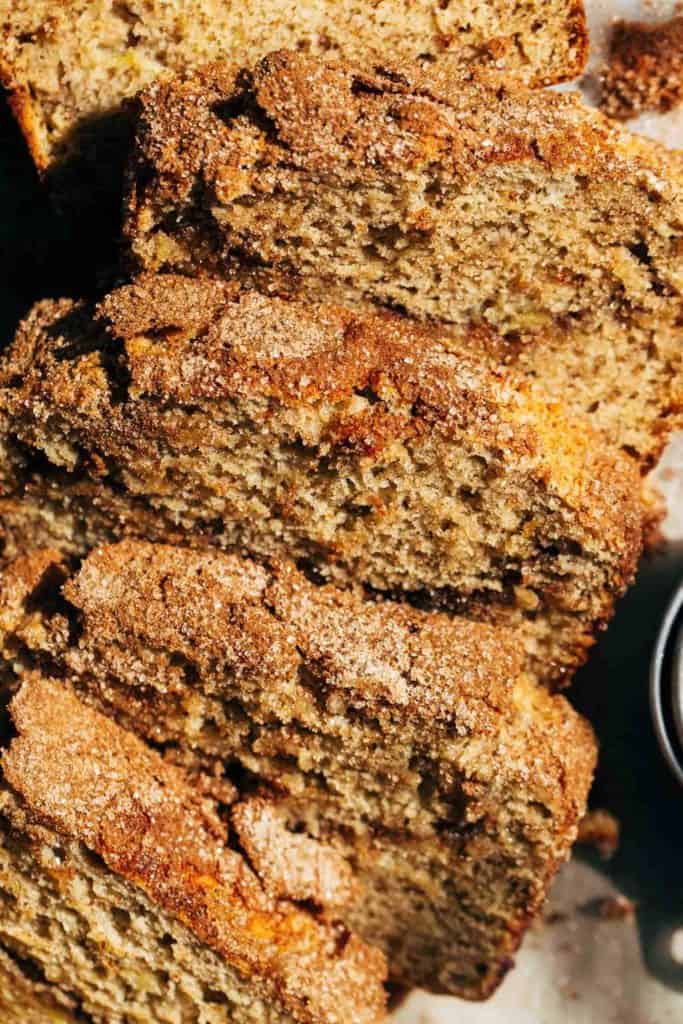 How to make cinnamon banana bread
You can't have cinnamon swirl banana bread without the swirl! It took quite a few trials to get it just right and luckily, the easiest technique ended up being the most effective.
Between a homemade cinnamon streusel with sugar, butter and flour, to a buttery cinnamon sugar mixture, the best and most effective cinnamon swirl ingredients ended up being the classic cinnamon sugar.
To make the cinnamon sugar, simply combine 1/2 cup of sugar with 1 tablespoon of cinnamon. It's definitely more cinnamon than a typical cinnamon sugar mixture, but I really wanted to make sure the cinnamon came through!
After half of the batter is added to the baking pan, sprinkle half of the cinnamon sugar on top in an even layer. It will seem like a lot, but the mixture soaks into the batter as the bread bakes so it's just the right amount!
Then, my favorite part, the remaining batter is added on top and then the rest of the cinnamon sugar is sprinkled on the surface. As the bread bakes, it creates a delicious crackly crust on top to make this cinnamon banana bread THAT much better!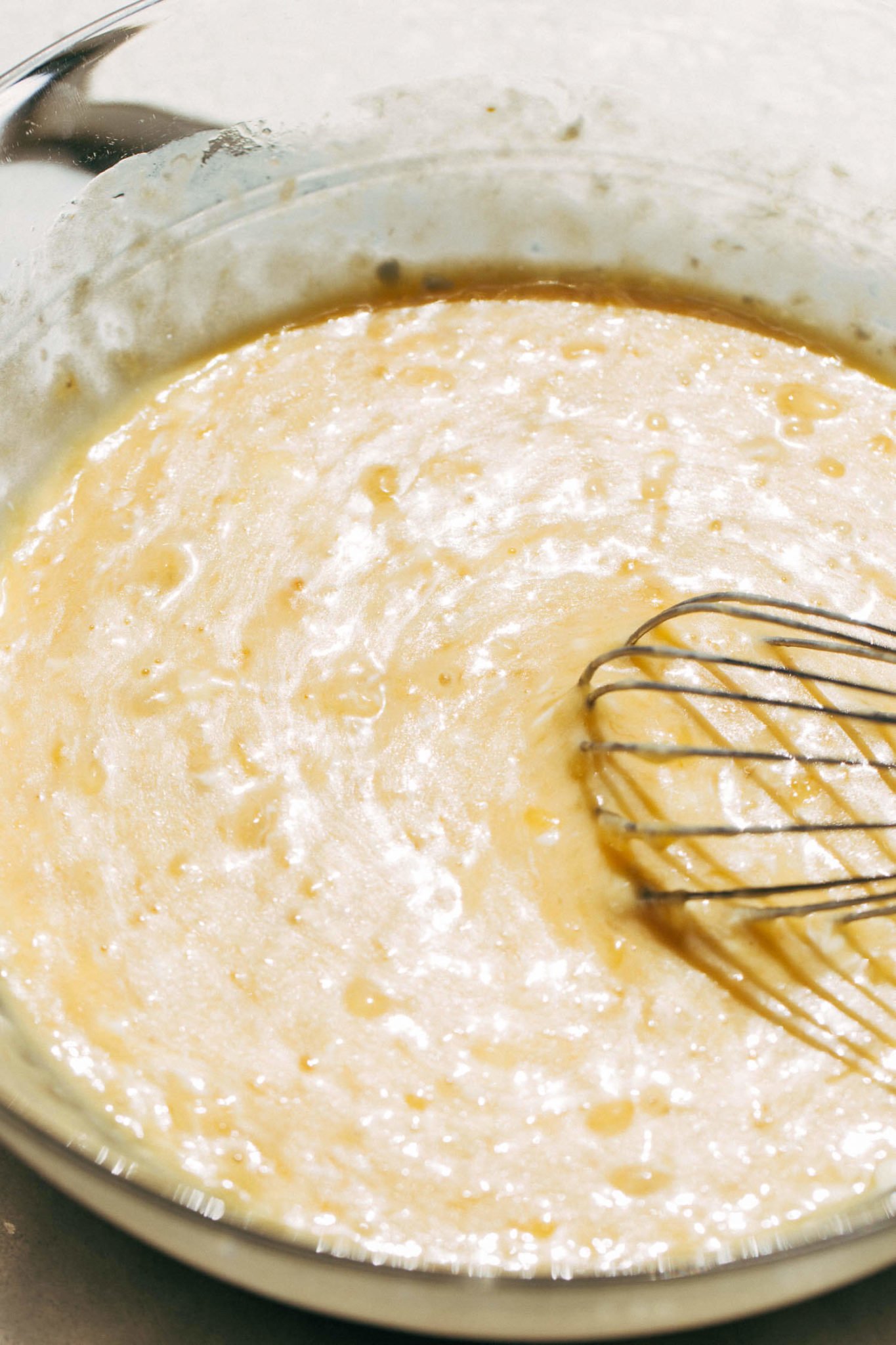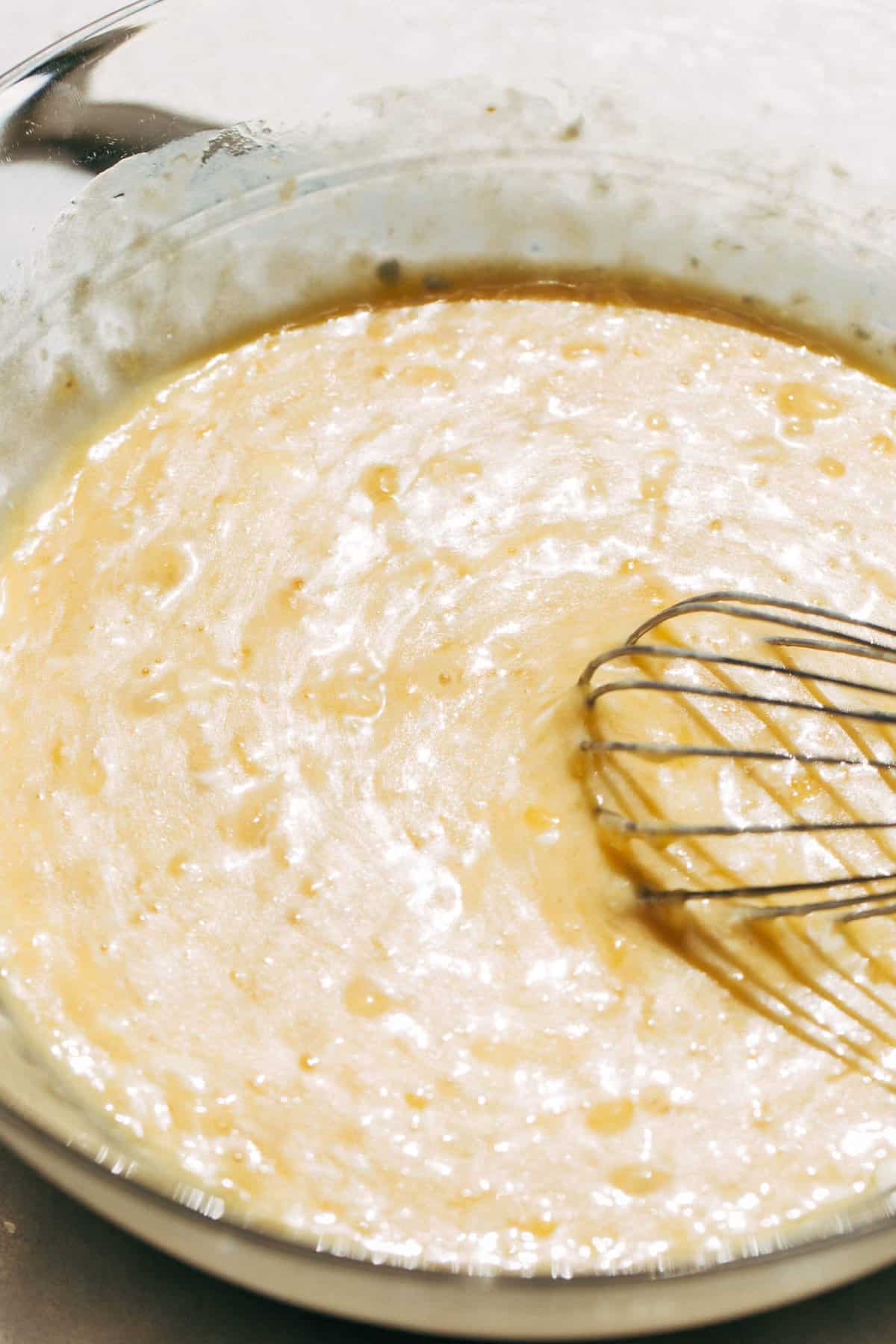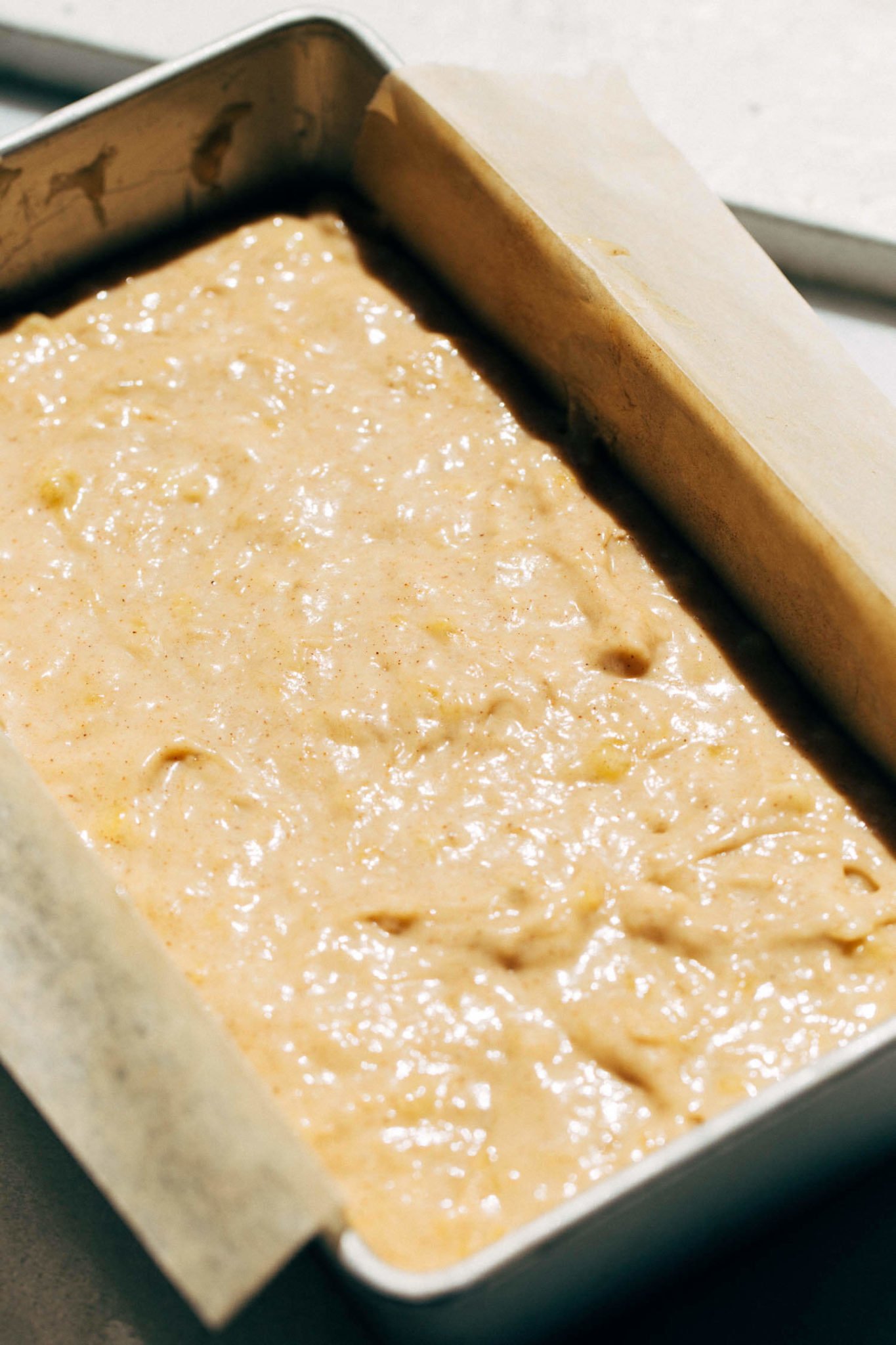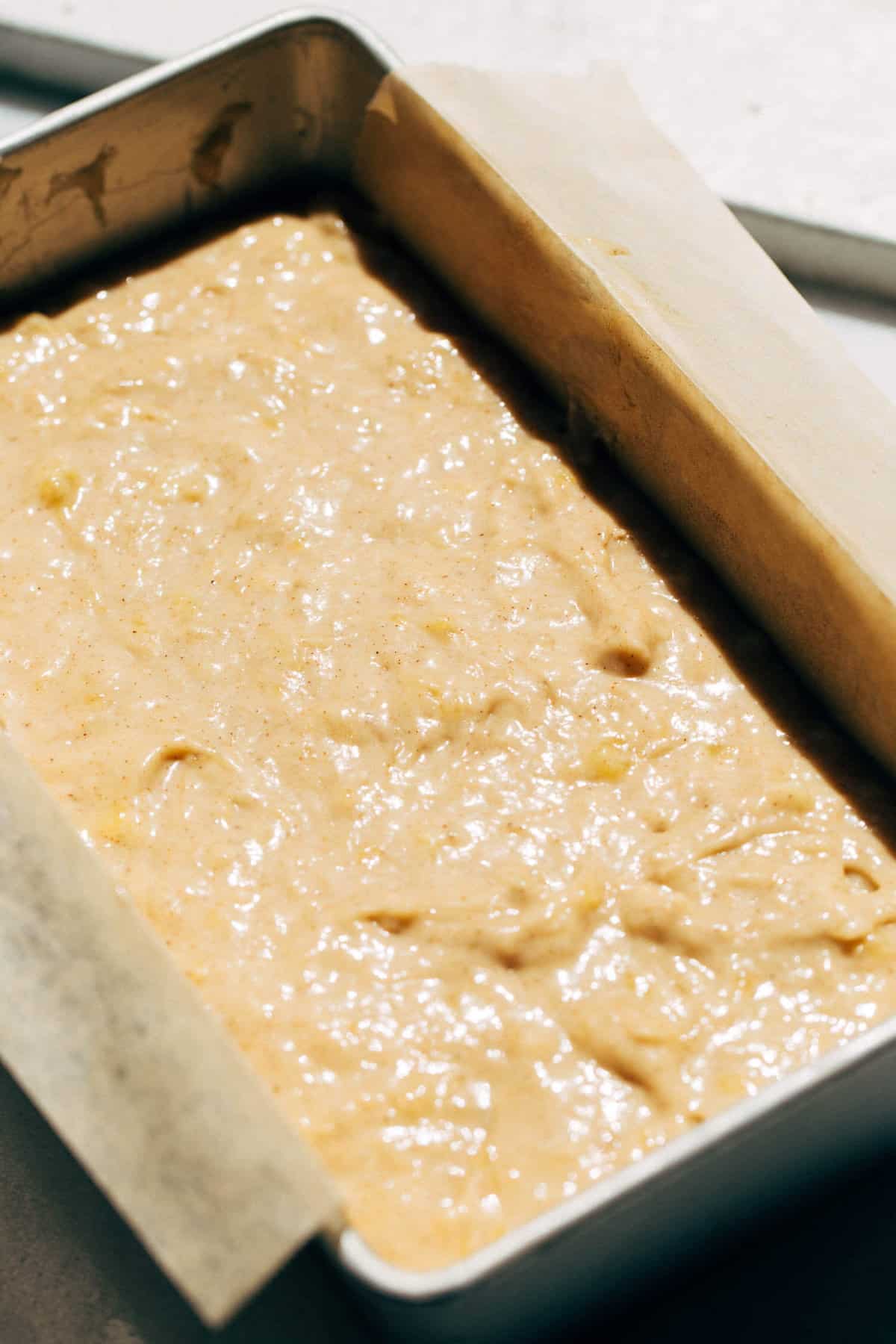 How to ripen bananas quickly for banana bread
If you need ripe bananas STAT but yours aren't quite there yet, this is a quick trick you can use to speed up that process.
First, if you don't have any bananas to start with, most grocery stores keep a small stack of almost-ripe bananas with the rest of the bananas. They're usually individuals that either fell of the bunches or were plucked off by shoppers. I find mine on the bottom shelf.
To ripen them for baking, preheat the oven to 250F and place the bananas on a baking sheet lined with parchment paper, peels and all. Bake for 15-20 minutes or until the bananas are completely brown…borderline black.
Let the bananas cool completely then peel and mash. They'll be a little liquidy but that's OK. It's just the juices released from the bananas under the high heat.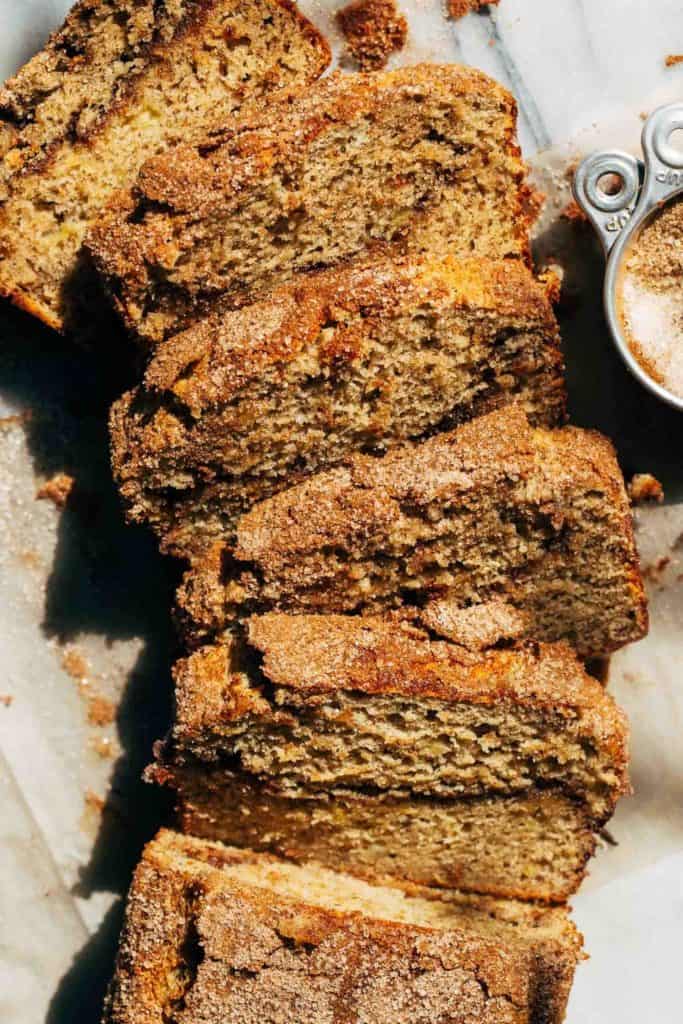 How to store your cinnamon swirl banana bread
Once the banana bread is baked, it won't last long in your house! Whenever I bake it for my family, everyone fights over the last slice. That's definitely the case for my chocolate chip banana bread and this recipe is no exception.
If you're baking it a day ahead for an event, leave the bread unsliced and store in an air tight container or large plastic bag at room temperature. Without slices, the banana bread has a much better chance of not drying out.
If you've sliced it and need to store it, store it the same way but also cover the sliced end in plastic wrap. This keeps the air from seeping into the bread which can dry it out even faster.
To extend the life of your banana bread, follow all the same steps but store in the fridge. Room temperature can keep for about 3 days before it starts to dry out. The fridge will keep for about 1 week.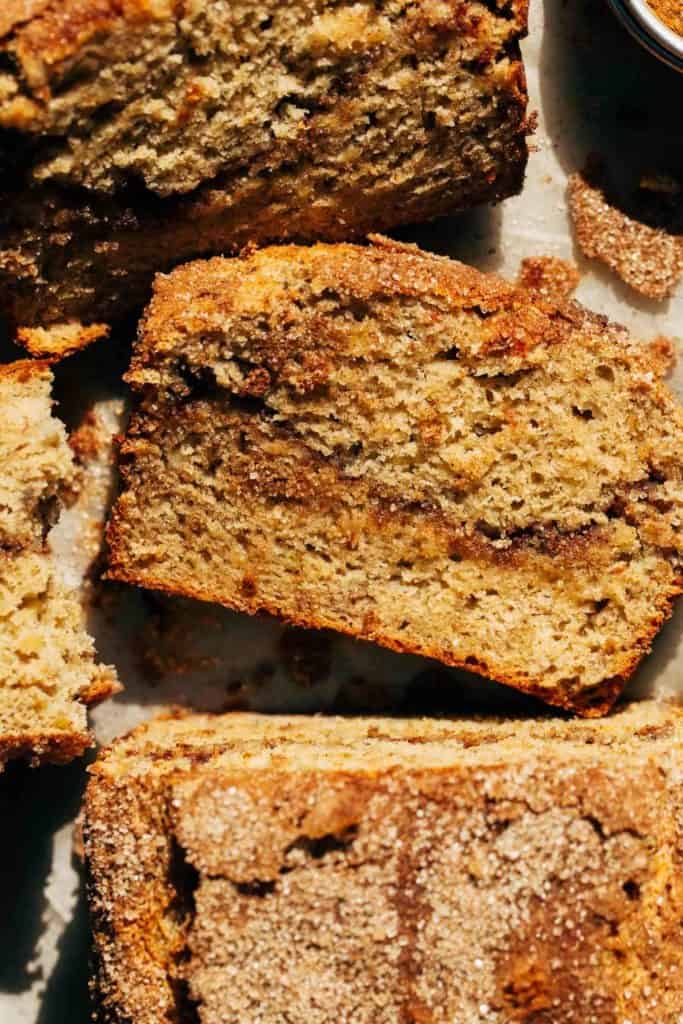 Cinnamon Banana Bread FAQs
What do I do if I'm just short of 1 1/2 cups of banana?
If you're just a smidge short, fill in the rest with apple sauce!
What is the best pan to bake banana bread?
For this recipe, go for a true 9×5 loaf pan. Many loaf pans measure to about 4.5 x 8.5″ which doesn't seem like much of a difference, but a more narrow pan makes it hard for the loaf to bake all the way through to the center. Also go for a light colored aluminum pan as these conduct heat the best!
Can this recipe be made gluten free?
Although I haven't tested it, I think it could work well with gluten free baking flour! Simply sub the flour with a cup for cup gluten free baking flour.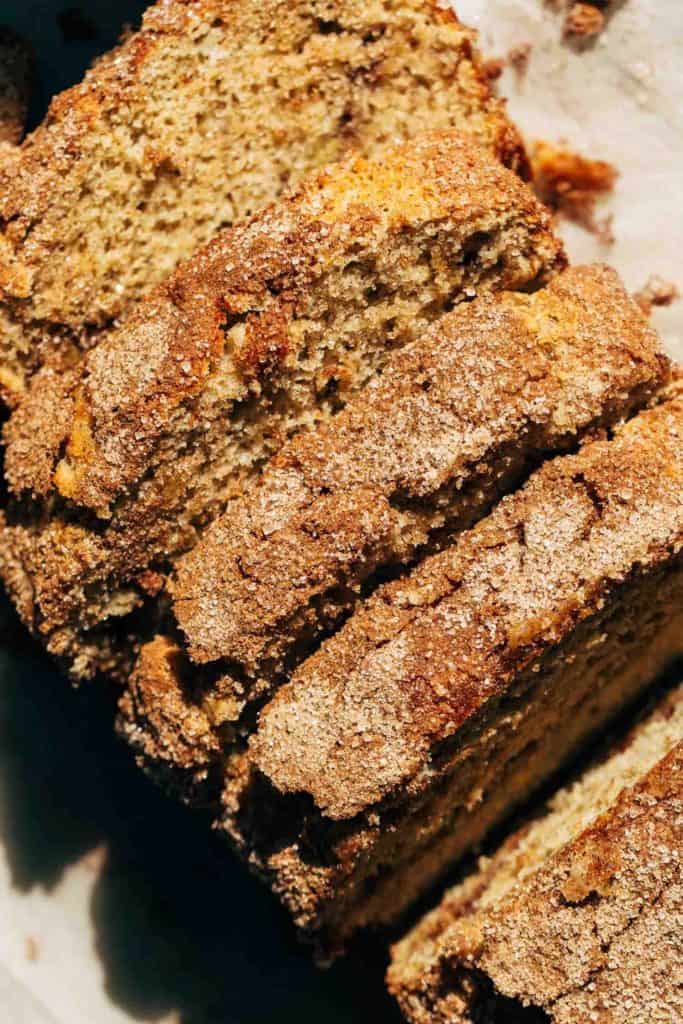 For even more delicious banana bread recipes:
Make sure to tag me @butternutbakery on Instagram and comment below if you make this Cinnamon Banana Bread. To pin this recipe and save it for later, you can use the button on the recipe card or on any of the photos above. Happy baking!
Watch how to make this cinnamon banana bread:
Print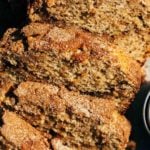 Cinnamon Banana Bread
---
Author: Jenna Barnard
Total Time: 1 hour 10 minutes
Yield: 1 loaf
Description
This cinnamon banana bread has a ribbon of cinnamon sugar swirled throughout with a crisp sugar crust on top! It's also so moist, so soft, and loaded with sweet ripe bananas.
---
Cinnamon Banana Bread
1 1/2 cups (395g) ripe and mashed banana (about 3 large bananas, but still measure!)
2 cups (264g) all-purpose flour
1 1/2 tsp baking powder
1/2 tsp baking soda
1 tsp ground cinnamon
1/2 tsp salt
1/2 cup (100g) granulated sugar
1/4 cup (55g) light brown sugar, packed
1/4 cup (55g) unsalted butter, melted
2 large eggs
1 tsp vanilla extract
1/2 cup (120g) sour cream
Cinnamon Sugar
1/2 cup (100g) granulated sugar
1 tbsp ground cinnamon
---
Instructions
Preheat the oven to 350F and grease and line a 9×5 loaf pan. Place a strip of parchment paper along the width of the pan so it's easy to lift out once baked.
In a small bowl, whisk together the flour, baking powder, baking soda, cinnamon, and salt. Set aside.
In a large bowl, whisk together the mashed banana, sugars and butter until well combined. 
Whisk in the eggs, vanilla and sour cream. 
Pour in the dry ingredients and use a rubber spatula to fold to combine.
Off to the side in a small dish, combine the cinnamon sugar.
Pour 1/2 of the banana bread batter into the pan and spread it even. Sprinkle half of the cinnamon sugar on top then spoon the remaining batter on top. Spread it even and sprinkle on the rest of the cinnamon sugar. 
Bake for 40-45 minutes or until a toothpick in the center comes out clean with a few moist crumbs. The loaf should appear puffed with a golden sugar crust and large cracks on the surface.
Let the bread cool in the pan for about 20-30 minutes then lift it out and slice. It's best to serve warm, but it's delicious at any temperature! Enjoy!
Equipment
Prep Time: 20 minutes
Cooling Time: 30 minutes
Cook Time: 40 minutes
Category: Dessert
Method: Baking
Cuisine: American
Keywords: cinnamon banana bread, cinnamon swirl banana bread, banana bread, cinnamon banana bread recipe, cinnamon sugar banana bread
Recipe Card powered by