These brownie cookie ice cream sandwiches are the perfect treat for summer! Two soft and chewy brownie cookies are sandwiched with a layer of pistachio ice cream and rolled in salted and chopped pistachios.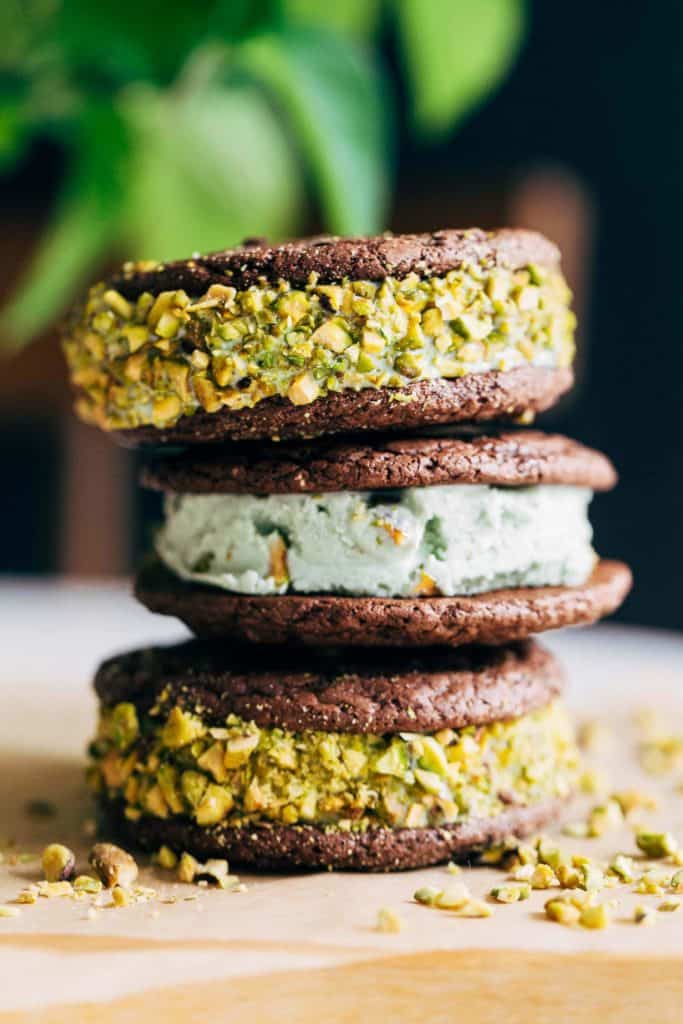 Tips for making homemade cookie ice cream sandwiches
The process of making your own ice cream sandwiches can get messy. You have to work fast to stop the ice cream from melting and you also have to be careful not to apply too much pressure when sandwiching to prevent the cookies from breaking. It's a delicate balance, and something I honestly don't have the patience for. Luckily I found a way to create perfect ice cream sandwiches without the hassle! Here's how it's done.
Choose your ice cream – You can choose any flavor ice cream you like, just as long as it's not gelato. Gelato tends to be a bit too soft and melts VERY quickly. If you want to ensure your ice cream won't melt on you, opt for reduced fat ice cream instead. This will stay firm for longer.
Thaw the ice cream – While you make the cookie dough, let the ice cream sit at room temperature. This will soften the ice cream and make it easier to spread.
Spread the ice cream – Speaking, of once the ice cream is softened it is then spread in even layer inside a square baking dish. Doing so instead a casing of plastic wrap will make for easy clean up AND removal.
Cut the ice cream – After spreading, the ice cream is frozen once again to firm up. Once firm, a biscuit cutter is used to cut out perfect rounds of ice cream. Place these rounds on a plate to freeze again as we want the ice cream to be as cold as possible before shaping the sandwiches.
Once the cookies have cooled and the ice cream chilled, simply place a round of ice cream between two cookies just like you would a hamburger. With this process, there's no need to mess with scooping the ice cream or pressing the cookies. Just perfectly rounded ice cream sandwiches!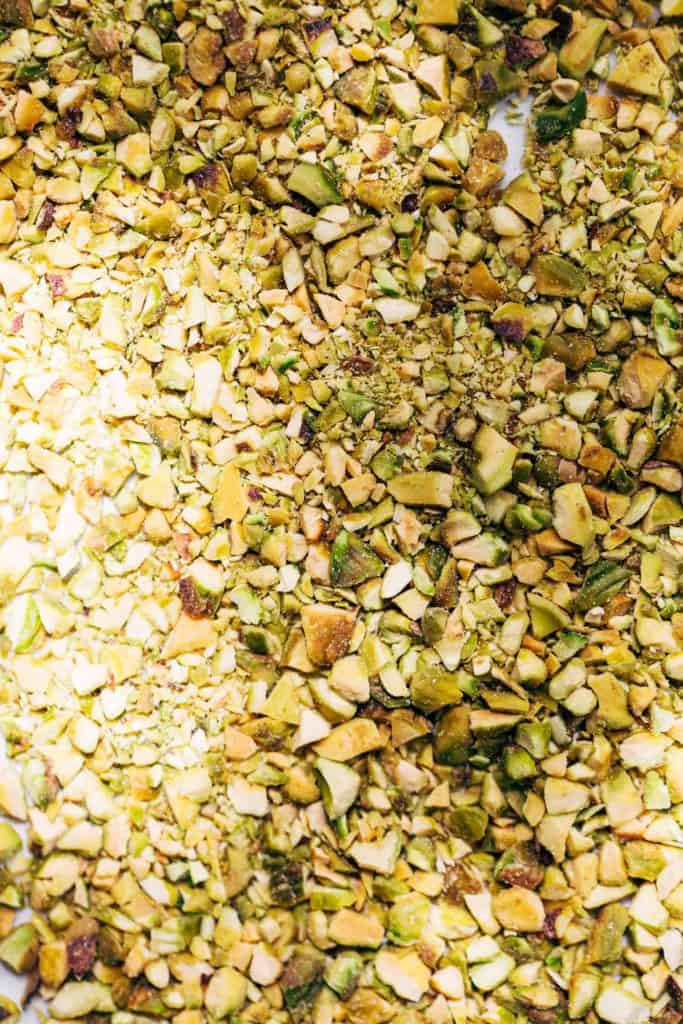 How to make soft brownie cookies
The key to a good ice cream sandwich cookie is to have cookies that are too thick, that spread perfectly when baked, and remain soft even when frozen. These brownie cookies are exactly that! They bake into perfect tenderness, and are just thin enough to not overwhelm the pistachio ice cream. Here's how to ensure yours bake just right:
Properly measure the flour – I say this in every post, and for good reason. It's the number one reason why most recipes fail, especially for cookies. If there's too much flour, the cookies will turn out dry and they will not spread. If you can, measure the flour with a food scale. Otherwise, to ensure you use the exact amount needed, gently spoon the flour into your measuring cup and level if off with a flat edge. If you scoop directly into the flour container, it packs it down into the cup which could leave you with 1/4 cup or more of added flour.
Use a mix of chocolate – Using both bittersweet and semisweet helps to balance out these cookies. They aren't too rich or too bitter.
Cooling the butter – Once the butter and chocolate are melted together, make sure it isn't too hot when adding the mixture to the batter. If it's too hot, it could scramble the eggs.
Butter and eggs – Speaking of, fully whisk together the butter and eggs before adding the chocolate. And by fully whisk, I mean vigorously whisk for a good 2 minutes. It should turn pale and smooth. This helps break down the sugar and emulsify the egg to create a strong cookie structure.
Don't over mix – The last step is to fold in the dry ingredients. Do so by hand using a rubber spatula and stop RIGHT when the dry ingredients are blended in. Mixing an further could result in a tough cookie.
Once the dough is mixed, it is chilled for 1 hour. This helps firm up that chocolate and butter which will slow the spread of the cookie. Then just scoop, roll, and bake!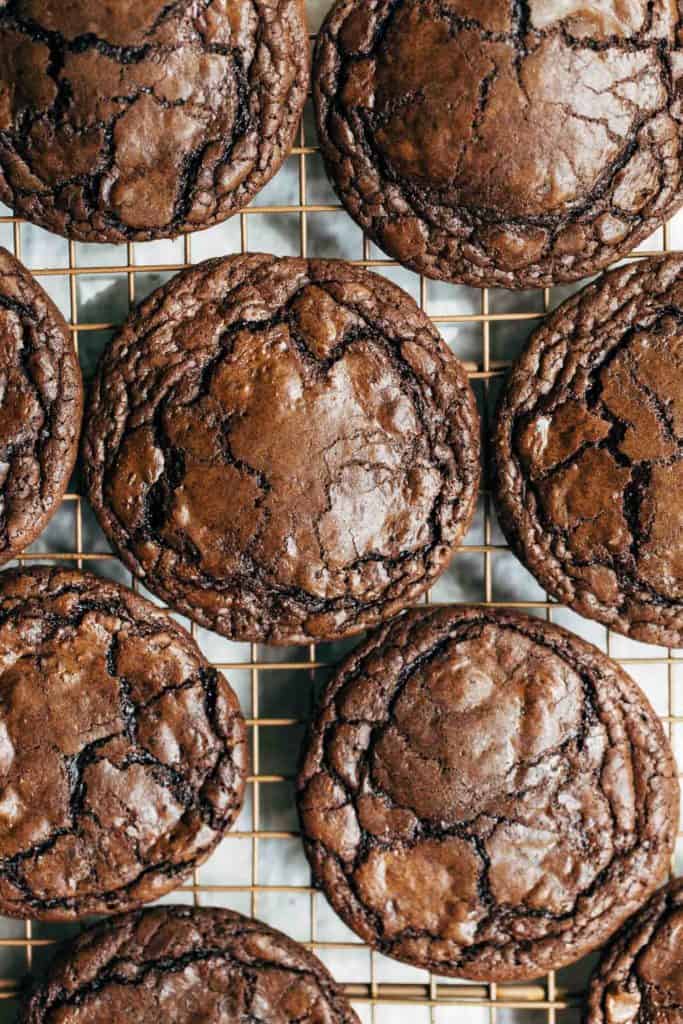 Can I chill the dough overnight?
Unfortunately not, as I tested this and the cookies would spread around the edges but remain tall in the center. One hour of chilling is the perfect amount!
How can I cut the ice cream without a biscuit cutter?
You could cut a circle out of wax paper that's about 2 3/4 inches in diameter. Then place that circle on the spread ice cream surface and use a knife to cut around it. After they're cut, push away the excess ice cream and slide out the cut ice cream rounds.
Can I just scoop the ice cream between the two cookies?
Yes, this is another option if you do not have a biscuit cutter but it requires a few extra steps. When the cookies have baked, allow them to cool for about 20 minutes and then freeze firm for about 1 hour. Then, allow the ice cream to soften a bit before scooping it between the two firm cookies. Press in the ice cream and return to the freezer to fully set.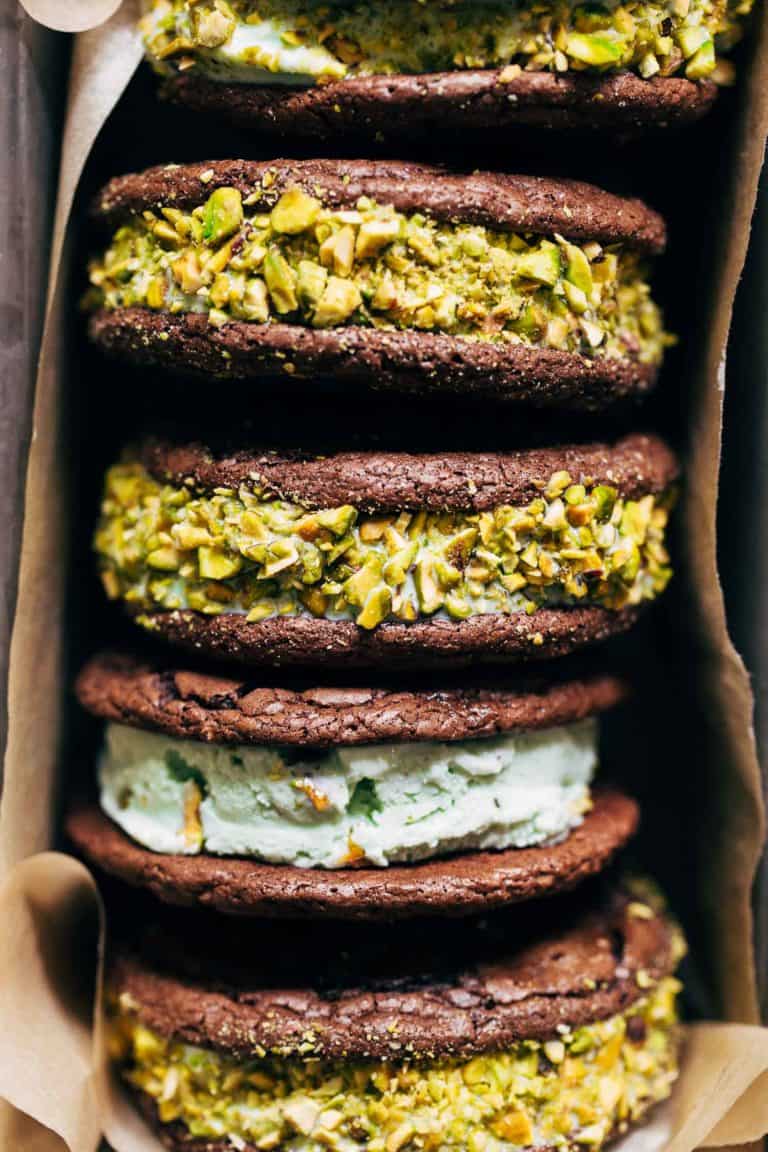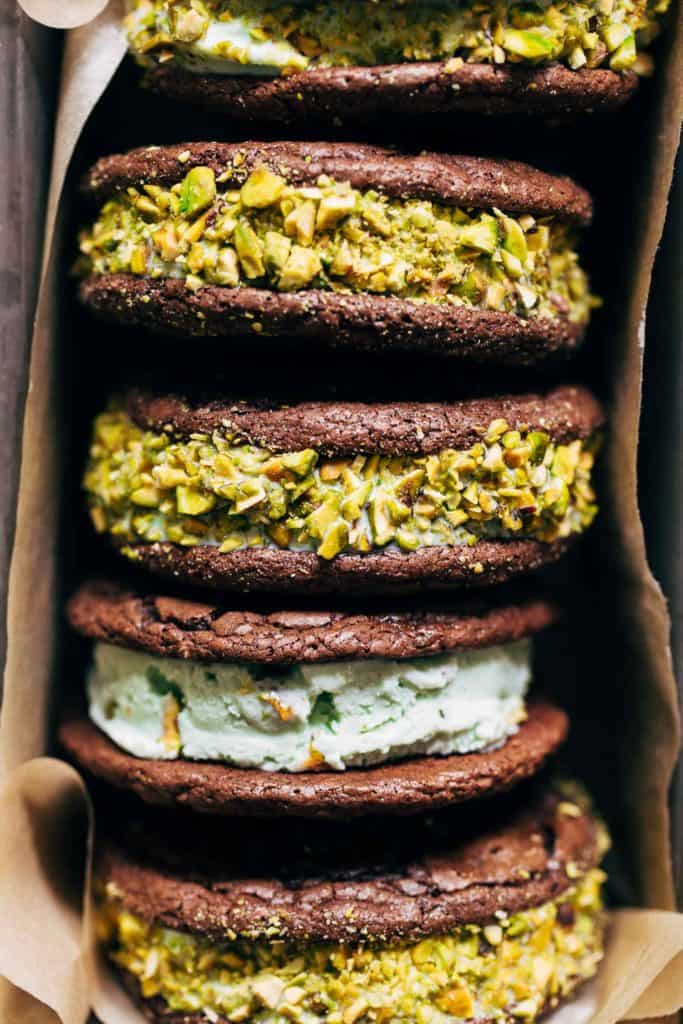 How to store cookie ice cream sandwiches
After the sandwich cookies have chilled firm for the final time, wrap each cookie in plastic wrap and place into a freezer storage bag. They should keep for up to 2 months. Whenever you want a cookie ice cream sandwich, unwrap it and allow it to thaw at room temperature for about 20 minutes.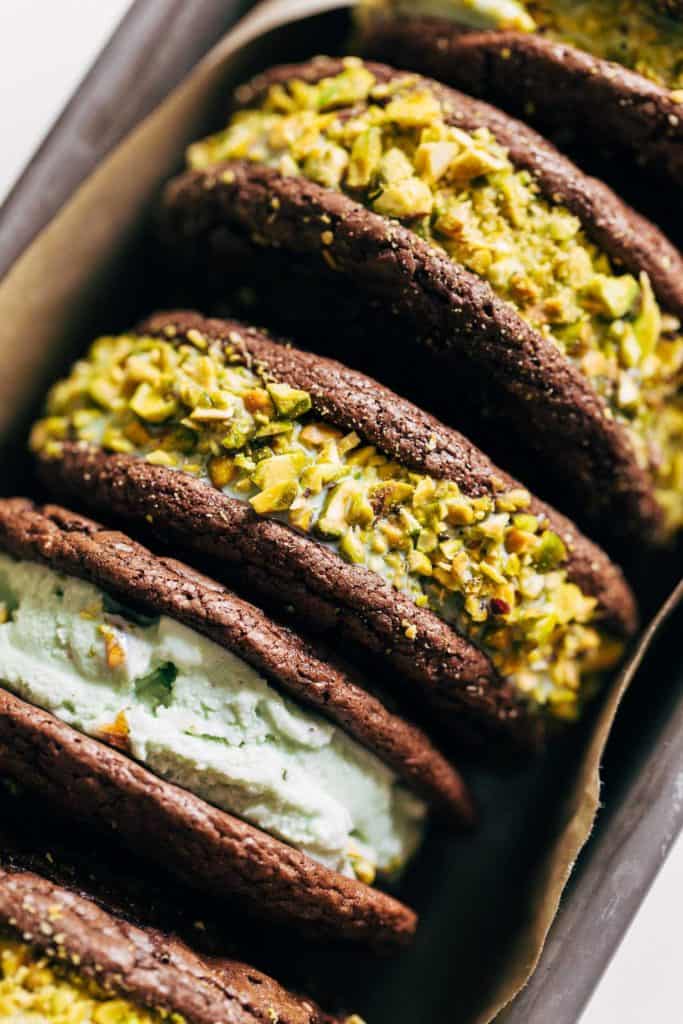 For more ice cream dessert recipes, check out my:
Make sure to tag me @butternutbakery on Instagram and comment below if you make these Pistachio Brownie Ice Cream Sandwich Cookies. To pin this recipe and save it for later, you can use the button on the recipe card or on any of the photos above. Happy baking!
Print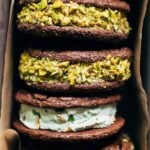 Pistachio Brownie Ice Cream Sandwich Cookies
---
Author: Jenna Barnard
Total Time: 1 hour + 2 hours chilling
Yield: 6 sandwich cookies
Description
Soft and chewy brownie cookies sandwiched with sweet pistachio ice cream and rolled in chopped salty pistachios
---
Brownie Cookies
6 tbsp unsalted butter (can use vegan butter)
4 oz semisweet chocolate, chopped
4 oz bittersweet chocolate, chopped
2 large eggs + 1 egg yolk, room temp
1/2 cup (100g) granulated sugar
1/4 cup (50g) light brown sugar, packed
2 tsp vanilla extract
2/3 cup (85g) all purpose flour
3 tbsp dutch processed cocoa powder
1 tsp baking powder
1/2 tsp baking soda
1/2 tsp salt
Pistachio Ice Cream
2 pints pistachio ice cream*
1 1/2 cups salted and shelled pistachios, finely chopped
---
Instructions
Set the two pints of ice cream out at room temp to soften while you make the cookie dough.
Whisk together the flour, cocoa powder, baking powder, baking soda, and salt and set aside.
In a medium heat proof bowl, add the butter and chocolate. Melt in the microwave in 30 second intervals until smooth.
In a large mixing bowl, vigorously whisk together the eggs and sugars until pale and smooth (about 2 minutes of whisking).
Whisk in the vanilla, followed by the cooled butter and chocolate.
Once combined, add the dry ingredients and fold to combine using a rubber spatula. 
Cover the bowl with plastic wrap and chill in the refrigerator for 1 hour.
While that chills, line a 8×8 square baking dish with plastic wrap, covering the bottom and all sides of the pan.
Scoop the softened pistachio ice cream on top and spread it even. Place it into the freezer to chill firm.
After the hour, preheat the oven to 350F and line a large baking sheet with parchment paper.
Using a 2 oz cookie scoop, or 1/4 measuring cup, scoop out the dough and roll into a ball. Place 6-5 cookies onto the baking sheet spaced well apart as they spread quite a bit. Return the remaining dough to the refrigerator.
Bake for 10-12 minutes or until the edges are wrinkled and spread and the center is puffed up.
Let the cookies rest on the baking sheet for about 3 minutes, then transfer to a cooling rack and bake the rest of the cookies.
As the last batch cools, remove the pistachio ice cream from the freezer. Lift the ice cream out by the plastic wrap and place on a cutting board. Using a 2.5-3 inch round biscuit cutter, cut out 4-5 rounds of ice cream. With the remaining scraps, push them together to stamp out 1-2 more rounds. Place the rounds onto a plate lined with wax paper and return to the freezer.
After the cookies have COMPLETELY cooled, pair them up and place a round of pistachio ice cream between two cookies. Roll the sandwich cookies on a plate covered in an even layer of the chopped pistachios (optional).
Return the sandwich cookies to the freezer to set and firm up for about 1 hour. Then enjoy!
Notes
ICE CREAM – Use any flavor ice cream you like! Just make sure to use ice cream and not gelato, as gelato is too soft to handle. And if you're dairy free, dairy free ice cream can also be used.
STORAGE – These cookies will keep in the freezer for up to 2 months. Just make sure to wrap them individually in plastic wrap and place into a freezer storage bag. 
Prep Time: 40 minutes
Cook Time: 20 minutes
Keywords: ice cream sandwiches, ice cream sandwich cookies, brownie cookies, pistachio ice cream
Recipe Card powered by