It's going to be difficult to explain in writing how delicious this no-churn churro ice cream is. With no churn cinnamon ice cream, easy baked churros, and swirls of dulce de leche, what's not to like? It's sweet, creamy, and bursting with cinnamon flavor. You don't even have to worry about frying up some fresh churros! Since updating this recipe, I've included the original puff pastry churro recipe as well as an easy baked churros recipe which are both delicious! The only difference is that one is a bit more involved than the other, so you can choose which route you would like to take when making this super easy ice cream.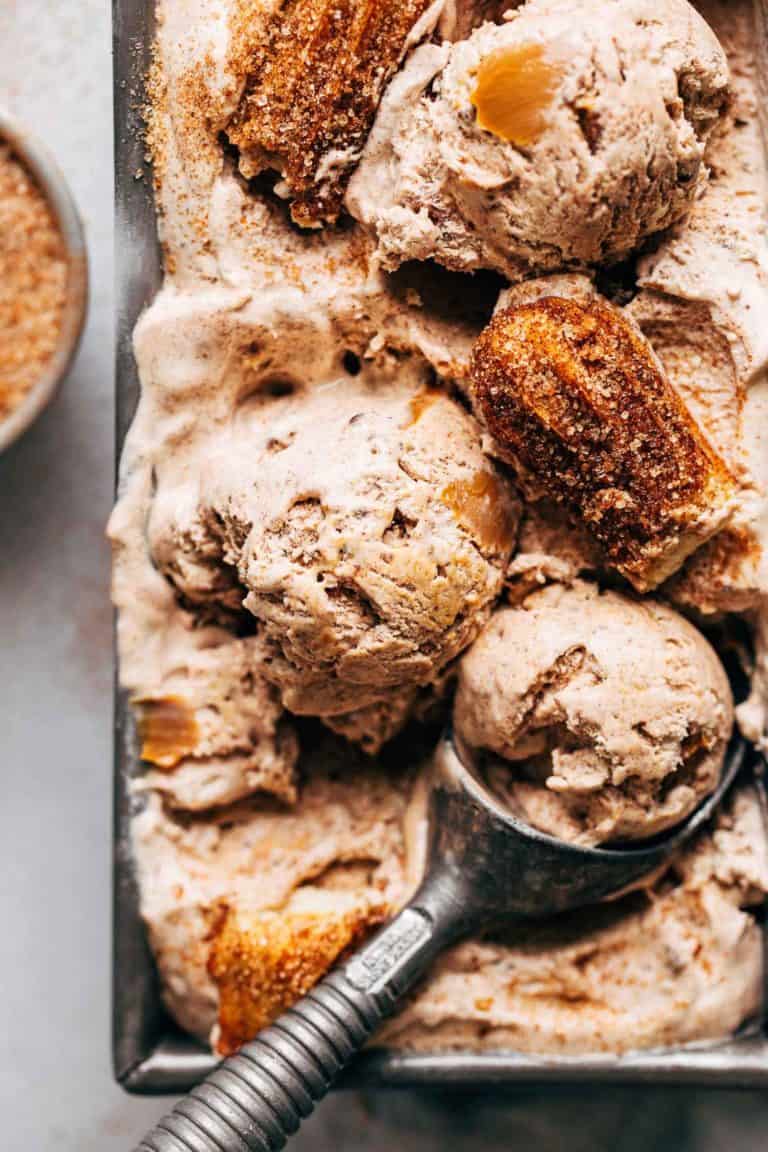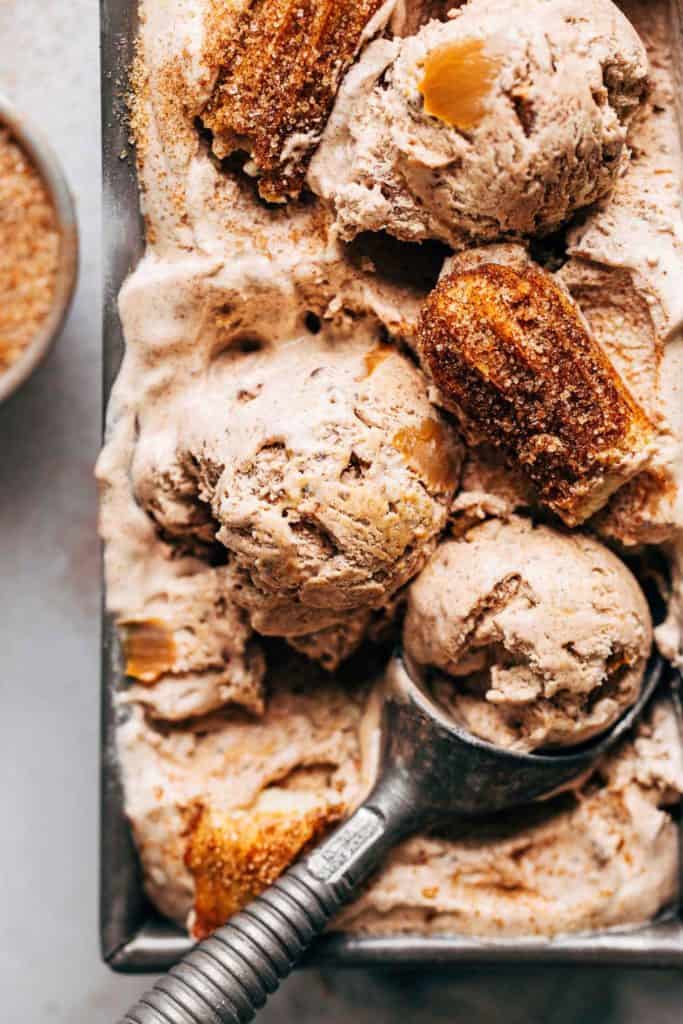 Tips for baking no churn churro ice cream
The base of this recipe is a simple cinnamon no churn ice cream that comes together in minutes! Just mix, pour, and chill overnight. While it's an easy recipe, here are a few things to look out for when making your ice cream:
Whipped Cream – To give this ice cream a light but creamy texture, heavy cream is whipped into soft peaks. Before you start, make sure you work with chilled cream which will help stabilize its structure. Then, whip on high speed just until it starts to thicken and lighten. When you pull the whisk, it should come away with a point at the end. You're looking for a texture that's sturdy but still soft and creamy.
Mixing – When the whipped cream is ready, a mixture of sweetened condensed milk and cinnamon are combined with the cream. This is done by hand as you do not want to over mix and deflate the cream. Pour in half of the cinnamon mixture and gently fold to combine. Once that's almost blended in, pour in the rest and fold the batter fully. Stop right when it comes together.
Chilling – To freeze the ice cream overnight, wrap it in plastic wrap and then foil. This extra layer will prevent the top of forming ice crystals.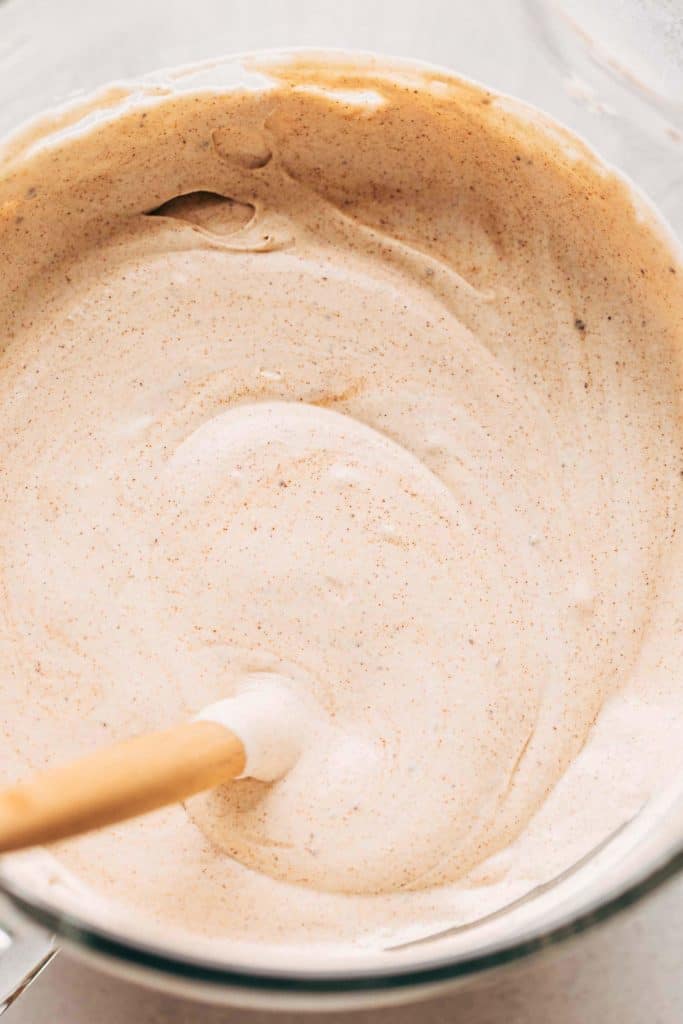 Easy Baked Churros – 2 options
This churro ice cream recipe is one of the first recipes I ever posted on this blog. Since updating it, I've incorporated a new baked churro recipe thats a bit more involved. That's why you're given two baked churro options – the original puff pastry recipe as well as a more traditional baked churro recipe. Both are equally delicious, it all just depends on which route you prefer!
Puff Pastry Churros – This is the original recipe involving strips of pre-made puff pastry that are baked and coated in cinnamon sugar. This is a really great SUPER easy option that will give you a more flaky churro texture throughout the ice cream.
Easy Baked Churros – This is the updated recipe that involves making the churro dough, piping it on to a baking sheet, and baking before coating in cinnamon sugar. It's a more traditional and literal take on a churro that will give you a more chewy churro texture in this ice cream.
How to layer churro ice cream
Now the fun part – after the churros are baked and the ice cream is prepped, it's time to layer up this no churn ice cream.
In a 1 pound loaf pan, you'll be working in three layers. Each layer consists of cinnamon ice cream, churros, and dulce de leche. Within each layer, spread the ice cream even and dollop globs of dulce de leche on top. For the churros, tear them up into tiny pieces, especially if you're using the easy baked churros as they're a bit chewier. If the pieces are too large, it will be difficult to scoop out the ice cream.
For the final layer, top with ice cream and sprinkle on a few more churro pieces. Then just wrap and freeze!
How to serve churro ice cream
After the ice cream has chilled solid (preferably overnight), allow it to thaw for about 30 minutes at room temperature before scooping. This will give you smooth and soft scoops of ice cream that are still chilled enough to hold shape.
How long does no churn ice cream keep?
As long as it's wrapped thoroughly, both with plastic wrap and foil, it will keep for up to 2 months.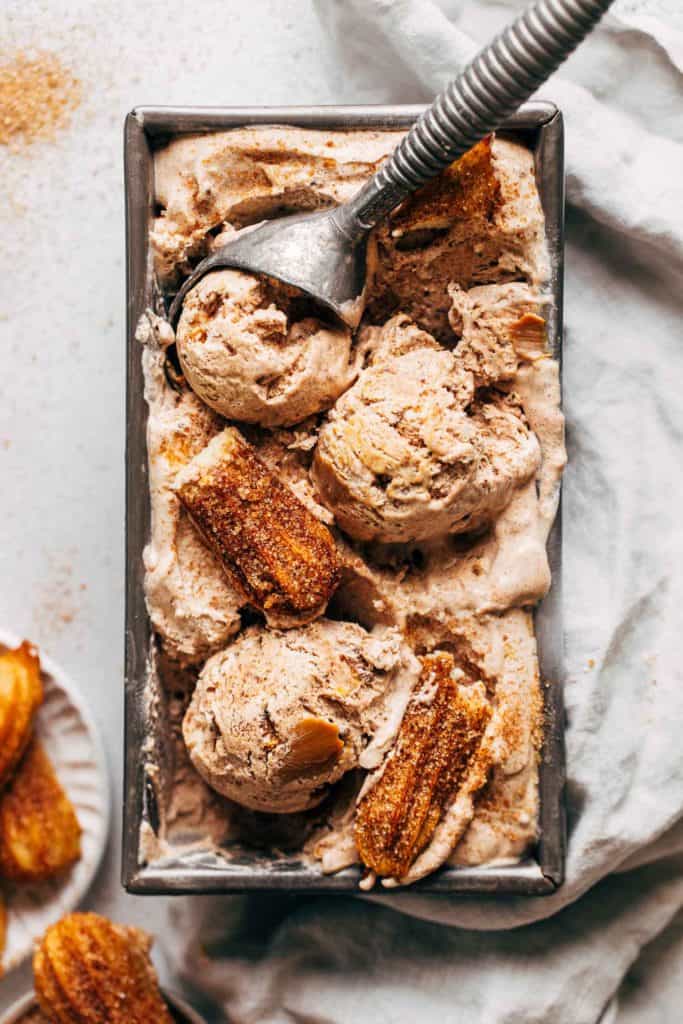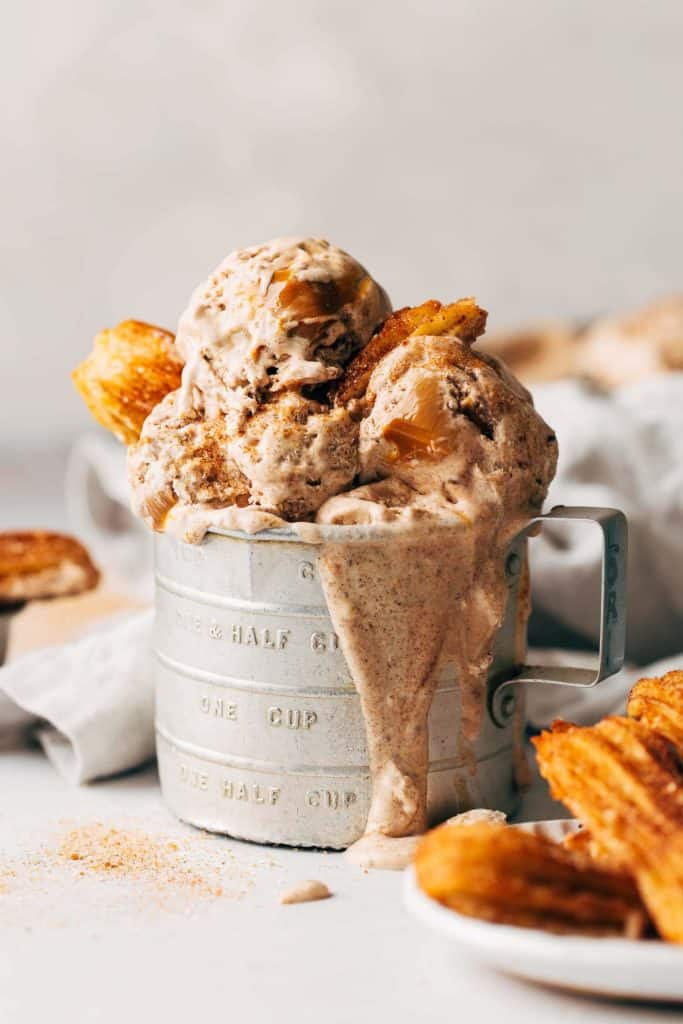 For more ice cream recipes, check out my:
Make sure to tag me @butternutbakery on Instagram and leave a review below if you make this No Churn Churro Ice Cream. To pin this recipe and save it for later, you can use the button on the recipe card, the buttons above or below this post, or on any of the photos above. Happy baking!
Print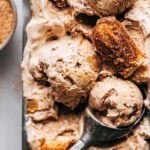 No-Churn Churro Ice Cream
---
Author: Jenna Barnard
Total Time: 30 minutes + Freezing overnight
Yield: 12 servings
Description
Easy no churn churro ice cream with baked churros, dulce de leche, and homemade cinnamon ice cream.
---
Baked Churros (option 1)
1/2 a package of store bought puff pastry
1/4 cup (55g) unsalted butter, melted
1/2 cup (100g) granulated sugar
2 tbsp ground cinnamon
Baked Churros (option 2)
1 cup water
6 tbsp unsalted butter
1 tbsp brown sugar
2 tsp vanilla extract
1/4 tsp salt
1 cup (128g) all purpose flour
3 large eggs, room temp
1/4 cup (55g) unsalted butter, melted
1/2 (100g) cup sugar
1 tbsp ground cinnamon
Cinnamon Ice Cream
1 pint heavy whipping cream, cold
1 14oz can sweetened condensed milk
1 tbsp vanilla extract
3 tbsp cinnamon
1/4 cup dulce de leche
---
Instructions
Baked Churros (option 1)
Thaw the puff pastry following the package instructions and preheat your oven to 450F.
Line a large baking sheet with parchment paper. Once thawed, lightly roll the puff pastry on a floured surface just to smooth the top out. Cut in half length-wise then into about 1/2 inch wide strips. You should end up with about 10-12 strips. Bake for 10-12 minutes or until golden brown.
Once the puff pastry is out of the oven and cooled enough to pick up and handle, melt the butter in the microwave and mix the sugar and cinnamon on a plate. Brush all sides of the pastry with butter and roll in the cinnamon sugar mixture to coat. Place back on the sheet to cool completely.
Baked Churros (option 2)
Preheat the oven to 350F and line a large baking sheet with parchment paper. Then fit a piping bag with a large open star tip and set aside.
Add the water, 6 tbsp of butter, sugar, vanilla, and salt to a saucepan over medium heat. Once melted, quickly whisk in the flour and continue mixing for 2 minutes. It should become very thick.
Remove from heat and let the mixture cool for 10 minutes. Then, using a wooden spoon, mix in the eggs one at a time. It will look a bit gloopy but just keep mixing and it will come together. You know it's ready when you lift the spoon straight out and the dough falls off the spoon in a V. 
Fill the piping bag with the dough and pipe about 18 churros onto the baking sheet.
Bake for 20-25 minutes or until the ridges are barely golden brown. 
Melt the 1/4 cup of butter and brush each churro. Then toss in the cinnamon sugar. 
Cinnamon Ice Cream
While the churros are cooling, start on the ice cream.
Whisk the cold heavy cream on high spped using an electric mixer until you reach soft peaks.
While that's whisking, mix together the sweetened condensed milk, vanilla, and cinnamon in a small bowl. When the whipped cream is ready, pour in half of the sweetened condensed milk and fold it in using a rubber spatula. Once it's almost combined, pour in the rest and fold until it's completely mixed together.
In a 9×5 loaf pan, spread a layer of the ice cream at the bottom of the pan. Crumble two of the churros on top (breaking up into tiny bite-sized pieces) and dollop about 5 teaspoons of dulce de leche. Continue building these layers until you run out of ice cream.
Tightly wrap the pan in plastic wrap and then foil and place it in the freezer to set overnight. Before eating, let it sit out for about 20-30 minutes so it's easy to scoop. Enjoy!
Notes
Churros – Why are there two options? Option 1 is from the original recipe, providing lighter and flakier churros. Option 2 was added when I updated this recipe to add a more tradition chewy churro texture to this ice cream. Either one is delicious! It really just comes down to ease, as the first option is easier and faster than the second option.
Prep Time: 20 minutes
Cook Time: 20 minutes
Keywords: no churn ice cream, churro ice cream
Recipe Card powered by