These deliciously jammy berry crumble bars are the perfect balance of sweet and tart. They have a triple berry filling made up of blackberries, raspberries, and strawberries in a buttery brown sugar crumble sandwich. The flavors are so perfect for berry season and they're so easy to make!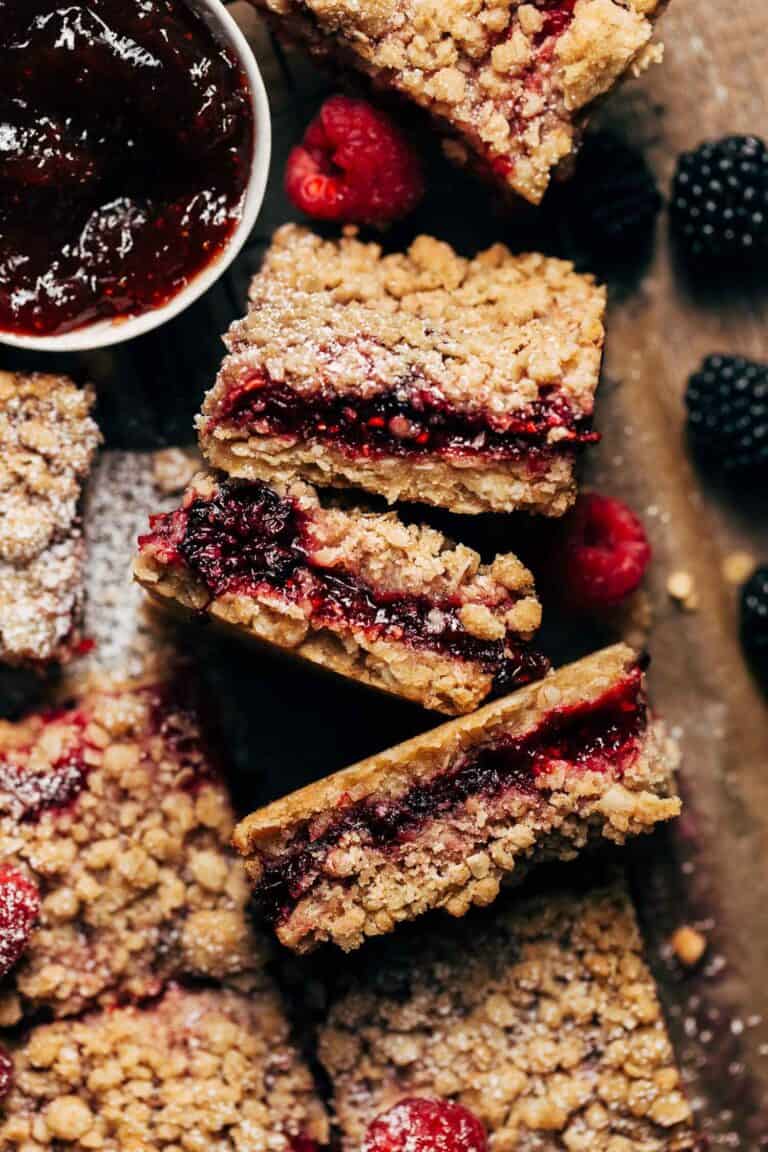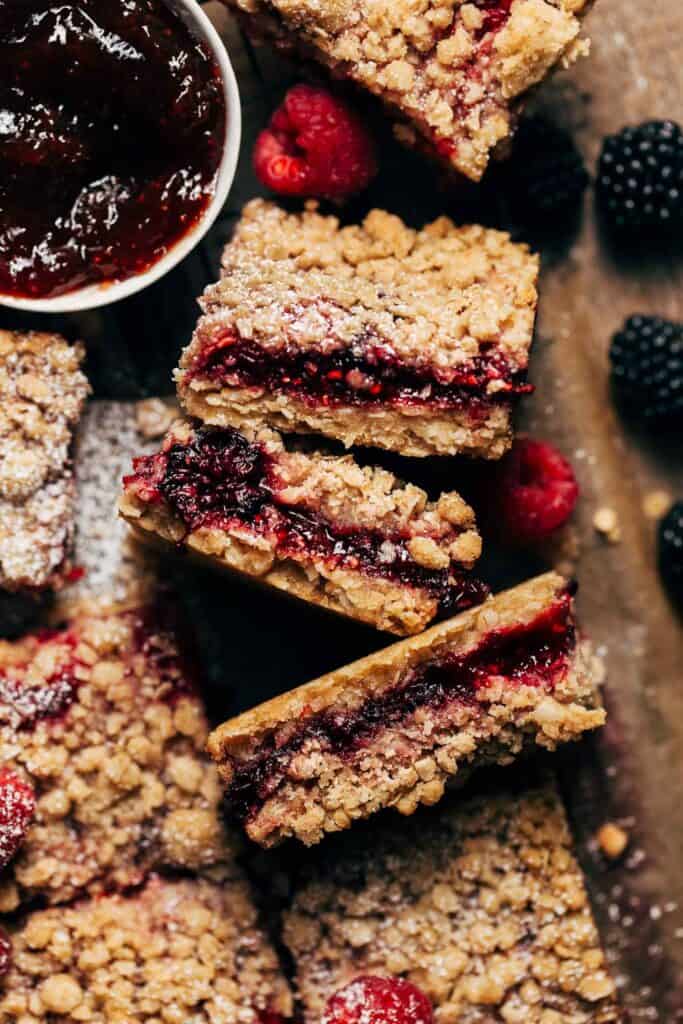 Perfect berry crumble bars
I'm usually not one to go for fruity desserts, but this recipe is definitely the exception! The sweet and tart berries alongside the buttery brown sugar crumble is irresistible. Not to mention, they're also SO quick and easy to make!
To start, the base and crumble topping are the same exact dough. This brown sugar crumble is mixed together and 2/3 is pressed into the bottom of the baking pan while the rest is crumbled on top. The flavors are buttery and sweet with that hint of molasses.
As for the triple berry filling, it comes together super quick by mashing together fresh raspberries and blackberries with a bit of brown sugar (just to cut through that tartness).
Once mashed, it's mixed with cornstarch (to help thicken), lemon zest and juice (to bright up the flavors), vanilla, and (our third berry) strawberry preserves.
The preserves add another layer of sweetness while also acting as another thickening agent. The berry filling with look very thick, but it will thicken once baked!
And to make sure there's a fresh berry in every bite, the filling is topped with a handful of extra fresh berries before adding the crumble on top.
Once baked, the crust remains perfectly tender and the filling turns into this thick and jammy consistency that makes each bite so delightful.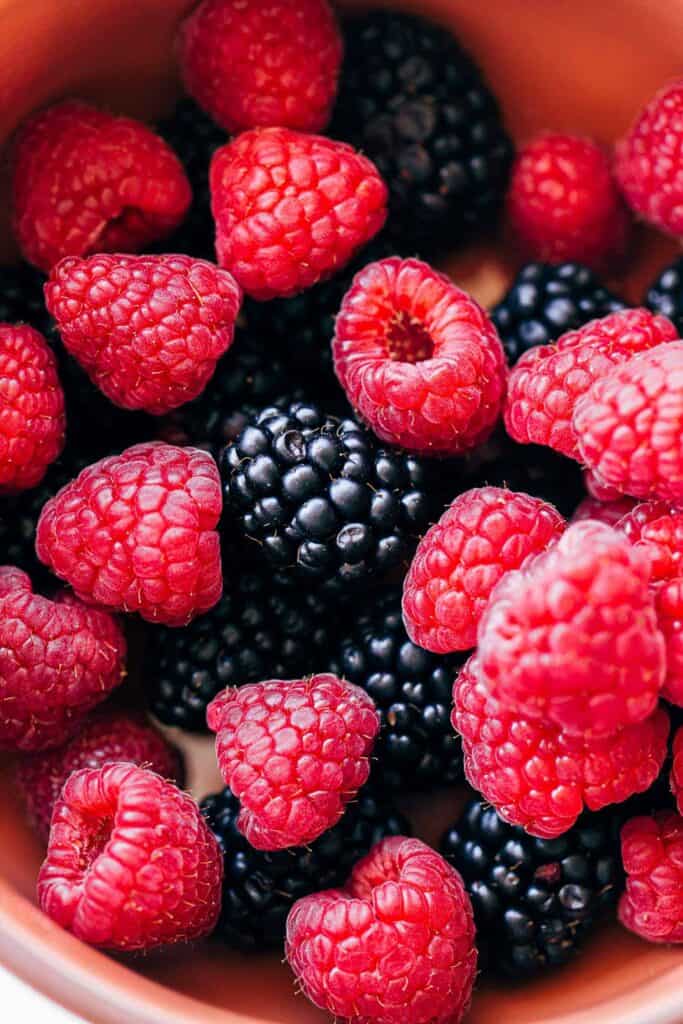 Tips for baking crumble bars
This is a very quick and easy recipe, but here are a few tips to ensure these turn out just right:
Flour – I say this in every post, and for good reason. It's the number one reason why most recipes fail. If there's too much flour, the crumble will turn out tough and dry. If possible, measure the flour with a food scale. Otherwise, to ensure the exact amount, gently spoon the flour into the measuring cup and level it off with a flat edge. If scooped directly into the flour container, the flour becomes packed down into the cup which could leave you with 1/4 cup or more of added flour.
Butter – When mixing in the melted butter, make sure it's not piping hot. This could cause the sugar to dissolve which can lead to a different crumble texture.
Mixing – Thoroughly mix together the crumble to ensure everything is evenly moistened.
Mashing – When mashing the berries, make sure each berry gets at least one good mash with a fork. The mixture doesn't have to be a puree, but it does have to be well mashed.
Crumble – Ensure the crumble covers every single square inch of that surface. This allows for the most even bake and the most delicious bars!
Done – The bars are done when the surface looks slightly darker (it won't be golden), and the edges are just barely bubbling.
Cool – Allow the bars to cool before slicing, otherwise there's a good chance they'll fall apart.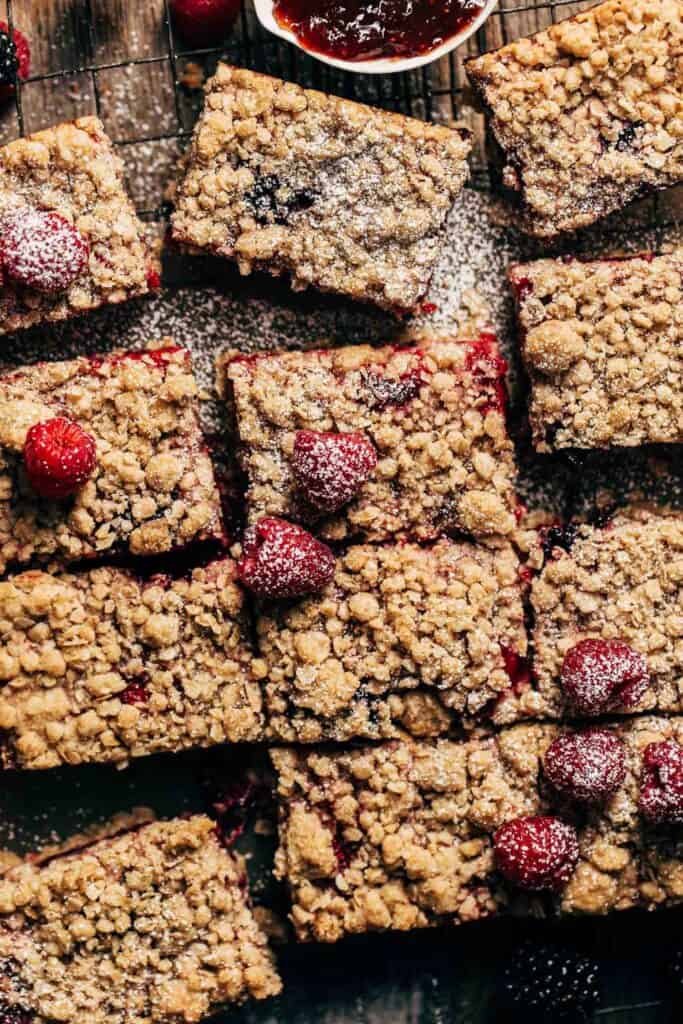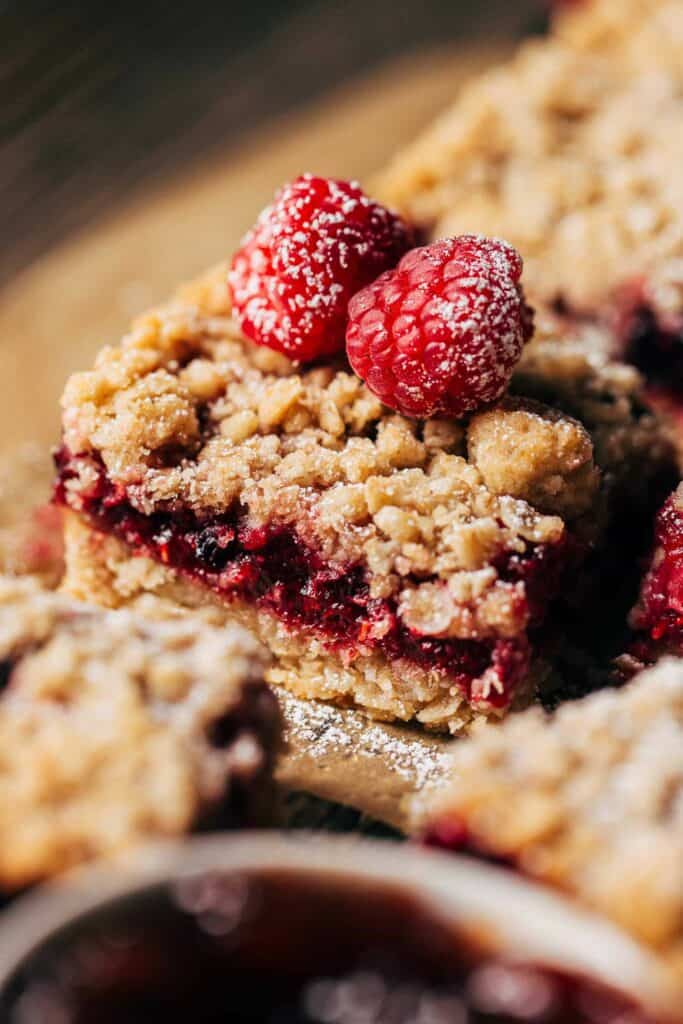 Berry Crumble Bars FAQs
Can I use frozen berries?
Yes, just make sure to thaw them in a colander to drain any excess water. Then use as instructed.
Can I use different berries?
For the fresh fruit, I suggest sticking with raspberries and blackberries as these release a similar amount of juices. With that being said, you can choose to use all raspberries or all blackberries. For the preserves, use any flavor you like!
Can I use old fashioned oats instead of quick oats?
Unfortunately not, as old fashioned oats absorb liquid at a different capacity than quick oats.
Can this recipe be made vegan/dairy free?
Absolutely! Just swap the butter with plant-based butter and you're good to go.
Can this recipe be made gluten free?
I haven't tested it, but I think this recipe could work well with a cup for cup gluten free baking flour. Also make sure to use certified gluten free oats.
Can I use strawberry jam instead of preserves?
You can, but preserves are preferred for their texture and sweetness.
How do you store crumble bars?
Once the bars have baked and cooled, slice and store in a container in the refrigerator. They'll keep for about 5 days.
Can this recipe be doubled for a 9×13 dish?
I think that could work! I suggest increasing the bake time by about 5-10 minutes.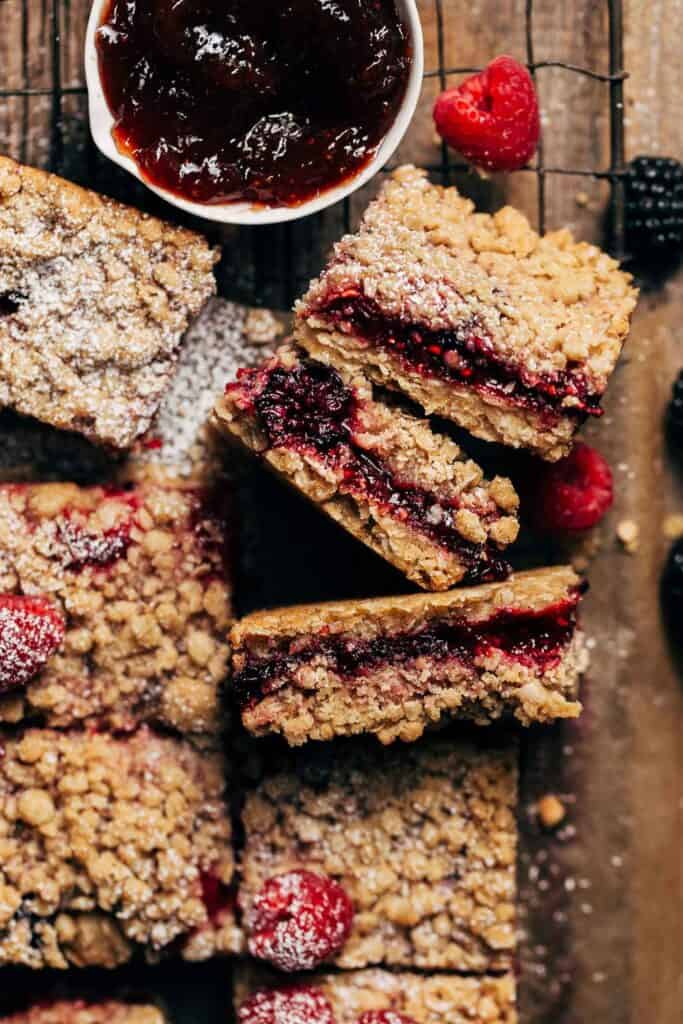 For more berry dessert recipes, check out my:
Make sure to tag me @butternutbakery on Instagram and leave a review below if you make these berry crumble bars. To pin this recipe and save it for later, you can use the button on the recipe card, the buttons above or below this post, or on any of the photos above. Happy baking!
Print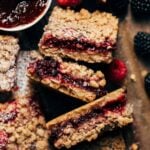 Brown Sugar Berry Crumble Bars
---
Description
These berry crumble bars have the most delicious and jammy triple berry filling with a sweet and buttery brown sugar crumble! They're so quick and easy to make and are the perfect way to celebrate berry season. 
---
Brown Sugar Crumble
1 1/2 cups (195g) all purpose flour
1 1/4 cups (125g) quick oats
3/4 cup (150g) light brown sugar, packed
1/2 tsp baking powder
1/2 tsp kosher salt
3/4 cup unsalted butter, melted (regular or plant-based)
Triple Berry Filling
1 cup fresh blackberries*, divided (3/4 cup, 115g / 1/4 cup, 35g)
1 cup fresh raspberries*, divided (3/4 cup, 105g / 1/4 cup, 28g)
2 tbsp light brown sugar, packed
2 tbsp cornstarch
2 tsp lemon zest (about 1 lemon)
2 tbsp lemon juice (about 1 lemon)
1 tsp vanilla extract
1/3 cup (110g) strawberry preserves
---
Instructions
Brown Sugar Crumble
Preheat the oven to 350F and grease an 8×8 baking pan. Line all sides with parchment paper and set aside.
In a medium bowl, mix together the flour, oats, brown sugar, baking powder, and salt.
Pour in the melted butter and mix to combine. It should turn very crumbly but not too dry. 
Press about 2/3 of the mix into the bottom of the baking pan.
Tightly pack the crust and bake for 10 minutes. Place the remaining crumble in the refrigerator. 
Triple Berry Filling
While the crust bakes, make the filling.
In a bowl, add 3/4 cup raspberries, 3/4 cup blackberries, and brown sugar. Give the berries a rough mash, making sure to mash each berry at least once with a fork. 
Then mix in the cornstarch, zest, lemon juice, vanilla, and preserves.
Pour the filling over the prebaked crust and scatter the remaining berries on top.
Top with the rest of the crumble and bake for 30-35 minutes. The surface should look slightly darker and the edges will be a tiny bit bubbly. 
Allow the bars to cool at room temperature for about 90 minutes or in the refrigerator for about half that time. 
Then lift out of the pan, slice, and enjoy! 
Equipment
Notes
*FROZEN BERRIES – Frozen berries can be used for this recipe. Thaw the berries in a colander to drain any excess liquid. Then continue with the recipe as instructed.
Prep Time: 30 minutes
Cooling Time: 1 hour
Cook Time: 30 minutes
Category: Dessert
Method: Baking
Cuisine: American
Keywords: berry crumble bars, fruit crumble bars, raspberry crumble bars, blackberry crumble bars, crumble bar recipe, berry crumble bar recipe, brown sugar crumble bars
Recipe Card powered by