These chocolate zucchini muffins are extra moist with a rich chocolate flavor. The batter is mixed with double the chocolate, using both cocoa powder and chocolate chips, so you never even taste the zucchini. Made with natural ingredients, these chocolate zucchini muffins are also vegan, gluten free, and refined sugar free making them a delicious guilt-free treat!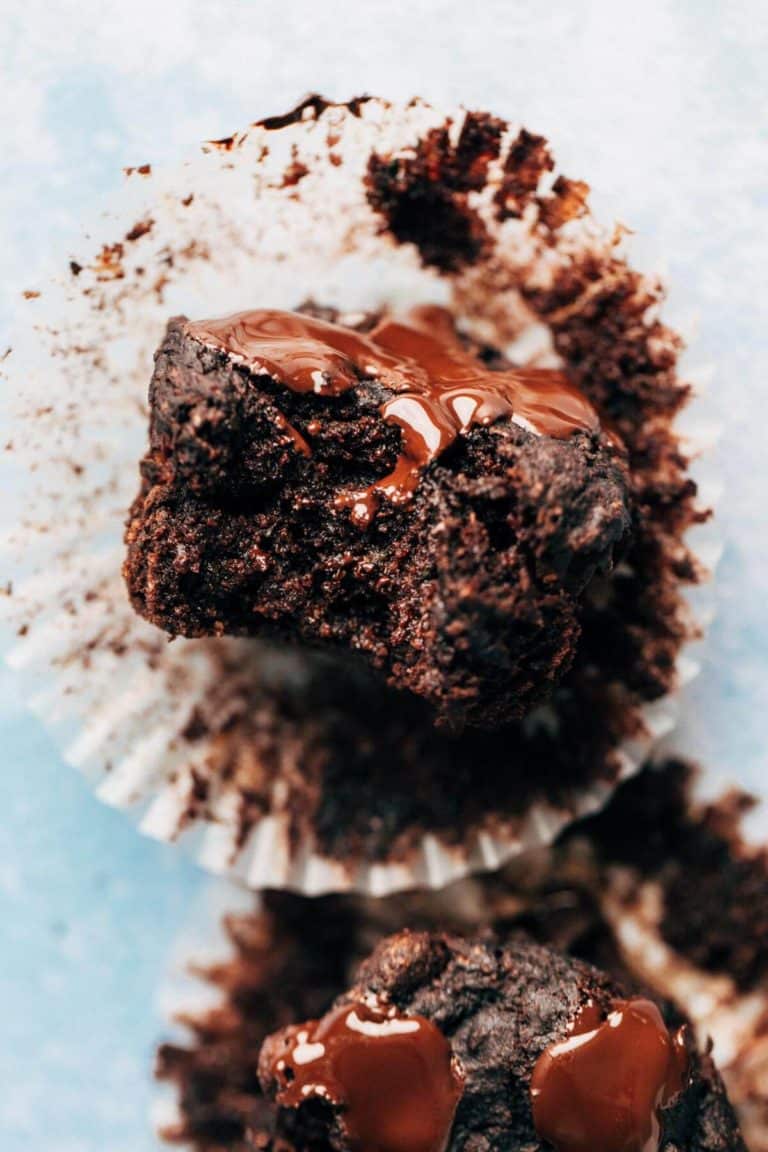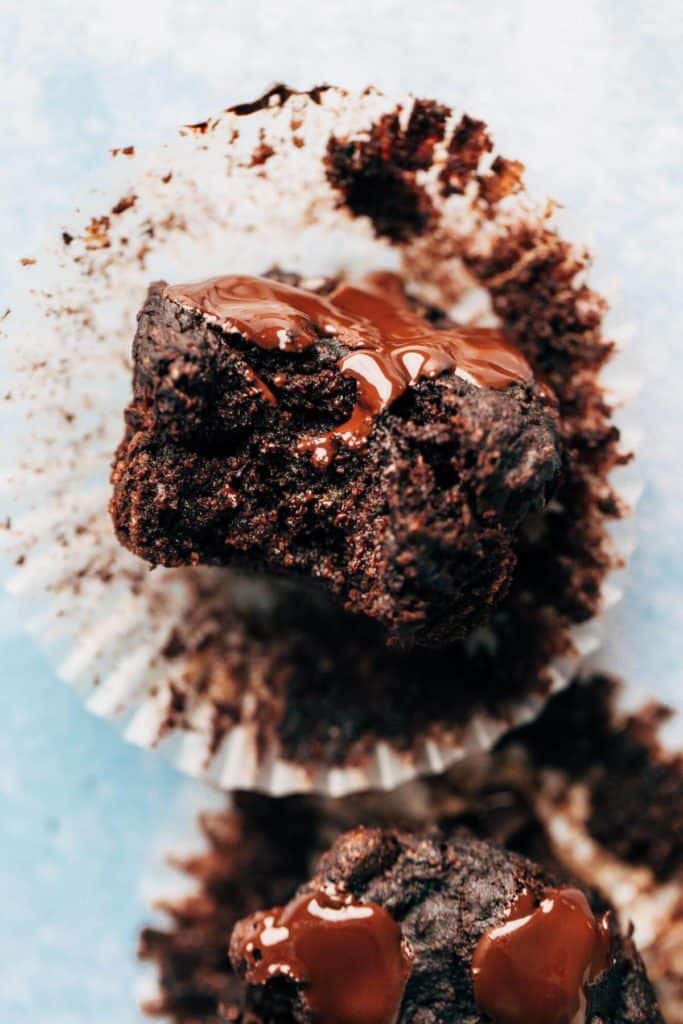 How to make chocolate zucchini muffins
What I love about this recipe is how quick it is to whip up. The batter is mixed by hand all in one bowl, making this a really easy but delicious muffin recipe. And although it may be easy, here are a few things to keep in mind to ensure your chocolate zucchini muffins turn out just right:
Zucchini – Make sure you grate the zucchini using the fine holes on a box grater. This allows the zucchini to blend seamlessly into the batter, going completely unnoticed in these muffins.
Milk – Use unsweetened almond milk as this will give you the best outcome. You can also use cashew or soy milk, but try staying away from oat or coconut milk as these tend to contain more water which can make the muffins too mushy.
Chocolate – For bold flavor, use dark cocoa powder. Regular unsweetened cocoa powder is also OK to use, but I prefer Hershey's Special Dark for this recipe.
Flour – If you can, weigh out the dry ingredients to ensure accuracy. Otherwise, spoon the flour into your measuring cup and level it off with a flat edge. Don't shake or pack it down and do not scoop directly into the bag. This will leave you with additional flour that gets compacted down into your measuring cup.
Now that you understand the ingredients, it's time to bring them all together. To put it simply, this batter consists of two parts: wet ingredients and dry ingredients.
The wet ingredients are whisked together in the main mixing bowl and this consists of almond milk, maple syrup, coconut oil, vanilla, flax egg, and the zucchini. Once combined, all of the dry ingredients are added which is the almond flour, gluten free flour, cocoa powder, baking soda, baking powder, and salt. Lastly, mix in the chocolate chips and the batter is ready to bake!
What makes these healthy chocolate zucchini muffins?
Don't be fooled by the word "healthy" with these muffins. They are just as indulgent as chocolate cupcake, minus the processed ingredients. Here's what makes these chocolate zucchini muffins a healthier option:
Zucchini – This is a no brainer, but the majority of this batter is made up of zucchini. It's the perfect vessel as it has a very mild flavor but provides SO much delicious moisture to these muffins. Plus, who doesn't love sneaking vegetables into their food? Especially when they can go completely undetected.
Almond Flour – This is another whole ingredients that helps thicken the batter alongside the gluten free flour. Comprised of just almonds, this is a healthy and gluten free alternative to regular flour.
Flaxseed – Instead of eggs, a flax egg is used to hold these muffins together. Flax acts as an emulsifier just like an egg yolk would (emulsify means to bring together the water and oil ingredients). Flaxseed is also a powerhouse ingredient and is great for cognitive health. I add a bit to my oatmeal every morning to help me stay focused throughout the day.
Pure Maple Syrup – Make sure you use PURE maple syrup, not pancake syrup which is basically corn syrup disguised as maple syrup. Pure maple syrup is a great alternative to processed sugar as it has a lower glycemic index, meaning it won't spike your blood sugar through the roof like regular sugar will. And paired with high fiber ingredients like zucchini, almond flour, and flaxseed, these slow any rush you may get from the sugar in maple syrup.
Tips for baking healthy muffins
When baking these muffins, the liners must be properly prepared before distributing the batter. Because the cupcakes are so moist, they tend to stick to the liners. So if you can, use high quality pure parchment paper liners (these are different than your typical cupcake liners). If you don't have those on hand, give your liners a light spritz of nonstick spray before pouring in the batter. I like using coconut oil spray as this is a healthier alternative than vegetable or canola oil spray.
Once coated, fill each liner all the way to the top. Because of how rich and thick these muffins are, you don't have to worry about the batter spilling over the sides when baked. And because the liners are filled so high, one batch gives you 10 muffins. You prefer a full 12, just fill each liner a bit less.
When baking, make sure you bake for the full 24 minutes first. If the centers haven't puffed up completely or if a toothpick comes out coated in chocolate batter, continue baking for the addition 3 minutes. It's tough to over bake these muffins because of how rich they are, so it's best to over than under do it.
When they're warm, the muffins are very tender and difficult to handle so allow them to cool inside the pan for about 30 minutes before transferring to a cooling rack. Then, allow the muffins to further cool until they're at room temperature. They're best served this way or chilled.
Substitutions you can and cannot make
If you don't have certain ingredients on hand or need to make swaps due to dietary reasons, here's what I would recommend:
Almond flour – Swap with oat flour for a nut-free option.
Flax Egg – I have not tested this, but if you don't need to make these muffins the vegan way you can try swapping with one large egg.
Coconut Oil – Sub with any mild flavored oil, like avocado. You can even try olive oil but prepare to taste a faint hint of it in the end result.
Almond Milk – As mentioned earlier, you can swap with cashew or soy milk. Try not to use oat or coconut milk as these make the cupcakes a bit too mushy.
Maple Syrup – I haven't tested this, but you can try swapping with coconut sugar or regular sugar if you don't prefer a refined sugar free option.
If you don't see your substitution here, it's likely that it will not work for this recipe.
How to store healthy chocolate zucchini muffins
Keep these cupcakes in an air tight container. I like to keep mine at room temperature for up to 3 days. Any longer than that and they must be stored in the refrigerator where they can keep for up to 1 week.
For more healthy dessert recipes, check out my:
Make sure to tag me @butternutbakery on Instagram and leave a review below if you make these Chocolate Zucchini Muffins. To pin this recipe and save it for later, you can use the button on the recipe card, the buttons above or below this post, or on any of the photos above. Happy baking!
Print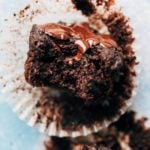 Chocolate Zucchini Muffins
---
Author: Jenna Barnard
Total Time: 50 minutes + 1 hour cooling
Yield: 10 muffins
Description
These chocolate zucchini muffins are extra moist and mixed with DOUBLE the chocolate. They're also vegan, gluten free, and refined sugar free.
---
1 1/2 cups (245g) finely grated zucchini (about 1 1/2 medium zucchini)
1 tbsp ground flaxseed
1/2 cup (50g) almond flour*
1 cup (128g) gluten free baking flour*
1/3 cup (30g) unsweetened cocoa powder (I use Hershey's Special Dark)
1 tsp baking soda
3/4 tsp baking powder
1/4 tsp salt
1/2 cup (120ml) almond milk*
1/2 cup (120ml) pure maple syrup
2 tbsp melted coconut oil
1 tsp vanilla extract
1/2 cup (80g) dark chocolate chips* + more for sprinkling on top
---
Instructions
Preheat the oven to 350F and line a cupcake tin with 10 paper liners.
Grate the zucchini using the small holes on a box grater. Set aside.
In a small dish, mix together the ground flaxseed with 2 tablespoons of water to make a flax egg. Set aside to thicken and gel.
In a medium bowl, whisk together the almond flour, gluten free flour, cocoa powder, baking soda, baking powder, and salt.
In a large mixing bowl, whisk together the zucchini, milk, maple syrup, coconut oil, vanilla, and flax egg.
Pour in the dry ingredients and whisk to combine. Then mix in the chocolate chips.
Spray your muffin liners with nonstick spray, otherwise the muffins will stick to the paper. Distribute the batter evenly between the 10 cups, filling each all the way to the top.
Top with a few extra chocolate chips and bake for 24-27 minutes, or until they are completely puffed and a toothpick in the center comes out with a few moist crumbs.
Allow the cupcakes to cool in the pan for 30 minutes, then transfer to a cooling rack to cool completely.
Enjoy at room temperature and store the rest in the refrigerator in an air tight container.
Notes
ALMOND FLOUR – For a nut-free option, oat flour is a great substitution for almond flour.
GLUTEN FREE FLOUR – Make sure you use an almond flour that has xanthan gum in the mix. Also spoon the flour into a measuring cup and level it off with a flat edge, or weigh it out. Too much flour makes these muffins dry.
ALMOND MILK – You can also use cashew or soy milk. I would stay away from coconut or oat milk as these make the muffins a bit TOO moist.
CHOCOLATE CHIPS – Use vegan chocolate chips if needed. I like Trader Joe's dark chocolate chips as they are dairy free. Enjoy Life chocolate chips is another good option. For a completely sugar free option, use Trader Joe's or Ghirardelli 100% cacao chips. For a sweeter option, use Lily's Sweets dark chocolate chips as these are naturally sweetened with stevia.
Prep Time: 20 minutes
Cook Time: 30 minutes
Keywords: chocolate zucchini muffins, healthy muffins, vegan muffins, chocolate muffins, healthy chocolate zucchini muffins
Recipe Card powered by