Fueled by my distain for deep frying at home, I bring you this jelly donut reimagined as a MUFFIN! These jelly donut muffins are made with a moist nutmeg batter. Once baked, the muffins are tossed in powdered sugar and injected with raspberry jam. They're so fun to split open and even more of a delight to eat!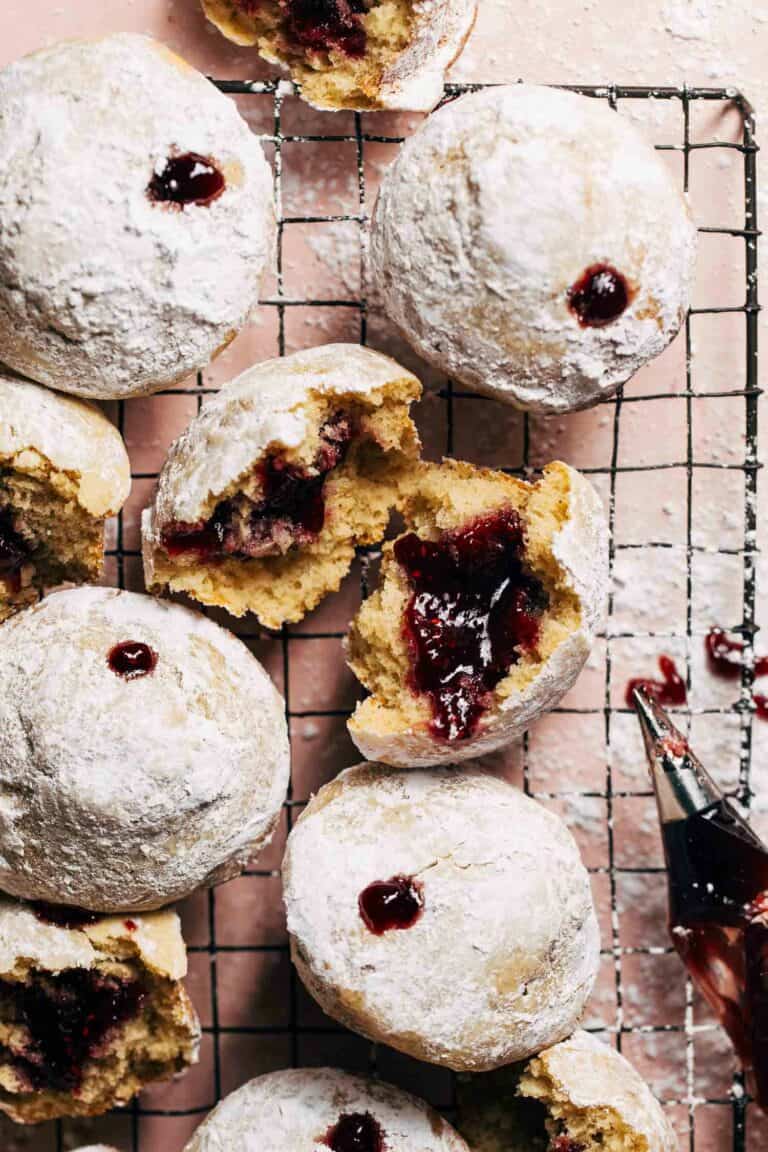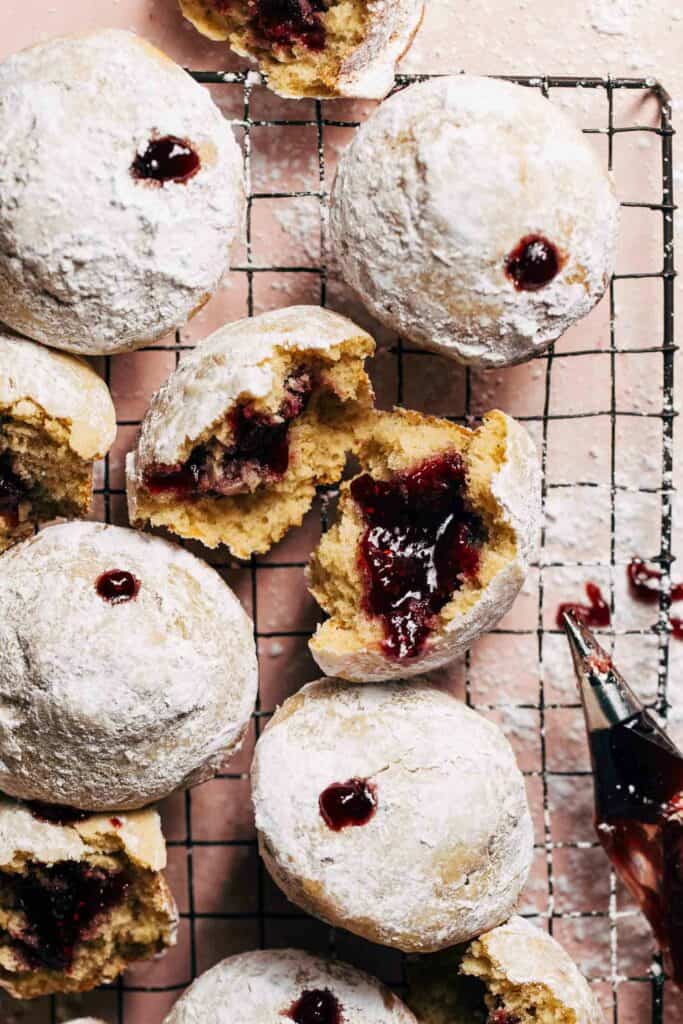 How to bake tall muffin donuts
My biggest dilemma with muffins is that they should most definitely have a tall muffin top, but to get there the muffin usually turns out a bit heavy and dry or at least too dry for my liking.
I discovered a very simple trick while testing my chocolate chip muffins which allows me to have the best of both worlds! AKA tall AND moist muffins.
So what's this secret? Right after the batter is mixed, it rests for 1 hour at room temperature before it's baked. During this hour, magic happens. By resting the batter, we're allowing the leaveners to fully do their thing. It's like giving the batter a head start, allowing it to lift before it rises once more in the heat of the oven.
After the hour, another important step awaits. In order to get the batter into the muffin liners, you must be very gentle as you scoop. We don't want to disrupt all the hard work the leaveners did while resting. So as you scoop, just make one smooth motion through the batter in order to fill the scooper. Then plop it into the liner and move on to the next. Don't mix around the batter, don't make a double pass, just scoop and plop.
This will become instinctual after you notice just how fluffy the batter has become. You can SEE how light it is, so it's easy to not want to deflate it.
Transforming muffins into donut muffins
Honestly, these muffins are delicious on their own. They're fluffy, moist, tall, and have a hint of nutmeg for that classic donut flavor.
BUT we aren't done yet! Once the muffins are baked, they cool for just 5 minutes in the pan. Then carefully release and transfer each muffin to a cooling rack. Then the donut transformation begins:
Filling – Regular donuts have a very light and air center which makes then the perfect vessel for a jelly filling. Muffins, on the other hand, contain a bit more volume in the center. So to create a cavity for our filling, each muffin is poked with a chopstick. Once inside, swirl the chopstick around to create a hollow center.
Coating – Just like a jelly filled donut, these muffins are coated in powdered sugar. The sugar easily sticks while they're still warm so don't wait to do this step!
Inject – The muffins are hollowed out and coated, so now it's time to inject. This can be done with a proper injection nozzle or with a narrow piping tip with an opening large enough for the jelly to go through (I used a piping tip that's actually meant for making little leaf decorations). Push the nozzle into the hole and squeeze until the jam starts to push its way out.
Jelly Donut Muffins FAQs
Can these donut muffins be filled with a different jam?
Yes! Use any jam you like, just as long as it's thick and not too chunky.
Can these donut muffins be made gluten free?
Sure! Just swap the all purpose flour with a cup for cup gluten free baking flour. Weigh it with a kitchen scale for an accurate swap.
Can I use olive oil instead of vegetable oil?
Vegetable oil is used for its very mild flavor. If you choose to use olive oil or avocado oil, just know that some of that flavor might come through in the end.
How can I inject the muffins if I don't have a piping tip?
If you don't have a piping tip, snip off the tip of a piping bag and push it into the muffin as far as you can.
Do I have to rest the batter for an hour?
You definitely don't HAVE to, but it does produce the best muffins. If you're in a rush, it can be skipped.
How do you store jelly donut muffins?
Keep them in an air tight container at room temperature for a couple days, or in the refrigerator for up to 5 days.
How long do donut muffins keep?
These muffins are definitely best served fresh, but they are still delicious the next day. Any longer, and I suggest popping them in the microwave for about 15 seconds to revive that soft texture.
For more muffin recipes, check out my:
Make sure to tag me @butternutbakery on Instagram if you make these jelly filled donut muffins. I love seeing my recipes come to life in YOUR kitchen! To pin this recipe and save it for later, you can use the button on the recipe card, the buttons above or below this post, or on any of the photos above. Happy baking!
Print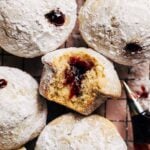 Jelly Donut Muffins
---
Author: Jenna Barnard
Total Time: 1 hour 45 minutes
Yield: 10 muffins
Description
Skip the deep frying at home and make these jelly donut MUFFINS! Soft and moist muffins are baked with a hint of nutmeg and tossed in powdered sugar. Each one is injected with raspberry jam to recreate the filling of a delicious jelly filled donut.
---
Jelly Donut Muffins
2 1/2 cups (320g) all-purpose flour or gluten free baking flour
1 cup (200g) granulated sugar
1 tsp ground nutmeg
2 1/2 tsp baking powder
1/2 tsp baking soda
1/2 tsp kosher salt
1/4 cup (57g) unsalted butter, melted (use Irish or European-style for the best flavor)
1/4 cup (56g) vegetable oil
2 large eggs
1/4 cup (65g) full fat sour cream
2 tsp vanilla extract
1 cup (255ml) buttermilk*
2 cups powdered sugar (for coating)
1 1/2 cups raspberry jam
---
Instructions
Jelly Donut Muffins
In a large mixing bowl, whisk together the flour, sugar, nutmeg, baking powder, baking soda, and salt.
In a medium bowl, whisk together the melted butter, oil, eggs, sour cream, and vanilla.
Once smooth, whisk in the buttermilk.
Pour the wet ingredients into the bowl of dry ingredients and mix to combine.
Cover the bowl with plastic wrap and let the bowl sit at room temp for 1 hour. This will fluff up the batter which helps produce really tall muffins.
Close to that hour mark, preheat the oven to 425F and butter the insides and top rims of a muffin pan to make 10 muffins.
Using a large scoop (I use an ice cream scoop) gently scoop out heaping portions of the batter and distribute between the 10 cavities. When scooping, be careful not to disrupt all that fluffy texture that we built up over the hour.
Once all 10 are filled to the brim, bake for 8 minutes. Then turn the oven temperature down to 350F and bake for another 6-8 minutes. (No need to wait for the temp to drop, just change the temperature to 350F and set the timer for 6-8 minutes).
Allow the muffins to cool in the pan for about 5 minutes, then very carefully release them from the pan and place onto a cooling rack.
Using a skewer or chopstick (or something of similar shape and size), poke a hole in the muffin top and gently wiggle and whirl the stick around to create a cavity on the inside of each muffin.
Once all the muffins are hollowed out, fill a bowl with 2 cups of powdered sugar. Then individually toss the warm muffins in the sugar, coating the entire outside.
Fit a piping bag with a narrow tip that's wide enough to push the jam through. Fill the bag with the jam and inject each muffin. You can tell they're filled when the jam starts to push itself out of the hole.
Once all the muffins are filled, split one open and enjoy! Just like a donut, they're best served fresh.
Notes
*BUTTERMILK – To make your own, measure 1 cup of whole milk and then remove 1 tablespoon. Replace it with 1 tablespoon of vinegar and mix to combine. Let it sit and curdle for about 5 minutes before use.
Prep Time: 1 hour 30 minutes
Cook Time: 15 minutes
Category: Dessert
Method: Baking
Cuisine: American
Keywords: donut muffins, donut muffin, jelly filled donut, jelly filled donut muffin, jelly donut muffin, raspberry muffin
Recipe Card powered by