This classic, foolproof recipe for Basque Burnt Cheesecake is a delicious, crustless Basque baked cheesecake recipe I just know you're going to love! With a caramelised crust and super creamy center this is honestly the easiest cheesecake recipe you'll ever make!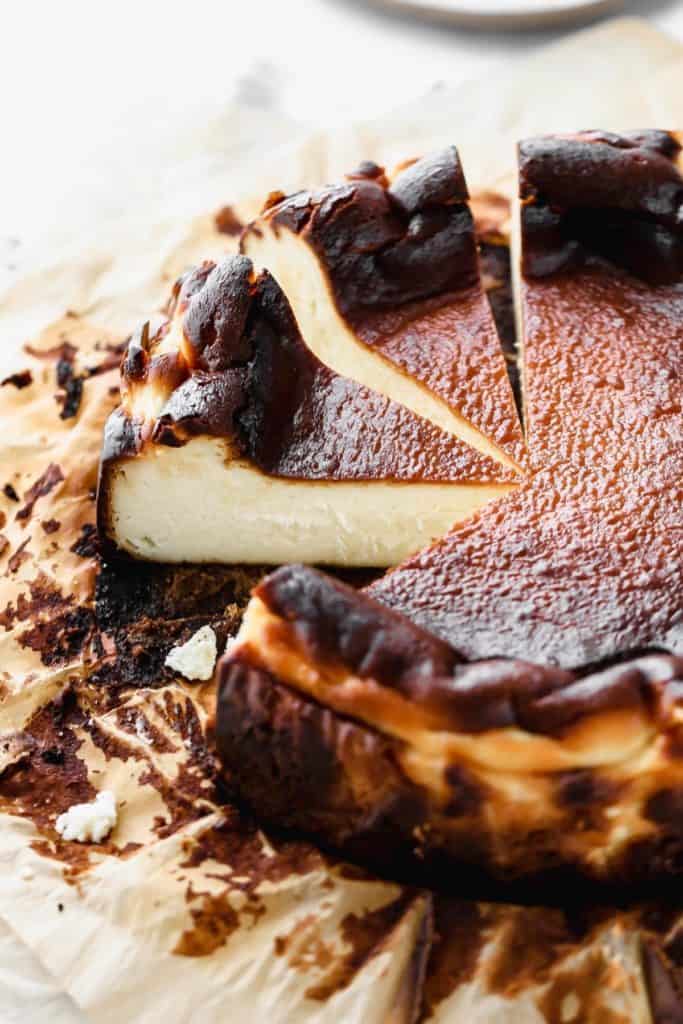 What is a basque cheesecake?
I'm going to explain this right up front so you don't think this Burnt Basque Cheesecake is an April fools joke. Yes this is for real, an intentionally burnt cheesecake.
This burnt basque cheesecake originates in Basque Country (hence the name). It's a crustless cheesecake that's starting to become a trend in the US. It's main difference from a New York Style Cheesecake is that it is crustless, and has a golden, beautiful caramelized exterior. It also has a much lighter texture and flavor.
The cheesecake is baked at a high temperature in order to get that burnt exterior and super creamy interior. It's more traditional to have a custard-like center but I tweaked this recipe for a more solid texture.
This reason why it's so good is the same reason why creme brûlée is. The bitterness of the burnt exterior mixed with the sweet and creamy interior help to balance each other out. Kind of like salty and sweet desserts!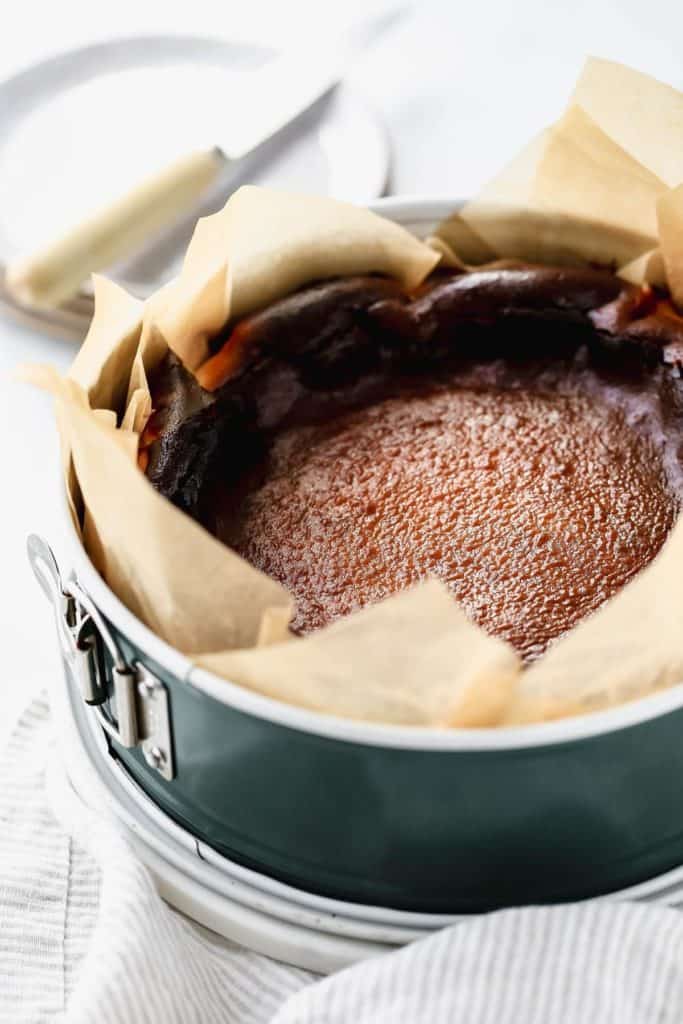 Prepping your pan for burnt cheesecake
Everything about this cheesecake recipe is unique, starting with how you prep the pan.
For starters, there's no crust so we don't have to pre-bake or prepare for that first step.
Instead, you coat the entire pan with butter. Then, press in one layer of parchment paper so the sides stick up. Smear on another layer of butter and press in one more layer of parchment paper.
You want to make sure the paper reaches about 2 inches above the pan as this cheesecake puffs up quite a bit as it bakes.
Also fold in the wrinkles to get the edges as smooth as possible. It doesn't have to be perfect. The more "rustic" style looks good on this cheesecake!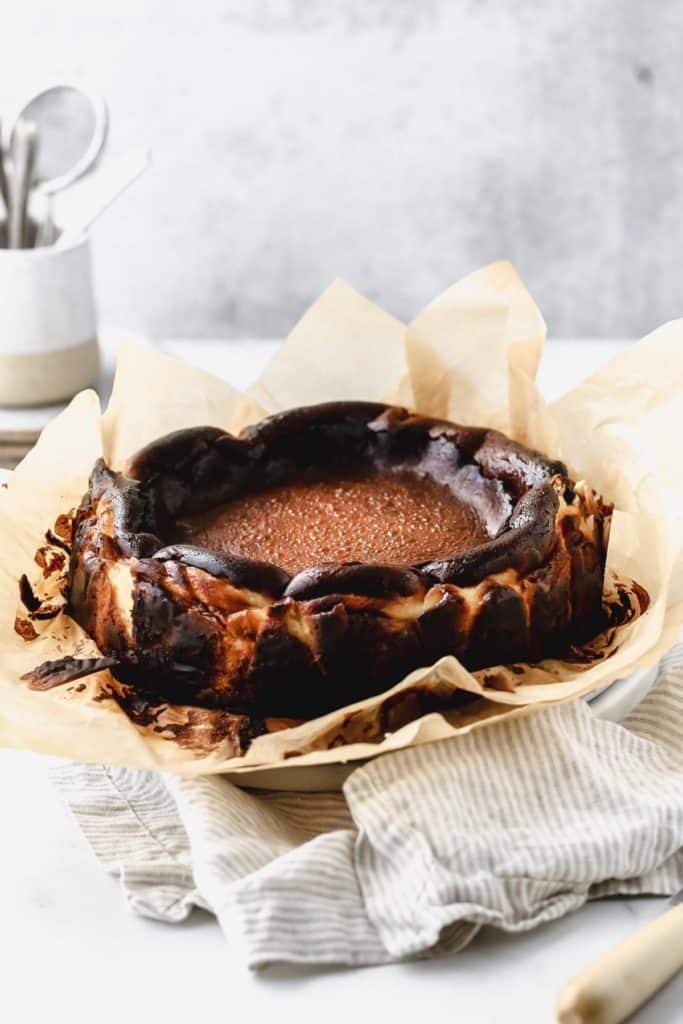 The easiest cheesecake you'll ever make in your life
I don't know about you, but baking cheesecake stresses me out. Between the careful mixing and the water bath, there's just so many things that can go wrong.
Enter cheesecake's alter ego. Seriously, it is so hard to mess up this basque burnt cheesecake recipe. It consists of a very short list of ingredients and it's almost impossible to over bake it… cause… you know… it's burnt and all.
To make burnt basque cheesecake, you mix up the ingredients, pour it into your pan, and bake. No water bath, no temperature changes, just let it do it's thing. Talk about a low maintenance recipe.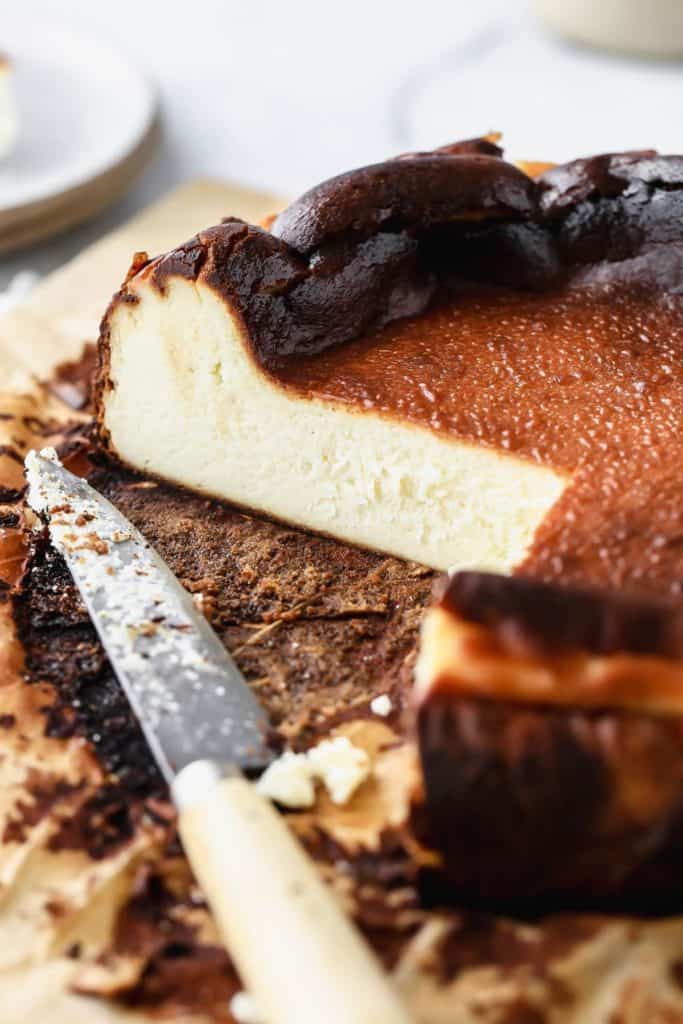 Serving your basque burnt cheesecake
It's traditional to serve it at room temperature as opposed to regular cheesecake. Let it cool in the pan, remove, slice, and serve. That's a far cry from the hours we spend waiting for cheesecake to set up in the fridge.
This is where I didn't stick to tradition. I let my cheesecake chill in the fridge overnight out of habit. It still gave me a super creamy center so it's really up to you as to when you'd like to serve it!
Top it with fruit, chocolate, whipped cream, caramel… whatever you're feelin'. This cheesecake is a blank slate that can be enjoyed alone or with a little something extra!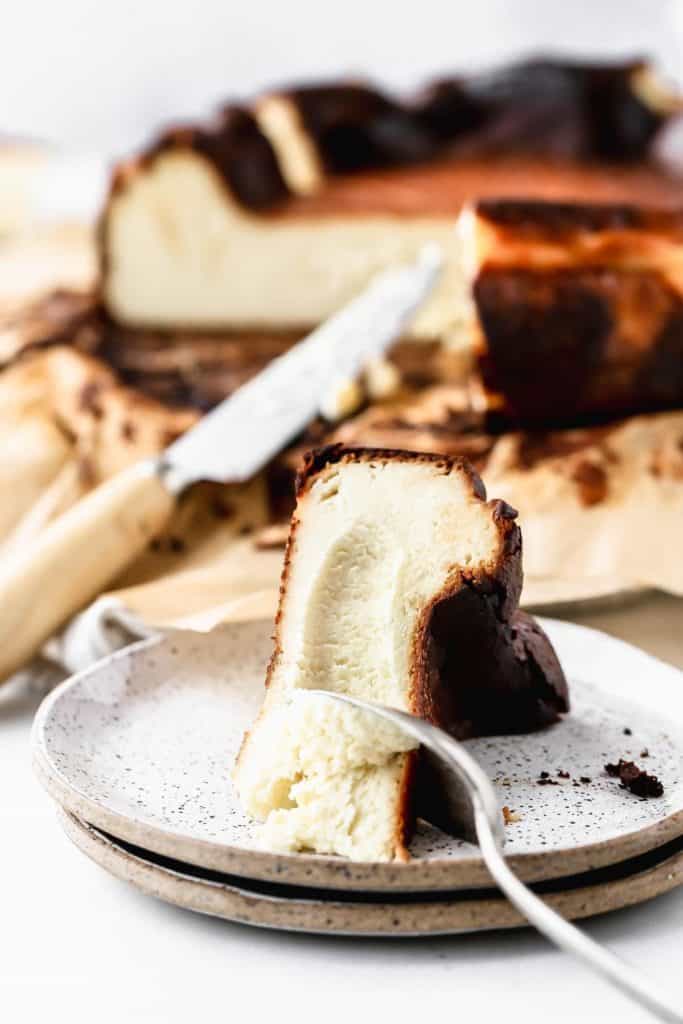 For more cheesecake recipes, check out my:
Make sure to tag me @butternutbakery on Instagram if you make this Burnt Basque Cheesecake Recipe. I love seeing my recipes come to life in YOUR kitchen! To pin this recipe and save it for later, you can use the button on the recipe card, the buttons above or below this post, or on any of the photos above. And if you have any questions, ask me on Instagram! That's the best way to reach me. Happy baking!
Print
Basque Cheesecake
---
Author: Jenna Barnard
Total Time: 2 hours 15 minutes
Yield: 8-10 slices
Diet: Gluten Free
Description
This basque cheesecake is an intentionally burnt cheesecake which provides a bitter outer layer and extra creamy inside. It's the easiest cheesecake you will ever make!
---
2 pounds (four 8oz blocks) full fat cream cheese, room temp
1 1/2 cups (300g) granulated sugar
5 large eggs, room temp
1 tsp vanilla extract
1 3/4 cups (420g) heavy cream
1 tsp salt
1/4 cup (33g) all-purpose flour
---
Instructions
Preheat the oven to 400F and butter the inside of a 9″ springform pan.
Press two layers of parchment paper into the bottom and up the sides. They should stick up about 2 inches above the edge of the pan.
Cream together the cream cheese and sugar on medium low speed using a hand or stand mixer with the paddle attachment.
Mix in the eggs one at a time on low speed and then the vanilla.
Pour the heavy cream in a slow and steady stream while the mixer is on low speed. Once smooth, sift in your flour and salt and fold to combine.
Bake for 60-65 minutes or until the top is completely burnt and it has a slight jiggle to it.
Let it cool to room temperature for about an hour then remove from the pan and slice. You can also leave it in the pan and place it in the fridge for a couple hours to completely set (my personal preference). Enjoy!
Prep Time: 15 minutes
Cooling Time: 1 hour
Cook Time: 1 hour
Keywords: cheesecake, burnt basque cheesecake, basque burnt cheesecake
Recipe Card powered by
*Some of the links above are affiliate links, which pay me a small commission for my referral at no extra cost to you!