This delicious banana tres leches cake is made with a moist banana cake that's soaked in sweet milk and topped with whipped cream. It's so easy to make and is perfect for anytime of year, or any time you have ripe bananas you need to use up!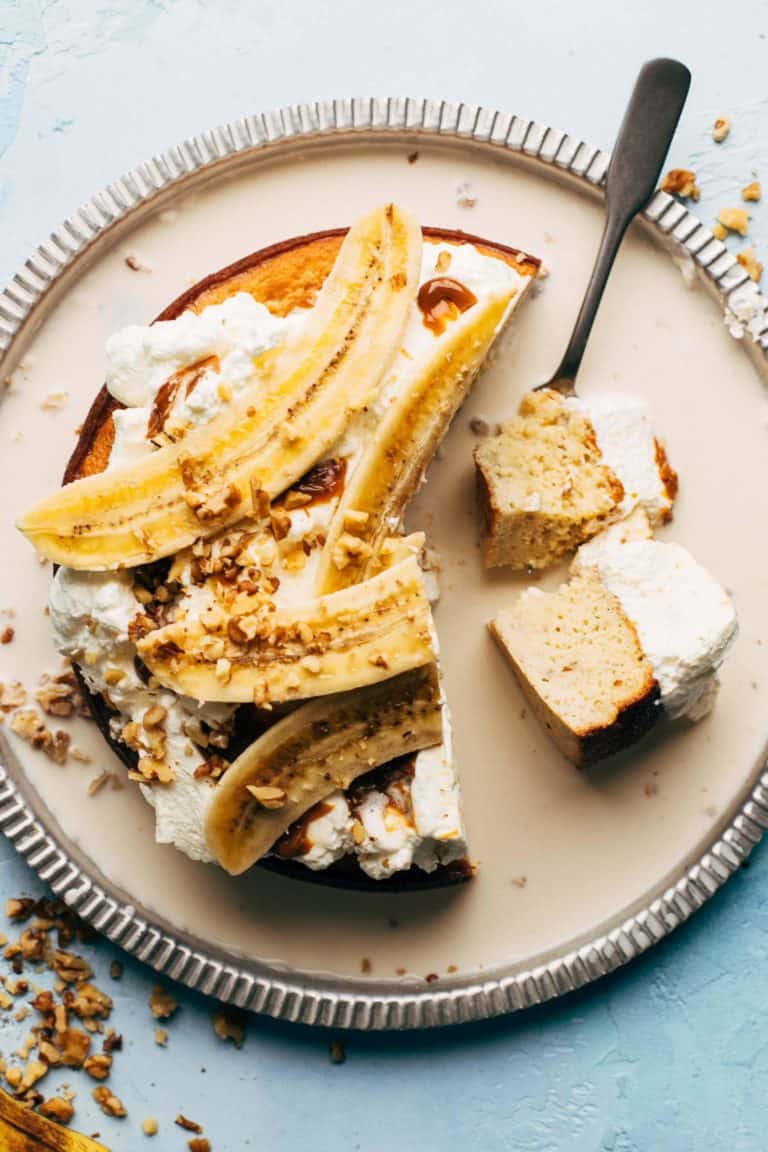 What is tres leches cake?
Also know as three-milk cake, tres leches is a vanilla sponge cake soaked in a combination of three different milks. Typically this is sweetened condensed, evaporated, and whole milk and/or heavy cream. After the sponge cake is baked, it's poked with holes so that when the milk is poured on top, it sinks into ever crevasse of the cake.
The three milks create a sweet mixture, giving the cake some extra sweetness and TONS of moisture. It's rich and moist, but not mushy so every bite just melts in your mouth.
There's a debate on the origin of tres leches cake, but it's very common in places such as Mexico, Puerto Rico, Cuba, and Nicaragua.
Tips for making banana tres leches cake batter
To add a bit of a twist to this traditional recipe, the sponge cake is made with mashed banana. It adds some natural sweetness and just enough banana flavor to make this cake extra moist and delicious. But sponge cake is made a bit different than traditional cake. Here are my tips to achieving a light and fluffy cake texture:
Egg Whites – Sponge cake gets its name from being so light and airy. To get this consistency, we're using egg whites. The cake calls for 5 eggs, separating the yolks from the whites. The yolks go straight in with the butter and sugar but the egg whites get their own special treatment. By whipping the egg whiles on their own, they turn into a fluffy texture almost like a cloud. Once the rest of the cake batter is mixed, the whipped egg whites are then gently folded in to lighten the batter. To fold, use a rubber spatula and run it around and through the batter. Slowly, it will come together. Just be careful not to mix too vigorously otherwise you will deflate the necessary air from the egg whites.
Bananas – Make sure to measure the amount of bananas, and don't go by the number of bananas you have. Baking must be exact, and bananas are no exception. If you're a hair short, supplement the rest with some unsweetened applesauce.
Flour – I say this in every post, and for good reason. It's the number one reason why most recipes fail. If there's too much flour, the cake will turn out dry and crumbly. If you can, measure the flour with a food scale. Otherwise, to ensure you use the exact amount needed, gently spoon the flour into your measuring cup and level if off with a flat edge. If you scoop directly into the flour container, it packs it down into the cup which could leave you with 1/4 cup or more of added dry ingredients.
Mixing – Don't over mix. Sponge cake can easily sink in the oven if it isn't mixed properly. Over mixing develops the gluten strands which makes it difficult for the cake to rise. Take it slow after mixing in the flour, and your cake should rise beautifully.
The banana cake soaking process
When the cake is first pulled from the oven, the top will be slightly domed but smooth. As the cake settles and cools, that surface will begin to condense and wrinkle which is completely normal. When this happens, it's time to poke the cake.
In order to ensure the milk mixture fully sinks in to every bit of this banana cake, use a toothpick or skewer to poke holes all throughout the cake. The more the better. The cake itself acts as a sponge, but the holes are what allow the cake to fully sink into every crumb.
For the milk mixture, a combination of sweetened condensed, evaporated, and whole milk are mixed together and poured on top of the porous cake. Pour it evenly over the entire surface of the cake and take it slow as you don't want to overwhelm it. In the end, the cake should be fully submerged in milk.
But don't worry, it will all absorb with time! Cover the cake and chill it overnight. In the morning, all of the milk will have disappeared and you'll be left with a super moist banana cake that's ready for topping.
How to top banana tres leches cake
There are a few different ways you can top your cake. The most traditional route is to spread on some whipped cream. Because the cake itself is so rich and moist from the milks, it doesn't need much help up top.
To take things up a notch, there's an option to add swirls of dulce de leche, banana slices, and chopped walnuts. But again, this is optional and mostly for decoration. Otherwise, I recommend a sprinkle a cinnamon atop the whipped cream.
How to serve banana tres leches cake
This cake is best served chilled, as milk is best served chilled. The cold cake holds its shape much better than at room temperature, so serve it right from the refrigerator.
Can this recipe be made gluten free?
I haven't tested it, but I would suggest swapping the all purpose flour with a good quality gluten free baking flour with xanthan gum in the mix. I like Bob's Red Mill 1-to-1. But weigh the flour instead of measuring as gluten free flour tends to be a bit more dense than traditional. Because of this, it's very easy to unknowingly use WAY too much when making the swap.
How long will the cake keep?
This cake will keep for quite a while as the milk basically keeps this cake moist for days. After it has soaked overnight, the cake will keep for about 7 days as long as it is stored in an air tight container in the refrigerator.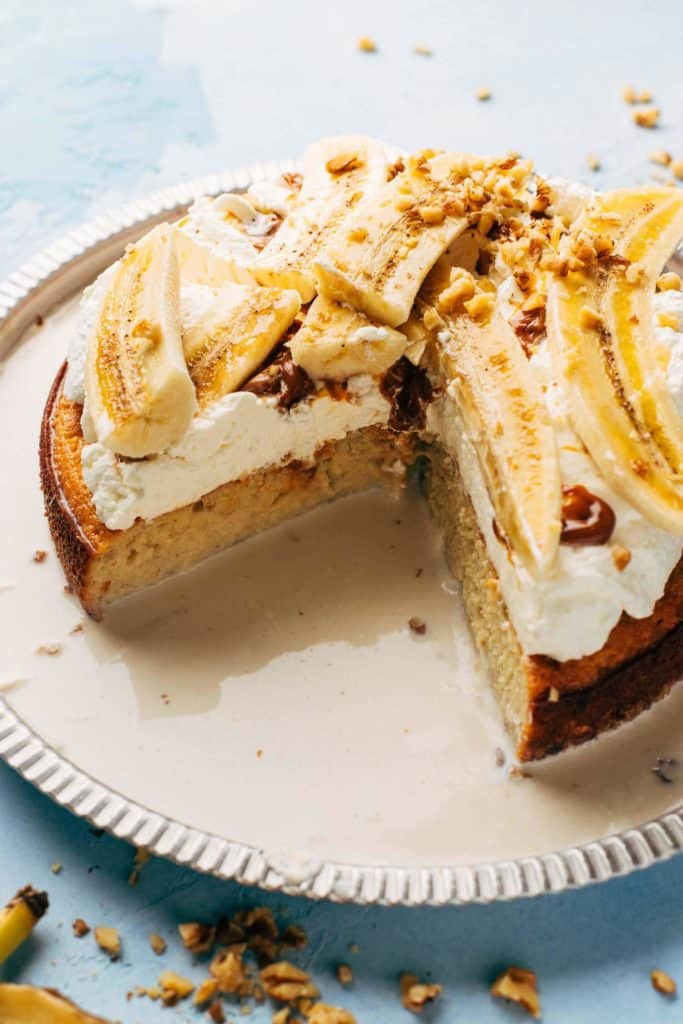 For more banana recipes, check out my:
Make sure to tag me @butternutbakery on Instagram and comment below if you make this banana tres leches cake. To pin this recipe and save it for later, you can use the button on the recipe card or on any of the photos above. Happy baking!
Print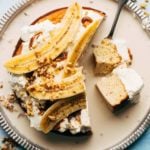 Banana Tres Leches Cake
---
Author: Jenna Barnard
Total Time: 1 hour + chilling overnight
Yield: 10-12 slices
Description
This banana tres leches cake consists of a moist banana cake soaked in sweet milk and topped with whipped cream
---
Banana Cake
3/4 cup unsalted butter, room temp
1 cup (200g) granulated sugar
1 tsp vanilla extract
5 large eggs, separated 
1 cup (250g) ripe mashed banana
1 cup (128g) all purpose flour
1 1/2 tsp baking powder
1/4 tsp salt
Milk Soak
12 oz can evaporated milk
14 oz can sweetened condensed milk
1/2 cup (118ml) whole milk
Topping
2 cups heavy whipping cream
2 tbsp powdered sugar
3 bananas, sliced in half length-wise (optional)
3 tbsp dulce de leche (optional)
1/4 cup chopped walnuts (optional)
---
Instructions
Preheat the oven to 350F and grease a 10″ springform pan.
In a large bowl using a hand or stand mixer with the whisk attachment, whip the 5 large egg WHITES on high speed until stiff and fluffy. About 5 minutes. 
In another large mixing bowl using a hand or stand mixer with the paddle attachment, mix together the butter and sugar on medium-high speed for 2-3 minutes, or until light and fluffy.
Scrape down the bowl and mix in the vanilla, 5 large egg YOLKS, and mashed banana. 
Scrape down the bowl and add in the flour, baking powder, and salt and mix to combine. 
Scoop 1/3 of the whipped egg whites into the batter and use a rubber spatula to gently fold to combine. Once it's almost fully mixed in, add in the rest of the egg whites and continue to fold until you can no longer see any ribbons of egg white in the batter.
Pour the batter into the springform pan and bake for 40-45 minutes, or until the surface is golden brown and a toothpick in the center comes out clean. 
The cake surface should be smooth and taught when it's fresh from the oven, but it will shrivel and wrinkle as it cools. 
While the cake rests, mix the milk soak ingredients together in a bowl or container with a pouring spout. 
Using a skewer or toothpick, poke holes all throughout the cake. Then place the cake pan on a tray or plate, or wrap the bottom with foil to catch any potential leaks.
Pour the milk mixture all over the cake, using up every drop. It will look like way too much as it will completely flood the cake but don't worry! It will soak all of it up over time.
Cover the cake with plastic wrap and let it chill overnight. You know it's ready when you can no longer see any milk on the surface.
For the toppings, whip together the heavy cream and powdered sugar on high speed until fluffy. Remove the cake from the pan and top with the whipped cream.
It's completely optional, but you can also add swirls of dulce de leche, sliced bananas, and/or chopped walnuts. A simple sprinkle of cinnamon will work too! Or leave the cake as is with just the whipped cream. It's delicious either way. Enjoy!
Equipment
Notes
GLUTEN FREE – I have not tested it, but I would recommend swapping the flour with a good quality gluten free baking flour with xanthan gum. Also weigh the flour instead of measuring it to ensure accuracy, as gluten free flour tends to be a bit heavier than regular flour.
STORAGE – If making this ahead of time, the soaked naked cake will keep for about 4 days for optimal freshness. If it's topped and out of the pan, it will keep for a few extra days on top of the original 4. 
Prep Time: 20 minutes
Cook Time: 40 minutes
Keywords: tres leches cake, banana tres leches, banana cake, banana tres leches cake
Recipe Card powered by