These are seriously the BEST banana scones. Not only are they tender and moist, but a layer of caramelized banana slices are baked right in the middle. They're tall, flavorful, and topped with a simple cinnamon maple glaze. Trust me, you've never had scones like these!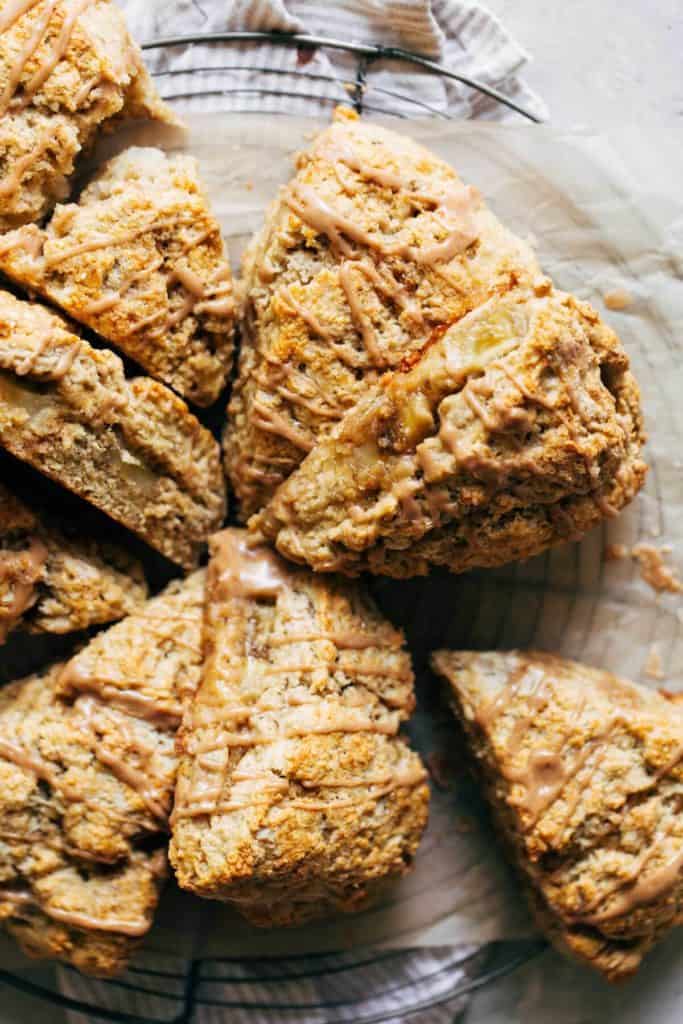 What are scones?
Scones are very similar to biscuits, minus one ingredient – eggs. Scones are baked with eggs to help bind them together, creating a muffin/biscuit hybrid that is so delicious! They're tender, fluffy, moist, but not as flaky as a biscuit.
They're also typically mild in sweetness and flavor. Scones are sweeter than biscuits, but they aren't as rich as cake. That's why you'll often see them paired with jams or other spreads in order to add more flavor. Although this recipe is an exception, because they're SO flavorful between the banana, brown sugar, and cinnamon maple icing.
The shapes often vary, but the typical shape of a scone is the one you see here. A large disc of dough is sliced like a pizza to create scone wedges. Sometimes they're punched out like round biscuits or baked as squares.
Before baking, scones are brushed with some milk, water, or an egg wash. for a golden brown top. Sugar can also be added to create a crunchy crust.
How to make scone dough
Making scones a really simple but delicate process that consists of 3 main phases:
Phase 1: Dry Ingredients – All of the dry ingredients are combined in a large bowl. For this recipe, we're using flour, brown sugar, baking powder, baking soda, salt, and cinnamon. Baking soda is a classic scone ingredient as it allows them rise and puff up. I added baking soda as well to help create a more airy texture.
Phase 2: Butter – Once the dry ingredients are well combined, cold cubes of butter are added to the mixture. Use your fingers to press and squish the butter into the flour. They aren't completely worked in, as we want some small pea sized lumps to make these scones tender. The little pocks of butter melt and create steam once the scones are baked, creating a light texture.
Phase 3: The Wet Ingredients – Once your bowl looks like the first image below, it's time to add the wet ingredients. Eggs and heavy cream are the typical scone ingredients, but we're taking it a step further and adding mashed ripe banana and vanilla extract. Fold the wet ingredients into the dry ingredients using a rubber spatula. You don't want to overwork the dough, but keep folding until almost all the dry ingredients are incorporated (like the second picture below).
In the end you're left with a really shaggy and somewhat sticky dough that's ready to be molded into scones!
How to make layered banana scones
The reason why these scones are so good is that slices of bananas are baked right in the center! It creates a strong banana flavor unlike any other banana scone.
To create this layered scone, take half of the scone dough and press it into a disk on a large baking sheet. I found it was much easier to do this on a silicone mat, but a sheet of parchment paper lightly dusted with flour will also work.
Create a 7″ round disk that's about 1/4 inch thick. Then, layer slices of banana on top to nearly cover the entire surface. Leave a small gap around the edges to help the two layers of dough adhere to each other.
Sprinkle with a bit of brown sugar to help the top layer stick (this also caramelizes the banana slices), then scoop the rest of the dough onto the top. Try placing large chunks around the surface to make it easier to cover. Pat down the top layer while also pressing in the sides. Switching back and forth between these two motions helps create a perfectly round disk that's even on the sides (like the first picture below).
How to bake tall and fluffy scones
With the scone dough in once peice, transfer the baking sheet to the freezer for about 20 minutes. This helps firm up the butter which has softened in the process. It also makes it much easier to slice and move around the scones.
Once chilled, slice the disk into 8 wedges just like a pizza. Run a large knife or spatula underneath each scone to move it out from the center of the circle. You want the scones to be spaced about an inch apart from each other so they can bake evenly.
But the scones will spread and touch once baked. This is tactful, as they need to grow up against each other so the top layer doesn't slide off of the banana layer. It helps create really tall and fluffy scones that are perfectly baked.
Brush the tops with a little bit of milk and sprinkle with raw sugar. Raw sugar has very large granules, so it give these scones a crunchy crust on top.
Bake until golden brown!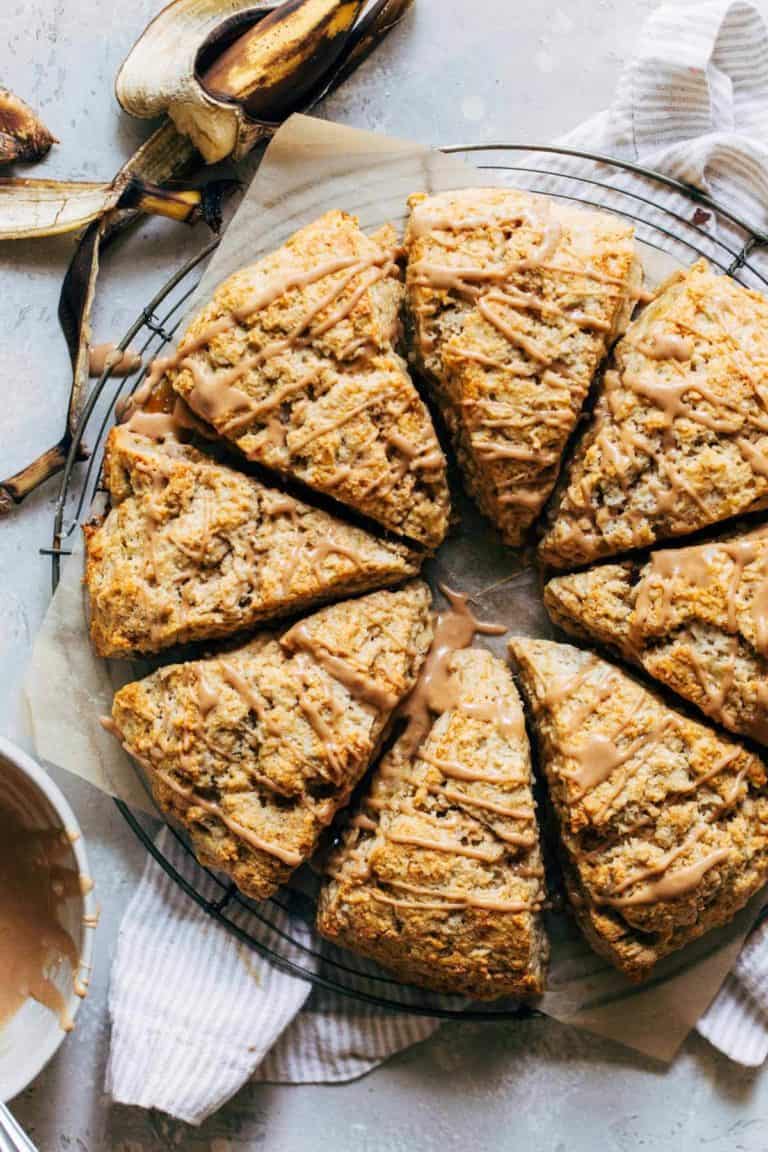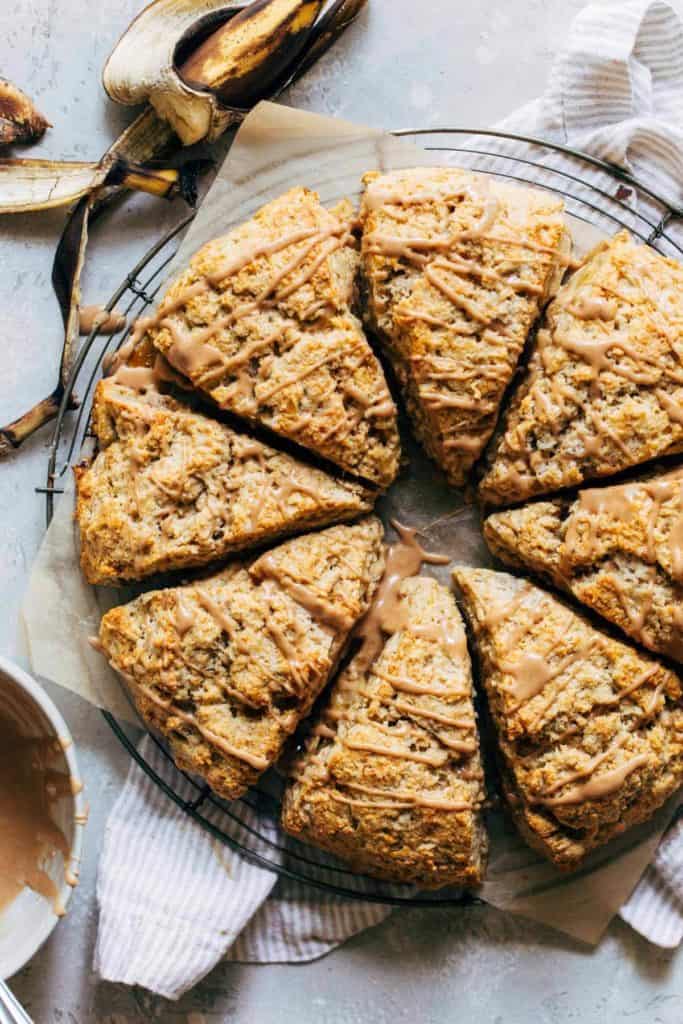 How to prevent scones from burning on the bottom
This is something I would run into a lot when I first started baking scones. Here are a few tricks I learned to prevent the bottoms from baking too quickly:
Don't drench the tops in milk, otherwise it will pool on the bottom and create a brunt crust. Brush on a thin and even layer.
Place another baking sheet on the bottom rack of the oven, just below the scones on the middle rack. This prevents the heat from scorching the bottom of the pan, thus creating a burnt bottom.
If you don't have that extra rack, you could also double up your baking pans and layer one right under the other.
Cinnamon maple icing
Once the scones have cooled, make this really simple icing. Whisk together powdered sugar, cinnamon, maple syrup, and a bit of milk. It should create a milky maple color that's thin enough to drizzle, but not too watery.
Slice up the scones (since they grew into each other when baked) and drizzle individually with the icing!
How to store scones
Scones are best stored in the refrigerator in an air tight container. To heat back up, preheat the oven to 300F and bake on a baking sheet lined with parchment paper for 5-10 minutes. If you have a toaster oven, that works even better!
For more banana recipes, check out my:
Make sure to tag me @butternutbakery on Instagram if you make these Banana Scones. I love seeing my recipes come to life in YOUR kitchen! To pin this recipe and save it for later, you can use the button on the recipe card, the buttons above or below this post, or on any of the photos above. Happy baking!
Print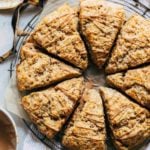 Banana Scones
---
Description
These are the ULTIMATE banana scones. Not only is ripe banana mixed into the dough, but a layer of caramelized banana slices are baked right into the middle.
---
Banana Scones
3 cups (400g) all purpose flour
1/4 cup (55g) light brown sugar, packed + 2 tbsp, divided
1 tbsp baking powder
1/4 tsp baking soda
1/2 tsp cinnamon
1/4 tsp salt
1/2 cup (110g) unsalted butter, cold and cubed
1 large egg
1/3 cup (100g) finely mashed ripe banana (about 1 medium banana)
1–2 medium bananas, sliced 1/4 inch thick
3/4 cup (155g) heavy cream or whole milk + 2 tbsp, divided
2 tsp vanilla extract
1 tbsp raw sugar, for topping
Cinnamon Maple Icing
1/2 cup (60g) powdered sugar
1/2 tsp cinnamon
2 tbsp pure maple syrup
1/2 tbsp milk or water
---
Instructions
Banana Scones
Lay a silicone baking mat on a large baking sheet. If you don't have a silicone mat, use parchment paper and lightly dust the surface with flour. Set aside.
In a large bowl, whisk together the flour, 1/4 cup brown sugar, baking powder, baking soda, cinnamon, and salt.
In a separate bowl or large measuring glass, combine the egg, mashed banana, 3/4 cup cream, and vanilla. Mix until smooth and set aside.
To the dry ingredients, add in the cold and cubed butter and use your fingers to work it into the dry ingredients. Work at it for a couple minutes, until you're left with pea sized lumps of butter throughout.
Pour in the banana cream mixture and use a rubber spatula to fold the dough together. It should turn pretty shaggy and dense. Don't over mix, just try to incorporate as much of the dry ingredients as you can. If some of the flour is still separated at the bottom of the bowl, that's OK.
Take half of the dough (scooping up any dry bits as well) and press it into a 7″ round disk onto the baking sheet. Lay your sliced bananas in an even layer, leaving a small gap around the edge, and crumble the extra 2 tablespoons of brown sugar over top (see photo in post for reference).
Scoop the other half of the dough on top and press it even. Alternate between patting it down and pushing in the sides until it's about an inch thick and 7″ wide (see photo in post for reference).
Place the pan in the freezer for 20 minutes and preheat the oven to 375F.
After the 20 minutes, the dough should be pretty firm. Slice the disk into 8 wedges and space them about an inch apart form each other. They might be a little sticky on the bottom, but try your best to use a knife or spatula to pry them loose. If they're really sticking, pop them back in the freezer for 10 more minutes.
Brush the tops with some cream or milk and sprinkle with raw sugar. You could also use regular sugar if you don't have raw sugar on hand, or omit it completely. 
Bake for 20-25 minutes or until golden brown on top. They're grow quite a bit so they might touch each other. This is totally fine as it keeps the scones from sliding off of the banana layer.
Allow the scones to cool for 15-20 minutes while you make the icing.
Cinnamon Maple Icing
Whisk together the powdered sugar and cinnamon.
Whisk in the maple syrup and if it's still too thick, mix in the milk or water to thin it out. When you lift out the whisk, it should run off in an even stream.
Slice the scones apart from each other and transfer to a cooling rack. Drizzle with the icing and dig in!
Prep Time: 25 minutes
Cook Time: 25 minutes
Keywords: scones, banana scones, banana nut scones
Recipe Card powered by