This apple cider cake is SO easy to make and yet looks so impressive. It's incredibly moist on the inside, coated in cinnamon sugar on the outside, and drizzled in an apple cider glaze. I've also included a gluten free and/or dairy free option so everyone can enjoy it!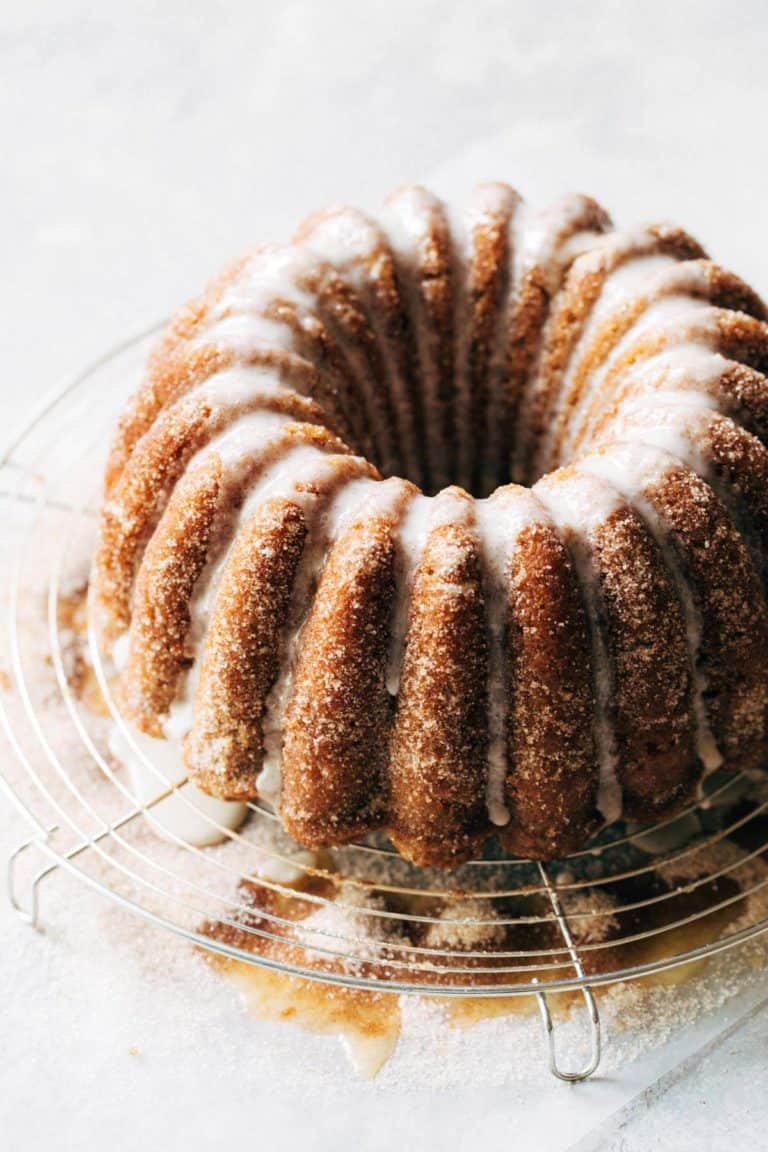 How to make apple cider cake
Now that we know what pan we're using, it's time to make this cake!
To make the batter, you will need two bowls – one large one and one medium one. In the large bowl, combine all of the dry ingredients including the sugar.
In the medium bowl, combine all of the wet ingredients. Pour the wet into the dry and mix. That's it! That's all you have to do to make this apple cider cake batter.
Pour it into your prepped pan and bake. It will bake for 40-45 minutes and will puff up quite a bit. Test it with a toothpick to be sure it's done in the middle.
Allow it to cool in the pan for 10 minutes if using the sugar method, or 20 minutes if using the regular method before turning it out.
How to prevent cake from sticking to bundt pan
The one downside to using this cake pan is that my cakes always stick! I honestly think I just got a faulty one because I've never had issues with sticking in my other Nordic Ware pans.
But since I love the look of this pan so much, I had to figure out a way to make it work.
If you have a pesky pan like mine, brush an even layer of nonstick cooking spray all over the inside of the pan. Don't miss a single spot and make sure it's a thin but even layer. Then, pour a small amount of sugar inside and roll the pan around to completely coat it.
The sugar creates a barrier between the cake and the pan to help it slide right out. When the cake is done baking, wait about 10-15 minutes and turn it out while the cake is still warm.
If you don't have a stubborn pan, just brush the inside of your bundt pan with nonstick spray and you're good to go! But I HIGHLY recommend brushing and not spraying. This allows you to get into every single nook and cranny.
How to coat a bundt cake in cinnamon sugar
The best part! Once your cake has completely cooled, place a sheet of wax paper underneath your cooling rack because things are about to get messy.
When your cake has completely cooled, brush the entire outside in the butter and apple cider mixture. Make sure to use it all up.
Not only does the butter and apple cider add extra flavor and richness, but it's also what helps all that sugar stick to the cake.
Once it's evenly soaked, quickly move on to the cinnamon sugar. Pour a little bit on top then use your hands to rub it into the sides. Like I said, it'll get a little messy.
If you don't prefer the cinnamon sugar then you can definitely pass on it. But I don't recommend skipping the butter and apple cider.
How to make apple cider cake gluten free
If you're looking for a delicious gluten free apple cake recipe, you're in luck. It's so easy to turn this recipe gluten free with one simple swap.
The entire recipe remains the same except for the flour and the bake time. For the flour, swap the all purpose flour (3 cups) with equal parts gluten free baking flour. Make sure it's a blend that contains xanthan gum. For the best results, I suggest weighing the flour for accuracy.
The cake will also need to bake for an extra 5 minutes because it takes a little bit longer for the dry ingredients to absorb the wet ingredients.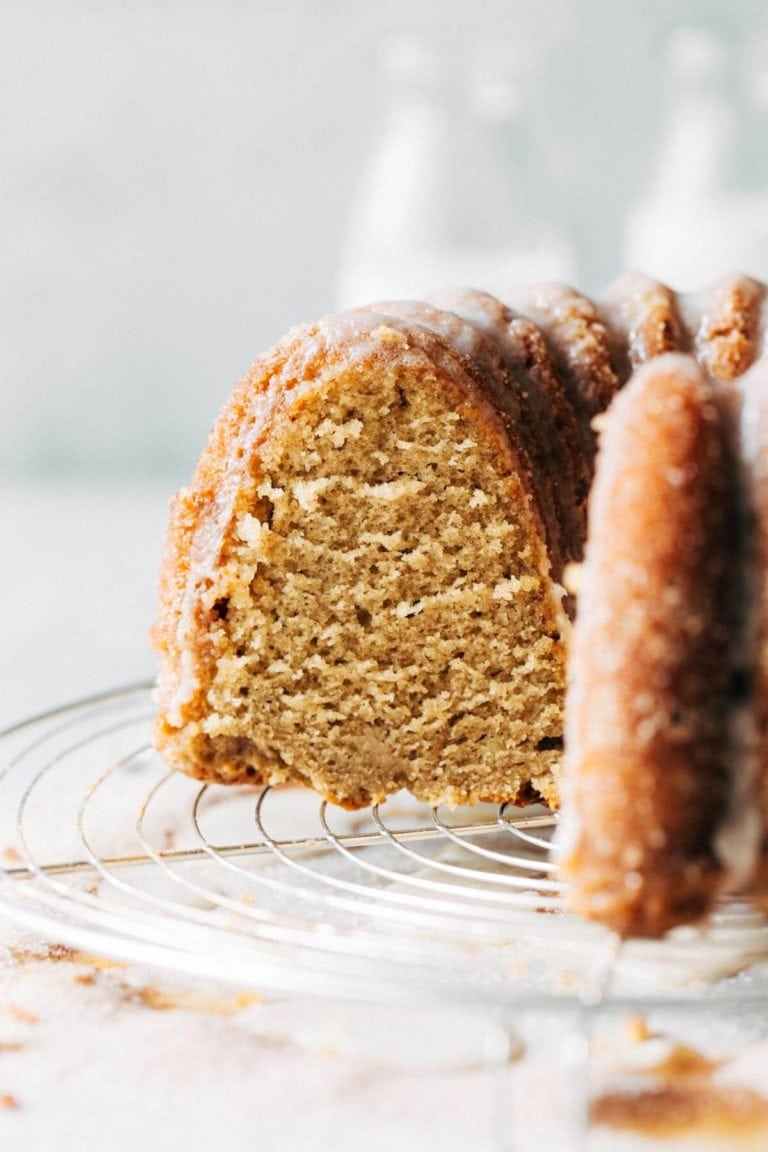 The best time to serve apple cider bundt cake
You can serve this cake warm or at room temperature. It's delicious either way! The oil and apple sauce in this cake create a super moist texture, so you don't have to worry about the cake drying out as it cools.
But, if you need to transfer your cake onto a serving tray, do so when it's completely cooled. This especially goes for the gluten free version as it's a bit more delicate.
I also recommend saving the drizzle until you're ready to serve the cake. It's not absolutely necessary, but the drizzle does sink into the cake as it sits. If you want that WOW factor for your presentation, save it for last.
How long does this cake keep?
For longevity, store the cake in an airtight container in the refrigerator. It will keep for up to 4 days (for optimal moistness).
If you're baking this for an event, it will do just fine at room temperature for a day.
If you need to make it ahead, store in the fridge for up to 2 days beforehand. Then, bring it up to room temperature before serving and drizzle in the apple cider glaze.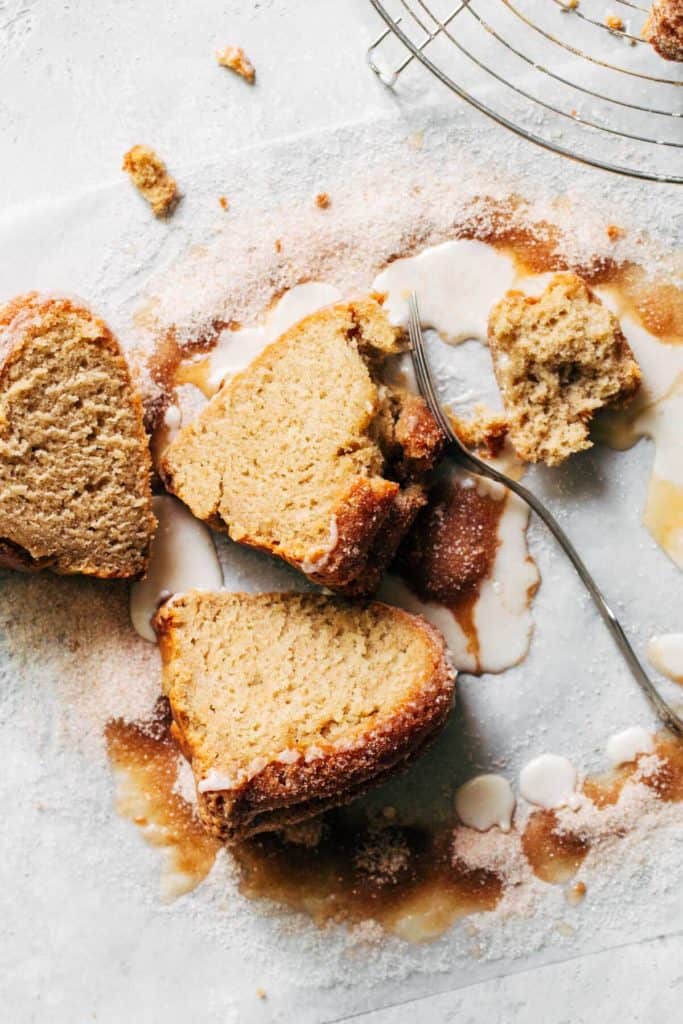 For more bundt cake recipe, check out my:
Make sure to tag me @butternutbakery on Instagram and comment below if you make this Apple Cider Cake. To pin this recipe and save it for later, you can use the button on the recipe card, the buttons above or below this post, or on any of the photos above. Happy baking!
Print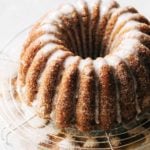 Apple Cider Cake
---
Description
Inspired by a baked apple cider donut, this apple cider cake is super moist, coated in cinnamon sugar, and topped in an apple cider glaze. It's basically a giant donut in bundt cake form!
---
Apple Cider Cake
3 cups (395g) all purpose flour (see notes for GF version)
3/4 cup (150g) light brown sugar, packed
1/2 cup (100g) granulated sugar
1 1/2 tsp ground cinnamon
1/2 tsp ground nutmeg
1 1/2 tsp baking powder
1/2 tsp baking soda
1 tsp salt
1 cup (240g) apple cider
1/2 cup (125g) unsweetened applesauce
1 cup (225g) vegetable oil 
3 large eggs
2 tsp vanilla extract
Coating
4 tbsp unsalted butter, melted
2 tbsp apple cider
1/3 cup (70g) granulated sugar
3/4 tsp ground cinnamon
Apple Cider Glaze
1 cup (100g) powdered sugar
3–4 tsp apple cider
---
Instructions
Preheat the oven to 350F and coat the inside of a 10-cup bundt pan with nonstick spray and dust with a light layer of flour.
In a large bowl, sift in the flour and then whisk together with the brown sugar, sugar, cinnamon, nutmeg, baking powder, baking soda, and salt.
In a medium bowl whisk together all of the wet ingredients (apple cider, applesauce, oil, eggs, and vanilla).
Pour the wet into the dry and use a whisk to gently combine. 
Pour the batter into the prepped bundt pan and bake for 40-45 minutes or until a toothpick in the center comes out clean.
Allow the cake to cool for 15 minutes then turn it out onto a cooling rack.
Once it has cooled slightly(about 30 minutes), prep the coating.
Mix together the melted butter and apple cider in a small cup or bowl. Do the same for the cinnamon and sugar in another bowl.
Brush the butter and apple cider mixture over the entire cake with a pastry brush, using up every last drop.
Quickly switch to the cinnamon sugar and press it into every inch of the cake.
Drizzle on the apple cider glaze before serving. Mix the two ingredients together, adding one tsp of apple cider at a time until you reach the perfect consistency. It should be pourable but not too thin.
Enjoy!
Equipment
Notes
To make this gluten free: Swap the 3 cups of all purpose flour with 3 cups of a cup for cup gluten free baking flour. The rest of the recipe remains the same, but bake the cake for an extra 5 minutes
To make this dairy free: Swap the butter for plant-based butter
Prep Time: 20 minutes
Cook Time: 40 minutes
Category: Dessert
Method: Baking
Cuisine: American
Keywords: apple cider cake, apple cider bundt cake, apple cider donut cake, apple cake, bundt cake, apple bundt cake, apple cider cake recipe
Recipe Card powered by