These sweet potato muffins are the perfect fall treat! They're made without any added processed sugar and are completely vegan. Bake them with some chocolate chips, pecans, and top with homemade maple pecan butter. It's a winning combination with the most delicious moist and tender texture. You'd never even know they're healthy.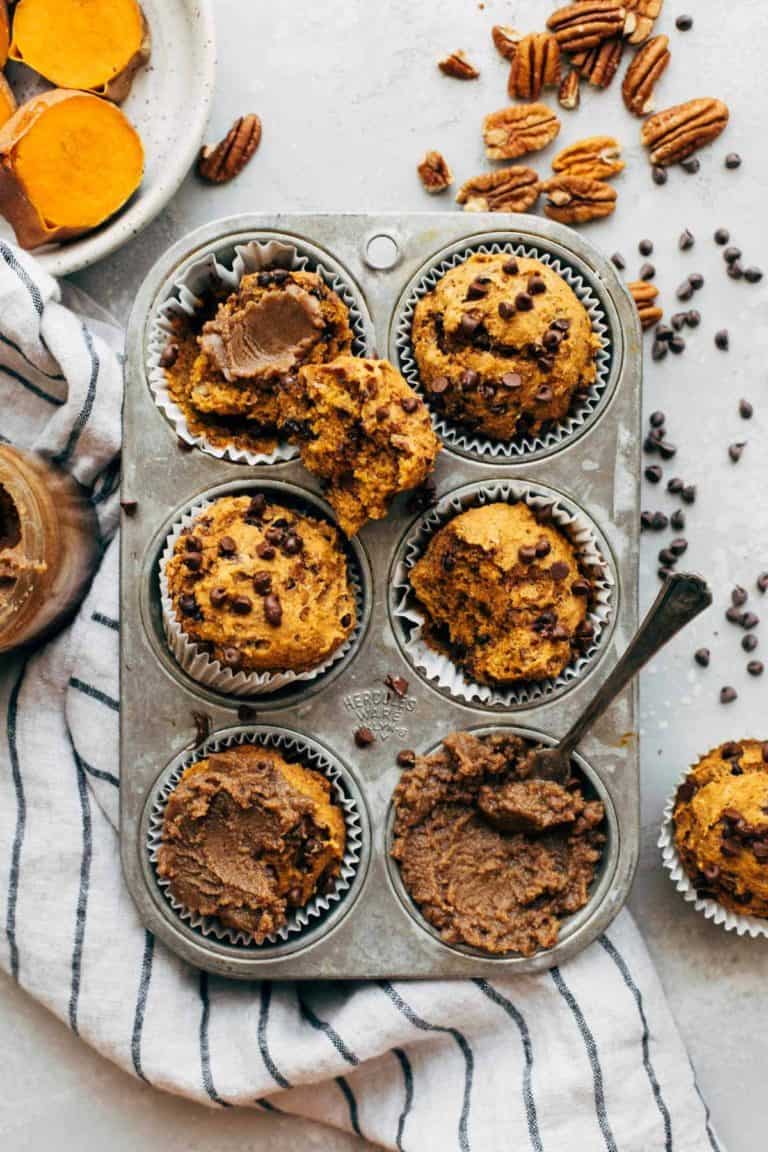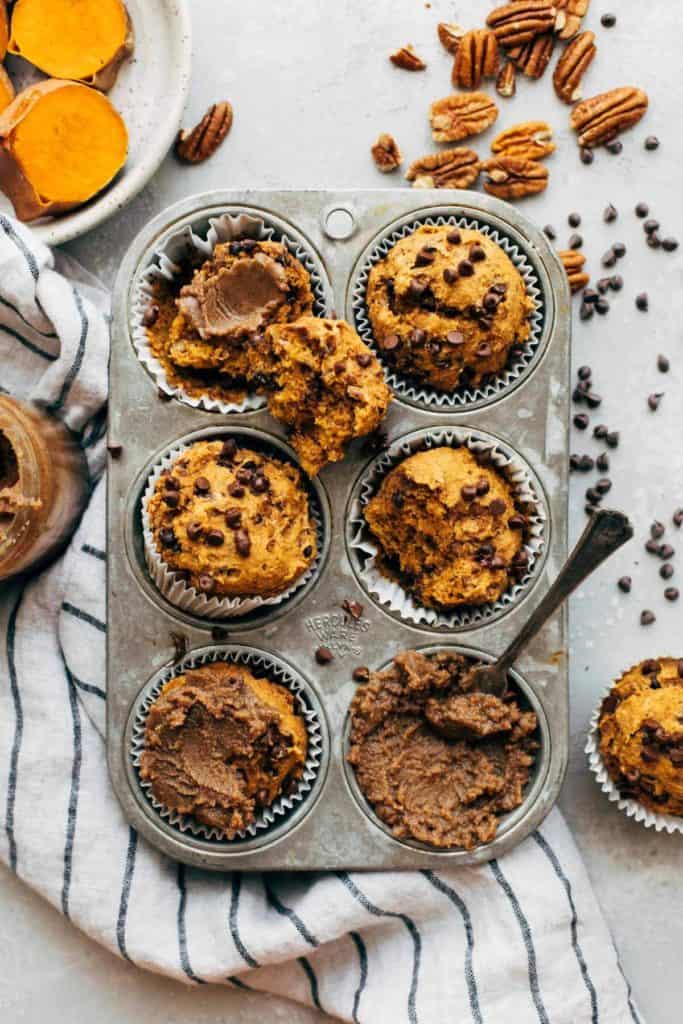 How to make sweet potato puree
The base of this recipe is, of course, sweet potato. It adds so much flavor and sweetness to these muffins and is a great alternative to pumpkin.
To make sweet potato puree, preheat the oven to 400F and line a large baking sheet with parchment paper.
Run the potatoes under some water and scrub any dirt off with your hands. Pat them dry with a paper towel and place on the baking sheet.
Puncture the top with a fork, all down the length of the potato, and bake for 1 hour or until they are fork tender. The fork should easily sink into the middle of the potato. The time may vary depending on the size of your potatoes.
Allow them to cool on the baking sheet for about 20 minutes. Then peal, break apart, and place in a food processor to blend until smooth.
If you don't want to use a food processor, you could also mash them with a potato masher, but I find the processor provides a much smoother texture.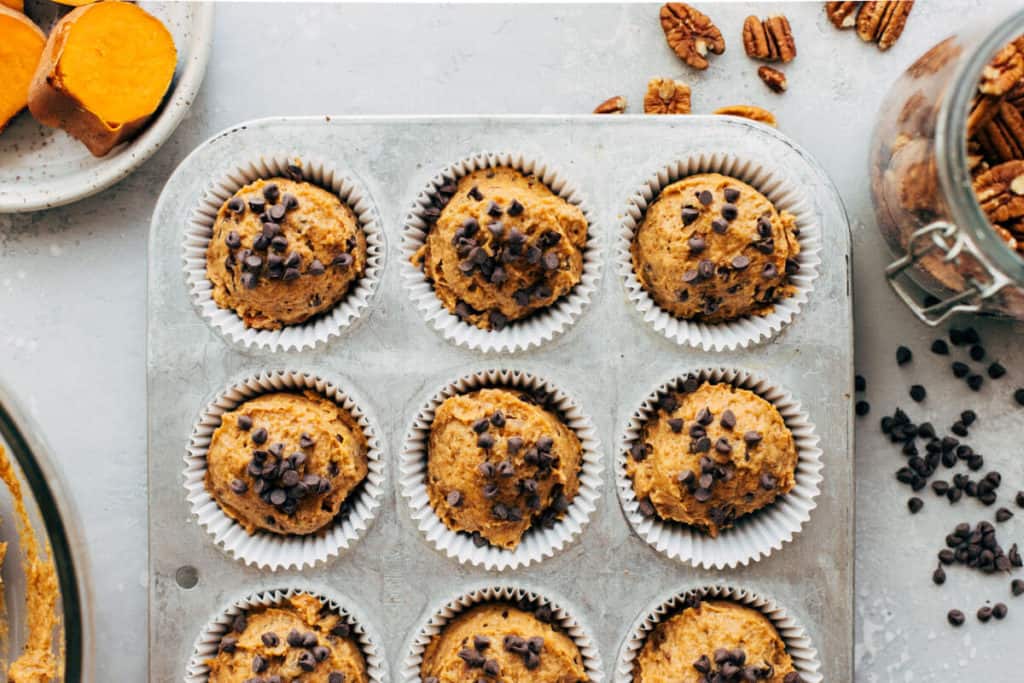 Tips for making vegan sweet potato muffins
These muffins are very easy to make and are nearly fool proof, but here are a few tips to ensure they turn out just right!
Allow the flax eggs to fully gel. Before you start baking, combine the ground flax with water. By the time you need to add it to the batter, it should have thickened into a gel consistency. Once it gels, it acts as an emulsifier to hold these muffins together.
Don't overmeasure the flour. Spoon the flour into your measuring cup and level it off with a flat edge. Never scoop directly into the flour bag or container as this compacts the flour into your measuring cup.
Don't over mix. Right when the flour is completely disappeared into the batter, stop mixing. Otherwise, your muffins could turn out a bit tough.
Leave in the nuts! These add a bit of crunch that is definitely needed for these muffins. Since they're vegan, they're a bit soft so the nuts help break up the texture. If you have a nut allergy, you could also use pumpkin or sunflower seeds.
Use a large ice cream scoop to scoop the batter into your cupcake tin. This makes the process so much easier and each muffin is guaranteed to be the exact same size.
For some added pizzaz, top the muffins with a few more chocolate chips before baking. Doing so before they're baked allows the chips to stick and spread as the muffins puff up.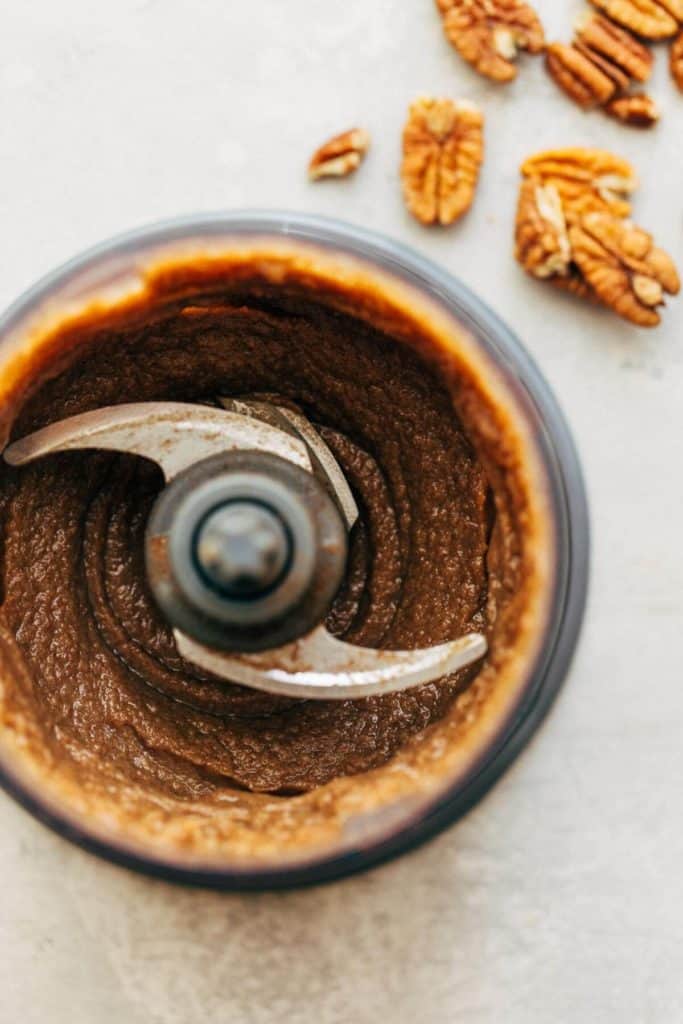 Easy homemade pecan butter
We all know peanut, cashew, sunflower, and almond butter, but what about pecan butter? It's just as delicious as these common nut butters, and is so easy to make.
First, start by roasting the pecans. This is a very important step so don't skip! The first time I tried to make it without roasting the nuts, it was a struggle to get a smooth nut butter. It also tasted a bit more bitter.
Roasting the pecans helps enhance and sweeten their flavor, while also making them a bit more tender. Add the roasted nuts to a food processor and blitz for 10 minutes.
It takes a while, but the pecans will slowly transform from dry and crumbly to smooth and creamy. As the processor is running, it's releasing the natural oils in the nuts. These oils are what creates a smooth and spreadable consistency.
For added flavor, mix in maple syrup, cinnamon, and a bit of salt. If you find that your processor just can't get the job done, blitz in a couple teaspoons of coconut oil to give the pecans a little extra help.
This pecan butter is to be served on the side. For any leftovers, keep the pecan butter an air tight container in the refrigerator for up to 2 weeks. Along with the muffins, I enjoyed it in my morning oatmeal or on a brown rice cake as an afternoon snack.
Can these be made gluten free?
Although I have not tested it, you can try swapping the whole wheat flour with Bob's Red Mill gluten free 1-to-1 flour as this always gives me the best results.
A few things you may expect with making this swap:
The muffins may need to bake for a few extra minutes.
They may turn out a bit more dense and soft. You can add an extra teaspoon of baking powder to see if this helps that issue.
Can I use regular flour?
Yes, you can easily swap the whole wheat flour with regular white flour. Whole wheat flour is just a healthier non-processed option.
Can I use pumpkin instead?
Pumpkin is very similar to sweet potato, so there shouldn't be a massive difference in texture if you exchanged the two (although I haven't tested this). Pumpkin can sometimes hold a bit more moisture, so place the pumpkin in a bowl lined with paper towels for about 5 minutes before use. This will absorb any excess water.
Pumpkin also isn't as sweet, so the muffins may be a bit more mild in flavor. You can add a few extra teaspoons of maple syrup to the pecan butter to help balance this out.
How to store these healthy sweet potato muffins
Store in an air tight container in the refrigerator for up to 1 week.
For more vegan dessert recipes, check out my:
Make sure to tag me @butternutbakery on Instagram and comment below if you make these Healthy Sweet Potato Muffins. To pin this recipe and save it for later, you can use the button on the recipe card or on any of the photos above. Happy baking!
Print
Healthy Sweet Potato Muffins with Maple Pecan Butter
---
Description
These sweet potato muffins are made with no added sugar and are completely vegan! They're extra delicious with homemade maple pecan butter spread on top.
---
Sweet Potato Muffins
2 flax eggs (2 tbsp ground flax + 5 tbsp water)
1 cup (260g) pureed sweet potato*
1/4 cup (70g) unsweetened apple sauce
1/4 cup (50ml) plant-based milk
1/3 cup (100g) pure maple syrup
1 tsp vanilla extract
1 2/3 cup (200g) whole wheat flour*
2 tsp baking powder
1/2 tsp baking soda
1/2 tsp salt
1 tsp cinnamon
1/4 tsp ginger
1/4 tsp nutmeg
1 cup (110g) chopped pecans
1/2 cup (80g) vegan chocolate chips (I use Enjoy Life semisweet)
Maple Pecan Butter*
2 cups (225g) pecans
2 tsp pure maple syrup
2–3 tsp melted coconut oil (if needed)
Dash of cinnamon
Pinch of salt
---
Instructions
Sweet Potato Muffins
Mix your flax egg and set it aside to gel. By the time you add it to the batter, it should be thickened and gel-like.
Preheat the oven to 350F and line a cupcake tin with 12 paper liners.
In a medium bowl, whisk together the flour, baking powder, baking soda, salt, cinnamon, ginger, and nutmeg. Set aside.
In a large bowl, whisk together the sweet potato, apple sauce, milk, maple syrup, vanilla, and gelled flax eggs.
Using a rubber spatula, mix in half of the dry ingredients until combined. Then fold in the rest until smooth.
Fold in the pecans and chocolate chips.
Scoop the batter into the cupcake liners, fill nearly to the top and use up all the batter. Sprinkle the tops with a few extra chocolate chips if desired.
Bake for 25-30 minutes or until a toothpick in the center comes out clean. Allow the cupcakes to cool in the pan for 10 minutes, then transfer to a cooling rack to finish cooling completely before serving. They're best at room temperature, as they tend to be a bit too soft when they're still warm or hot.
Maple Pecan Butter
Drop the oven temperature to 300F and line a large baking sheet with parchment paper. Spread the pecans out in an even layer and bake for 8 minutes or until dark and fragrant.
Add the roasted pecans to a food processor and blitz until crumbled. Add the maple syrup and run the processor for about 10 minutes. It takes time, but the pecans will slowly transform from dry and crumbled to smooth and creamy. As the processor runs, it releases the oil in the nuts to smooth out the mixture.
If you find the pecan butter just will not smooth out, add a teaspoon of coconut oil at a time (no more than 3 tsp total) and keep running the processor until smooth. Blitz in the cinnamon and salt.
When the muffins are cooled, serve the muffins with the pecan butter on the side. You can either spread it on top or split the muffins in half and spread it in the middle. Enjoy!
Notes
SWEET POTATO PUREE – Rinse and dry your potatoes. Place them on a baking sheet lined with foil and puncture the tops with a fork. Bake at 400F for 1 hour or until fork tender. Allow the potatoes to cool for 20 minutes, then peal and blend in a food processor until completely smooth.
FLOUR – You can also use white flour if that's all you have. I haven't tested it with gluten free, but your best option is to use Bob's Red Mill 1-to-1 flour. I included some extra gluten free baking tips in the post above.
NUT BUTTER OPTIONS – If you'd rather not mess with the pecan butter, I recommend using store bought natural almond butter (ingredients are just almonds and maybe salt). Mix 1/4 cup with 1/2 tsp maple syrup and pinch of cinnamon and salt if it's not already salted.
Prep Time: 30 minutes
Cook Time: 30 minutes
Keywords: sweet potato muffins, vegan muffins, pecan butter
Recipe Card powered by