These vegan cookie cups are a fun way to enjoy the best combination of flavors – peanut butter and chocolate! In a cupcake tin, moist dark chocolate cookie cups are filled with peanut butter and baked with melty puddles of chocolate on top. Using Miyoko's European-style cultured vegan butter, these cups are both rich in flavor and texture. It's hard to believe they're VEGAN cookies!
This post is sponsored by Miyoko's Creamery but all thoughts and opinions are my own. Thank you for supporting the brands that make Butternut Bakery possible!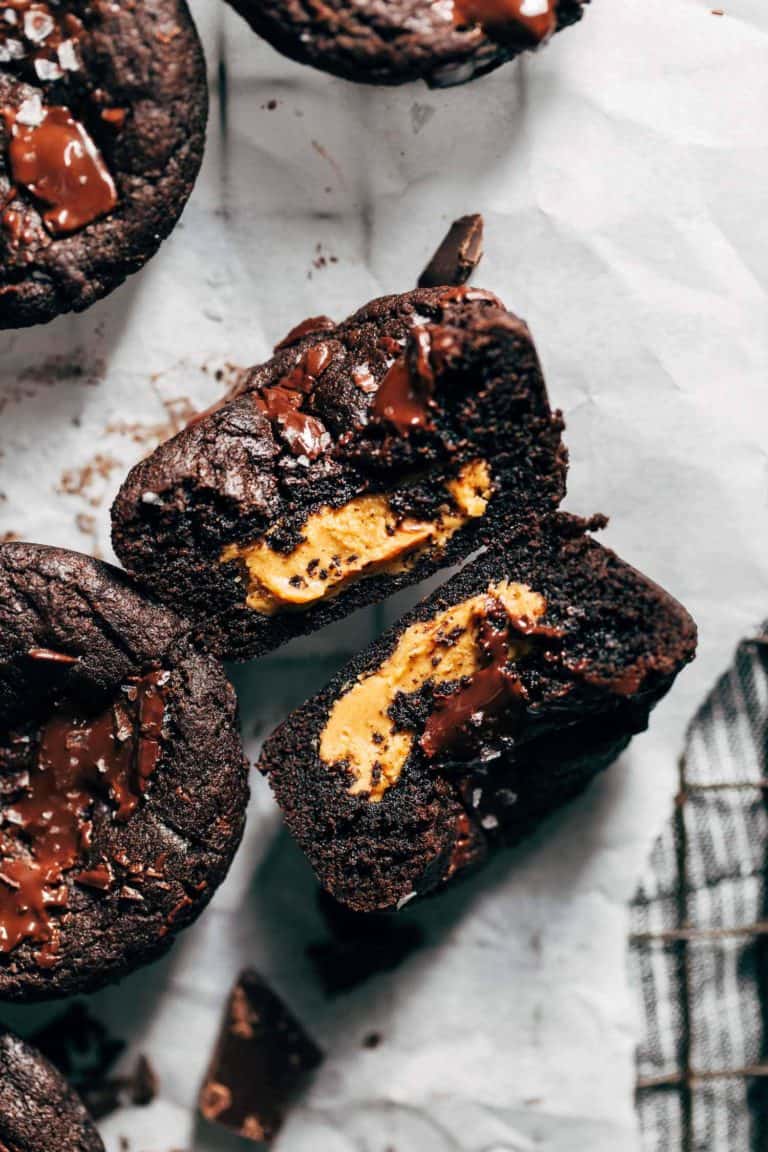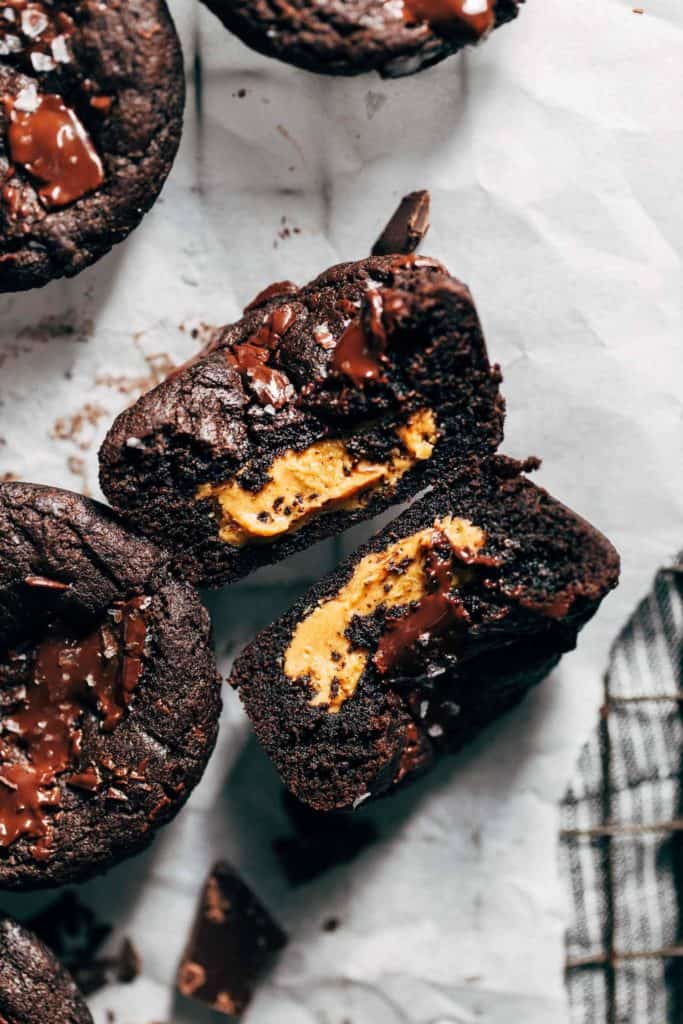 Peanut butter filled vegan cookie cups
Unlike traditional cookies, these cookie cups are baked in a cupcake tin. A layer of vegan chocolate cookie dough is pressed into the bottom of each cup, filled with peanut butter, and topped with another layer of cookie dough.
But why bake cookies in a cupcake tin? There are a few deciding favorites that went into this recipe:
FILLING – Baking cookie dough in a cupcake tin not only makes it easier to add filling, but also add way MORE filling than traditional stuffed cookies. Each cookie is filled with one tablespoon of peanut butter which gives each bite the perfect chocolate to peanut butter ratio.
TEXTURE – In a cupcake tin, cookies can bake really thick and even. Because of this, these vegan chocolate cookies have the most amazing rich and fudgy texture that borderlines a brownie. Every bite is soft and moist, in contrast to a basic cookie that typically ranges in texture from the inside out.
FLAVOR – Just because these are vegan cookies, doesn't mean they can't have a rich and buttery flavor. To get the most out of this recipe, I use Miyoko's European-style vegan cultured butter. It acts and tastes just like traditional butter, so I don't shy way from using a good amount in these cookies. The rich butter flavor shines though in this recipe, and baking in a cupcake tin allows this to happen. Without having to worry about spread, each cup can bake into a soft and moist cookie with delicious buttery flavor.
Best vegan butter for cookies
The type of butter you use can make a big difference, especially because not all vegan butter is created equal. To get the most out of these cookies, use Miyoko's European-style cultured vegan butter. Not only does it provide the best flavor and consistency, but it's also made with quality ingredients like coconut oil and cashew milk.
While most vegan options just rely on a blend of oils (including palm oil), Miyoko's provides the perfect amount of fat from the coconut oil and creaminess from the cashew milk, yielding a butter that's just like the real deal. It should also be at room temperature for making the dough, so allow it to warm up for about an hour outside of the fridge before use.
Tips for making vegan chocolate cookie dough
With spread taken out of the equation, baking cookies in a cupcake tin removes the stress of having to get the dough JUST right. But in order to get the best moist and fudgy texture, here are my top two tips:
Properly measure the flour – I say this in almost every post, and for good reason. It's the number one reason why most recipes fail, especially for cookies. If there's too much flour, the cookies will turn out dry and dense. If you can, measure the flour with a food scale. Otherwise, to ensure you use the exact amount needed, gently spoon the flour into your measuring cup and level it off with a flat edge. If you scoop directly into the flour container, it packs it down into the cup which could leave you with 1/4 cup or more of added flour. The same goes for the cocoa powder in this recipe.
Don't over mix – When using an electric mixer, it's important to note the speeds at which to mix the dough. It's difficult to over mix when it's just butter and sugar, but a good rule of thumb is to mix on medium-high speed for about 2 minutes to ensure the two are well combined. But once the dry ingredients are added, mix the dough low and slow. Too much mixing will strengthen the gluten stands in the flour, making a tough cookie. So when in doubt, mix fast for wet ingredients, but slow for dry ingredients.
After the dry ingredients are added, the dough will appear a bit dry. This is where the water comes in. Just two tablespoons of water is enough to transform this dough from thick and dry, to smooth and soft. When it's ready the dough should be soft but not too sticky, making it easy to mold into the cupcake tin.
Releasing vegan cookie cups
To ensure these cookies remain intact, the pan must be prepped ahead of time.
Each cavity of the cupcake tin is lightly greased and dusted with cocoa power. The cocoa powder creates a barrier, making it difficult for the cookies to stick to the pan.
When the cookies are straight from the oven, they are very delicate so it's important to allow them to cool inside the pan for about 20 minutes. Then run a knife around the edge of each cookie cup to pop them loose.
If they still appear too delicate to handle, let the cookies cool for a bit longer in the pan. The dough is very rich and fudgy, so these cookies are delicious whether they're warm or at room temperature. In other words, there's no harm in leaving them to cool completely before removing them from the pan.
How to store cookie cups
Another reason why I love this recipe is because they're very easy to store. Since they're thick and sturdy, these cookie cups hold up well in just about any size container.
Store in an air tight container at room temperature and they'll keep for about 2-3 days. For longer, store in the refrigerator for about 5 days. I suggest reheating in the microwave for about 15 seconds to bring back that moist texture and melty peanut butter filling.
For more vegan dessert recipes, check out my:
Make sure to tag me @butternutbakery on Instagram and leave a review below if you make these peanut butter filled vegan cookie cups. To pin this recipe and save it for later, you can use the button on the recipe card, the buttons above or below this post, or on any of the photos above. Happy baking!
Print
Vegan Peanut Butter Chocolate Cookie Cups
---
Author: Jenna Barnard
Total Time: 45 minutes
Yield: 12 cookie cups
Description
These delicious vegan cookie cups are made with rich and soft chocolate cookies that are filled with peanut butter and baked in a cupcake tin. They're the best way to enjoy chocolate and peanut butter in one!
---
1/2 cup (110g) Miyoko's European-style cultured unsalted vegan butter, room temp
1/2 cup (100g) granulated sugar
1/2 cup (100g) light brown sugar, packed
1 flax egg*
2 tsp vanilla extract
1 1/2 cups (195g) all purpose flour
1/2 cup (45g) dutch processed cocoa powder
1 tsp baking powder
1/2 tsp baking soda
1/2 tsp salt
2 tbsp water
3 oz vegan dark chocolate, chopped
3/4 cup creamy peanut butter**
Flaky sea salt, for sprinkling on top
---
Instructions
Preheat the oven to 350F.
In a medium sized bowl, whisk together the flour, cocoa powder, baking powder, baking soda, and salt. Set aside.
In a large bowl using a hand or stand mixer with the paddle attachment, mix together the butter and sugars until smooth and well combined. About 2 minutes on medium-high speed.
Mix in the flax egg and vanilla to combine.
Pour in the dry ingredients and mix on low-medium speed. About halfway through, mix in the two tablespoons of water. This will take the dough from dry and crumbly to smooth and soft.
Prepare a cupcake tin by spraying each cavity with some nonstick spray and lightly dust the inside with cocoa powder.
Press one tablespoon of dough into the bottom of each cavity. Try to shape it with a slight lip around the edge.
Scoop a scant 1 tbsp of peanut butter in the center of each one.
Cover the tops of each cookie with another tablespoon of dough. Press it into a disk and lay it on top of the peanut butter. Gently press the edges the seal the cookie cups shut.
Press in a few chunks of chopped chocolate onto each cookie cup. Bake for 15-17 minutes.
Allow the cookies to cool in the pan for about 20 minutes, then run a knife around the edges to pop them loose. Transfer to a cooling rack and sprinkle the tops with a pinch of sea salt.
Enjoy slightly warm or at room temperature.
Notes
*FLAX EGG – Combine 1 tbsp ground flaxseed + 2 1/2 tbsp water in a small dish. Let it sit for about 5 minutes before use.
**CREAMY PEANUT BUTTER – I suggest using a classic no stir peanut butter for this recipe as this will bake the best. Natural peanut butter can also be used, it's just a bit messier. I suggest using a heaping 1 tsp instead of 1 tbsp. Also know that the cups may cave in the middle when using natural peanut butter, but are perfectly fine to eat!
Prep Time: 30 minutes
Cook Time: 15 minutes
Keywords: cookie cups, peanut butter filled cookies, peanut butter and chocolate, chocolate cookie cups, vegan cookies, vegan cookie recipe, vegan cookie cups
Recipe Card powered by