These peanut butter oatmeal chocolate chip cookies are soft, thick, and vegan! I wanted to find a way to make extra soft peanut butter oatmeal cookies, and I discovered that these worked best without eggs. The peanut butter holds these cookies together and apple sauce keeps them moist and tender. They're absolute perfection!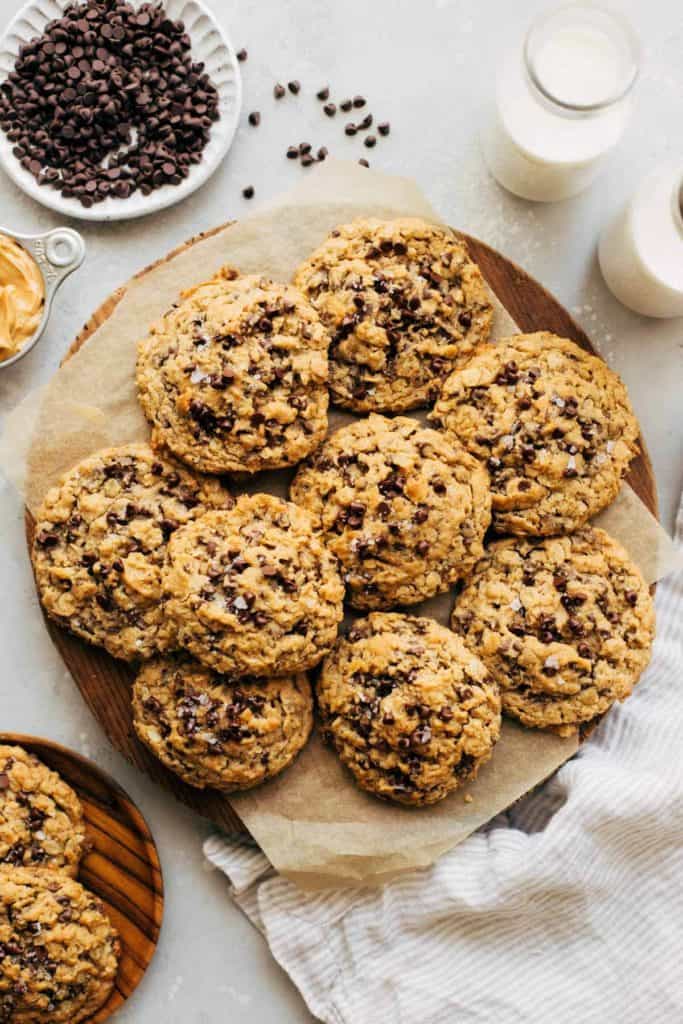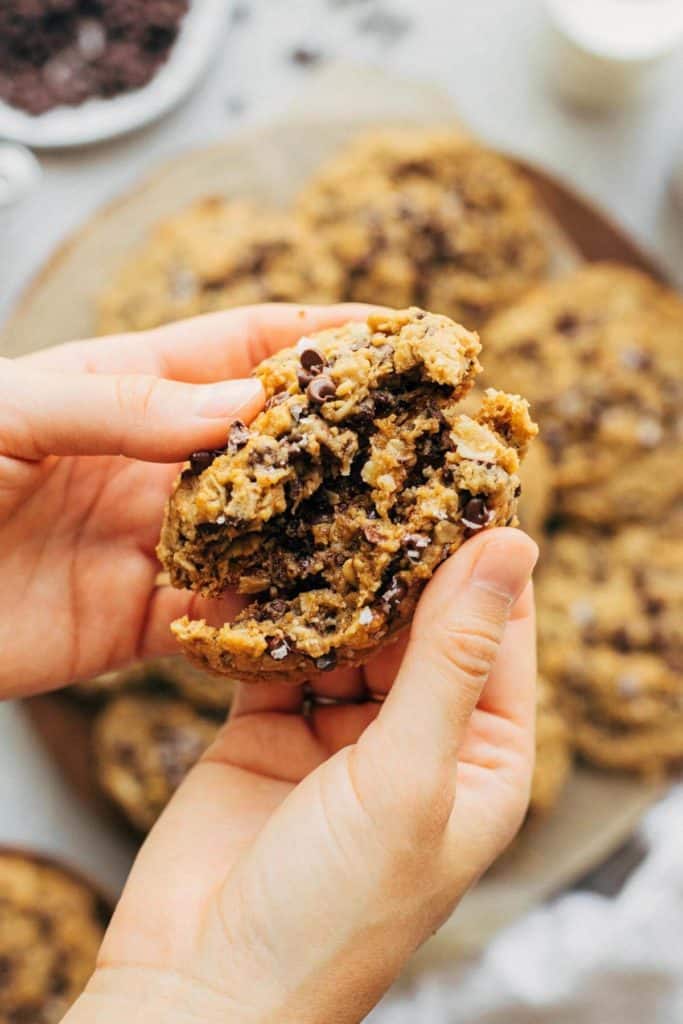 What makes these the BEST peanut butter oatmeal chocolate chip cookies?
I must say, each bite of this cookie is absolute heaven. It's so tender, but you still get the richness of the peanut butter and chocolate and the chewiness of the oats.
They also maintain that perfect texture for days, rather than drying out. This recipe uses apple sauce instead of eggs, so it makes these cookies extra soft and helps them stay that way.
And if you're looking for a really quick and simple cookie recipe, this is for you! It only requires one bowl and are warm and ready in 30 minutes. Simply mix the dough in one bowl, scoop, and bake. No refrigeration or fancy equipment required.
Baking tips for this recipe
As mentioned, this recipe is very easy. But to ensure they turn out perfect, here are a few things to keep in mind:
The flour – Don't use too much of it! Instead of scooping directly into the flour bag or container, gently spoon it into your measuring cup and level it off with a flat edge. Any other way will result in compacted flour, so your cookies won't spread properly in the oven.
The butter – Make sure it's room temperature before starting. If it's too cold, the dough will turn a bit lumpy and the cookies won't spread properly. Too warm and the cookies will spread too much. If you're not vegan, you can also choose to use regular butter instead of vegan baking sticks.
The chocolate – For best results, I recommend using mini chocolate chips. They provide the best distribution of chocolate without making these cookies too clunky.
Scooping – Use a large cookie scoop for the best results. Making large cookies allows the outside to bake and the center to stay nice and tender. And don't fuss with them too much when scooping. Just plop them right on the baking sheet, no need to roll or shape them.
Baking – When they're ready, the edges will be lightly golden and the center will be puffed and soft. The cookies will settle as they cool, so if they come out domed that's OK. But they will be very soft, so allow them to cool on the baking sheet for about 5 minutes before transferring.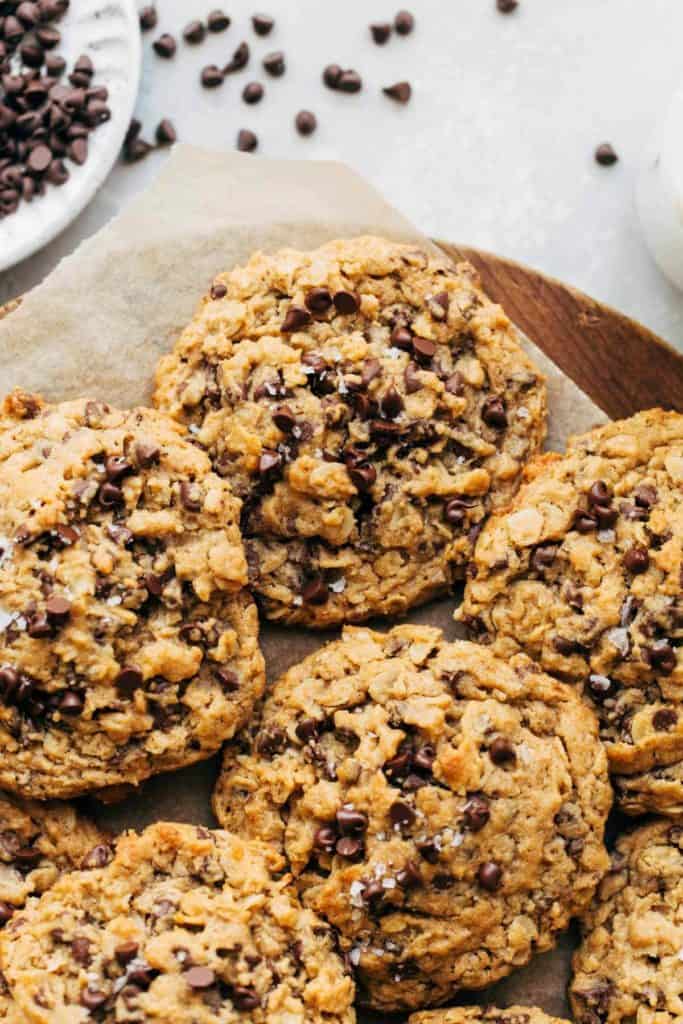 Can I use eggs instead of apple sauce?
Even if you aren't vegan, I still recommend sticking with the apple sauce. This is the key ingredient to getting that perfect soft texture. Baking these with eggs will yield a very different outcome.
How to store leftover cookies
Keep the leftover cookies in an airtight container at room temperature. They will keep for up to 5 days and remain soft and tender.
Can I freeze the dough?
I don't recommend this, as the dough may not spread properly once chilled. Instead, you can opt to make a half batch which will leave you with 6 cookies. Here is the half recipe:
1/3 cup (45g) all purpose flour
1/2 cup + 2 tbsp (65g) old fashioned rolled oats
1/4 tsp baking soda
1/4 tsp baking powder
1/4 tsp salt
1/4 cup (65g) creamy peanut butter
1/4 cup (55g) regular or vegan unsalted butter, room temp
1/4 cup (50g) dark brown sugar
2 tbsp (25g) granulated sugar
1 tbsp unsweetened applesauce
1/2 tsp vanilla extract
1/2 cup semisweet mini chocolate chips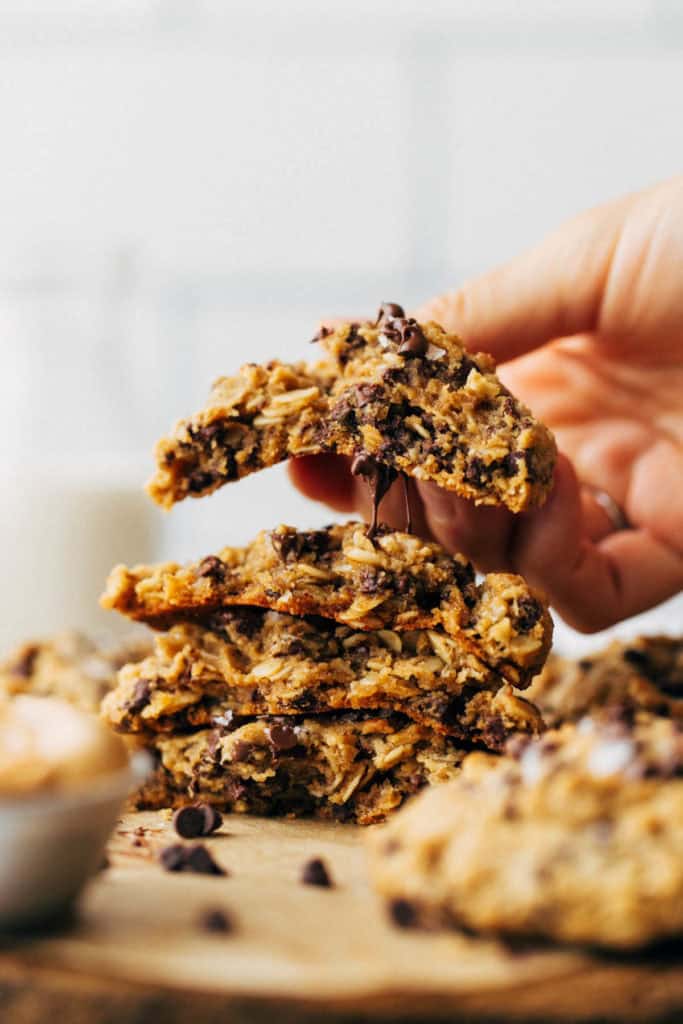 For more vegan recipes, check out my:
Make sure to tag me @butternutbakery on Instagram and comment below if you make these Peanut Butter Oatmeal Chocolate Chip Cookies. To pin this recipe and save it for later, you can use the button on the recipe card or on any of the photos above. Happy baking!
Watch how to make these cookies:
Print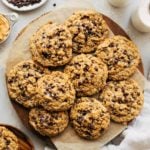 Soft Peanut Butter Oatmeal Chocolate Chip Cookies
---
Author: Jenna Barnard
Total Time: 35 minutes
Yield: 12 large cookies
Description
These peanut butter oatmeal chocolate chip cookies are soft, tender, and naturally vegan!
---
2/3 cup (90g) all purpose flour
1 1/4 cups (130g) old fashioned rolled oats
1/2 tsp baking soda
1/2 tsp baking powder
1/2 tsp salt
1/2 cup (130g) creamy peanut butter
1/2 cup (110g) unsalted butter, room temp (vegan or regular)
1/2 cup (100g) dark brown sugar, packed
1/4 cup (55g) granulated sugar
2 tbsp unsweetened apple sauce
1 tsp vanilla extract
1 cup mini semisweet chocolate chips (vegan or regular)
---
Instructions
Preheat the oven to 350F and line 2 large baking sheets with parchment paper
In a large mixing bowl using a hand or stand mixer, mix together the peanut butter, butter, brown sugar, and sugar until smooth and creamy. Mix in the apple sauce and vanilla.
Add in the flour, oats, baking soda, baking powder, and salt and mix to combine.
Fold in the chocolate chips using a rubber spatula.
Using a large 2 oz cookie scoop (or 1/4 measuring cup) scoop the cookie dough out on to one baking sheet. Place them about 3 inches apart, so you should be able to fit about 5 cookies on one large sheet.
Bake for 12-15 minutes or until the edges are a very light golden brown. Scoop dough out onto the second baking sheet and place it in the oven as soon as the first batch comes out.
When the cookies are still warm and on the baking sheet, top with some extra chocolate chips and a sprinkle of sea salt. The cookies are very soft, so let them rest on the baking sheet for about 5 minutes before transferring to a cooling rack.
They stay soft and tender even when cooled, so enjoy warm or at room temperature.
Prep Time: 20 minutes
Cook Time: 15 minutes
Keywords: peanut butter oatmeal cookies, peanut butter chocolate chip cookies, vegan cookies
Recipe Card powered by