I don't know about you, but I am CRAZY for cheesecake! Cookies will always be my numba one but cheesecake…ugh I just love it so much. But sometimes making a whole entire cheesecake can be a bit daunting. I tried to make that process as easy as possible with my New York Style Cheesecake recipe but there are days where you just want cheesecake without the hassle! Which is why I made these cute Mini SunButter Cheesecakes. They are the perfect nut-free dessert and are super easy to make.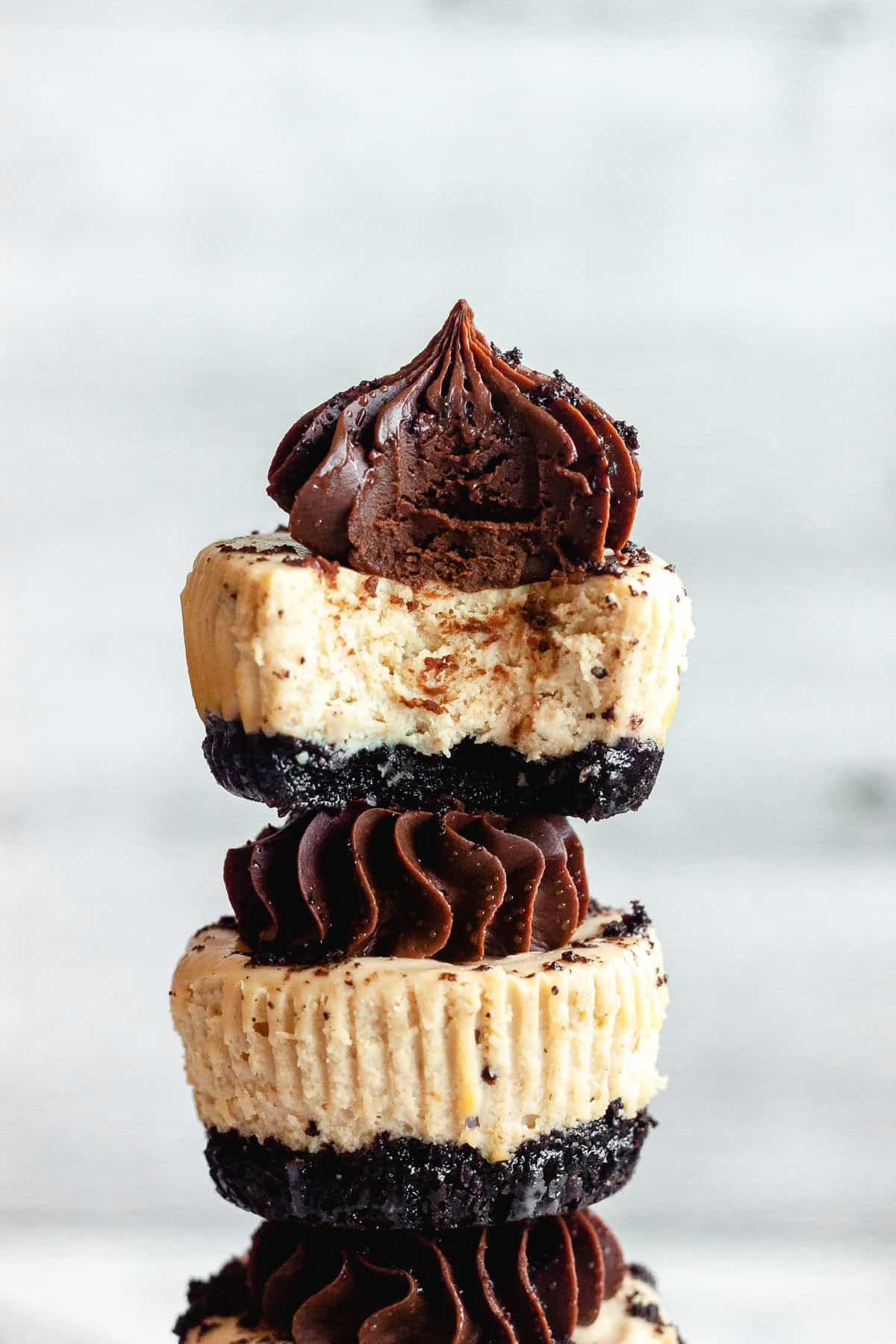 Making a nut-free dessert
Now, as you may know, I am all about peanut butter and chocolate. But I'm also well aware that not everyone can have nuts. When I still lived in Chicago, my best friend would come over and watch me bake but I could NEVER use peanut butter because of her nut allergy. She would get so mad when I made anything with nuts because she loves trying my creations. It was a challenge at times, because I love my peanut butter, but it was also great to get away from it and try new things.
So when I wanted to opt for the typical peanut butter and chocolate cheesecake combo, I looked elsewhere. Most nut-free spreads have a strange texture and dry out your mouth but I've found that SunButter is the best nut butter alternative, especially when it comes to baking. It acts exactly like peanut butter just without the nuts! Which made my life easier when making the nut-free cheesecake. You don't treat it any differently than your typical peanut butter. Just swap it out with Creamy SunButter and you've got an easy nut-free dessert!
How to make mini cheesecakes
Baking mini cheesecakes might look a little tricky but it's no different than baking cupcakes. I always thought that the cheesecake would stick to the paper or they wouldn't bake even but that's not the case! You don't even have to pre-bake the crust. You just prepare the crust, press it into the cupcake liners, pour the cheesecake batter over top, and bake. They're pretty tough to screw up. The only big goof you could do is accidentally use foil liners instead of paper liners. Pulling off those liners piece by piece would be a big ol' pain.
You might run into some trouble when pulling them out of the tin because the butter in the crust can soak the paper on the bottom. When you chill the cheesecakes in the pan, the butter solidifies and causes the cheesecakes to stick. A great way to avoid this is by placing tiny strips of parchment paper UNDER the cupcake liners so you can pop them right out. You can also wedge a toothpick all around the edge of the cupcake tin to release the cheesecakes.
Baking with Sunflower seed butter
You might be a little bit skeptical about mixing sunflower seed butter and chocolate. It's not too often you see that flavor combo but trust me, it works! What I love about the sunflower seed butter in these mini SunButter cheesecakes is the fact that they mellow out the sweetness. It's a subtle flavor that goes really well with the cream cheese. Because of that, it's a flavor that could work with almost anything! But with the chocolate, it helps to balance out the richness of the crust and ganache. You get that deep chocolate flavor with the light sunflower seed butter, creating a great flavor combo.
Whether you're making these for allergy reasons or just want to step outside the peanut butter box, you'll be surprised by how good the sunflower seed butter tastes in these mini SunButter cheesecakes. If you try them out, please make sure to tag me on Instagram! I love seeing your creations. And if you want to pin this recipe for later, you can use the button on the recipe card, above or below this post, or on any of the photos. Happy baking!
Print
Mini SunButter Cheesecakes
---
Description
These Mini SunButter Cheesecakes are the perfect nut-free dessert using sunflower seed butter.
---
Crust
1 1/4 cups chocolate sandwich cookies, finely crushed
4 tbsp unsalted butter, melted
2 tsp granulated sugar
SunButter Cheesecake
16 oz cream cheese, room temp
1/2 cup granulated sugar
1/2 cup creamy SunButter
1/3 cup full fat Greek yogurt
1 tsp vanilla extract
2 large eggs
Chocolate Ganache
1 cup dark chocolate chips
1/2 cup heavy cream
---
Instructions
Preheat your oven to 300F and line a cupcake tin with 12 paper liners.
Crust
Using a food processor or a ziplock bag, crush up the cookies as fine as you can get them. Place the crushed cookies, melted butter, and sugar in a bowl and mix together.
Add one tablespoon amount to each liner and press it in to get an even top. Set aside.
Cheesecake
Using an electric mixer, cream together the softened cream cheese and sugar. It's important that you work with soft cream cheese so that you don't get any lumps.
Once smooth, mix in the SunButter until well combined. Then mix in the Greek yogurt, vanilla, and eggs.
Evenly distribute the batter into the cupcake liners over the crust. Smooth out the tops.
Bake for 20-25 minutes or until the tops are no longer glossy and they barely jiggle when you shake the pan.
Let them set out at room temperature for about 30 minutes then place them in the fridge for at least 2 hours to set (still in the pan).
Chocolate Ganache
Measure out the chocolate into a small bowl and microwave the heavy cream in a separate bowl for about one minute. Pour the hot cream over the chocolate and let it sit for a couple minutes. Then stir until you get a shiny and smooth ganache.
Let this set out at room temperature for about 10 minutes and then refrigerate it for about 20.
In order to pipe it on top, you're wanting a buttercream consistency. It will be very thin when it's hot but will thicken as it cools. If you let it cool for too long, just pop it in the microwave for about 15 seconds and stir it to get it to the right consistency.
When the cheesecakes are cooled, pop them out of the pan and pipe on the chocolate ganache. Eat them right away or store them in the fridge. I found that these taste the best when they've rested in the fridge overnight.
Prep Time: 2 hours
Cook Time: 20 minutes
Keywords: mini cheesecakes, nut-free dessert, cheesecake recipe
Recipe Card powered by