This prosciutto pizza has the perfect balance of salty and sweet! The ultra salty prosciutto is baked on top of a fluffy and herby pizza crust. While it's still hot, burrata is placed on top with handfuls of lemon drenched arugula. The entire pizza is finished off with a hefty drizzle of honey that brings out all of the best flavors in this pizza. It's also so easy to make and is ready in 30 minutes, thanks to Fleischmann's® RapidRise® Instant Yeast!
This post is sponsored by Fleischmann's® Yeast but all thoughts and opinions are my own. Thank you for supporting the brands that make Butternut Bakery possible!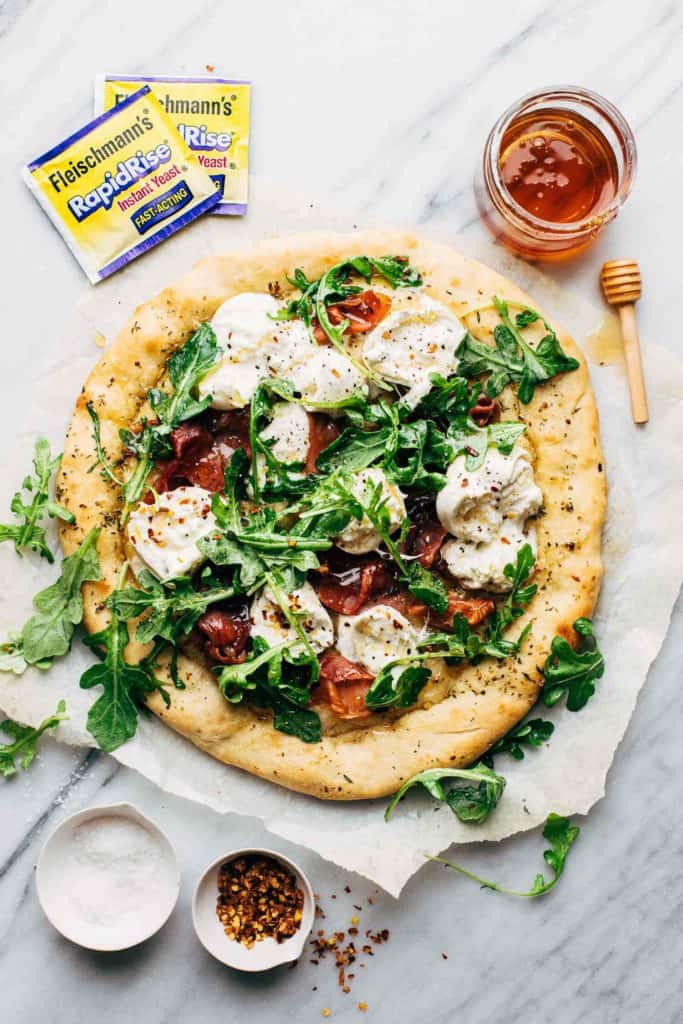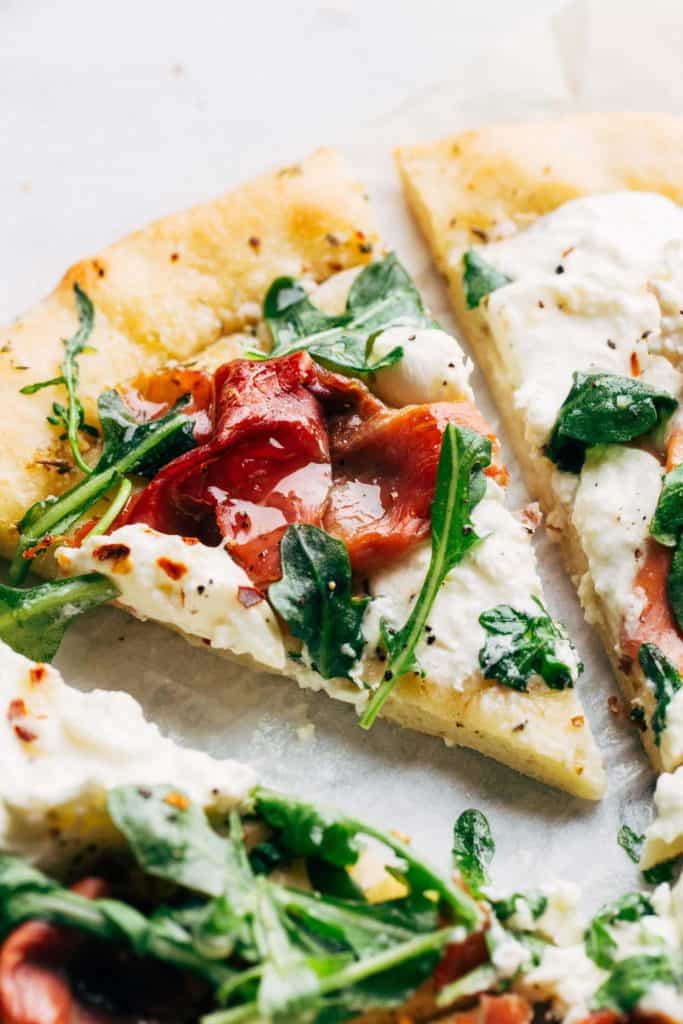 How to make homemade pizza dough (quick and easy)
This pizza dough is ready to bake in less than 30 minutes and is SO easy to make. Ten minutes of that time is just allowing the dough to rest and rise which happens super fast using Fleischmann's® RapidRise® Instant Yeast. It makes yeast baking SO quick and it just never fails. It's the only yeast I ever bake with.
And to make sure you get this pizza dough recipe just right, here are a few tips to perfect it:
Work with warm water – It is so important to use warm water when working with yeast because if it's too cold, it won't activate and if it's too hot, it'll kill it. The easiest way to grab your warm water is from the tap. Set it to warm and wait for it to get to the right temperature. It should be warmer than room temp but not too hot.
Slowly incorporate the flour – The recipe starts by combining 1 cup of the total 2 1/4 cups of flour with the sugar, salt, and Fleischmann's® RapidRise® Instant Yeast. Then, mix in the water and oil. At this point, the dough will be VERY wet. Incorporate one more cup of flour and your dough should turn shaggy and somewhat sticky. The remainder of the flour will be worked in during the kneading process.
Kneading the dough – At this point, your dough should look like the first photo below. AKA a shaggy mess. Turn it out onto a floured surface and dust with more flour which you can grab from a 1/4 cup on standby. Form into a loose ball and press your palm into the center, pushing the dough away from you. Fold it in half, pulling towards you and repeat. Do so for about a minute until you're able to form a smooth ball. Dust with flour as you go to prevent it from sticking to you and your bench.
Allow the dough to rest – Leave the dough in a ball on your work surface for about 10 minutes. It should puff up a bit but will not double in size. Resting allows the gluten to relax so that when you go to shape the pizza, the dough doesn't resist and spring back.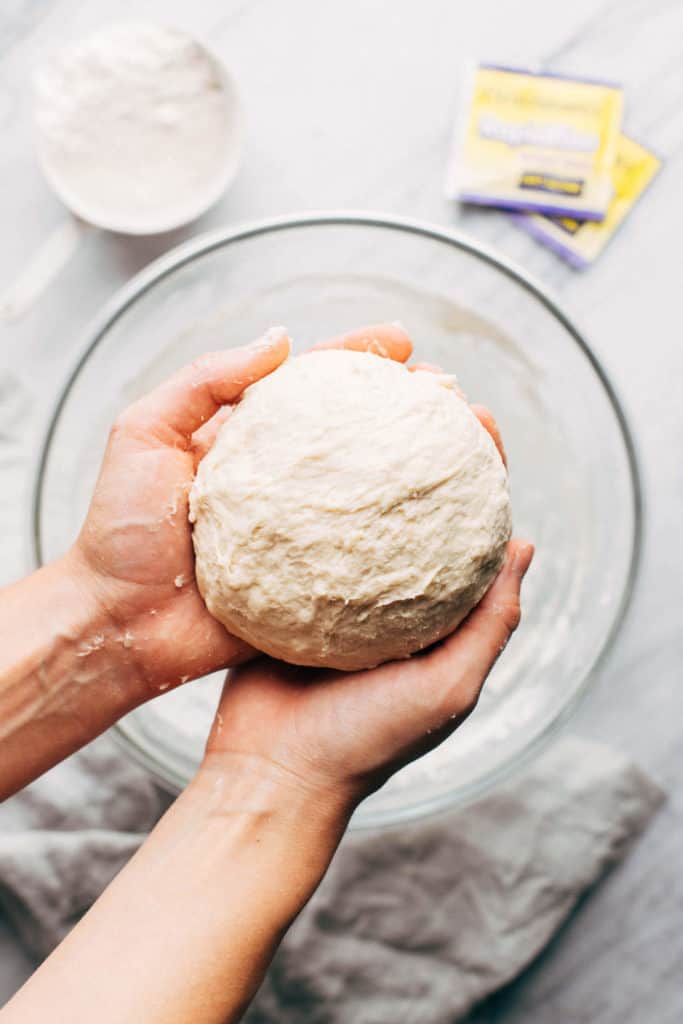 How to shape pizza dough
Once the dough has rested, it's time to press it into a pizza pie. Do so on a sheet of parchment paper lightly dusted with flour. This prevents the dough from sticking and also makes it easier to slice later on.
If you can, use a pizza pan with holes on the bottom. This gives you a golden crust that's baked all the way through. If you don't have one, your pizza will have to bake for a few extra minutes.
Place the dough into the center of the parchment paper. Press it down with your fingers while also spreading it out to the edges. This will be easy at first, but become a little bit more difficult as the dough stretches. If it's really giving you a hard time, leave it alone for a couple minutes then come back to it.
Once shaped, you should have a 12-13 inch round that is thinner in the center and thicker on the edges. Careful not to make it too thick, otherwise the center won't bake through.
How to bake prosciutto pizza
After the dough is shaped into our pizza crust, the recipe takes a less traditional route. Typically you would add pizza sauce at this point, whether that's classic marinara or a white cream sauce. For this recipe, the crust is simply brushed with a layer of garlic and herb oil.
The oil consists of garlic, oregano, and thyme. They bring out so much flavor in the crust and allow it to shine on its own. It also adds a beautiful golden crust over the entire surface of this pizza, allowing every inch to be perfectly fluffy with a chewy exterior.
But before it's baked, prosciutto is added on top of the layer of oil. As the pizza bakes, the prosciutto caramelizes like bacon. This brings out a rich flavor and helps to tenderize the chewy prosciutto. The topping also shrinks quite a bit once baked, so don't hesitate to add extra slices!
Burrata pizza toppings
When the pizza is hot from the oven, drain the burrata and tear it into smaller chunks. Scatter them around the hot pizza, trying to place in in spots where there's bare crust. The heat from the crust will help warm the cheese, releasing an extra creamy texture.
To brighten up the pizza, arugula is tossed with lemon juice, salt, and pepper and placed on top. But only coat the arugula RIGHT before adding it to the pizza. If the arugula sits in the lemon juice too long, it will become soggy and wilted.
For the final step, honey is drizzled over the entire surface of the pizza. It's not a typical pizza topping, but I tried it at one of my favorite pizza places back when I still lived in Chicago and it blew my mind. The sweet honey paired with the salty toppings is like a match made in heaven. It brightens up the dish and brings out all of the flavors, very similar to how salt brings out the flavors of chocolate chip cookies.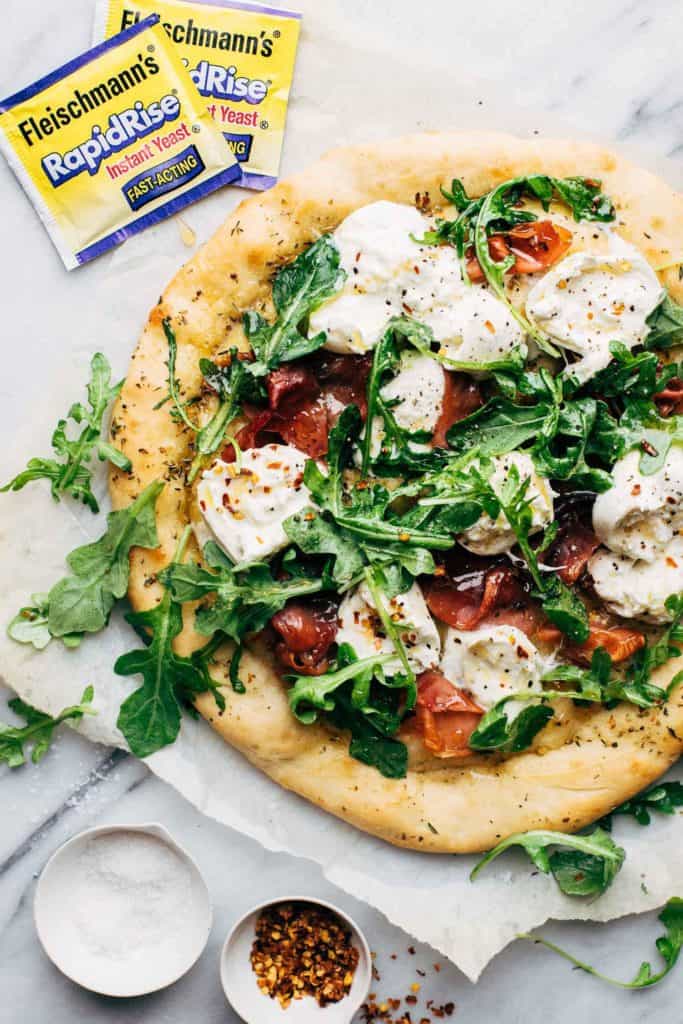 How to cut burrata pizza
Because there's a lot going on with the toppings, it's best to slice the pizza with a large knife rather than a pizza cutter. This keeps everything in place so each slice has an equal amount of toppings.
How long does homemade pizza keep?
If you have leftovers, store the slices in an air tight container in the refrigerator. They'll keep for up to 4 days.
To reheat, bake at 350F for about 5-10 minutes until warm. Bake on a baking sheet lined with foil for the best results. It also tastes really good cold, if you're into cold pizza!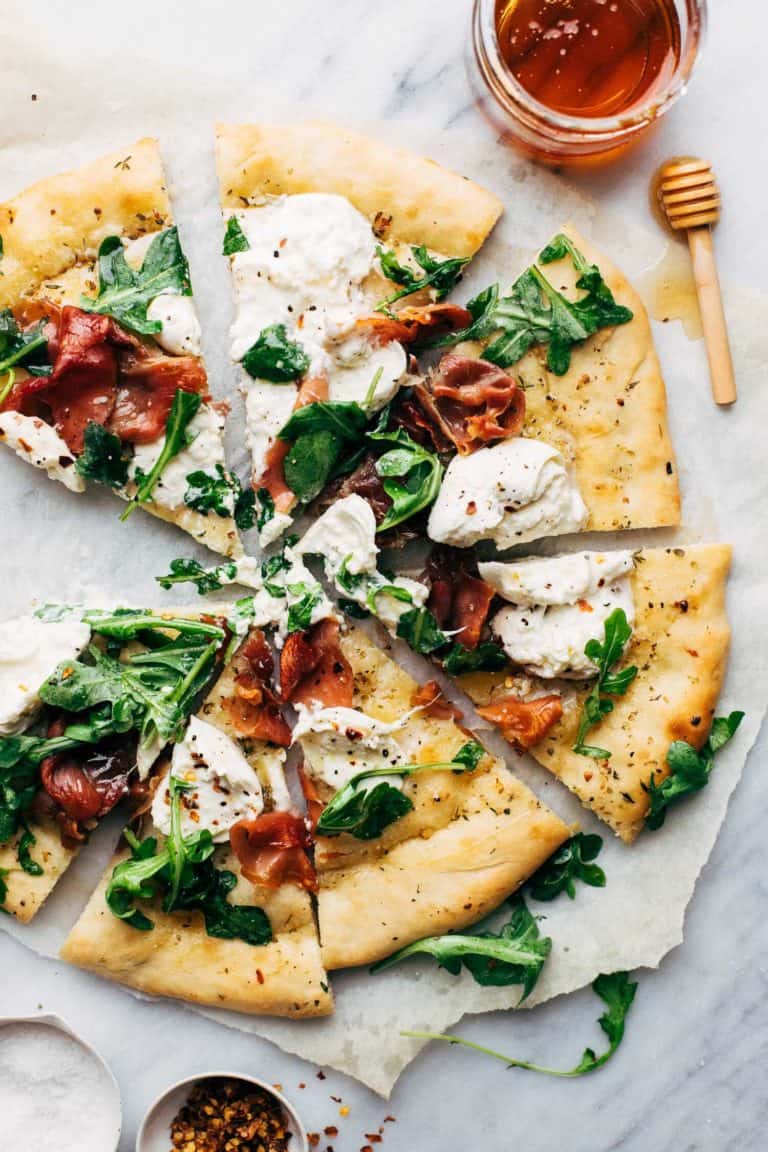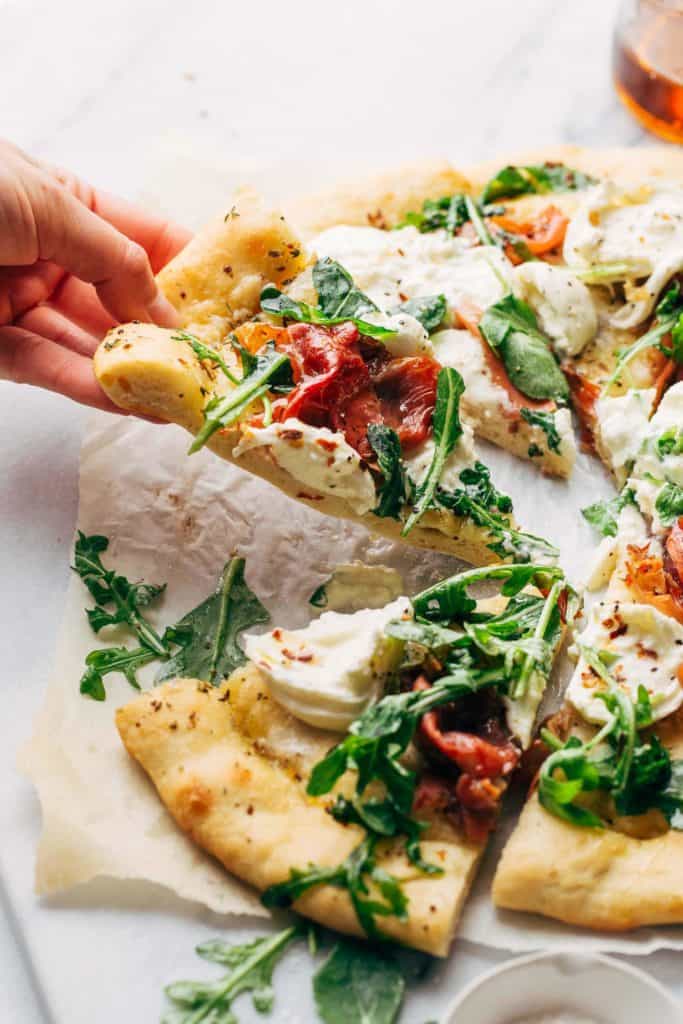 For more savory recipes, check out my:
Make sure to tag me @butternutbakery on Instagram and leave a review below if you make this prosciutto pizza. To pin this recipe and save it for later, you can use the button on the recipe card, the buttons above or below this post, or on any of the photos above. Happy baking!
Watch how to make this burrata pizza:
Print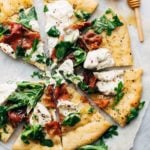 Prosciutto and Honey Burrata Pizza
---
Description
This fluffy pizza crust is baked with salty prosciutto and topped with creamy burrata cheese, zesty arugula, and a drizzle of sweet honey
---
Pizza Dough
Topping
3 tbsp olive oil
2 cloves garlic
1 tsp dried oregano
1/2 tsp fresh thyme
2 oz prosciutto
6 oz burrata
2 handfuls arugula
Juice of 1/2 lemon
1/4 tsp crushed red pepper 
Pinch of salt
1/4 tsp cracked black pepper
1 tbsp honey
---
Instructions
Pizza Dough
In a large bowl, whisk together 1 cup of flour, yeast, sugar, and salt.
Mix in the warm water and oil using a wooden spoon. The water should be a warmer than room temperature, but not too hot. 
At this point the dough will be VERY wet. Mix in another cup of flour and it should come together as a very shaggy dough.
Dump the dough out onto a floured surface and knead it for about a minute. Keep dusting the dough and surface with flour to prevent it from sticking. Don't use more than 1/4 cup of flour during this process. 
In the end you should be left with a smooth dough. Shape it into a ball and let it rest for 10 minutes.
During those 10 minutes, combine the 3 tbsp olive oil, garlic, oregano, and thyme in a small dish and set aside.
Topping
Preheat the oven to 425F.
After 10 minutes, the dough should have puffed up a very small amount.
Cover a pizza pan in parchment paper and lightly dust with flour. For best results, use a pizza pan with holes on the bottom. 
Place the dough into the center of the parchment and press it down with your fingers. Push the dough out to the edges into a 12-13″ circle. The center should be thinner than the edges. If it's giving you a hard time, leave it alone for a couple minutes then go back to it.
Brush the entire surface with the herby oil and top with slices of prosciutto.
Bake for 20-25 minutes, or until puffed and golden.
Immediately top the hot pizza with chunks of burrata. 
Toss the arugula in the lemon juice, crushed red pepper, salt, and pepper and sprinkle the leaves on top of the pizza.
Drizzle with honey, then slice and serve! 
Recipe Card powered by