This is hands down my favorite comfort meal, especially during the fall and winter squash season! This butternut squash mac and cheese is baked with a rich, dairy free butternut squash cheese sauce and topped with crispy bacon breadcrumbs. This recipe is also completely gluten free and can also be made vegan. It's a warm and cozy meal that anyone will love, whether they're dairy free or not!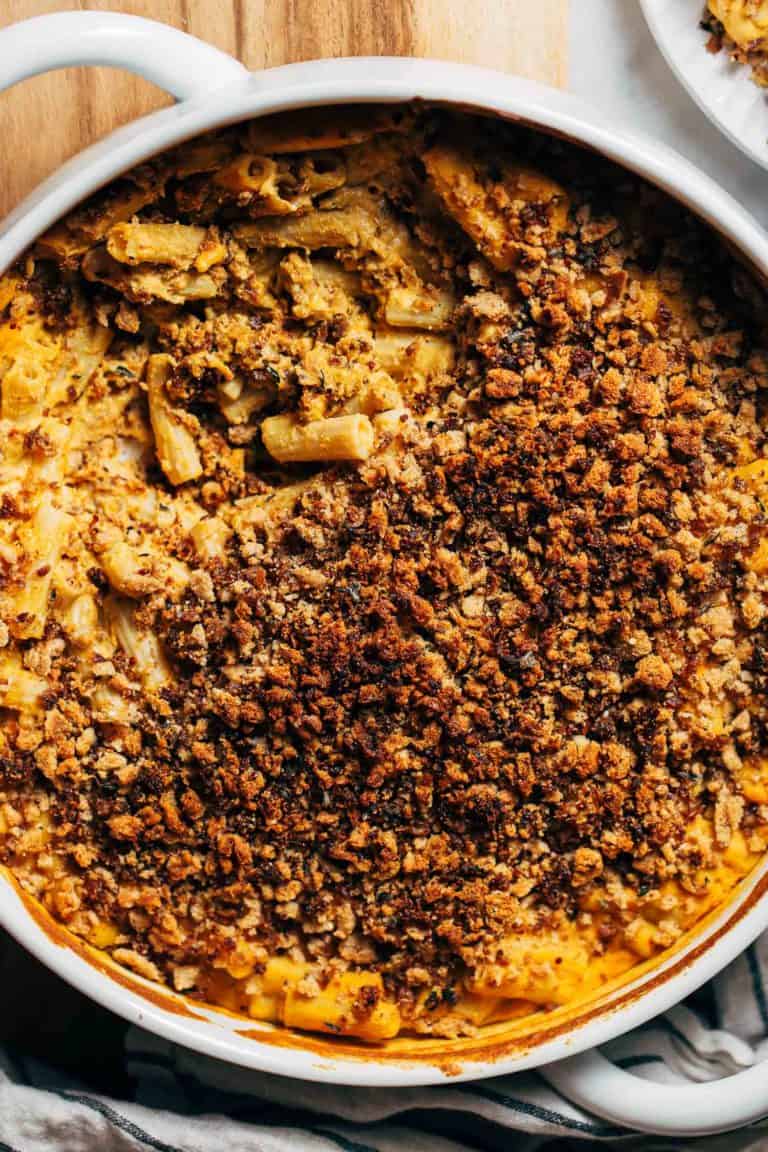 This butternut squash mac and cheese is the ultimate comfort food
Mac and cheese is the best comfort food, but the butternut squash takes it to a whole other level. It adds a rich creaminess that adds an extra depth of flavor. The squash creates a warm and inviting dish that's perfect to make during the chilly fall and winter months.
Paired with the right amount of spices and flavors, including smoked paprika, nutmeg, and dijon mustard, the dairy free cheesy sauce is bursting with flavor that's both smooth and savory with a hint of tangy sweetness.
But what takes this butternut squash mac and cheese over the edge is the pile of crispy bacon breadcrumbs on top. Toasted bread is finely ground with fresh herbs, crispy bacon, and bacon grease to give it a delicious flavor. The bacon grease helps crisp up the breadcrumbs once baked, so they're insanely crunchy fresh from the oven. It's the perfect pairing to the rich and creamy mac and cheese underneath.
How to make dairy free butternut squash cheese sauce
Yes, you heard that right. This mac and cheese is DAIRY FREE but you would honestly never tell or even miss the actual cheese. This "cheese" sauce is so rich, creamy, and flavorful that you would never even guess it's dairy free. Here's how it's made:
Cashews – Cashews are my go-to when creating super creamy and cheese-like sauces. Their mild flavor but rich texture can turn any sauce into a thick and lush consistency. The key is to soak the cashews in water overnight before blending. This helps soften the cashews so they blend seamlessly into the sauce.
Nutritional Yeast – This is another dairy free cheese staple. Nutritional yeast has an umami flavor very similar to cheese, which is why I don't skimp when cooking with it. I always find that you can never over do it with this stuff! That's why this recipe calls for 1/2 cup of this delicious cheesy ingredient.
Butternut Squash – Of course, it wouldn't be butternut squash mac and cheese without the butternut squash! The squash is roasted while the rest of the ingredients are prepped. It also makes up a majority of the sauce, and once blended it adds so much creamy thickness to the sauce.
Vinegar & Mustard – Cheese has a mellow tanginess, which is what makes it SO good in contrast to its rich creamy consistency. In this recipe I'm using white wine vinegar and dijon mustard. They both have a unique flavor that's well-rounded compared to standard vinegar or yellow mustard. White wine vinegar has a slight sweetness that pairs well with the butternut squash, and the dijon adds a mellow sharpness that's similar to the tanginess of real cheese.
Salt & Coconut Aminos – Of course cheese HAS to be salty, but not too salty. That's why I love using both coconut aminos and salt as they add two different layers of saltiness to this sauce. Coconut aminos are very similar to soy sauce, but has a smoother and slightly sweet flavor. It's also naturally gluten free! But it doesn't add enough saltiness, so a bit of kosher salt helps to round out this dairy free cheese sauce.
Milk & Pasta Water – To thin out the sauce to make it…well…a sauce…almond milk and pasta water are added. Almond milk adds creaminess while the starch in the pasta water helps to thicken the sauce once baked. You can choose to use any milk alternative, but I like almond milk the best!
These ingredients are all blended together in a high speed blender until super smooth. Refrain from eating the sauce straight with a spoon, because it is VERY tempting.
Gluten free herby bacon breadcrumbs
I cannot wait for you the experience the satisfying crunch sound these breadcrumbs make when you dig straight into this freshly baked butternut squash mac and cheese. It creates the perfect crispy and flavorful crust on top, which is much needed against the ultra creamy and tender mac and cheese underneath.
And I did not skimp on the breadcrumbs for this recipe. Personally, I believe it's what makes baked mac and cheese so special, so it's piled on to create a thick crunchy crust. It's also made up of just 4 main ingredients:
Stale Bread – You can choose to use regular or gluten free bread. Either way, it must be stale or toasted. If it's too soft, it will be difficult to blitz into a find crumb. I have left instructions in the recipe for toasting the bread so if you only have fresh bread on hand, not to worry!
Bacon – Bacon and mac and cheese just go together like peanut butter and jelly. The bacon adds a salty and savory richness that goes so well with the smooth and creamy butternut squash sauce.
Bacon Grease – Save the grease after cooking the bacon, as this is what helps crisp up the breadcrumbs once baked. Rather than using butter or oil, the bacon adds so much flavor!
Fresh Herbs – Thyme and sage are used to lighten up the richness of these breadcrumbs. The bright flavor cuts through the bacon and creamy sauce to help liven up the entire dish. If you can use fresh herbs, I highly recommend it! Otherwise, dried herbs can be substituted.
Does this recipe have to be made gluten free?
Nope, you can use any pasta you like. I use gluten free brown rice pasta, but any other pasta will work. Same goes with the breadcrumbs as you can use gluten free or regular bread. If you go with regular, I recommend whole wheat!
How can I make this mac and cheese vegan?
The only non-vegan element of this recipe is the bacon. I left instructions in the recipe notes, but simply swap the bacon with crispy mushrooms. To brown, heat the mushrooms in a hot skillet and press them down into the pan. Once browned, flip and brown on the other side. Then blend with the breadcrumbs and use oil or vegan butter to moisten the breadcrumbs before baking.
Do I need a to use a high speed blender?
A high speed blender will give you the best results. It blends the sauce into a super smooth and creamy consistency. Although I have blended cashew-based sauces in a regular blender and they have turned out fine. Just make sure the cashews are soaked beforehand, otherwise the sauce will definitely turn out chunky.
This sauce will not blend well in something like a food processor. Stick with a blender, and of course preferably a high speed blender. I've linked the one I use in the recipe card and I love it! It's pretty affordable as far as high speed blenders go, and if you're dairy free or vegan then you will get tons of use out of it.
What is the best baking dish to use?
I love baking this in a 2 quart casserole dish. It's best to use a baking dish that's roughly 11 inches in diameter and a few inches deep. If the mac and cheese is spread too thin in a larger dish, you'll lose some of that creaminess and the breadcrumbs will be scattered too thin.
Can I prepare the mac and cheese a day ahead and bake it fresh for serving?
Yep! You can mix together the noodles and sauce, cover, and chill overnight to bake the next day. You can also make the breadcrumbs a head and chill them overnight as well. Just make sure to store the pasta and breadcrumbs separately. Then top with the breadcrumbs before baking. The dish will likely need an extra 5 minutes in the oven as it's baked from chilled.
For more savory recipes, check out my:
Make sure to tag me @butternutbakery on Instagram and leave a review below if you make this butternut squash mac and cheese. To pin this recipe and save it for later, you can use the button on the recipe card, the buttons above or below this post, or on any of the photos above. Happy cooking!
Print
Butternut Squash Mac and Cheese
---
Author: Jenna Barnard
Total Time: 1 hour 30 minutes
Yield: 5-6 servings
Description
This creamy butternut squash mac and cheese is topped with herby and crispy bacon breadcrumbs. It's also dairy free and gluten free!
---
Bacon Breadcrumbs
5 oz (4–6 strips) bacon *see notes for vegan version
2 1/2 cups (120g) gluten free bread (about 5 slices)
2 tsp fresh thyme
4 fresh sage leaves 
Butternut Squash Mac and Cheese
12 oz uncooked gluten free pasta**
(1) 2 lb butternut squash
1 tbsp olive oil, divided
4 cloves garlic, roughly chopped
1/2 yellow onion, diced
3/4 cup raw cashews OR sunflower seeds, soaked in water in the refrigerator overnight***
1/2 cup nutritional yeast
1 tbsp + 1 tsp white wine vinegar (lemon juice is also OK)
1 tbsp coconut aminos
2 tsp dijon mustard
1 tsp smoked paprika
1 1/2 tsp kosher sea salt****
1/2 tsp fresh cracked black pepper, or to taste
1/4 tsp ground nutmeg
1 1/4 cups almond milk
1/2 cup reserved pasta water
1 cup shredded vegan cheddar cheese
---
Instructions
Preheat the oven to 400F and line a baking sheet with foil.
Cut the butternut squash in half, lengthwise, and scoop out and discard the seeds.
Place the squash cut side up on the baking sheet. Drizzle with 1/2 tbsp olive oil and rub into the surface of each half.
Sprinkle with some salt and pepper and bake for 1 hour, or until fork tender.
Meanwhile, heat a skillet over medium heat and drizzle with the other 1/2 tbsp of olive oil. 
Once hot, add the onion and garlic and sauté until lightly browned and translucent. 
Scoop the onions and garlic into a high speed blender, along with the drained cashews, nutritional yeast, vinegar, coconut aminos, mustard, paprika, 1 1/2 tsp salt, 1/2 tsp pepper, and nutmeg. Do not blend yet, just set aside.
Return the skillet to the burner and cook the bacon until browned and crispy. Transfer to a plate lined with a paper towel and reserve about 1 tablespoon of the bacon grease. 
Next, place the slices of bread in an even layer on a baking pan. Place into the oven with the butternut squash to toasted for 5 minutes on each side. This will make it easier to blend into breadcrumbs. But if your bread is already a stale, you can skip this step.
Cut or tear the bread into bite-sized pieces and measure out roughly 2 1/2 cups to ensure you have the right amount. Add to a food processor along with the bacon, thyme, and sage. Blitz into a fine crumble, then mix in the reserved bacon grease by hand. Set aside.
Now boil your pasta according to the instructions on the box. Once al dente, drain (reserving 1/2 cup of the water) and rinse the pasta with cold water. Pour the pasta into a 2 quart casserole dish and toss in the vegan shredded cheese. Set aside.
By now the squash should be done. After removing, reduce the oven temperature to 375F. Allow the squash to cool, then scoop out the flesh and measure to 2 cups. Add it into the blender with the rest of the ingredients, along with almond milk and reserved pasta water.
Blend on high until smooth. Pour the sauce over the noodles and stir to combine. Sprinkle all of the breadcrumbs on top, in a hefty layer, bake for 25-30 minutes.
It's ready when the breadcrumbs are a deep golden brown and the edges are barely bubbling. 
Allow the dish to cool for about 10 minutes, then dig in!
Equipment
Notes
*VEGAN OPTION – To make this recipe vegan, swap the bacon with mushrooms. Oyster is preferred, but you can use any you like. To make, place a skillet (preferably cast iron) over medium heat and drizzle with a bit of olive oil. Once hot, add the mushrooms. Heat on one side, pressing the mushrooms into the pan, until golden brown. Flip and brown on the other side. Once browned and shriveled, remove the mushrooms and place into a food processor with 1/2 tsp salt. Blitz until ground into small bits, and mix into the breadcrumbs with 1 tbsp olive oil or melted vegan butter.
**GLUTEN FREE PASTA – I prefer to use brown rice pasta for this recipe because I find it doesn't break nearly as easily as chickpea or lentil pasta. But of course, use whichever you prefer or are able to eat! 
***SOAKED CASHEWS – If you didn't have time to soak the cashews overnight, you can also boil them for about 10 minutes or until tender. But do not skip this step of soaking or boiling, otherwise the sauce won't turn out as smooth and creamy.
****SALT – Kosher sea salt is coarse, so 1 1/2 tsp of this salt is less than 1 1/2 tsp of standard fine table salt. If you're using fine table salt, only use 1 tsp and then taste test to see if you need more.
Prep Time: 1 hour
Cook Time: 30 minutes
Keywords: butternut squash mac and cheese, gluten free mac and cheese, dairy free mac and cheese, baked mac and cheese
Recipe Card powered by