This chorizo cornbread stuffing is a unique twist on a classic Holiday dish. Crispy chunks of cornbread and baked with spicy chorizo, tender veggies, jalapeños, and cilantro. It's super flavorful and so easy to make! It can also be made using regular or gluten free cornbread.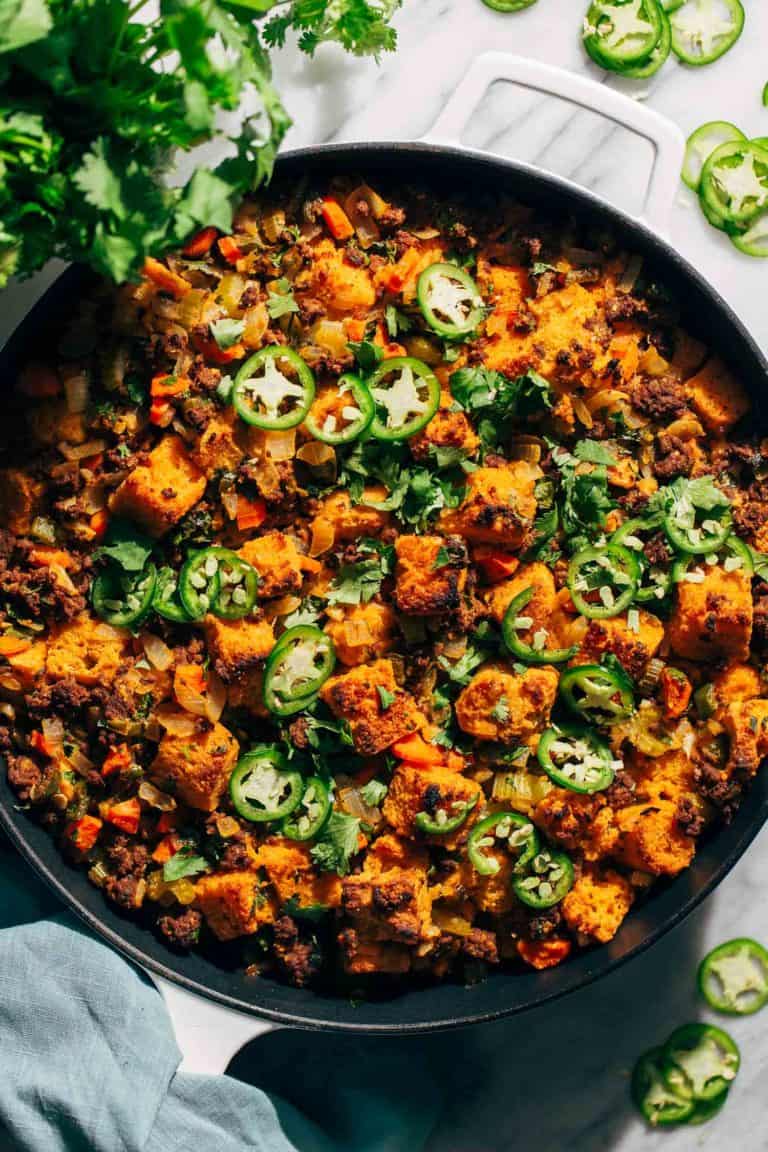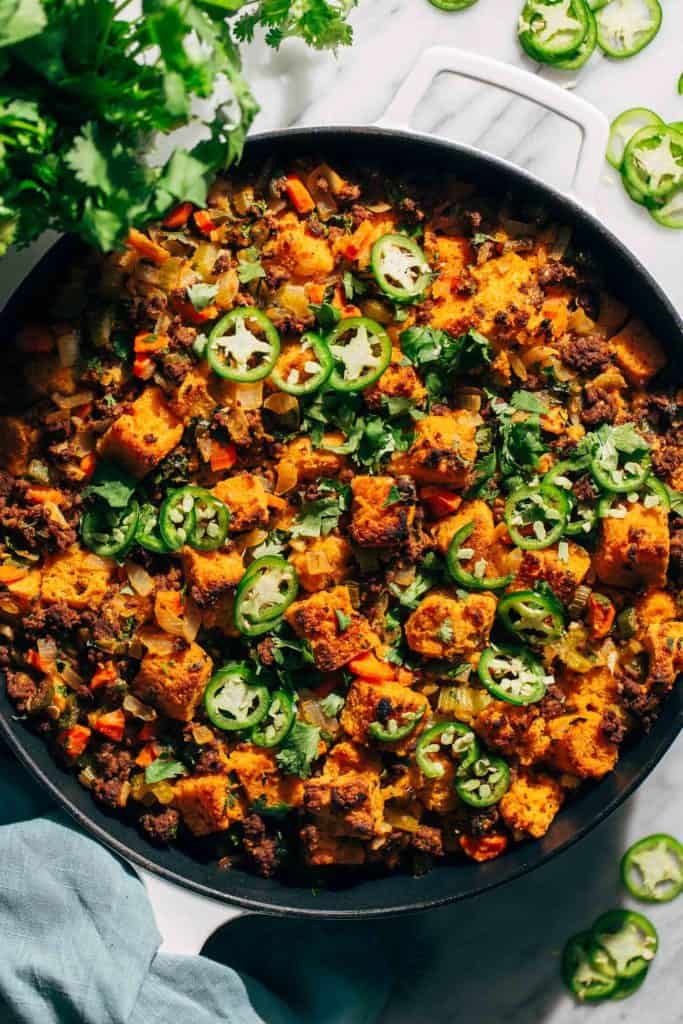 Flavorful chorizo cornbread stuffing
If you're looking to spice up your Thanksgiving menu, look no further than this cornbread stuffing recipe. It's made with chorizo which adds a major boost of flavor to this dish. Here's what you can expect with every bite:
Cornbread – Of course, this stuffing is loaded with cornbread. Bake it a day ahead, chop it, and leave it out at room temperature overnight. This will result in crispy bits of cornbread all throughout this amazing stuffing. You can also use regular or gluten free cornbread! But I suggest using a cornbread mix just go make this recipe super easy.
Chorizo – With deep and spicy flavors of chili, cumin, oregano, and garlic, adding chorizo to this stuffing recipe is a no brainer. It effortlessly adds SO much flavor, so your cornbread will be anything but bland. You can also use any chorizo you like. I prefer beef, but pork is a more traditional form of chorizo. Soyrizo is another option as it's a soy-based product, which can be used if you'd like to make this a vegetarian dish.
Jalapeño – Typical stuffing veggies include onion, celery, and carrot. While all three are still included in this dish, jalapeño is added to play off the southwestern flavors of this dish. I'm a bit of a wimp when it comes to spice, so I scrape out most of the seeds. But if you like the heat, leave the seeds in one of the jalapeño peppers for an extra kick.
Cilantro – Fresh herbs are always used in stuffing as it helps brighten up the dish. But instead of rosemary or sage, cilantro is used in this dish. It's the best pairing for the zesty flavors of this stuffing!
Tips for making cornbread stuffing
Cornbread stuffing can be a bit tricky since cornbread is much. more tender than bread. To ensure your cornbread chunks stay in tact and down break down within the stuffing, here is what you can do:
Cornbread Mix – First, make the cornbread a day before using any cornbread mix. Ensure it's a mix that can bake in a 8×8 square baking dish, as we'll use approximately half of this amount. A mix also just makes this entire recipe so much easier! Especially if you opt for a gluten free option.
Stale Cornbread – When testing this recipe, I made the stuffing the same day as the cornbread. While it was still good, the cornbread basically turned the mush. To fix this problem, it's important to use stale (not fresh) cornbread. This is why it's made a day ahead, so it can be chopped up and left out overnight. This dry cornbread will soak up all the chicken stock, creating a soft inside but crispy exterior.
Mixing Stuffing – Typically stuffing is all mixed together and then the liquid is stirred in. For this recipe, the meat, veggies, and stock are all mixed together and THEN the cornbread is folded in. It's best to mix as little as possible with cornbread, so leaving it for the very last step ensures that all other ingredients are evenly distributed.
Baking the Stuffing – Pour the stuffing into the baking dish or pan. Gently nudge the mixture around to spread it even. Then, evenly scatter any chunks of cornbread that are sitting on top. Not only does this ensure a balanced amount of cornbread and chorizo in every bite, but these bits of cornbread on top with crisp up when baked. That crunch is what makes this cornbread stuffing recipe so good!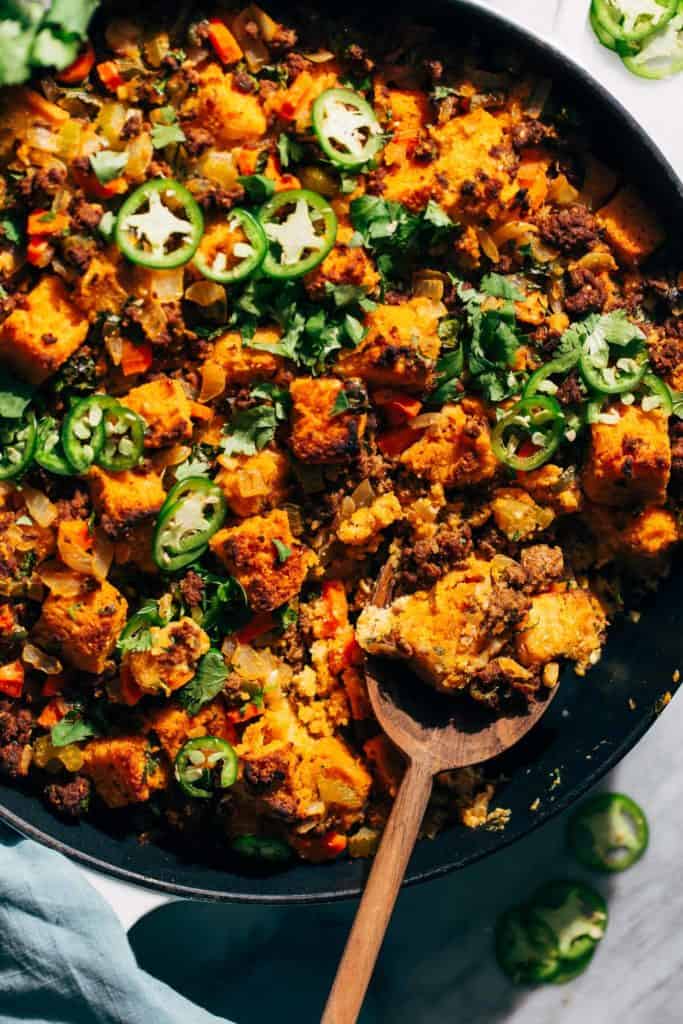 The best baking dish for stuffing
For this recipe, I baked it in a giant 12″ cast iron skillet because I love the look of the square cornbread bits inside a round pan. Of course, not everyone has a 12″ cast iron skillet, so a 9×13 baking dish also works just fine! Just make sure to butter or spray the dish to prevent the stuffing from sticking.
Broiling cornbread stuffing
To get the crispy golden crust on top, the cornbread is broiled for just a few minutes right at the end of its bake time.
But, broiling can be tricky as the stuffing can go from golden to burnt very fast. To prevent burning, make sure the stuffing is on the middle rack of the oven. Then, broil for just 3 minutes. If it's still not as golden as you like, broil in 30 second increments until it's ready.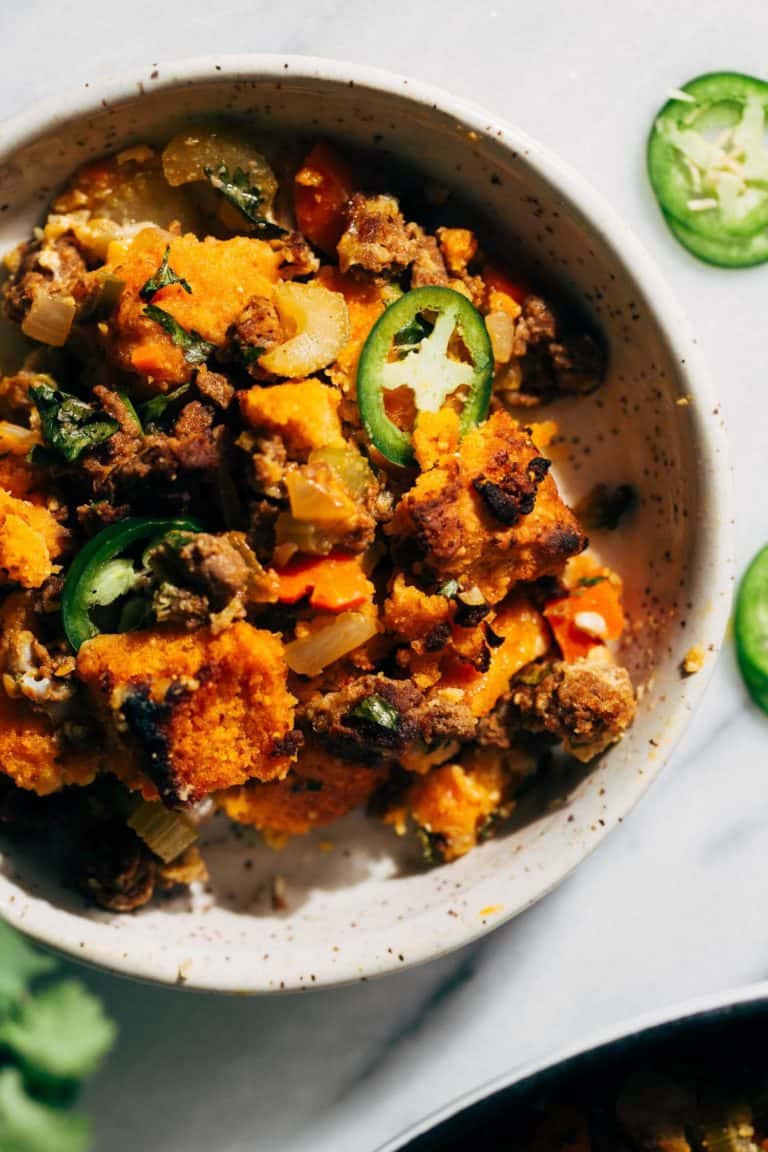 For more savory recipes, check out my:
Make sure to tag me @butternutbakery on Instagram and leave a review below if you make this chorizo cornbread stuffing. To pin this recipe and save it for later, you can use the button on the recipe card, the buttons above or below this post, or on any of the photos above. Happy baking!
Print
Chorizo Cornbread Stuffing
---
Description
This chorizo cornbread stuffing is made with crispy chunks of cornbread, spicy chorizo, jalapeños, and a sprinkle of cilantro. It's incredibly flavorful with a southwestern spin on this classic dish. It can also be made with regular or gluten free cornbread!
---
8 cups cubed cornbread, stale *see notes
1 pound pork, beef, or soy chorizo
4 tbsp unsalted butter, divided (regular or vegan)
1 yellow onion, chopped
3 celery stocks, chopped
2 large carrots, peeled and chopped
2 jalapeños, chopped and seeded or seeds left in one for an extra kick
4 cloves garlic, minced
1/2 cup dry white wine
Salt and pepper to taste
1 1/2 cups chicken stock
2 large eggs
1/2 cup fresh chopped cilantro, plus more for sprinkling on top
---
Instructions
Preheat the oven to 350F and grease either a 12″ cast iron pan or 9×13″ dish with 2 tablespoons of butter. Set aside.
Place a large skillet over medium heat and add a small drizzle of oil. Once hot, add the chorizo to cook and break it down.
Once done, spoon the chorizo into a large mixing bowl. Discard any excess juices inside the pan, but do not wipe it clean. Any residue is used to add flavor to the veggies.
Return the pan to the stove top over medium heat and melt the remaining 2 tablespoons of butter. Once melted, toss in the onion, celery, carrot, jalapeño, and garlic.
Stir and cook for about 5 minutes, or until the onions start to turn translucent. Pour in the white wine and cook until the wine is nearly gone – about another 5 minutes. All of the veggies should look tender and translucent when done.
Add the veggies to the bowl of chorizo along with the 1/2 cup of cilantro and stir to combine. Season with salt and pepper and taste to your liking. I used about 1/2 tsp of each, as the chorizo is already pretty salty and flavorful.
In a 2 cup measuring glass, add the eggs and about 1/2 cup of the stock. Beat with a fork to combine, then add the remaining stock.
Pour the stock mixture into the bowl of veggies and chorizo and stir to combine. Then toss in the stale cornbread and gently fold to lightly coat and distribute the chunks.
Pour the stuffing into the prepared pan. Nudge around the stuffing to get an even layer, and evenly scatter the bits of cornbread that sit on top.
Cover the pan with foil and bake for 25-30 minutes on the middle rack of the oven.
Then, remove the foil and broil on high for about 3 minutes. Keep an eye on it to prevent it from burning. After 3 minutes, check and see if it's golden enough. If not, broil in 30 second increments until it's done.
Sprinkle with some extra cilantro and dig in while it's warm. Enjoy!
Notes
*CORNBREAD – You can use cornbread mix that is either regular or gluten free. Bake it in an 8×8 square baking dish (if the instructions allow) and let it cool completely. Once cooled, chop half of the cornbread into cubes. This should give you about 8 cups. Leave the cornbread chunks out on the counter overnight to dry out. If you don't use dry cornbread, the stuffing turns out a bit more soft than I'd like.
Prep Time: 30 minutes
Cook Time: 30 minutes
Keywords: cornbread stuffing, chorizo cornbread, chorizo stuffing, gluten free cornbread stuffing
Recipe Card powered by