These sweet potato dinner rolls are the perfect way to spice up a basic dish. Made with warming spices, sweet potato puree, and rosemary butter, these rolls are bursting with flavor. They're also easy to make by hand and turn out soft and fluffy every time, thanks to Fleischmann's® RapidRise® Instant Yeast!
This post is sponsored by Fleischmann's® Yeast but all thoughts and opinions are my own. Thank you for supporting the brands that make Butternut Bakery possible!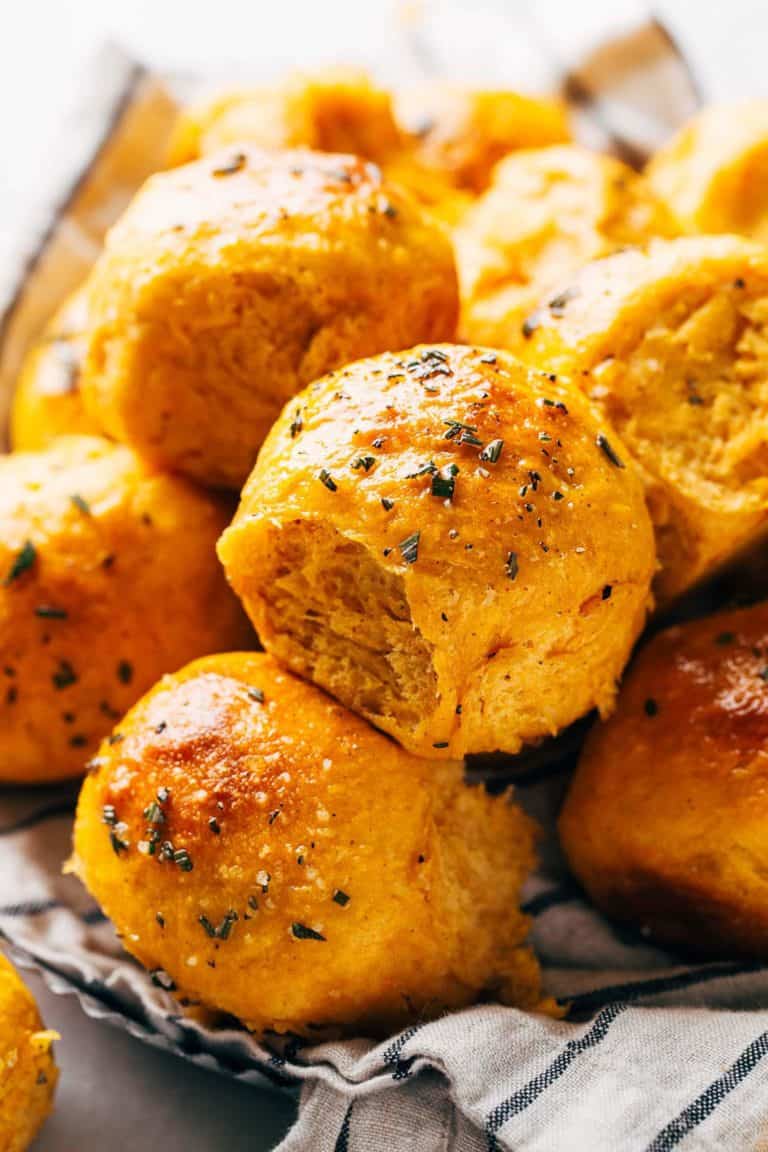 What makes these the BEST sweet potato dinner rolls?
This will definitely be your new go-to dinner roll recipe for three reasons:
They're so easy and quick to make. You can have fresh rolls in an hour thanks to Fleischmann's® RapidRise® Instant Yeast. It allows these rolls to rise in just 30 minutes and provides quality results every time! It's the perfect ingredient to use for homemade rolls because they only need one rise before baking.
No special equipment is needed. Just mix in a bowl by hand!
The texture is light, fluffy, buttery, and just melts in your mouth. The sweet potato gives these rolls an extra soft consistency unlike any other roll.
Whether you're making these for Thanksgiving or just for dinner, these rolls are a fun way to incorporate even more flavor into your meal.
How to make dinner rolls by hand
All you need for this dinner roll recipe is a bowl, a rolling pin, and a mixing spoon. No electric mixers required! The trick to getting delicious and delicate rolls made by hand is by using these two tips:
Use a good quality yeast with quick activation. This will do all the work for you, allowing the rolls to puff up quickly to give you tons of lift and air pockets. That's the secret to delicious and light dinner rolls. I recommend using Fleischmann's® RapidRise® Instant Yeast because it's easy to use and produces delicious rolls every time. Click to learn more about how yeast works in this recipe.
Gradually add the flour. Since we don't have an electric mixer, it's important not to overwhelm the dough with too much flour. Otherwise, it will be difficult to knead the dough by hand and could lead to tough rolls. As you mix, add 1 cup of flour at a time. Once it becomes too difficult to stir with a spoon, switch to your hands to knead the dough inside the bowl.
After kneading, allow the dough to rest for 10 minutes. This allows the wet ingredients to fully hydrate the flour and gives the gluten a chance to relax. This will make it so much easier to roll out.
To up your roll making, check out Fleischmann's full guide on yeast baking techniques.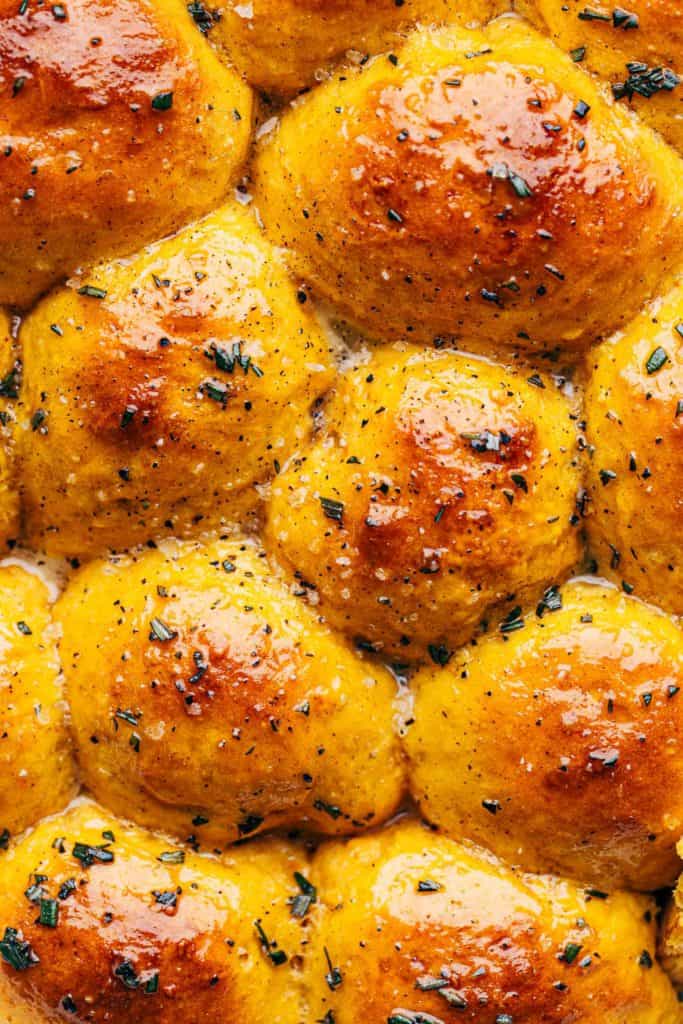 How to shape perfectly round sweet potato dinner rolls
Once the dough has rested, it's time to cut and shape our rolls. First, cut the dough into 16 pieces by cutting it into quarters and then cutting each quarter into another quarter.
But while the dough rested, it formed a thin skin over its surface. If the pieces are just simply rolled between your two hands and placed into the baking dish, the rolls will bake uneven due to that surface dryness.
To prevent this from happening, the process of forming the dinner rolls is very important. Take a piece of the cut dough and pull the surface of that piece over and underneath itself. You're essentially gathering the entire surface of the roll at the very base of it in order to pull the top surface smooth and taught.
For a visual demonstration, view the video below. But the more rolls you practice on, the easier it becomes!
Serving sweet potato dinner rolls
Serve right when the rolls are warm from the oven. While they're still hot, brush with rosemary butter. The butter will slowly seep into the rolls, allowing them to become softer and tender.
How to prep these rolls overnight
Once you've formed the rolls and placed them into the baking dish, wrap in plastic wrap and store in the refrigerator for up to 24 hours before baking. When you're ready to bake, leave the rolls out at room temperature (still covered) for at least 45 minutes. They may not completely puff up but that's OK. Follow the same baking instructions.
Can you substitute pumpkin puree in place of the sweet potato?
I have not tested this, but I would lean towards no because pumpkin puree has more moisture than sweet potato. I also do not recommend swapping in a different type of potato like russet or purple because again, the moisture content is much different.
For more savory recipes, check out my:
Make sure to tag me @butternutbakery on Instagram and comment below if you make these sweet potato dinner rolls. To pin this recipe and save it for later, you can use the button on the recipe card, the buttons above or below this post, or on any of the photos above. Happy baking!
What how to make these sweet potato dinner rolls:
Print
Sweet Potato Dinner Rolls
---
Author: Jenna Barnard
Total Time: 55 minutes + 30 minutes rising
Yield: 16 rolls
Description
These sweet potato dinner rolls are soft and fluffy with warm spices and savory rosemary butter brushed on top.
---
Sweet Potato Dinner Rolls
3 1/2 to 4 cups all purpose flour
1 tbsp granulated sugar
1 tsp salt
1 tsp ground cinnamon
1/4 tsp ground nutmeg
1/4 tsp ground ginger
1/2 cup (120ml) milk
2 tbsp unsalted butter
2 large eggs, divided
1 cup sweet potato puree*
Rosemary Butter
2 tbsp unsalted butter
2 tsp fresh rosemary, finely chopped
Pinch of sea salt
Cracked black pepper
---
Instructions
In a large mixing bowl, whisk together 1 cup flour, sugar, yeast, salt, cinnamon, nutmeg, and ginger.
In a measuring glass, combine the milk and butter cut into two tablespoons. Heat in the microwave for 30-45 seconds until warm, but not hot. The butter may not melt all the way.
Pour into the dry ingredients along with 1 egg and sweet potato puree. Stir to combine.
Add in 2 cups of flour and mix until it forms a shaggy dough.
If it's still too sticky to handle with your hands, add in another 1/2 cup to 1 cup of flour. 
When it becomes too tough to handle with your mixing utensil, bring to knead the dough inside the bowl using your hands. The dough should be sticky, but not too thin.
Continue to knead until you reach a smooth dough. Press a clean and dry finger into the surface. If it sticks, keep kneading and add 1/4 cup of flour at a time until your finger no longer sticks and the dough slowly springs back.
Cover the bowl and let the dough rest for 10 minutes.
Lightly dust your surface with flour and place the dough in the center. Pan into a rough square and cut it into quarters. Then cut each quarter into quarters again, creating 16 pieces.
Shape each piece by pulling the surface of the roll under itself, creating a smooth and taught surface with the rest of the dough pinched together underneath. If the dough is a bit too sticky, coat your fingers with flour as you work. 
Place the rolls in greased 9×13″ baking dish or 10-12″ round baking dish, evenly spaced apart. Cover the pan and let the rolls rest for 30 minutes.
To bake, preheat the oven to 375F. Uncover the rolls and brush with an egg wash (1 egg beat with 2 tsp water). Bake for 20-25 minutes or until golden brown.
While the rolls bake, make the rosemary butter by combining melted butter with chopped rosemary.
When the rolls are warm from the oven, brush with the butter and top with a sprinkle of salt and pepper. Serve while warm. Enjoy!
Notes
*SWEET POTATO PUREE – To make the puree, preheat the oven to 400F and prepare 2 medium sweet potatoes. Wash and dry the potatoes, then prick the surface with a fork. Place on a baking sheet lined with foil and bake for 50 minutes to 1 hour, or until fork tender. Allow the potatoes to cool, just enough to handle, then peel off the skins and blend the potatoes in a food processor until smooth.
Prep Time: 30 minutes
Cook Time: 25 minutes
Keywords: sweet potato rolls, sweet potato dinner rolls, dinner rolls, dinner roll recipe, potato rolls
Recipe Card powered by