These pimento butter mashed potatoes are unlike any other mashed potato recipe you've had! Not only are they super creamy, but they're bursting with flavor using homemade pimento butter. This consists of roasted red peppers, hot sauce, and smoked paprika. It adds a slight kick and unique flavor to create an elevated version of this classic dish.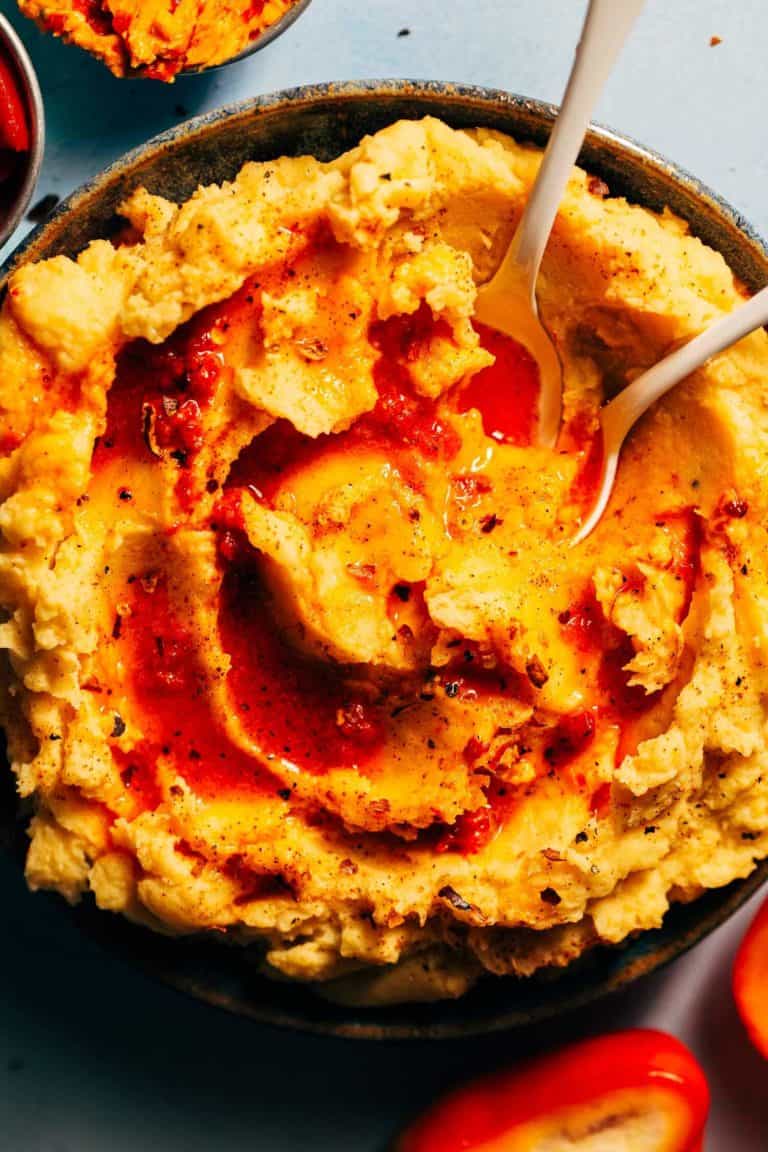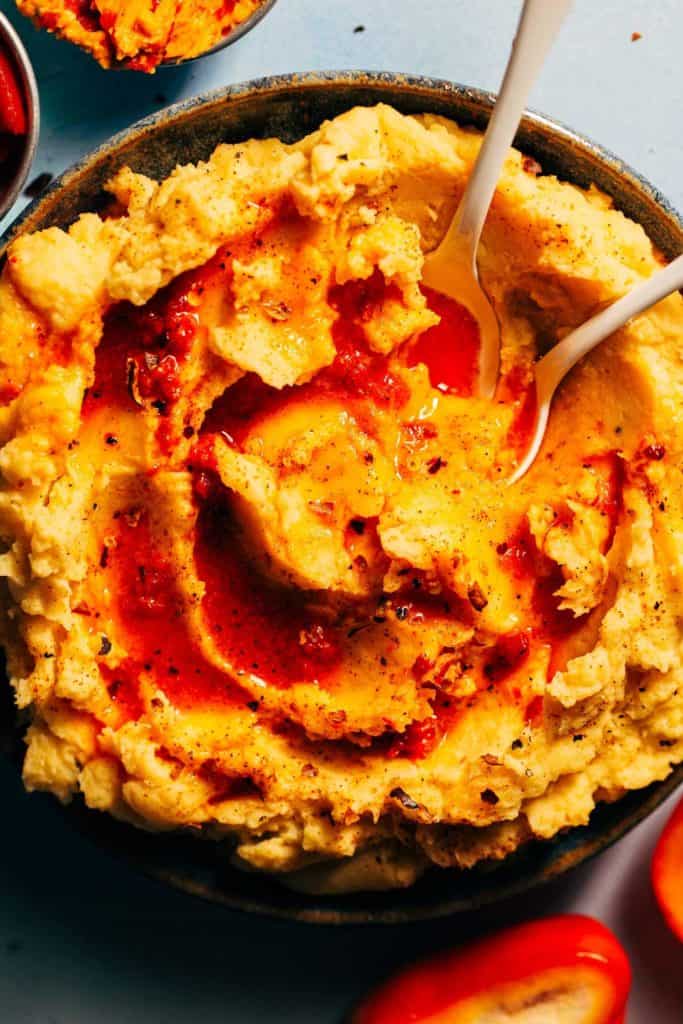 What is pimento butter?
Pimentos are a type of red pepper that are slightly sweet with very little heat, so they are similar to red peppers. You may be familiar with pimento cheese, as this is a common type of dip made with mayonnaise and pimentos.
But the pimento flavor isn't limited to just cheese, as this mashed potato recipe gets most of its flavor from homemade pimento butter. Since pimento peppers aren't as widely available, we're subbing red peppers to get the same affect.
To make homemade pimento butter, simple blitz together butter, roasted red peppers, hot sauce, and smoked paprika. It gives the butter and zesty and smokey flavor that pairs perfectly with the rich and creamy mashed potatoes.
Tips for making perfect pimento mashed potatoes
In my opinion, mashed potatoes are the perfect food. They're creamy, satisfying, filling, and so easy to make. Although they may be easy, they can turn out gluey if special care isn't taken during the process. Here's what to do in order to achieve perfectly rich and fluffy mashed potatoes:
Choose Your Potatoes – The type of potatoes you use will determine the ease of the recipe. I personally love yukon gold potatoes because they are naturally creamy. To cut on cost, I would also recommend a blend of half yukon and half russet. As long as yukon is in there somewhere, your potatoes will be golden! …pun intended.
Prep Your Potatoes – It's very important to wash, peal, and chop the potatoes into uniform pieces. Of course if you prefer skins in your mashed potatoes, leave those on. Either way, make sure to wash each potato to remove any dirt. Most importantly, chop the potatoes into identical 1 inch chunks. This allows the potatoes to boil evenly, which will also make mashing much smoother.
Cold Water – Start boiling the potatoes in COLD water. When the water starts cold, the boiling process will happen gradually. This ensures the entire piece of potato remains fork-tender from the inside out. If they're boiled in hot water to start, the outside of the potatoes will soften much more rapidly than the inside which could cause them to turn super mushy.
Boiling and Simmering – Cover the pot to bring it to a boil, but then uncover it once it reaches that point. If the potatoes are covered the entire time that they cook, this will speed up the heating process and make the potatoes TOO soft. This is also why it's important to reduce the heat to a simmer once the pot starts boiling. A simmer will gently heat the potatoes, whereas boiling the entire time could, again, make the potatoes too soft.
Resting – Once the potatoes are fork tender, drain in a colander and let them rest for about 5 minutes. The excess water will evaporate from the potatoes. If that starchy water is left on, it could create gluey mashed potatoes.
Mashing – When mashing, try to do as little as possible. Directly mash and refrain from stirring. If the potatoes are worked too much, that starch kicks into action and could create the undesired gluey consistency.
The secret to creamy mashed potatoes
I'm keying you in on a secret with this recipe, as this is the way my grandma used to make her mashed potatoes and I will never make mashed potatoes any other way!
This top secret to getting super creamy mashed potatoes is to use both milk AND cream cheese. The milk helps thin out the potatoes into that super silky consistency, where the cream cheese comes in to add tons of richness and creamy texture.
Using the tips I listed above (especially with gentle mashing) and your potatoes will turn out creamy, fluffy, and so delicious. Just like grandmas!
How to make vegan pimento butter mashed potatoes
When testing this recipe, I tried both a standard and vegan version with both being nearly indistinguishable. Dairy free products have come a long way, so turning this mashed potato recipe into a vegan recipe is super easy.
The only ingredients that need to be substituted are the butter, milk, and cream cheese. Luckily there are really easy vegan versions of all three! Vegan butter, plant-based milk (I recommend oat or almond for a mild flavor), and vegan cream cheese all work perfectly in this recipe.
How to serve pimento butter mashed potatoes
Once the potatoes are mashed with all of the necessary ingredients, there will be quite a bit of butter leftover which is intentional.
No mashed potato recipe is complete without an extra helping of butter or gravy. I recommend leaving the excess butter off to the side so everyone can add their desired amount. Melt it down for easy pouring, or leave it solid to let it melt on top of the hot potatoes.
Either way, that extra pimento butter makes all the difference in the flavor of these mashed potatoes so definitely don't leave it out!
For more savory recipes, check out my:
Make sure to tag me @butternutbakery on Instagram and leave a review below if you make this pimento butter mashed potato recipe. To pin this recipe and save it for later, you can use the button on the recipe card, the buttons above or below this post, or on any of the photos above. Happy cooking!
Print
Pimento Butter Mashed Potatoes
---
Description
These creamy mashed potatoes are made with a flavorful pimento butter consisting of roasted red peppers, smoked paprika, and hot sauce. It adds a unique flavor and kick to this recipe which pairs so well with the cream cheese used to make these mashed potatoes EXTRA delicious! This recipe is also easy to make standard or vegan with just a few simple swaps.
---
Pimento Butter
3/4 cup (165g) unsalted butter (regular or plant-based), chilled and sliced into tablespoons
1/2 cup (75g) roasted red peppers, patted dry and roughly chopped
1 1/2 tsp hot sauce
1/2 tsp smoked paprika
Pinch of kosher salt
Mashed Potatoes
3 lb yukon gold potatoes, washed, pealed, and chopped into 1 inch pieces
4 tsp kosher salt, divided
1/2 cup (120ml) milk (regular or plant-based)
1/2 cup (90g) cream cheese (regular or plant-based)
6 tbsp pimento butter
3/4 tsp garlic powder
Cracked black pepper to taste
Pepper flakes for topping (optional)
---
Instructions
Place the chopped potatoes in a pot of cold water, ensuring the water goes an inch above the potatoes.
Cover the pot and place over high heat to bring to a boil. Once boiling, uncover the pot and add 3 tsp of salt. Reduce to a simmer and let it bubble for 15-20 minutes or until the potatoes are fork tender.
While the potatoes boil, make the pimento butter. Add all of the ingredients to a food processor and pulse until the peppers are well distributed and the butter has a light orange color.
When the potatoes are ready, turn off the heat and drain in a colander. Let the potatoes rest there for 5 minutes, then transfer back to the pot and give them a rough mash.
Add the milk, cream cheese, and pimento butter and mash until smooth. Then mash in the garlic powder, remaining 1 tsp of salt, and black pepper. Taste and add more salt or pepper if desired.
To serve, sprinkle the top of the potatoes with a small pinch of pepper flakes (if desired). Then, melt the remaining pimento butter and either drizzle it on top or leave it off to the side for everyone to add their desired amount. Enjoy!
Prep Time: 30 minutes
Cook Time: 20 minutes
Keywords: mashed potatoes, mashed potato recipe, pimento potatoes, pimento butter, pimento cheese
Recipe Card powered by