Oh yes, you're reading that right. These gooey butter oatmeal cookies are the cookie version of the famous Milk Bar crack pie! They're a chewy oatmeal cookie with a puddle of gooey butter filling on top. When I tell you I couldn't stop eating these…I seriously mean it. THEY'RE JUST SO GOOD!
For starters, what is crack pie?
I'm talking about the one and only iconic crack pie made at Milk Bar Bakery. They're known for this pie because of how rich and addictive it is (hence the name).
It's has a chewy and toasted oat cookie crust with a thick and gooey butter filling. I actually made crack pie on my blog which is what sparked the idea for these crack pie cookies!
If you've never tried it before, the filling is a super thick and sticky consistency which is made up of mostly butter, sugar, and eggs. It's extremely rich and decadent.
But the real star of the show is the crust, in my opinion. It's this perfectly chewy and sweet homemade oat cookie crust that I could just eat on it's own. That's why I changed up the ratio to have more cookie than filling for these gooey butter cookies!
Seriously the best oatmeal cookie recipe
When I first made these cookies, I almost stopped at just the oatmeal cookie part because they were SO GOOD on their own! They bake so perfectly and create the best oatmeal cookie I've ever had.
I based the recipe off of the original crack pie cookie crust with a couple tweaks. My goal was to make these extra chewy but also a little more rich than your typical oat cookie recipe.
To add the richness and chewiness I wanted, I added an extra egg yolk and a little bit more sugar to the recipe. I also bumped up the baking soda so they would spread quite a bit and got rid of the baking powder.
Baking tip: baking "Soda" Spreads and baking "Powder" Puffs.
What I ended up with was my dream oatmeal cookie. It's loaded with oats and has that chewy center with the crispy edge. But of course, these are CRACK PIE COOKIES so I couldn't stop there!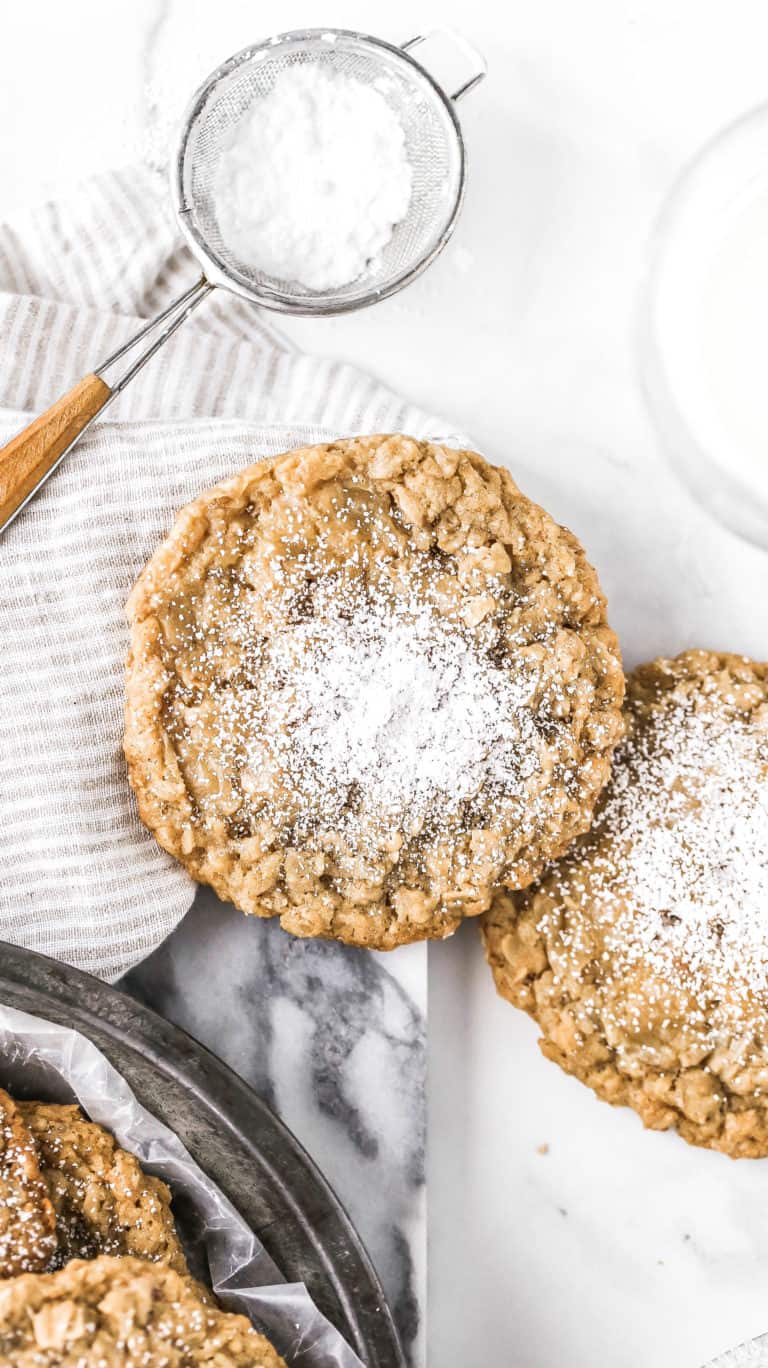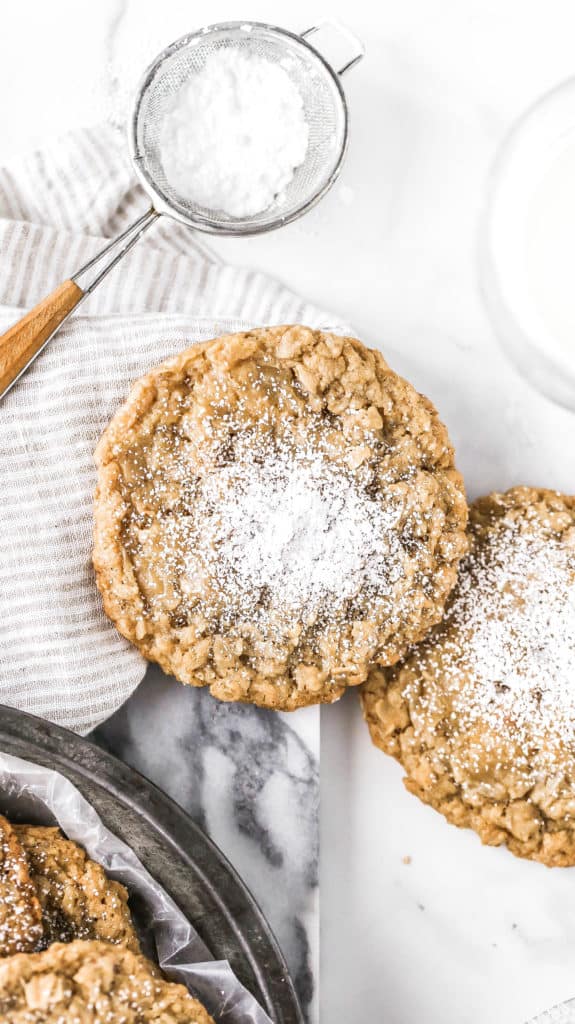 How to make the gooey butter cookie topping
This is the extra step that takes these cookies from amazing to absolutely ridiculous…or at least that's what my dad says when he eats something life changing.
Again, I followed the original crack pie recipe with a couple small adjustments to make it perfect for these cookies.
One interesting ingredient is milk powder. It's actually very common and can be found in the baking aisle of most grocery stores. I've found it comes pretty grainy so I like to push it through a fine sieve before adding it to my batter.
When you're baking the filling, you might be thinking it's way too thin and buttery (I did too). The magic happens when you let it chill for a few hours in the fridge. It completely transforms into this thick and gooey consistency that crack pie is known for.
Once the filling is chilled, you must loosen it up with an electric mixer. I found that the filling needed to be smoothed out and aerated a bit before scooping on top of the cookies. Otherwise, it's pretty tough to work with.
How to bake your gooey butter oatmeal cookies
This part took some trial and error. I probably tried it 4-6 different ways before landing on this technique!
You start by scooping out teaspoon sized amounts of the filling and freezing it. They're much easier to handle when they're cold.
Using a large ice cream scoop or 1/4 measuring cup, scoop out your cookie dough onto the baking sheet and LIGHTLY press it down with your palm – not too much. You want just enough of a flat surface for your pie filling to sit on.
I found that if I didn't flatten the tops, the pie filling would slip off the cookie as it baked so you didn't get that perfect gooey center.
Top it with your chilled pie filling and bake. As the cookie spreads, the filling should slowly melt down to create this yummy puddle of gooey butter on top. Let them cool completely then enjoy your little piece of cookie heaven!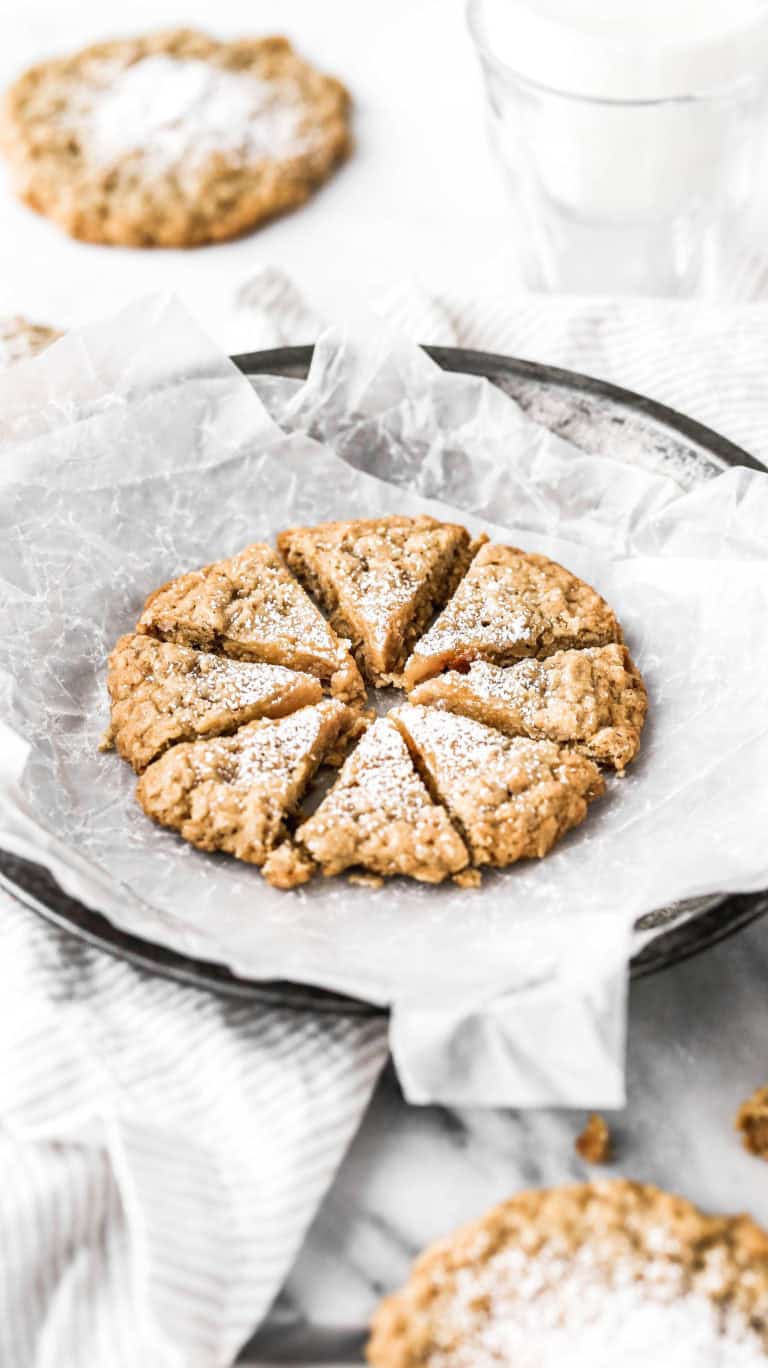 For more of my best ever cookie recipes:
Make sure to tag me @butternutbakery on Instagram if you make these gooey butter oatmeal cookies. I love seeing my recipes come to life in YOUR kitchen! To pin this recipe and save it for later, you can use the button on the recipe card, the buttons above or below this post, or on any of the photos above. And if you have any questions, ask me on Instagram! That's the best way to reach me. Happy baking!
Print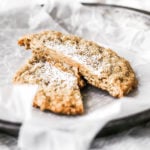 Gooey Butter Oatmeal Cookies (Crack Pie Cookies)
---
Description
These are seriously the best oatmeal cookies because they're topped with a puddle of crack pie filling! They're rich, chewy, gooey, and just all around addictive.
---
Filling
3/4 cup granulated sugar
1/3 cup tightly packed brown sugar
2 tbsp milk powder
2 tbsp cornstarch
3/4 tsp salt
1/2 cup unsalted butter, melted
1/3 cup heavy cream
1/4 tsp vanilla
4 egg yolks
Oatmeal Cookie
1 cup unsalted butter, room temp
3/4 cup tightly packed brown sugar
1/2 cup granulated sugar
1 whole egg + 1 egg yolk
1 tsp vanilla extract
1 cup all-purpose flour
3 cups old-fashioned rolled oats
1 tsp baking soda
1 tsp salt
---
Instructions
Filling
Preheat your oven to 350F and grease an 8×8 baking pan.
Using a stand mixer with the paddle attachment, blend together the sugars, milk powder, cornstarch, and salt on low speed. If your milk powder is a little grainy, push it through a fine mesh sieve before mixing it in to help smooth it out.
Add in the melted butter on LOW speed until the dry ingredients are moistened. 1-2 minutes.
Add in the heavy cream and vanilla and continue to mix on low speed until white streaks from the cream have completely disappeared. Scrape down the bowl.
Add in the egg yolks a couple at a time on low speed until the batter is glossy and smooth.
Pour the mixture into your baking dish and bake for 3o-35 minutes. It's done with the edges are golden brown and bubbling. It might seem a little too thin and buttery but it will thicken as it cools.
Let it cool to room temp them place it in the refrigerator for 4 hours or overnight. 
Once chilled, scoop out the filling from the pan (warning, it's very sticky). Using an electric hand or stand mixer with the whisk attachment, mix your filling on medium speed until smooth. It shouldn't take more than 1-2 minutes.
Using a teaspoon, scoop out the filling onto a plate lined with wax paper. You can also spray your spoon with some nonstick spray between each scoop since it's very sticky. Place in the freezer while you make the cookie dough.
Oatmeal Cookie
Preheat the oven to 350F and line a large cookie sheet with parchment paper.
In bowl, combine your flour, oats, baking soda, and salt. Whisk to combine. 
Using a hand or stand mixer with the paddle attachment, cream together your butter and sugars until light and fluffy. 
Mix in your eggs one at a time and then the vanilla.
Slowly mix in your dry ingredients. It's a very thick dough so near the end, I had to mix in the rest by hand. Make sure you get to the very bottom of the bowl because the dry ingredients like to hang out down there. Be careful not to overwork your dough.
Using a large ice cream scoop or 1/4 measuring cup, scoop out your cookie dough onto your baking sheet. Only bake about 4-5 at a time as they spread quite a bit.
LIGHTLY press them down with your palm. You don't want to flatten them, just create a flat top for the filling to sit on. 
Top your cookies with the filling that's been in the freezer and bake for 12-14 minutes. The edges should be a light golden brown but the center should still be a bit pale.
Let the cookies cool completely as the filling will need time to set again. You can either leave them at room temperature or speed up the process and place them in the fridge to set. 
Top with a dusting of powdered sugar and enjoy!
Prep Time: 30 minutes
Cook Time: 12 minutes
Keywords: oatmeal cookies, crack pie, chewy oatmeal cookies
Recipe Card powered by
*Some of the links above are affiliate links, which pay me a small commission for my referral at no extra cost to you!