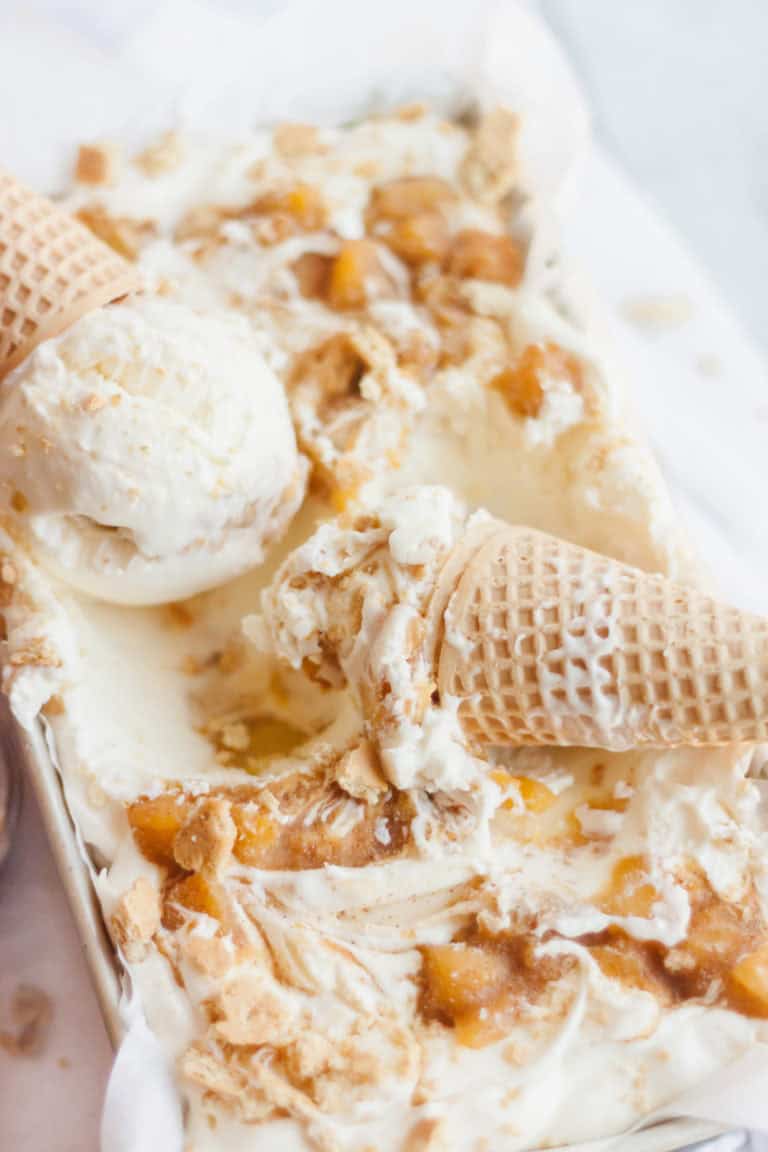 I hope you know that I actually have Peaches & Cream playing in the background as I write this. I just…I had to. It's all I can think about right now. Hang on the chorus just hit. BRB…
OK I'm back. Now let's talk about THIS peaches and cream ice cream. After shooting these photos, you would have found me hunched over the pan just shoveling ice cream in my mouth. I knew it was going to be good…I mean cream cheese is involved…but I didn't expect it to be THIS FREAKING GOOD. I made this when my boyfriend was in Vegas for a bachelor party and he told me multiple times to save him some because he knows I have no self control. He even drunk facetimed me to remind me again (which was very entertaining). Now that I think about it…I was in the middle of eating ice cream when that happened but it was unrelated to this. What can I say, I love ice cream. ANYWAY when he got home he had the biggest bowl and ate the entire thing. He gave me probably the strongest reaction he's ever given me. I think he threw a "WOW" in there when I usually just get "it's good" and a nod of approval. I NEED MORE THAN THAT NICK.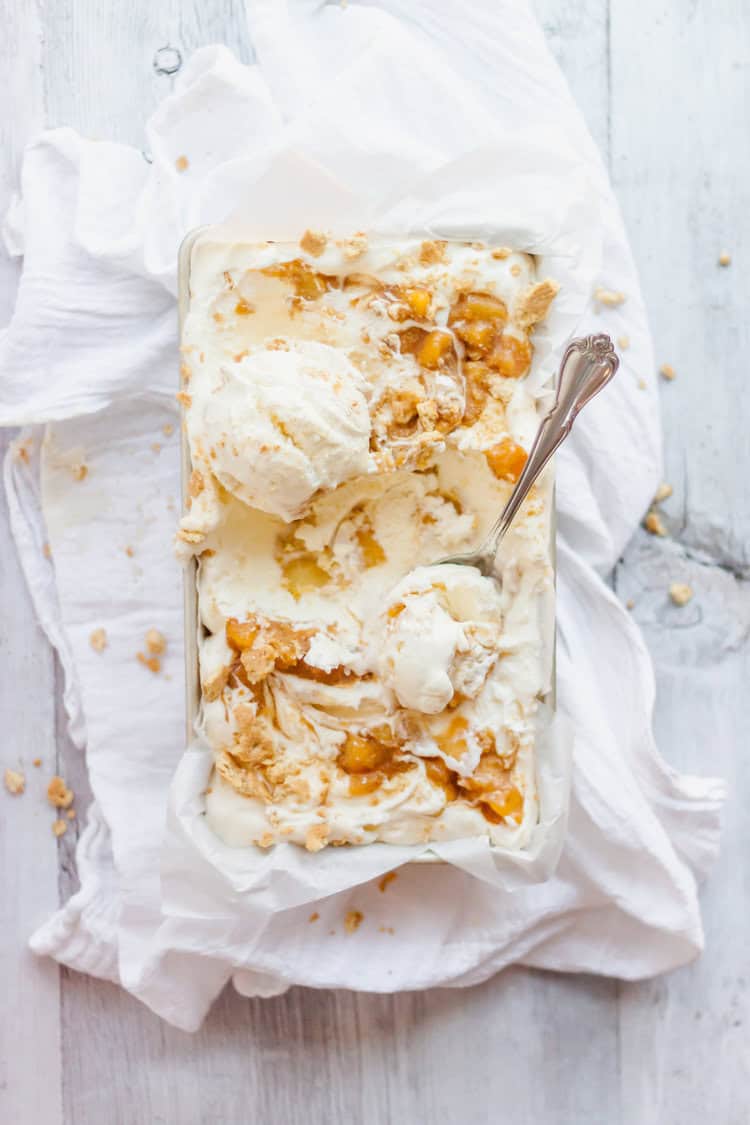 But back to this recipe. The base is cream cheese ice cream which honestly I could have stopped there and I would have been happy but I wanted to bump it up a bit. I knew I wanted to add a fruity element so naturally I took the peaches and cream route. They're in season and were the perfect addition. I had some leftover graham crackers from my graham cracker truffles recipe and it just set this thing over the edge. UGH. SO GOOD. Look out Ben & Jerry's. I'm coming for your brand.
OH and it's super easy to make. Like the title reads, it's no churn. You don't need any fancy equipment to make your own delicious ice cream. Just mix it up, pour it in a pan, freeze, and you've got yourself some gourmet ice cream!
Print
Peaches and Cream No Churn Ice Cream
---
Description
Cream cheese ice cream swirled with caramelized peaches and graham crackers
---
Peaches
2 tablespoons unsalted butter
4 peaches (not too ripe)
1/4 cup light brown sugar
1/2 teaspoon cinnamon
Base
8 oz cream cheese (room temp)
14.5 oz can sweetened condensed milk
1 pint heavy whipping cream
2 teaspoons bourbon vanilla extract (regular is fine too)
6 sheets honey graham crackers
---
Instructions
Begin caramelizing the peaches. Peal and slice them into small chunks. Melt the butter in a large saute pan and toss in the peaches, brown sugar, and cinnamon. Stir occasionally and allow the peaches to cook down. It will get a little bubbly and begin to thicken, about 8-10 minutes.
Remove from heat, poor into a glass container, let it sit out at room temperature to cool down, then pop it in the fridge. Make sure this is completely chilled before adding to the ice cream base. At the same time, place a large glass or metal bowl in the freezer to prep for the heavy cream.
Place the graham crackers in a plastic bag and start breaking them up. You're looking for a chunky sand-like consistency. Set aside.
In a large bowl (not the one in the freezer), cream together the cream cheese and sweetened condensed milk using a hand or stand mixer. Once smooth, mix in the vanilla. Set aside.
Once chilled, take the bowl out of the freezer and pour in the heavy whipping cream. Using a hand or stand mixer, whip the cream until it forms soft peaks. Add a couple scoops of the cream cheese mixture into the whipped cream and fold until it's almost combined. Add in the rest of the cream cheese mixture and fold until it's fully combined.
You can use a 9×5 inch bread pan like I did or whatever you have on hand. Just make sure you don't use a pan that's wide and shallow. Spread 1/3 of the mix into the bottom of the pan and crumble some graham crackers on top. Dollop a few spoonfuls of the chilled peaches and use a toothpick to swirl everything together. Repeat this three times until you've run out of ice cream.
Cover using foil or plastic wrap and place in the freezer to set. Before eating, let it sit out for about 15 minutes to soften. Then dig in!
Recipe Card powered by