These healthy zucchini muffins are so delicious, so moist, and so easy to make! They're gluten free, dairy free, naturally sweetened, and contain healthy fiber from the zucchini. In other words, they don't leave you feeling sluggish so they're perfect to bake for the week for a sweet afternoon snack!
This post is sponsored by SunButter and all thoughts and opinions are my own. Thank you for supporting the brands that make Butternut Bakery possible!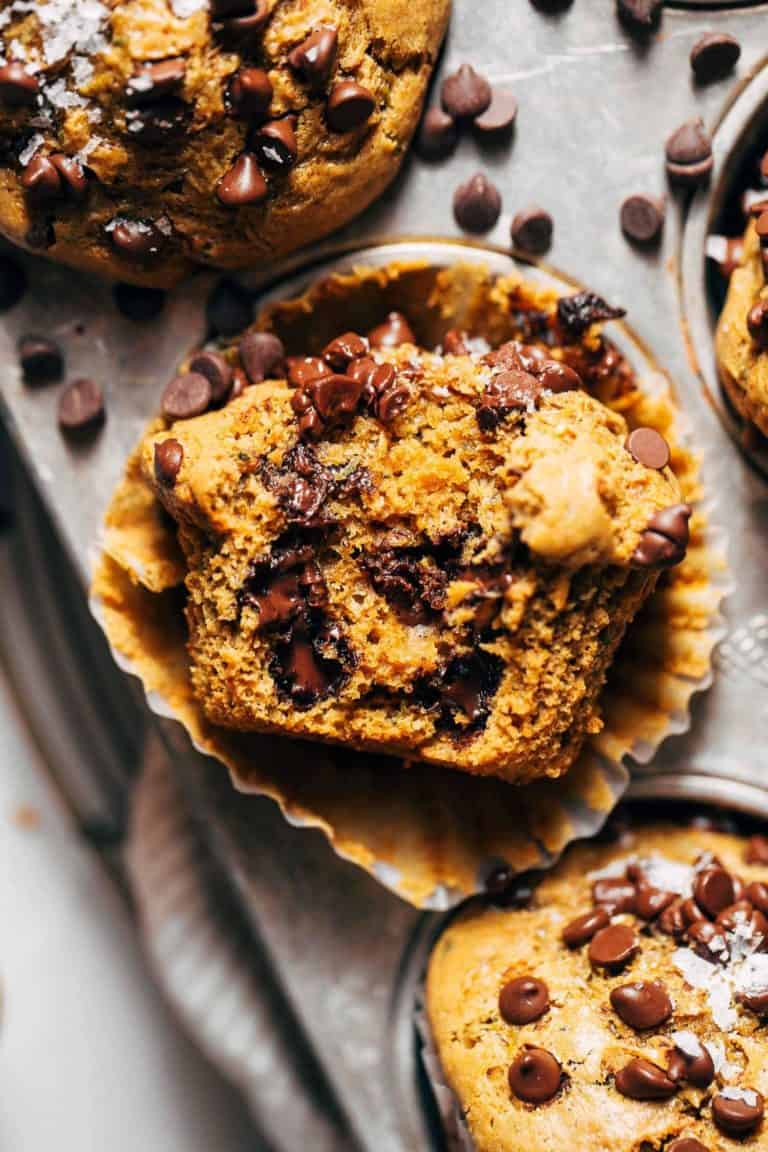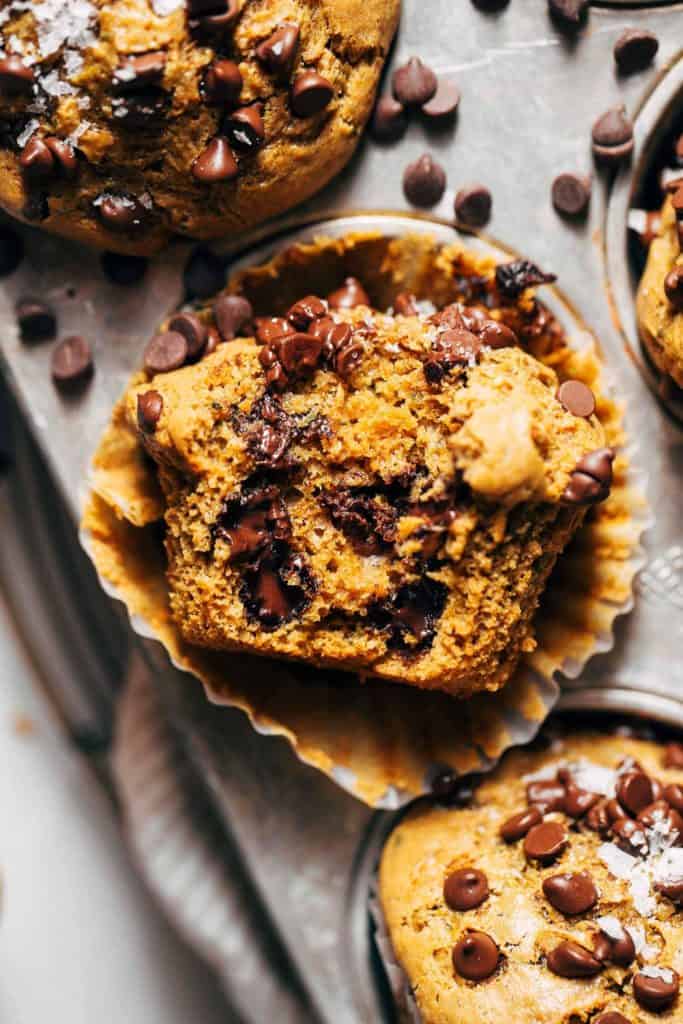 How to make healthy zucchini muffins
I don't often like to use the word "healthy" when describing desserts, mainly because it has different meanings for different people and can sometimes make the dessert seem less than.
But that's definitely not the case for these! By "healthy", I mean these zucchini muffins are made with ingredients that are just all around better than typical muffin ingredients. They're also completely gluten free, dairy free, and sweetened with more natural sweeteners so they won't leave you feeling heavy or sluggish afterwards.
So what's the secret? Here are the ingredients that make these zucchini muffins healthy!
Zucchini – Of course, these wouldn't be zucchini muffins without it! Not only does it add so much moisture to these muffins, but the added fiber helps reduce blood sugar spikes. In order words, you won't crash after eating these.
No Sugar Added SunButter – This is the magic ingredient behind these muffins! No Sugar Added SunButter means it's made with minimal ingredients – sunflower seeds and a hint of salt. This super creamy SunButter helps bind these muffins together while also adding so much richness. It also allows these muffins to be completely dairy free and nut free!
Gluten Free Flour – These muffins are so tall and fluffy that you can't even tell they're gluten free! Using gluten free baking flour makes these muffins perfect for anyone with celiac or a gluten sensitivity.
Coconut Sugar – Coconut sugar is a natural sugar made from coconut palm sap. It's a healthier alternative to refined sugars as it's just as sweet!
Pure Maple Syrup – Not pancake syrup! That's typically made up of mostly corn syrup, where as pure maple syrup comes straight from maple trees. It's sweet, flavorful, and helps keep these muffins so moist
The best part – all of these muffin ingredients are mixed together by hand. No special equipment is needed! Just mix, scoop, and bake.
Tips for baking moist zucchini chocolate chip muffins
To ensure these zucchini muffins turn out just right, here are my top baking tips:
Flour – If possible, use a food scale to weigh out the ingredients. This is the best way to ensure accuracy! If you don't have a food scale, spoon the flour into a measuring cup and level it off with a flat edge. Never scoop directly into the flour as this packs it down into the cup leaving you with way too much added flour. Too much flour = dry muffins.
No Sugar Added SunButter – Since this SunButter is made with minimal ingredients, expect some oil separation. So before baking, give the jar a good mix to revive the super rich and creamy consistency!
Zucchini – Finely grate the zucchini using the smaller holes on a box grater. Then, squeeze out the excess water. Do so just by squeezing the zucchini in your hands over the kitchen sink. Squeeze out as much as possible because if there's too much water, the muffins could turn out soft and mushy.
Fill – Fill each liner to the top. For easy scooping, use a large ice cream scoop to fill these muffins. Then, top with some extra chocolate chips if desired!
These muffins are so easy to make that these simple tips are all that's needed!
Chocolate chips for healthy zucchini muffins
The chocolate chips in this zucchini muffin recipe are optional, but I do love how they compliment the zucchini and SunButter!
To keep this recipe completely refined sugar free, opt for a dairy free chocolate sweetened with stevia or coconut sugar.
Otherwise, use any dairy free semisweet chocolate! Most are made with refined sugar, but it's an incredibly small amount when looking at the nutritional info per muffin.
How to store zucchini muffins
These muffins stay moist for so long! So feel free to store these in an air tight container at room temperature for a couple days. Any longer than that and they'll need to be stored in the refrigerator.
But these muffins are so good that they hardly stick around for more than a couple days!
For more healthy dessert recipes, check out my:
Make sure to tag me @butternutbakery on Instagram and comment below if you make these Healthy Zucchini Muffins. To pin this recipe and save it for later, you can use the button on the recipe card, the buttons above or below this post, or on any of the photos above. Happy baking!
Print
Healthy Zucchini Muffins
---
Author: Jenna Barnard
Total Time: 50 minutes
Yield: 9 muffins
Diet: Gluten Free
Description
These healthy zucchini muffins are so good that you would never know they're gluten free, dairy free, and naturally sweetened! They're so moist, so flavorful, and so easy to make. Perfect to whip up as a sweet snack for the week!
---
1 cup (135g) gluten free baking flour
1 1/2 tsp baking powder
1/2 tsp salt
1 cup (150g) finely grated zucchini
3/4 cup (180g) No Sugar Added SunButter
1/2 cup (75g) coconut sugar
1/4 cup (80g) pure maple syrup
2 large eggs
1 tsp vanilla extract
1/2 cup semisweet dairy free chocolate chips (optional) + more for sprinkling on top
Flaky sea salt, for sprinkling on top
---
Instructions
Preheat the oven to 350F and line a cupcake tin with 9 paper liners.
Grate the zucchini using the small holes on a box grater. Measure out 1 cup, then use your hands to squeeze out the water over the kitchen sink. Set the squeezed zucchini to the side.
In a small bowl, whisk together the flour, baking powder, and salt.
In a large mixing bowl, whisk together the SunButter, coconut sugar, and maple syrup.
Whisk in the eggs and vanilla, followed by the squeezed zucchini.
Pour in the dry ingredients and use a rubber spatula to mix to combine. Then mix in the chocolate chips.
Scoop the batter into the liners, filling each all the way to the top. Sprinkle with more chocolate chips if desired.
Bake for 18-22 minutes, or until a toothpick in the center comes out clean with a few moist crumbs.
Sprinkle with sea salt if desired. Cool for about 10 minutes in the pan, then transfer the muffins to a cooling rack.
Enjoy warm or at room temperature. They're delicious either way!
Equipment
Prep Time: 20 minutes
Cook Time: 20 minutes
Category: Dessert
Method: Baking
Cuisine: American
Keywords: healthy zucchini muffins, healthy zucchini muffins with chocolate chips, chocolate chip zucchini muffins, gluten free zucchini muffins, zucchini muffins recipe
Recipe Card powered by