Sunflower seed butter and raspberries is a winning combination! Ultra creamy SunButter has a slightly roasted flavor that pairs perfectly with tender and sweet raspberries. The SunButter is whipped and sweetened before filling a buttery graham cracker crust and topped with a mound of jammy raspberries. It's no bake, nut free, and perfect to make for the summer when it's too hot to turn on the oven!
This post is sponsored by SunButter and all thoughts and opinions are my own. Thank you for supporting the brands that make Butternut Bakery possible!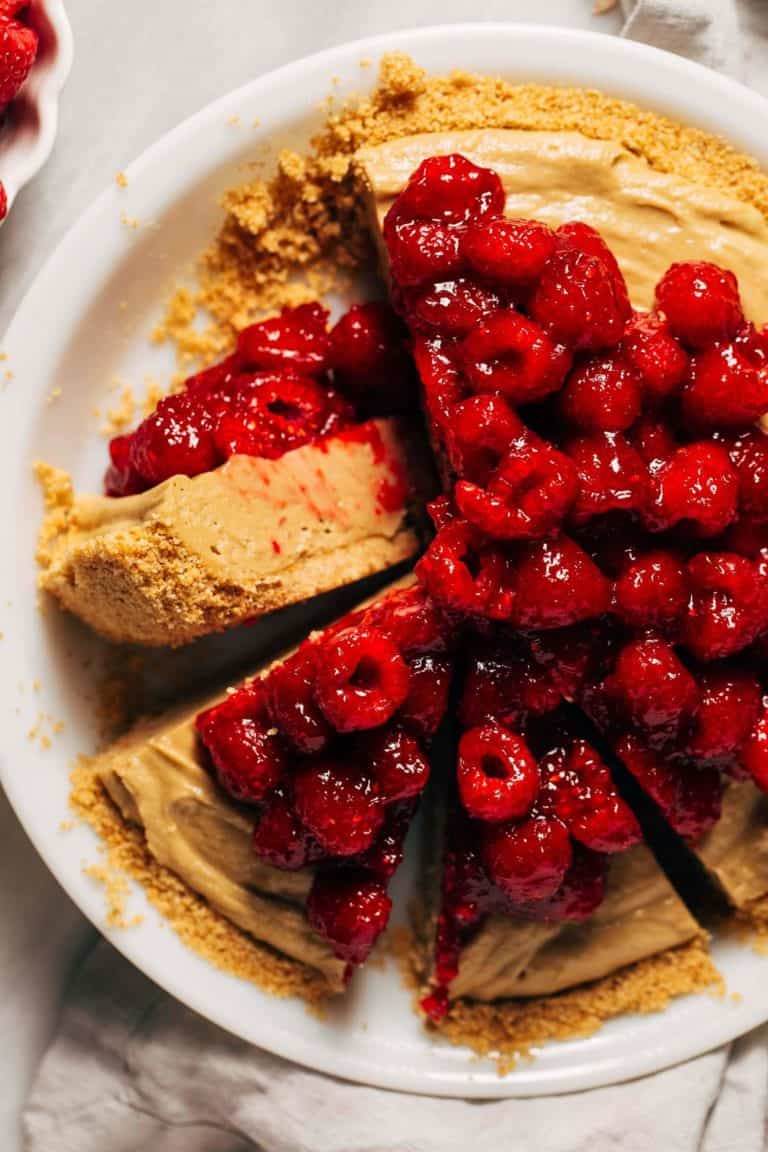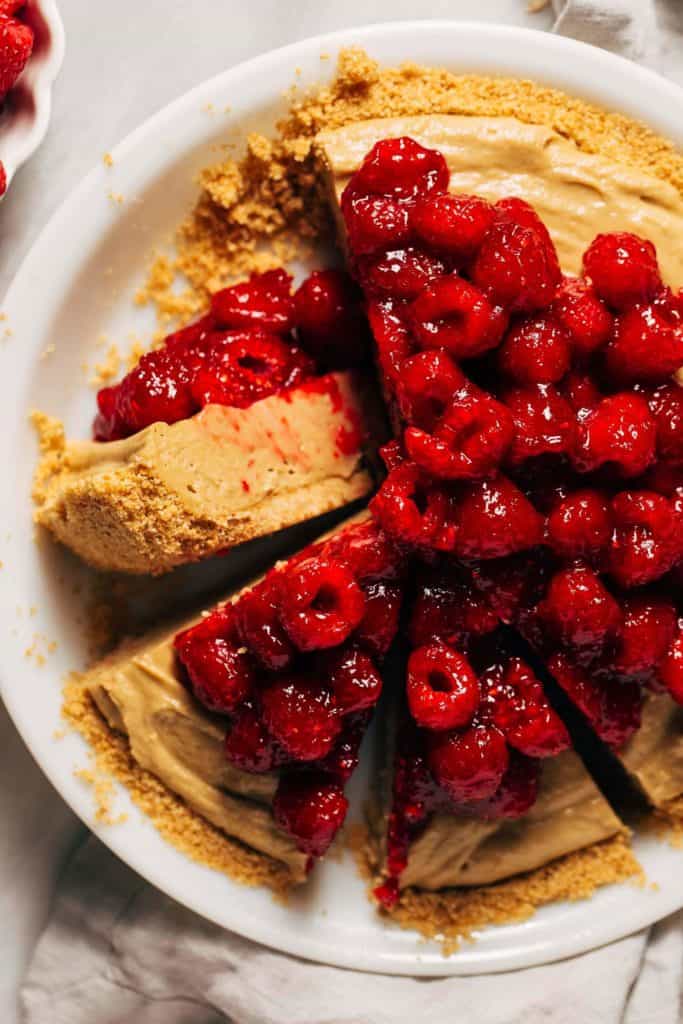 How to make a no bake graham cracker crust
Graham cracker crust is SO simple to make, especially when it's no bake, but it's important to get the ratios just right so that the crust doesn't stick to the pie dish. So for this recipe you will need:
1 sleeve graham crackers – 1 1/2 cups ground graham cracker crumbs
1/4 cup sugar – This is one of two ingredients that help bind the crust.
6 tbsp melted butter – Along with the sugar, melted butter allows the sugar to crystalize and firm up. Plus, butter is solidified when chilled.
Salt – Just a pinch to help balance out the sweetness
First, blitz the graham crackers in a food processor. One sleeve was the perfect amount for me to make 1 1/2 cups of graham cracker crumbs, but I still urge you to measure just in case.
To make life even easier, weigh the graham crackers as you place them into the food processor to ensure you have 150g AKA 1 1/2 cups.
Once finely ground, pulse in the sugar and salt. Then pour in the butter and blend until the graham cracker is evenly moistened.
Dump the graham cracker crust into a pie dish and loosely spread it even. Then pat it down working from the center out. Pat it into the bottom and up the sides of the pie dish. Careful not to pack TOO tightly because this can sometimes cause the crust to stick to the pan.
Transfer to the refrigerator to firm up while the pie filling is made!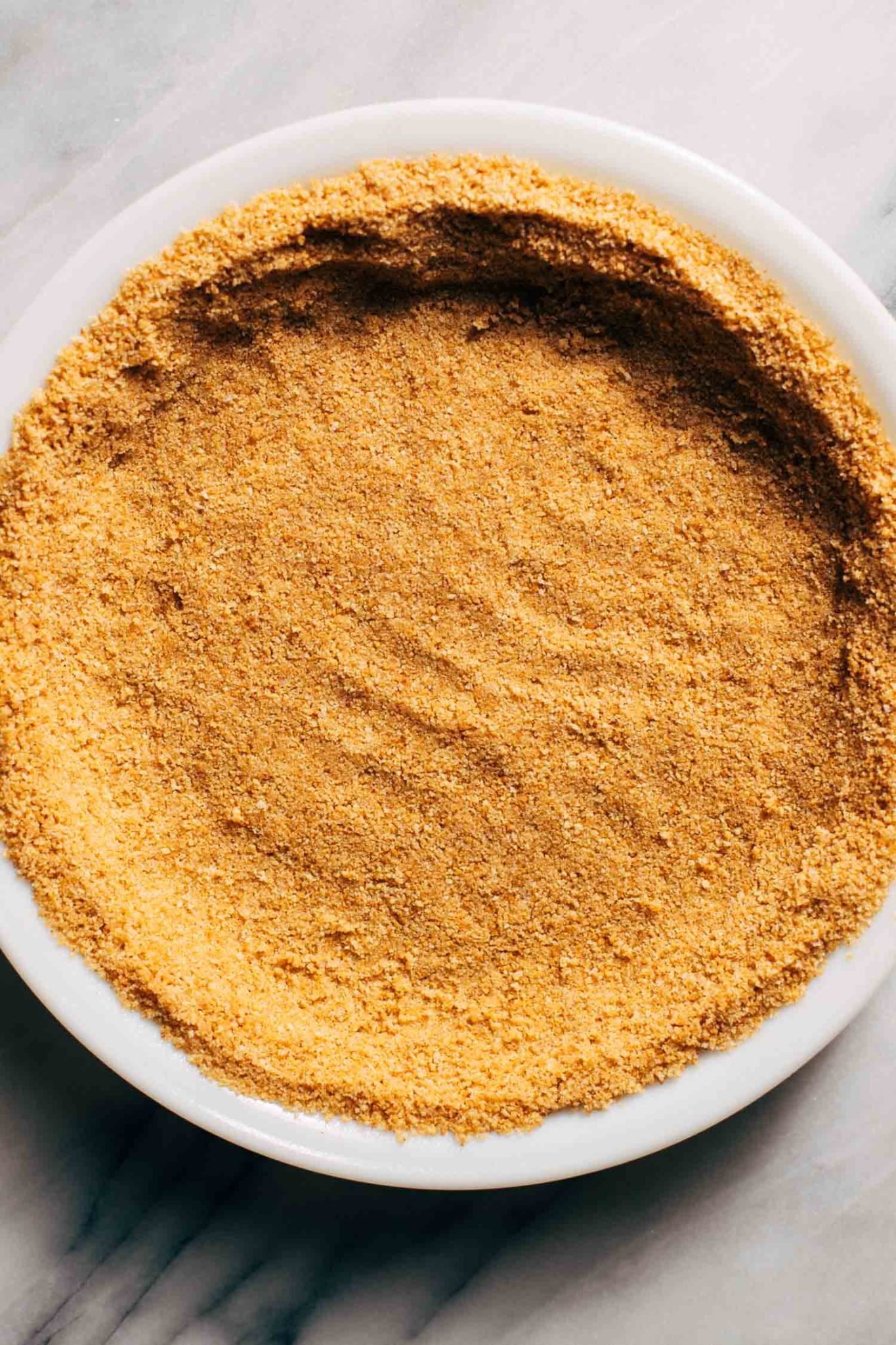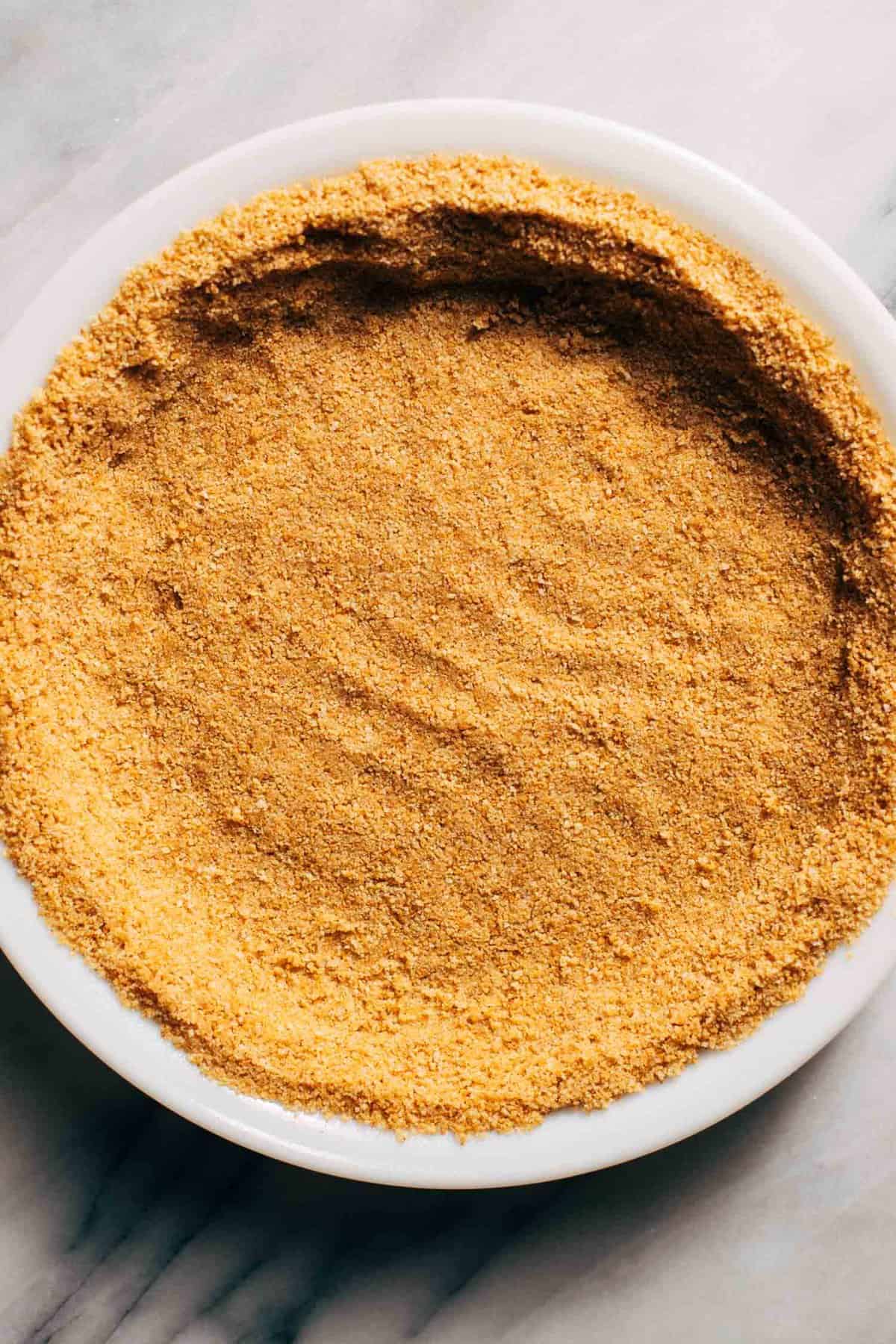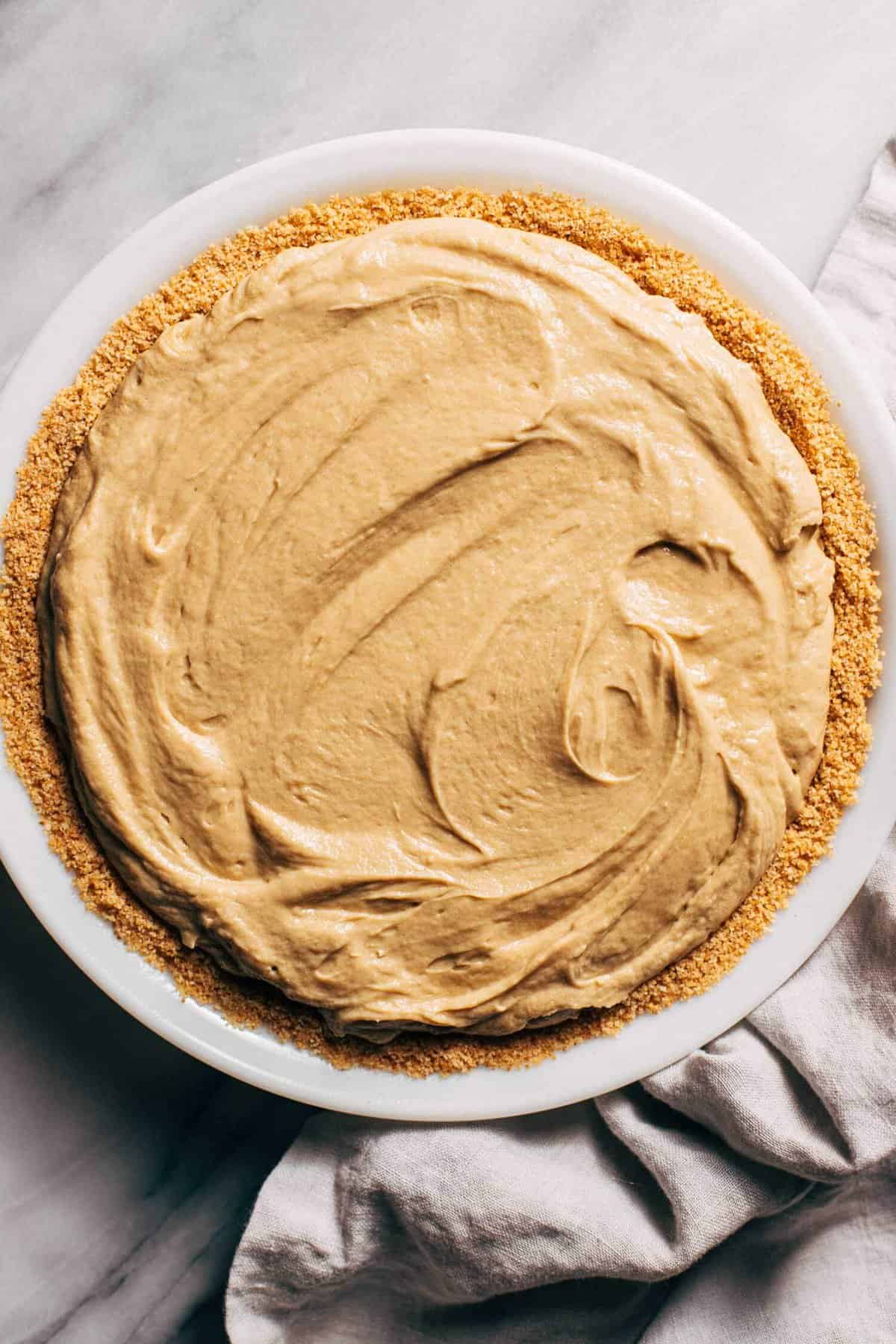 Whipped SunButter pie filling
The star of this no bake pie is the thick and creamy SunButter filling! It really allows the sunflower seed flavor to shine which, when paired with raspberries, makes this pie so so delicious.
What is SunButter?
If you aren't familiar with SunButter, prepare to meet your new favorite baking ingredient.
Creamy SunButter is made with roasted sunflower seeds that are ground into a consistency that is similar to any nut butter. It has a roasty flavor and is overall a bit more mild than peanut butter. But it's incredibly smooth and perfect for baking!
I've created so many recipes using SunButter because of its versatility. It's perfect for recipes where you want to really taste the sunflower seed flavor, or for when you want to enhance the texture of a dessert without disrupting the flavor. I've used it in brownies, frostings, bars, and now pie!
When it comes to this no bake pie, the creamy SunButter is combined with cream cheese, sugar and vanilla. It creates a thick and rich filling that is then lightened by whipped cream.
Off to the side, heavy cream is whipped to stiff peaks. Then it's gently folded into the SunButter and cream cheese mixture to create a creamy, light, and rich pie filling!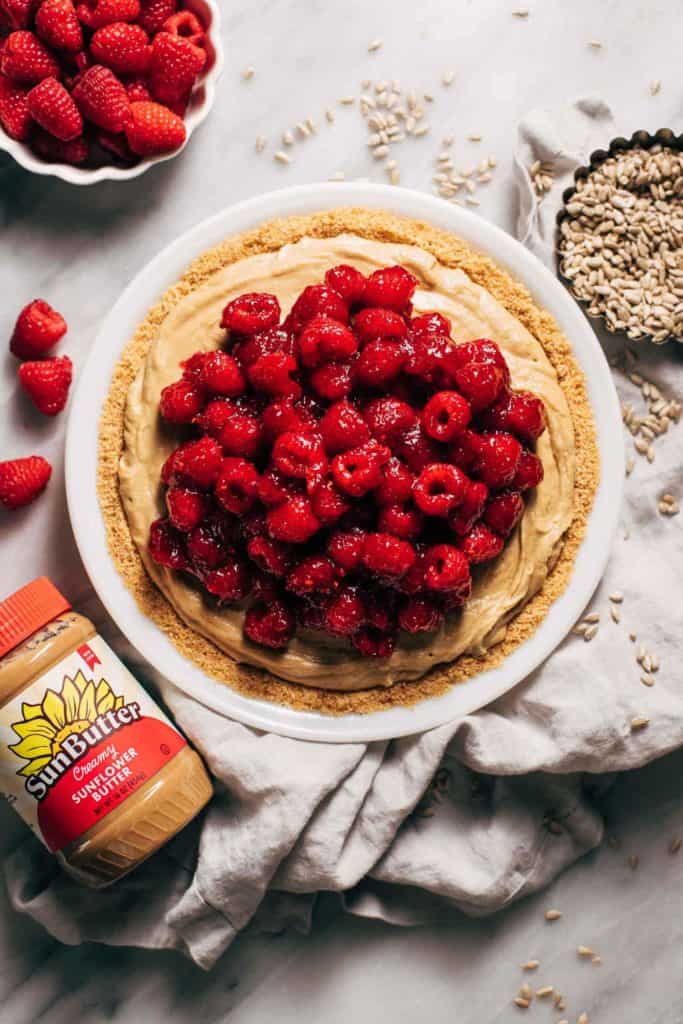 How to make homemade raspberry jam
On top of this pie sits a mound of fresh and jammy raspberries. It's a combination of homemade raspberry jam and fresh whole raspberries.
For the jam, all that's needed is three ingredients; raspberries, sugar, and lemon juice.
All three ingredients are combined in a saucepan and mashed together. This to help release the raspberry juices which, when combined with sugar and heat, will create a thick jam.
The mixture is brought to a boil and then simmered for about 20-30 minutes.
It's ready when the mixture is visibly thickened. To test for doneness, run a spoon through the mix. If the jam coats the back of the spoon and verrryyy slowly slides down, it's ready.
For an ultra smooth jam, press it through a fine mesh sieve. This is an optional step, but I do think it helps with the overall consistency of the topping.
Once it's strained, gently mix in the rest of the whole raspberries. These berries are typically very tender, so really be careful here as we want to keep them whole!
Scoop the jam into the center of the pie and gently spread it out to create an even mound of berries. Then just chill to set.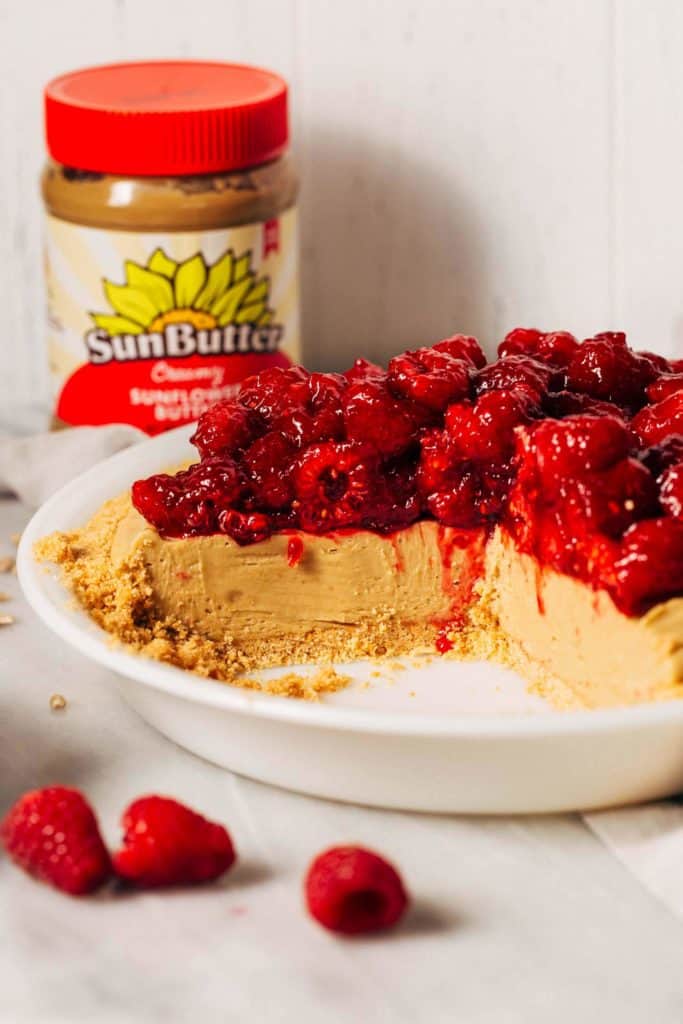 SunButter No Bake Pie FAQ's
How can I make this pie a few days in advance?
Make the crust and filling, but hold off on the raspberries until the day of or day before serving. The raspberry juices will slowly release over time which can thin the topping. It's nothing major or structural, it's mainly just for looks!
How can I make this a gluten free pie?
The only ingredient that isn't gluten free is the graham crackers, so feel free to swap with a gluten free graham cracker or crisp gluten free vanilla or cinnamon cookie.
How long does this no bake pie keep?
This pie must be stored in the refrigerator where it will keep for about a week.
Can I substitute pre-made whipped topping for the heavy cream?
Yes, to make this recipe even easier you can sub the heavy whipping cream with ready made whipped topping. An 8oz thawed package of whipped topping should work, but just know that it may make the pie a bit sweeter.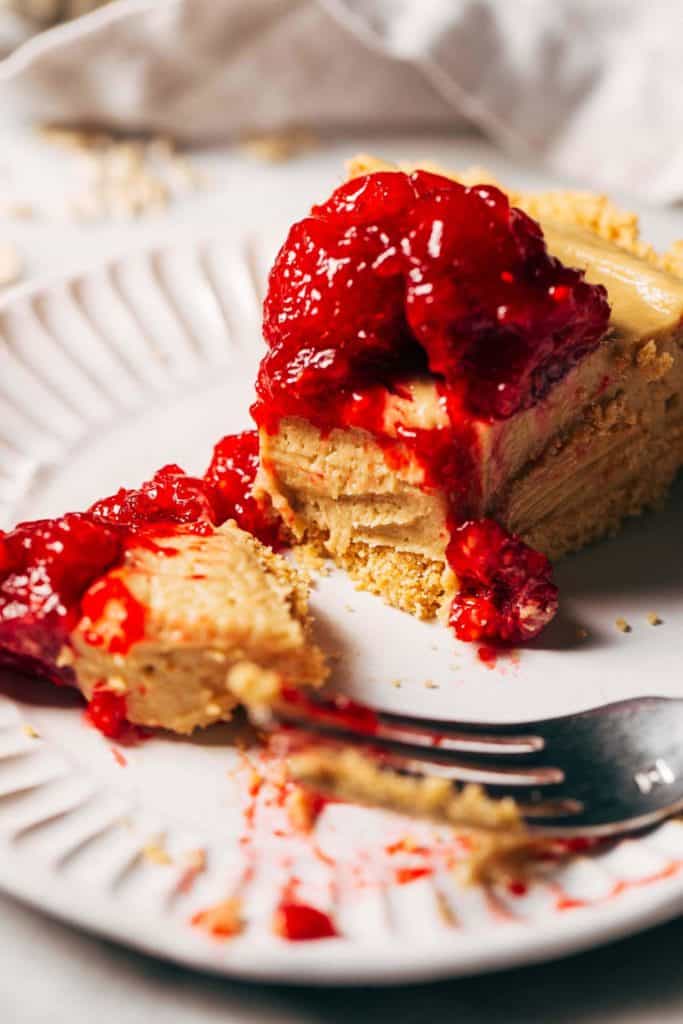 For more SunButter recipes, check out my:
Make sure to tag me @butternutbakery on Instagram and leave a review below if you make this SunButter pie. To pin this recipe and save it for later, you can use the button on the recipe card, the buttons above or below this post, or on any of the photos above. Happy baking!
Print
Jammy SunButter and Raspberry Pie
---
Author: Jenna Barnard
Total Time: 3 hours 45 minutes
Yield: 8 slices
Description
This super creamy and fluffy pie is made with a graham cracker crust, whipped SunButter filling, and jammy raspberries on top. It's a unique nut free take on the classic PB&J combo!
---
Graham Cracker Crust
1 1/2 cups (150g) graham cracker crumbs (regular or gluten free)
1/4 cup (50g) granulated sugar
6 tbsp unsalted butter, melted
Pinch of salt
SunButter Filling
8 oz full fat cream cheese, room temp
1 cup (250g) Creamy SunButter
1 cup (200g) granulated sugar
1 tsp vanilla extract
1 cup (240g) heavy whipping cream
Raspberry Topping
4 6oz containers fresh raspberries
1 cup (200g) granulated sugar
1 tsp lemon juice
---
Instructions
Graham Cracker Crust
Combine all of the ingredients and press into a pie dish, covering the bottom and sides.
Place the crust in the refrigerator to chill while we make the filling.
SunButter Filling
Using a hand or stand mixer with the whisk attachment, whip the heavy cream on high speed until it reaches stiff peaks (about 5 minutes).
If you have this going on a stand mixer, start on the rest of the filling ingredients while it's whipping.
In a large bowl, mix together the room temperature cream cheese and SunButter until smooth.
Gradually mix in the sugar, followed by the vanilla. The mixture should be very thick.
Scoop in half of the whipped cream and fold to combine. This will help loosen up the filling.
Scoop in the rest of the whipped cream and fold until it is completely smooth.
Pour the filling into the pie shell and spread even. Place it back in the refrigerator while we make the raspberry topping.
Raspberry Topping
Mash 2 pints of the raspberries in a saucepan with the sugar and lemon juice.
Transfer to medium-high heat and bring to a boil. Reduce heat to medium-low and simmer for 20-30 minutes, stirring occasionally.
It's ready when the jam is thickened and coats the back of a spoon.
Run the jam through a fine mesh sieve to remove the seeds.
To the strained jam, gently mix in the remaining 2 pints of raspberries.
Pile the jammy raspberries on top of the chilled pie and place back in the refrigerator.
Chill for at least 3 hours to set. Then slice and enjoy!
Prep Time: 45 minutes
Chill Time: 3 hours
Category: Dessert
Method: No Bake
Cuisine: American
Keywords: sunbutter pie, raspberry pie, sunbutter recipe, nut free pie recipe
Recipe Card powered by