This gingerbread cake is the perfect Christmas dessert! Soft layers of spiced gingerbread cake are stacked and spread with coconut cream cheese frosting for a snowy affect. The warm and rich gingerbread paired with the light and fresh coconut is an unexpected pairing that works so well together. Top with your favorite gingerbread decorations and enjoy!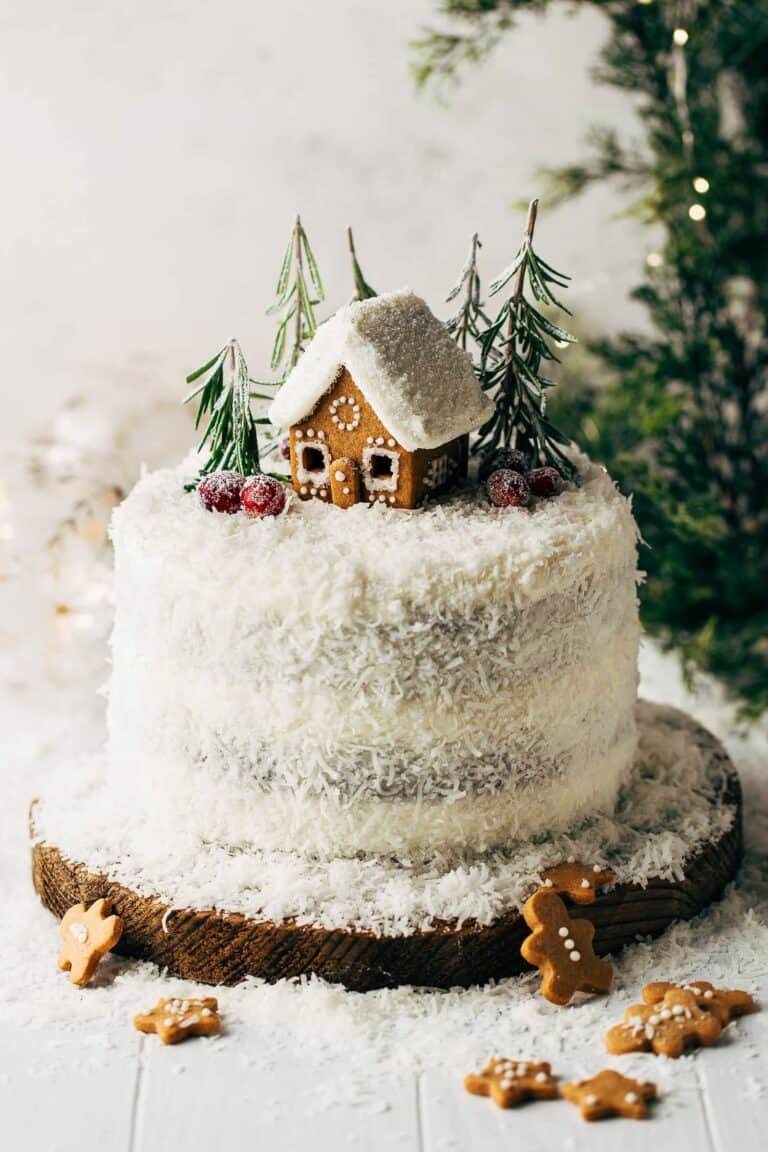 How to make gingerbread cake
Gingerbread cake is just like any other cake batter plus molasses and spices. It creates a thick batter that's loaded with flavor!
It starts by whipping together butter and dark brown sugar. Dark brown sugar is just sugar plus molasses so using dark brown provides the strongest flavor.
Of course it's not gingerbread with molasses so it's added alongside light corn syrup. TOO much molasses can cause the cake to be a bit too bitter, so the light corn syrup helps cut through that flavor while still allowing the molasses to shine.
After the eggs and vanilla, the dry mix is added. This includes loads of ginger plus cinnamon, nutmeg, and cloves.
Alternating with the dry mix, buttermilk is also added to the batter. This adds extra moisture and acidity, allowing the baking soda to react and lift the cake once baked.
In the end, the batter should be rather thick almost like brownie batter. This is split between three 8″ cake pans to make a large three layer cake.
They're baked JUST until done, so make sure to start at the lowest bake time and test with a toothpick to see if any other time needs to be added.
After the cakes are cooled, they're ready to frost!
Tips for baking gingerbread cake
To make sure your cake turns out perfectly soft, tender, and fluffy, here are my top baking tips:
Flour – I say this in every post, and for good reason. It's the number one reason why most recipes fail. If there's too much flour, this cake will turn dry. If possible, measure the flour with a food scale. Otherwise, to ensure the exact amount, gently spoon the flour into the measuring cup and level it off with a flat edge. If scooped directly into the flour container, the flour becomes packed down into the cup which could leave you with 1/4 cup or more of added flour.
Molasses – There are a few different types of molasses available, so make sure you use unsulphured gold standard molasses. This is the most widely available so it's likely the one you are most familiar with! I used Grandma's brand for this recipe.
Dark Brown Sugar – For the best flavor and consistency, stick with dark brown sugar. Not only does it have a stronger flavor, but it also contains more moisture. Swapping in light brown sugar can change the texture of the cake.
Mixing – Mix as much as is needed for the wet ingredients, but take things slow and steady once the dry ingredients are added. Over worked batter can lead to a tough cake, so alternating between the dry mix and buttermilk allows the batter to slowly thin out through this mixing process.
Cake Strips – If you have them, I highly recommend baking your cakes with moist cake strips. These wrap around the cake pans before baking, allowing the heat to slowly bake through the cake layers rather than baking the outside too fast. This lead to level cakes. Of course this cake will turn out great without them! The layers will just have to be leveled before frosting.
Testing – This cake can go from moist to dry very fast, so make sure your toothpick comes out with a few moist crumbs.
Cooling – Allow the cakes to cool in their pans for about 15 minutes, then turn them out to cool completely before frosting.
Coconut cream cheese frosting
As far has Holiday pairings, coconut and gingerbread needs to be as common as chocolate and peppermint. The deep and warm spices of gingerbread with the light and fresh flavor of coconut is just SO good together!
Plus, it doesn't hurt that the coconut is infused into a cream cheese frosting. The smooth and slightly tangy flavor of cream cheese goes so well with the sweetened coconut. All three flavors work together to create one amazing gingerbread cake.
The frosting is made up of both cream cheese and butter so before starting, make sure both are at room temperature for the smoothest frosting consistency.
It's then mixed with powdered sugar, vanilla, and coconut extract. The coconut extract is optional but highly recommended! Otherwise, you will still get tons of coconut flavor from the shredded coconut all around the cake.
Speaking of, the cake is smothered in every last drop of the coconut frosting so that the shredded coconut can adhere to the cake.
Sweetened coconut is used because it's much more flavorful than unsweetened. And don't worry, it doesn't overpower the cake. The gingerbread cake itself is very light and not too sweet, so the coconut frosting pairs perfectly with our fluffy cake.
Gingerbread cake decorations
There are so many decorating options for this cake! Especially because gingerbread can be shaped and baked into any shape you can imagine – gingerbread men, gingerbread houses, snowflakes, snowmen, reindeer, Christmas trees, angels…the list goes on.
But I wanted to challenge myself and try to make a mini gingerbread house which, to my surprise, is MUCH easier to make than a regular gingerbread house.
I used the gingerbread cookie recipe that I used to garnish my gingerbread cupcakes. Then I created my own mini house template and made cut outs from a soda box that we were about to recycle. There are also tons of mini gingerbread house cookie cutter sets out there, or you can pick up a pre-made mini gingerbread house kit at most big box stores.
Once all the pieces were baked and cooled, I piped on the decorations using royal icing and then stuck everything together. It was surprisingly easy and turned out so sturdy!
Rosemary sprigs were used to create snow-frosted trees and cranberries rolled in sugar added an extra pop of color.
How to store gingerbread cake
Keep this cake in a cake container in the refrigerator. Unsliced, it will keep fresh for about 2-3 days.
How to make the cake ahead of time
Bake the cake layers, let them cool, then wrap each layer in plastic wrap. The layers will keep in the refrigerator for 2-3 days. Then pull them now when you're ready to frost and decorate!
For more gingerbread recipes, check out my:
Make sure to tag me @butternutbakery on Instagram and comment below if you make this gingerbread cake. To pin this recipe and save it for later, you can use the button on the recipe card or on any of the photos above. Happy baking!
Print
Gingerbread Cake with Coconut Cream Cheese Frosting
---
Author: Jenna Barnard
Total Time: 2 hours 15 minutes
Yield: 10-12 slices
Description
This fun and festive gingerbread cake is soft, moist, and covered in coconut cream cheese frosting! The warm spices of gingerbread combined with the light freshness of coconut is an unexpected pairing that works so well together.
---
Gingerbread Cake
3 1/4 cups (430g) all-purpose flour, spooned and leveled
2 tsp baking powder
1 tsp baking soda
3 tsp ground ginger
2 tsp ground cinnamon
1 tsp ground nutmeg
1/2 tsp ground cloves
1/2 tsp kosher salt
1 cup (220g) unsalted butter, room temp
1 cup (200g) dark brown sugar, packed
2/3 cup (217g) unsulfured molasses
1/4 cup (85g) light corn syrup
4 large eggs, room temp
1 tsp vanilla extract
1 cup (225g) buttermilk, room temp
Coconut Cream Cheese Frosting
8oz (226g) full fat cream cheese, room temp
1 cup (220g) unsalted butter, room temp
6 cups (720g) powdered sugar
1 tsp coconut extract
1 tsp vanilla extract
2 tbsp milk
2 cups sweetened shredded coconut
Decorations
---
Instructions
Gingerbread Cake
Preheat the oven to 350F. Grease the inside and line the bottom of 3 8″ round cake pans. Also wrap the pans with damp cake strips if you have them.
In a medium bowl, whisk together the flour, baking powder, baking soda, ginger, cinnamon, nutmeg, cloves, and salt.
In a large mixing bowl using a hand or stand mixer with the paddle attachment, mix together the butter and sugar until smooth.
Then mix in the molasses and corn syrup, followed by the vanilla and eggs one at a time.
Pour in 1/3 of the dry ingredients and mix, followed by half of the buttermilk. Alternative mixing between the two, ending on the dry ingredients. The batter should be pretty thick.
Evenly split the batter between the three pans and spread even.
Bake for 25-30 minutes or until a toothpick in the center comes out clean with a few moist crumbs.
Allow the cakes to cool completely before making the frosting.
Coconut Cream Cheese Frosting
In a large bowl using a hand or stand mixer with the paddle attachment, mix together the cream cheese and butter until smooth.
Then mix in the powdered sugar one cup at a time. Mix in the extracts and milk when the frosting starts to become thick and dry.
Spread a thin layer of frosting between each cake layer and then cover the entire outside. 
Press the shredded coconut into the sides and top of the cake and top with your decorations. Enjoy!
Equipment
Prep Time: 45 minutes
Cooling Time: 1 hour
Cook Time: 30 minutes
Category: Dessert
Method: Baking
Cuisine: American
Keywords: gingerbread cake, gingerbread layer cake, christmas cake
Recipe Card powered by